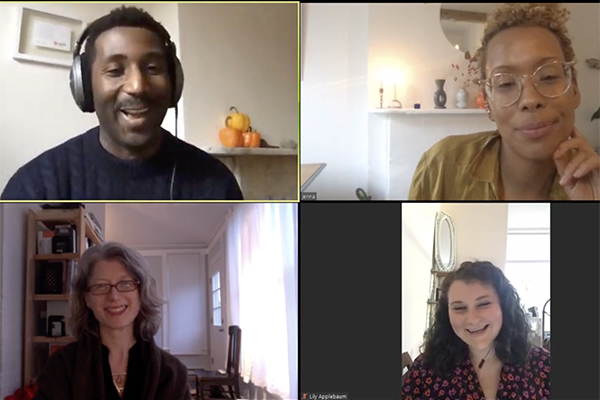 Now in its third decade, this year's Kelly Writers House Fellows course seemed exceptional from the beginning. In February, an unexpectedly large audience attended the public reading by the first artist in residence, filling the Arts Café, the living room, and reaching through the dining room. 
"We thought we were off to a landmark year," says Lily Applebaum, assistant to the faculty director at the Kelly Writers House. 
And it has been, although not in the way they thought. Those attending that first evening to hear writer Saidya Hartman read from her latest book could not have known that the two other scheduled appearances would be livestreamed online, each person in their own location. 
"For a class fundamentally grounded in face-to-face interactions with living writers, this was both heartbreaking and baffling: How do we transition into this virtual learning space without sacrificing intimacy or depth? How do we make it pedagogically meaningful, and not like a bait-and-switch?" says Julia Bloch, Creative Writing Program director and professor for the course.
The Fellows class is intimate by design, with only about a dozen students who dive deeply into the work of the visiting fellows, prepared to ask insightful questions in person during class and an evening home-cooked meal at the Writers House. Also, part of the experience are a public reading and conversation.
Most of the class elements are decided and planned by the students, so holding the course remotely was a special challenge. "There are a lot of moving parts and a lot of them depend on being together," says Applebaum.
But hold it they did. Bloch was in her West Philly home, and Applebaum in her South Philly apartment, connected with all the students and the fellows. 
During the public sessions, the pair asked questions and queries by others offered through You Tube, Facebook, Twitter, and email. "That was fun. Usually people can only ask a question if come to the Tuesday brunch in person," Applebaum says. "I wonder if we will include open Q&A like that in the future." 
More than 100 people signed in for the reading and discussion in March with poet and translator  Erín Moure from Canada. The number engaged swelled to more than 200 for the appearance this week by journalists Wesley Morris and Jenna Wortham, who produce The New York Times podcast "Still Processing." 
"Our writers were absolutely game, absolutely eager to join us in this new platform. Erín showed up at her desk in Montreal with soup bubbling in the background, and Jenna and Wesley had matching backdrops in their New York homes," Bloch says. "Somehow, through webcams, mics, and the Zoom chat window, we were in fact able to have incredibly rich dialogue with these writers, who were unfailingly open and generous with their answers and their willingness to connect with the students."
In January and February, the 11 students in the class studied the work of Hartman, an essayist and cultural historian, including her most recent book, "Wayward Lives, Beautiful Experiments: Intimate Histories of Social Upheaval."
"I had never had the opportunity to sit in the same room as such an established scholar and ask a question I had about their work. However, I ended up mustering up the courage to ask her a question and it was extremely insightful to get the answer from her own mouth," says Kira Lucas, a freshman English major from Buford, Georgia. 
The class then dove into the work of Moure, a published poet for nearly 50 years, starting in the last class session before spring break. Because students could not return to campus, they transitioned to remote learning. 
Moure agreed to meet with the class on Zoom during the day, and to hold the public reading and conversation together in one session on a March Monday evening. "It was the first time we did a virtual Fellows event," Applebaum says. "We got a great response. People were tuning in from all over the world." 
Freshman Peyton Toups says the remote meeting was nearly as informative as being together in person. "It really had that heightened air of excitement, even though it was on Zoom," Toups says. "And it was interesting to see them in their homes." 
The class then shifted gears from poetry to contemporary journalism, listening to 12 hour-long podcasts by Morris and Wortham and read articles spanning their careers. The pair met with the class by Zoom last Monday, and held their public discussion that night, much of it centered around how the world has changed since locking down. 
"They impressed me with their view that there is a value in archiving what is happening right now, the narratives around coronavirus," Toups says. 
The Fellows program started in 1999 with a visit by literary journalist Gay Talese. Each spring semester since then the course has hosted three visits by writers, poets, musicians, journalists. The course was created and is usually taught by Kelly Writers House Faculty Director Al Filreis, but he was on sabbatical this spring. Anna Strong Safford was a teaching assistant this year.
Because they can't be together, Applebaum and Bloch check in regularly with the 11 students, about their class work, but also about how they are doing overall. "They really cared not only about our academic lives but also our personal well-being during this time," Lucas says. 
The teaching team say they have been impressed with the students' dedication throughout the semester. "I have been moved to tears many times after class with how much students putting in," Applebaum says. "They have written amazing essays. They've risen to every challenge, coming up with different ways to run the class. They are showing up and giving everything so grateful to them."