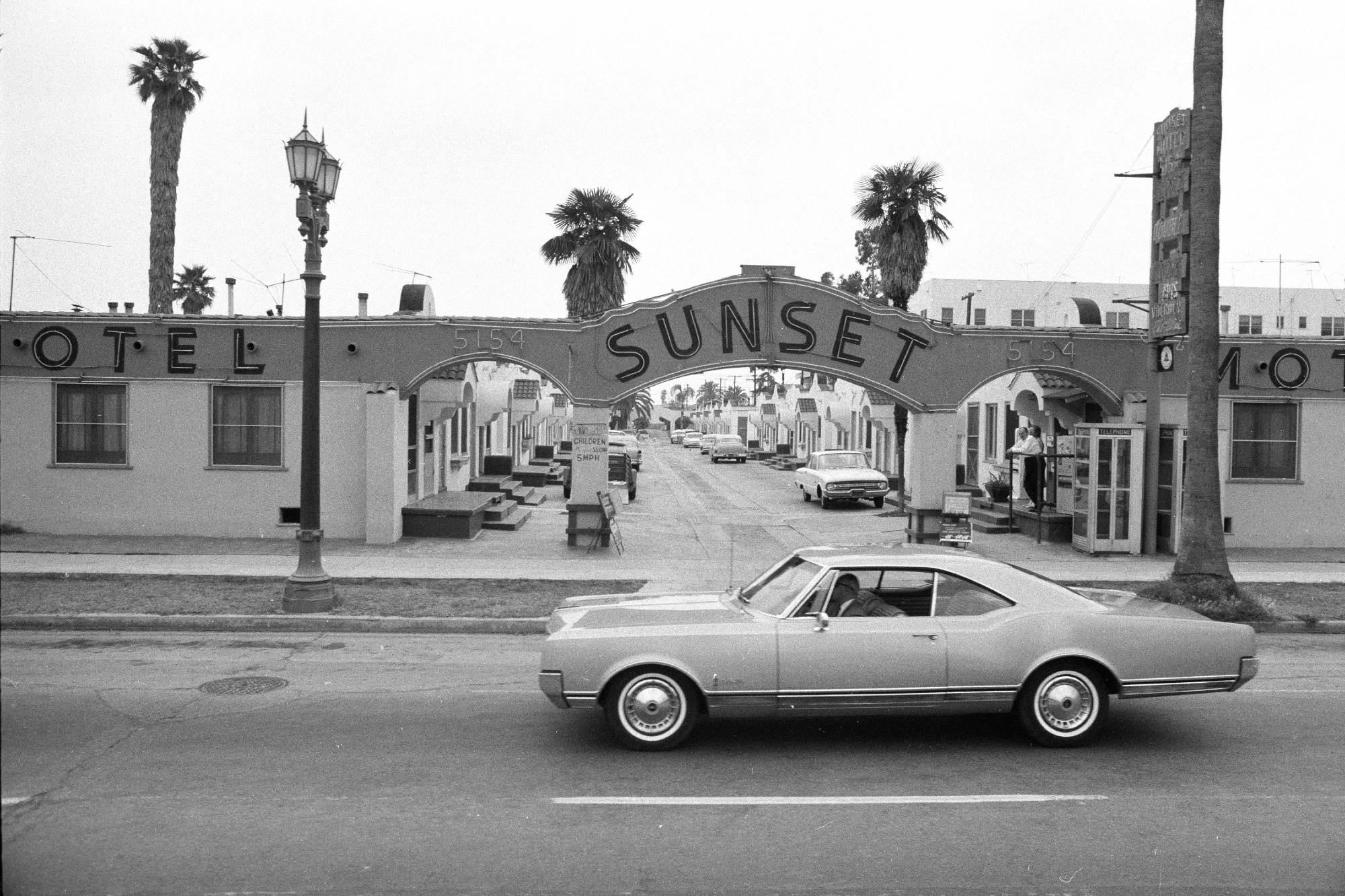 From 1965 to 2010, artist Edward Ruscha regularly drove down and took pictures of Sunset Boulevard, amassing a huge collection of photographs of the iconic American roadway. Now, with 130,000 digitized images available online, this collection provides a rare glimpse into the history, culture, and landscapes of Los Angeles while it was in the midst of its post-war transformation.
This summer, Francesca Ammon worked with rising College of Arts and Sciences juniors Julian Valgora, Gerardo Ramirez Lopez, and Juliette Morfin on a digital humanities project called "Sunset over Sunset." With support from the the Penn Undergraduate Research Mentoring (PURM) program, the researchers made essential progress towards being able to use this collection to study the impacts of small-scale changes on the urban environment.
Urban shifts, one block at a time
Small-smale changes, Ammon says, include things like a storefront changing ownership, a bus stop being built, or a single house on a city block receiving an addition or being demolished. The goal of "Sunset over Sunset" is to study the impacts of these small-scale changes using Ruscha's photographs, which capture shifts in the city's landscape in ways that might have otherwise gone unnoticed.
"It's more modest than large-scale demolitions that we've known are important but are not the typical story of what happened in most cities," Ammon says. "And while we're looking at a street that's not a typical street, we think it can shed light on commercial strips and what kinds of developments happened over time."
To enable this type of scholarship, "Sunset over Sunset," a collaboration among scholars at Penn, Swarthmore, and the Boston Public Library and supported by the Getty Research Institute and National Endowment for the Humanities, will stitch Ruscha's photographs together into multiple years of virtual panoramas connected to layers of geographical and historical data. This will provide both a visual record of the boulevard as well as access to qualitative and quantitative historical records, all hosted on a website that will be available for scholars to study Sunset Boulevard as it changed and evolved during the late 20th century.
This summer, the goal was to make essential progress on gathering and organizing the supporting data. This included going through city directories, building permits, real estate records, census data, and newspaper articles and collating information into a searchable format. Students also spent time annotating photographs and tagging everyday objects such as palm trees, banks, gas stations, and mailboxes. To complete their summer internships, they also conducted independent research and each wrote a case study about a specific aspect of urban change along the boulevard and what it represents about the history of L.A.
An opportunity to delve into a city's history and culture
Julian Valgora, an English major from New York City, was familiar with Ruscha's work and was interested in working on a project that combined photography with urban studies. This summer he helped organize six decades of Census data, including demographics, levels of education, and median family income across Sunset Boulevard. For his study, Valgora studied changes in palm trees along Sunset, an iconic but relatively new feature of the city as they are not actually native to Southern California.
"The rise of the film industry led to this idea of L.A. wanting to be very glamorous and beautiful, so palm trees were planted because they are a weird, exotic tree that encapsulates this idea," Valgora says. "They were planted everywhere, and so in certain neighborhoods where there's a new development it's almost always accompanied by palm trees. Over the course of 50 years, you can see where the palm trees appear, and you can even watch them grow."
Ramirez Lopez, an architecture major who grew up close to Sunset Boulevard, was interested in learning more about his hometown through this work. His specific project included reading Spanish-language newspapers published between 1965 and 2007, looking for information and stories that mentioned Sunset Boulevard. He also worked on combining image annotations with data from city directories to identify which businesses remained intact during the time period, and his case study delves into these "legacy businesses" in greater detail.
In the process of conducting his first major research project, Lopez says that he's realized how Sunset Boulevard itself is "like a large, dynamic piece of architecture" and how it's changed physically, culturally, and socially over time. "It really made me admire Los Angeles and its history," he says. "You can really take any street in Los Angeles and find stories as interesting as the ones that we're finding for Sunset."
Morfin, an urban studies major from Fort Mill, South Carolina, loved the visual nature of this project and how it connects to her interests in urban history. After spending the early days of her internship recording data from Los Angeles city directories, which include information on the addresses, occupants, and phone numbers of businesses across Sunset, she also collated data from existing cultural sources, including building descriptions and local histories, that will be included on the website in the future.
For her case study, Morfin focused on the history of three iconic albums—The Doors' debut album, "Pet Sounds" by the Beach Boys, and "Freak Out!" by The Mothers of Invention—and how they encapsulate the "hippie" culture that took hold in the mid-1960s. "Sunset is seen as an area of prestige and glamor, but there was one point where it was seen as low-brow, when young people without a ton of money were occupying Sunset, and all these bands were creating new and different music," says Morfin. "It goes contrary to people's perceptions of Sunset, and in these few years there's so much that goes on to shape the culture as a whole."
Essential work towards new scholarship
The time spent this summer gathering and organizing photographs and data has been essential for the project's overall progress, Ammon says. With the goal of having the first version of the website available by the end of next year, Ammon adds that she and other scholars are looking forward to being able to make full use of this resource in the near future.
"We're really excited about having all this information readily available and the way we're going to be able to talk about change over space and time," she says. "I'm so happy to have these resources at Penn and to be able to work with the students who bring their enthusiasm and their individual interests to this wealth of material."
For Morfin, this summer was a great opportunity to get to know a new city in great detail while also seeing the breadth of creativity across her fellow interns' case studies. "I'm definitely a music person, so getting into the history of albums that I liked but that I didn't know the culture or context, while also learning about a time and place, was very fascinating," she says.
Valgora also enjoyed delving into another city's history and culture "rather than just the stereotypes" and getting a better understanding of how and why Los Angeles functions the way it does. "Because these photos have a lot of big cultural implications, and the fact that they are taken over such a long period of time, it's almost like an archive of L.A.," he says. "In a sense, these photos have become more than just panoramic views; they've gained a larger importance."
Francesca Ammon is an associate professor in the Department of City and Regional Planning and the Graduate Group in Historic Preservation in the Stuart Weitzman School of Design at the University of Pennsylvania.
This opportunity was offered through the Center for Undergraduate Research & Fellowships, specifically the Penn Undergraduate Research Mentoring Program for students finishing their first or second undergraduate year. Each student receives an award of $4,500 for the 10-week summer research internship.