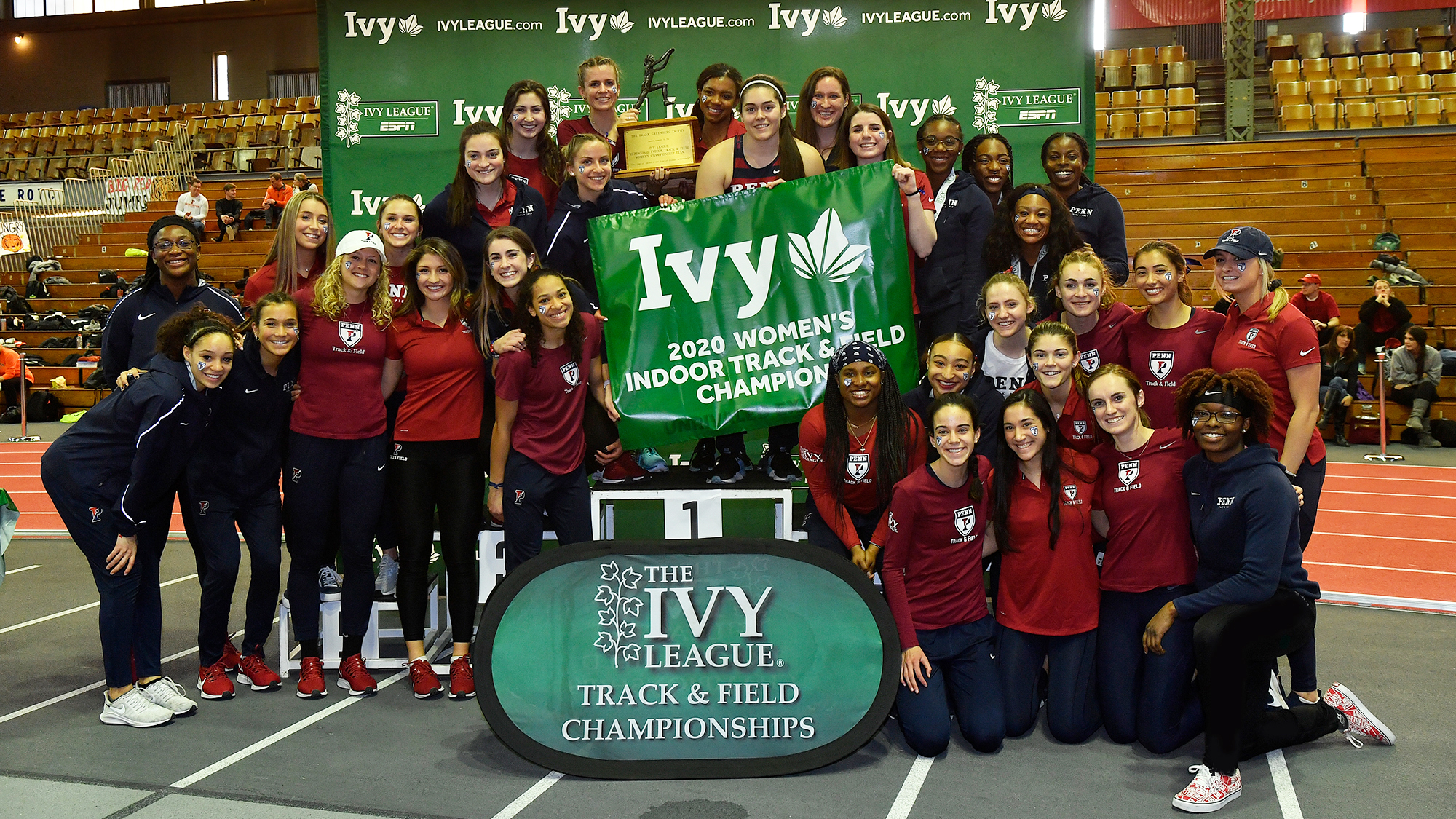 For the first time in school history, the women's track & field team has won three consecutive Indoor Ivy Heps titles. 
In Ithaca, New York, over the weekend, Penn prevailed in eight events, including six individual contests, and amassed 133 points to pull off the three-peat.
Sophomore thrower Mayyi Mahama won the Quakers' first chip on Saturday in the weight throw. Her heave of 21.76m set a new Ivy League record.
Senior Maura Kimmel also flourished in the field. She won her second straight indoor Heps title in the shot put, throwing 15.43m. 
As expected, senior middle-distance runner Nia Akins was her typical phenomenal self; she won the mile in 4:46.05 and the 1000m in 2:51.20, and was named Most Outstanding Track Athlete for the second year in a row.
Skyla Wilson, a sophomore, was victorious in the 500m. She clocked in at 1:13.22, the sixth-fastest time in school history. 
In the 800m, junior middle-distance runner Melissa Tanaka placed first with a time of 2:09.79.
Tanaka was also a part of the quartet that won the 4x800m. Sophomore Caroline O'Sullivan, senior Katie DeVore, sophomore Ellen Byrnes, and Tanaka ran an 8:55.51.
With one race left on the docket, the 4x400 relay, the team championship was still unresolved. It would be either Penn or Harvard.
Wilson, senior Cecil Ene, senior Elena Brown-Soler, and junior Uchechi Nwogwugwu brought home the team crown by finishing first with a time of 3:41.16.  
"I'm super proud of the team at large," Steve Dolan, the James P. Tuppeny/Betty J. Costanza Director of Track & Field/Cross Country, told the Ivy League. "The women's team really has a great group, a great spirit to them overall. I really have a great coaching staff; I'm really fortunate. The coaches have done a fantastic job in every different event there is, so I want to acknowledge all the work they've done. It takes a full team."