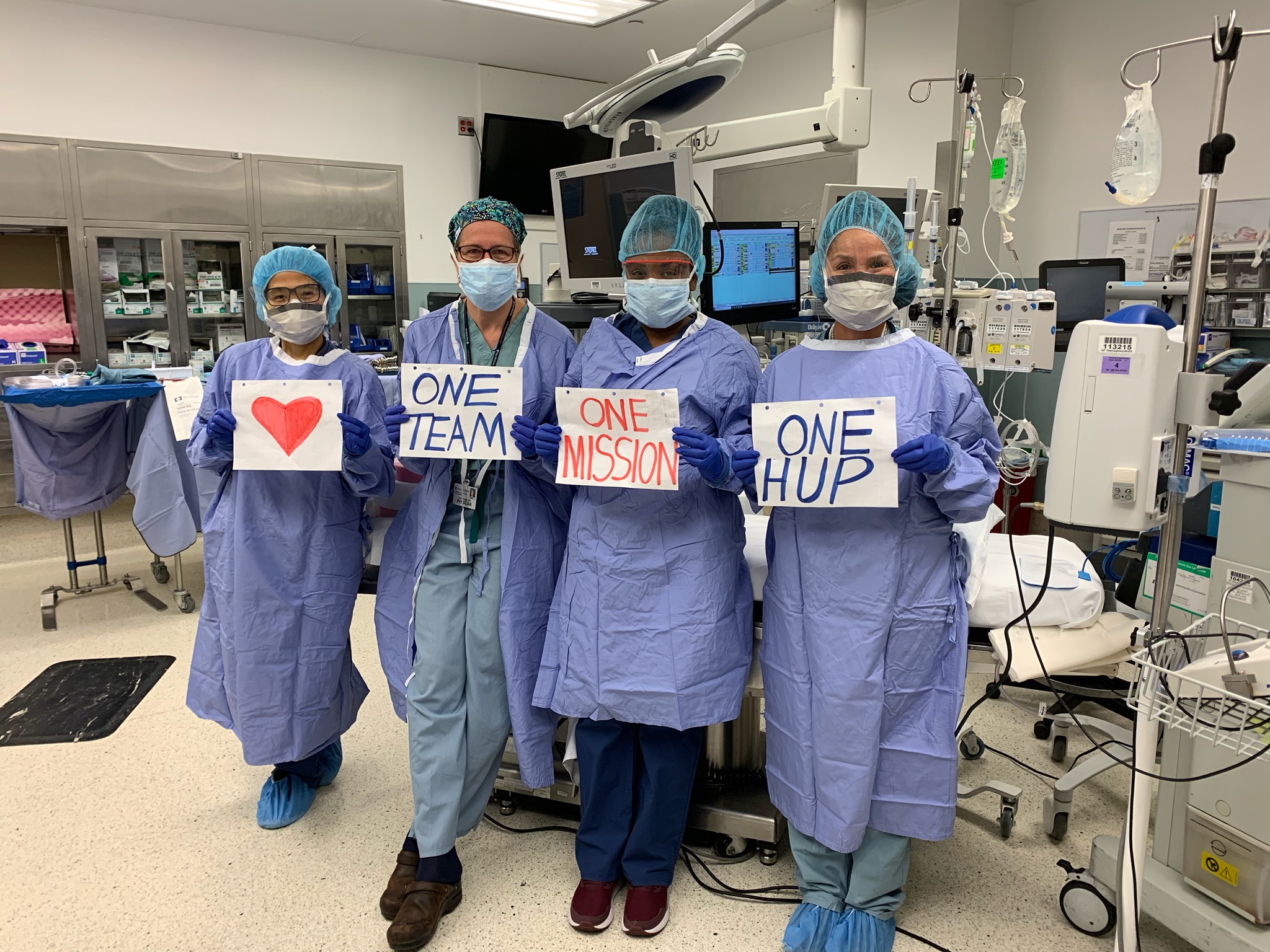 At the onset of the coronavirus pandemic in March, Joanna Hart, a pulmonary and critical care physician at the Hospital of the University of Pennsylvania, and her team's lives—not to mention her family's—changed quickly and dramatically. Her job structure looked different, new safety and operational plans were in place, and, at home, she was juggling her career with caring for two young children with her husband.
That challenge felt especially acute when her children, a 7- and 3-year-old, were suddenly home from school and daycare.
"I think that particularly women in academics are barely hanging on as it is," Hart, an assistant professor of medicine at the Perelman School of Medicine, explains. "And then to have these increased family responsibilities and caregiver responsibilities you didn't anticipate, it felt like walking a tightrope. Like a potentially career-threatening thing to have happen."
Recognizing that, she says Penn reached out to employees like her early on to make PennMedicineTogether known as an available resource. PennMedicineTogether is a central web hub that provides resources in support of Penn Medicine staff. The website links to resources for physical health, access to life necessities, and means to care for their families—plus, a thank-you page with notes from hundreds of Penn Medicine patients and their families.
For Hart, she says she was able to use the website as a way to connect her 7-year-old son—who she emphasizes is very social—with volunteer-facilitated, interactive activities to do through Zoom. He completed a theater program and a session of charades.
"I really appreciate that Penn put real thought and resources into making sure people who have kids at home are able to sneak in work time and have provided whatever resources they could in a virtual environment, to support child care and allow me to do meetings and write for 45 minutes," Hart says. "And get my workday back."
Lisa Bellini, senior vice dean for academic affairs at the Perelman School of Medicine, credits the success of PennMedicineTogether—it has already accrued more than 91,000 page views and 32,000 users—to Penn Medicine's "resilient spirit, from the get-go." Planning for the pandemic, at-large, began as early as December, she says, while approximately 20 staff members came together quickly at the onset of the pandemic to create PennMedicineTogether as a staff resource.
"People really just came to the table with these wide agendas of, 'We can't leave until we figure this out,'" Bellini says. "And it was incredible—it's still incredible. And part of PennMedicineTogether is giving people the resources to stay resilient, recognizing that we are all going to deal with the anxiety and uncertainty [of the virus] in different ways. Some of this is normalizing the fact that we all have some anxiety and it's going to be expressed a little differently in all of us."
Work on PennMedicineTogether began in the third week of March and was launched two weeks later. The mission: to broadly develop new resources and integrate ones that already existed and scale them. Perspectives were sure to include and focus on behavioral health, psychology, and innovation.
"I feel good about the progress we've made since this launched," says Stephanie Taitano, director of faculty professional development at Penn Medicine.
Taitano sits on a Wellness Committee that contributes to the development of PennMedicineTogether.
"It's been incredible to see the kinds of generosity in the community, from Philly vendors and individuals who want to offer goods and services and words of thanks and gratitude," she says. "One of the most popular pages by far is the gratitude page, where people go to not only look at the messages but also submit their own and their images of gratitude."
Many of the site's features and initiatives, she adds, have been ideas submitted by the Penn community. Among examples: a volunteer program that coordinates meals to be delivered to frontline workers, and the kids programming Hart used for her 7-year-old son.
Integral to PennMedicineTogether as a resource is PennCOBALT, a new web-based platform developed in the early weeks of the crisis that matches health care workers to mental health resources and the appropriate level of group and individual mental health and well-being support. It culls a list of potential providers by asking participants to answer questions—that is, before even entering the app—about their needs in a quick survey format, allowing for targeted care. It's curated compassion.
"Everyone is overwhelmed with a barrage of information right now and, even in the best of circumstances, mental health care is challenging to navigate and tends to be generalized," says Cecilia Livesey, chief of integrated services in psychiatry at Penn Medicine and creator of the app, explaining that patients are often pointed to a psychiatrist or therapist in an overly broad way. "If you had a torn ACL requiring surgery, you wouldn't want to go to a primary care physician, but often people with a treatable mental illness requiring evidence-based care from a specialist end up seeing multiple providers before they land in the right place. We're really trying to be targeted and get people to the right type and level of care from the get go."
Visitors to the COBALT web app are also shown content tailored to how they answered initial questions. For those not seeking one-on-one care, there are meditation tools, groups to help process trauma—crucial to preventing PTSD—and an option to create your own group. Additionally, there are podcasts, worksheets, videos, and more. The app is so-named after cobalt as an adaptable metal, as well as a trace element that's essential for neurological health.
Importantly, the app gives users the ability to remain anonymous while using the site, and there is an "In Crisis" button for those considering self-harm.
"Those acute cases where people have safety concerns with people identifying and acting on this has been really critical," Livesey says.
Thea Gallagher, assistant professor of psychology and outpatient clinic director at the Center for the Treatment and Study of Anxiety in Psychiatry, has volunteered to facilitate processing groups. Some workers come to the group having suddenly taken on a role of a first responder without ever thinking they would, and others feel stress over wanting to do more or feeling overwhelmed. There are also many she's worked with, she says, who've experienced exacerbated mental health conditions like anxiety and OCD.
"Those people are concerned about contaminating other people, or dying, or worrying in general about their loved ones or feeling uncertain," Gallagher explains. "So, I think there are people who were already feeling like this is an anxious time, and yet there are also people who already struggle with anxiety and are struggling even more."
Others, she says, have been redeployed to different jobs within the Health System and are working to manage a new set of stressors associated with that transition. She tries to promote reflection on feelings, coping strategies, self-care, social support, and management of catastrophic thinking. These are essential to making this overwhelming work sustainable for the long-term—"Especially as the pandemic is ongoing," she says.
Bellini describes the more seamless—and normalized—approach to mental health care access through COBALT "a game-changer."
"I think what we've stumbled upon is a new way of delivering mental health services, period," she says. "One of the most interesting parts of this is you can connect to mental health care in a HIAA-compliant way in the privacy of your own home. You don't need to call somebody and describe your situation, to be triaged and get a call back and make an appointment you don't need to show up in a psychologist or psychiatrist waiting room and register, and sit there and get called back—there's none of that. This is all virtual and, honestly, I think this is a model of how to transform mental health care delivery and reduce barriers to care, which is important to this vulnerable workforce."
The resource will stay in place indefinitely, says Taitano. Bellini, meanwhile, expresses a hearty thanks to the Penn Medicine community for their time, spirit, energy, and compassion to patients.
"We're all in this together, and I think that's our most important message," Bellini says. "We're here to help each other navigate what is the rest of this crisis."
Homepage photo: PennMedicineTogether is a central web hub that provides resources in support of Penn Medicine staff. The website links to resources for physical health, access to life necessities, and means to care for their families.