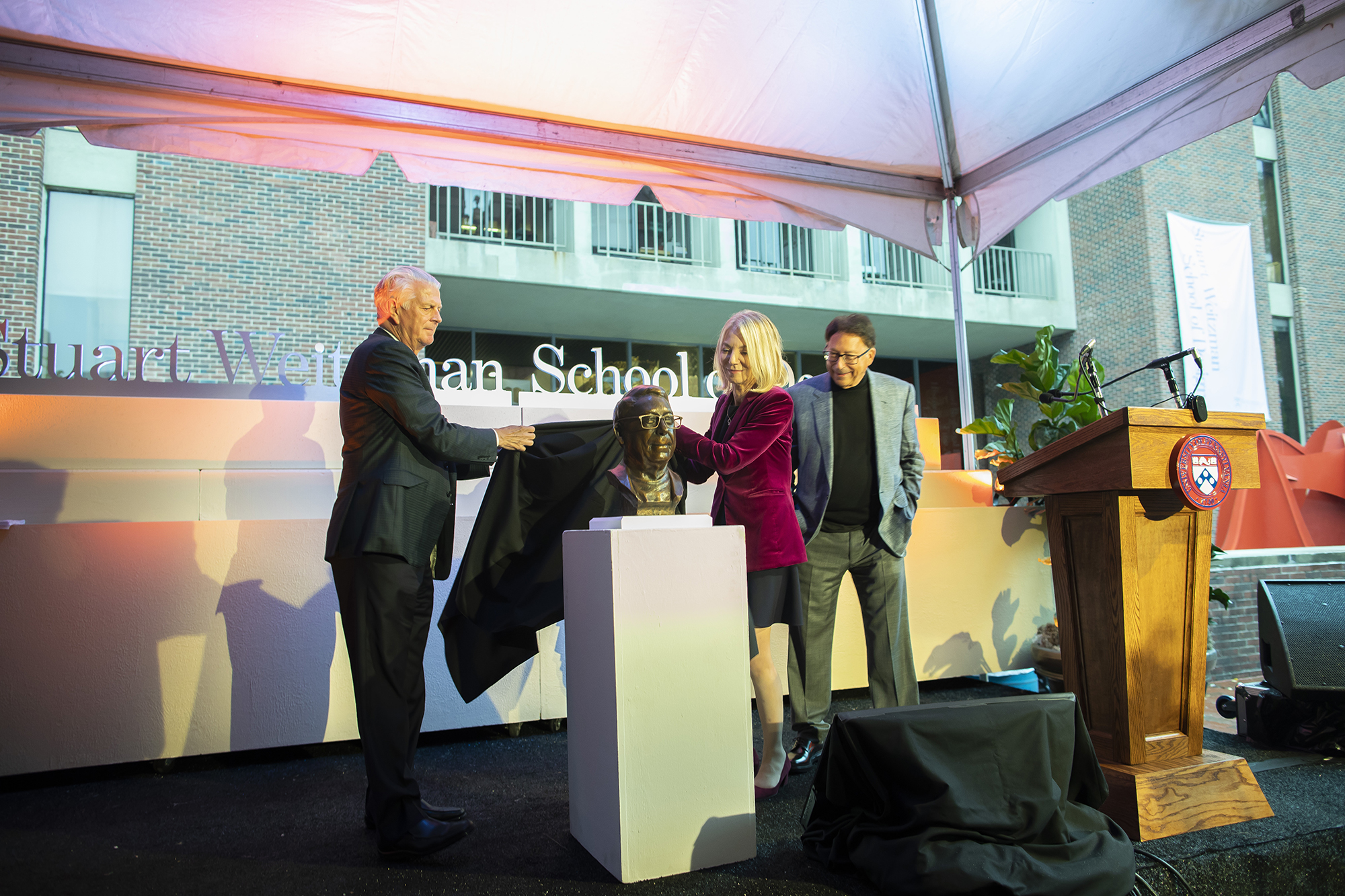 Rain did not dampen the enthusiasm for Thursday's celebrations of the naming of the University of Pennsylvania Stuart Weitzman School of Design.
Sheltered from the drizzle under a white tent outside Meyerson Hall in the heart of Penn's campus, President Amy Gutmann addressed the crowd.
"Design is the alchemy that refashions our world into something better," she said. "It is nothing less than the science, the art, and the magic of transformation."
Gutmann announced that the central plaza, located adjacent to College Green between Meyerson Hall and Fisher Fine Arts Library, is now named the Stuart Weitzman Plaza. The area will undergo significant redesign and renovation by renowned landscape architect Laurie Olin, practice professor emeritus of landscape architecture of the Weitzman School, and colleagues at his firm OLIN. 
"This shared space will be a true homage to the transformative power of design. It will embody Stuart's connection with the Weitzman School while enriching our campus for the entire Penn community," Gutmann said. 
Weitzman, the designer and footwear industry icon, graduated from the Wharton School in 1963. He has had a "lifetime of engagement with Penn," and "believes in the power of design to immeasurably improve the human experience," said Gutmann. 
Weitzman directed his comments during the ceremony to the students in the audience. 
"I have learned through my career that design is a fabulous element to incorporate into your life. It will improve your imagination and you can use that in any field you enter," he said. 
"It will encourage you to take advantage of risks rather than shy from them, and those risks are actually what moves the world forward. People who don't take them generally don't move forward," he continued. "And finally, it will teach all of you who pay attention to design that function is the most important thing you can do in any project you are engaged in."
A bronze bust of Weitzman, by Philadelphia artist Tim Rusterholz, will be placed in Meyerson Hall. "I hope you don't mind my saying you have a magnificent head for design, for business, for education, and now, for sculpture," Gutmann said right before it was unveiled. 
Weitzman was at the ceremony with his wife, Jane, and their two daughters.  
The seed for what became Penn's design school was planted 150 years ago with a mechanical drawing course taught by Thomas Webb Richards, the architect of College Hall,  said Frederick Steiner, dean of the Weitzman School, and the Paley Professor.
"Today, as then, our faculty is without equal, which is why generations of architects, landscape architects, planners, preservationists, and fine artists have chosen to begin their careers at Penn," Steiner said. 
The Weitzman School enrolls more than 800 students in 13 degree and 15 certificate programs. "Our mission is to prepare them to address complex sociocultural and environmental issues through thoughtful inquiry, creative expression, and innovation," Steiner said. "We are training our students to lead the way to a more sustainable, healthier, and more inclusive future." 
The naming is recognition of Weitzman's ongoing philanthropic support of Penn and the School and his active engagement in academic activities, as well as a reflection of his enduring influence in the world of design. At a dinner after the plaza ceremony, Gutmann emphasized the importance of the decision. 
"For a university president, few milestones are as profoundly game-changing or as rare as the naming of a school. When we celebrate such a milestone, what we in essence celebrate are future generations of students whose lives will be forever transformed, faculty whose work will be forever empowered, and a world that's forever changed for the better," she said. "These essential things loom large as we celebrate the Stuart Weitzman School of Design." 
A Day of Celebrations
The evening celebration capped a day of programming. Before the naming ceremony Gutmann had a wide-ranging conversation with author and architecture critic Paul Goldberger, now a contributing editor at Vanity Fair, in front of an audience of more than 250 people in Irvine Auditorium. 
Goldberger holds the Joseph Urban Chair in Design and Architecture at The New School in New York City. He started his career as an architecture critic in 1984 at The New York Times where he was awarded the Pulitzer Prize for Distinguished Criticism. He was the architecture critic at The New Yorker magazine, writing the "Sky Line" column. He is the author of numerous books, including "BALLPARK: Baseball in the American City," an architectural history of baseball parks published earlier this year. 
Baseball stadiums, particularly those in Philadelphia's history, were part of their discussion. Gutmann and Goldberger also talked about the function of public art in communities, the transformational renovations at the Philadelphia Museum of Art, and the increasing number and influence of women and underrepresented minorities in the worlds of design and architecture. 
The gift by Weitzman, which is also supporting financial aid for students, has already made "a huge amount of difference" in the School's ability to attract minority students, Gutmann said. "Bringing loan burdens down is significant," she said. "The rewards are priceless."
The pair also talked about the distinguished legacy of the Weitzman School, which is known for its pluralism and broad education. "It's really important that architecture, city planning, preservation, landscape, fine arts, and design are all seen as interconnected and having things to say to each other rather than separate isolated disciplines," Goldberger said to applause.  Gutmann replied: "We both believe that."
She also asked Goldberger what he sees as the most encouraging trends in architecture and design this century. "I have to go back to the students at Penn and elsewhere—how smart, articulate, aware, and socially aware they are. I have to believe all that will ultimately have a very good impact," Goldberger said. "Also, I am encouraged that we are a much more visually literate society than we used to be. People care more about how things look."
Earlier in the day Penn hosted two panel discussions to explore the role of design in addressing urgent social issues. 
The first—Balancing Acts: The Interplay of Design, Technology and the Natural World – was moderated by Inga Saffron, the architecture critic at "The Philadelphia Inquirer." Panelists included Marion Weiss, cofounder of Weiss/Manfredi in New York City and the Graham  Professor of Practice in the Department of Architecture at the Weitzman School; Doreen Lorenzo, assistant dean of the School of Design and Creative Technologies at the University of Texas; and James Corner, founder and CEO of James Corner Field Operations in New York City, and a professor emeritus of landscape architecture at the Weitzman School. 
The second—Whom Do We Honor…and How? Exploring the Meaning of Memorials – was moderated by Lisa Servon, the Kevin and Erica Penn Presidential Professor and Chair of the City and Regional Planning Department at the Weitzman School. Panelists included Randall Mason, associate professor of city and regional planning at the Weitzman School; Sharon Hayes, associate professor of fine arts at the Weitzman School; and Christian Benimana, senior principal and managing director, MASS Design Group in Boston.

The daylong programming was meant to consider the critical role that design plays in so many aspects of modern life as a way to honor of Weitzman, who founded his eponymous company in 1986 and went on to build one of the world's most-renowned fashion footwear brands. In 2015, he orchestrated the sale of Stuart Weitzman, LLC, to Coach, which was later renamed Tapestry. Weitzman stayed on as the creative director through May 2017 and is currently chairman emeritus.
"I am grateful to have been very fortunate in my career. It was always my intention to support the University of Pennsylvania in as many ways as I could," Weitzman said when the announcement of the naming was made in February, "especially after spending so much time interacting with the Penn community, and specifically with its remarkable students.
"This is my way of thanking the University of Pennsylvania for the education that was the foundation of my long and incredibly enjoyable career in design. It is my privilege to support new scholarships, and to invest in the overall academic mission of the School, including the advanced technologies and systems so essential to the future of design."