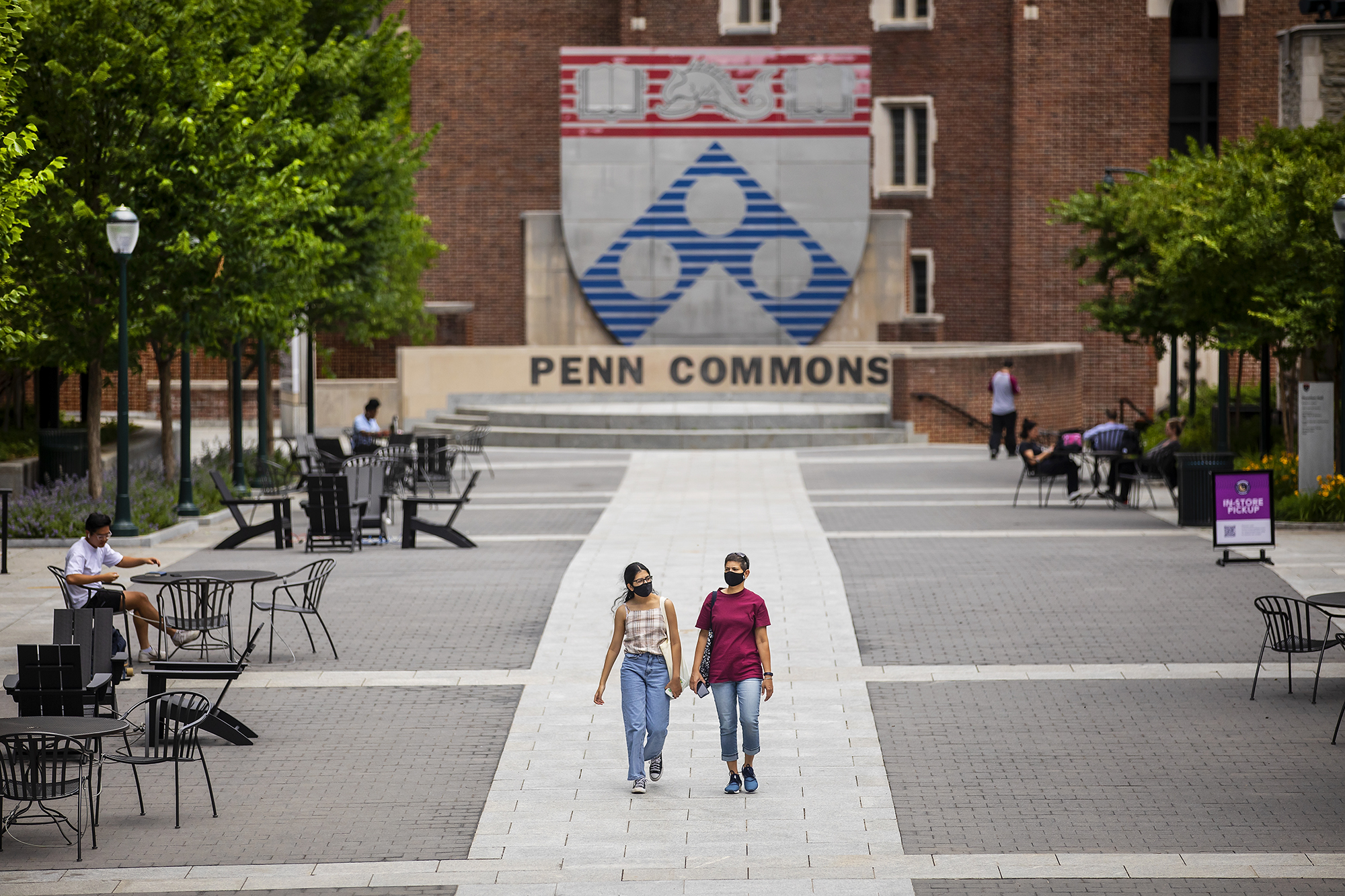 As the Penn community looks forward to a fully in-person campus experience for the fall semester, this summer will be a period of transition as faculty, staff, postdocs, and students navigate evolving public health measures while returning to campus in a way that helps keep the community safe.
Penn Today looks at guidelines for those on campus this summer, what members of the Penn community can expect as they return to campus, and the role that vaccines have in safely resuming to in-person activities.
What public health measures are currently in place?
Masks and physical distancing are no longer required for those who are vaccinated. In indoor settings, masks are required for those who are not fully vaccinated, students in congregate living settings while they are in quarantine or isolation, anyone interacting with children younger than 12, inside health care settings and at Penn Cares testing sites, and on public transportation, including Penn Transit.
"The biggest difference from the past year is that the restrictions that were the new normal have been lifted because of a successful beginning to our vaccination campaign," says Benoit Dubé, chief wellness officer and associate provost. "There are fewer new cases and, most importantly, fewer hospitalizations, which show how effective vaccines are. We all benefit from vaccines, and the removal of these restrictions are the best example of that benefit."
What can members of the Penn community do to keep campus safe?
Along with following public health guidelines and getting vaccinated, Director of Campus Health Ashlee Halbritter says that maintaining good hand hygiene and staying at home when sick can help keep the Penn community safe as more people return to campus.
Are there different guidelines for those who are vaccinated and those who are not?
As of July 1, PennOpen Pass will no longer be needed for campus building access; it will still be required for testing compliance and daily symptom checking for individuals who have not uploaded their vaccination status.
Also starting on July 1, members of the Penn community who are vaccinated are no longer required to do weekly screening tests through the Penn Cares program. This exemption is only for those who have submitted their vaccination information on Workday (for faculty, staff, and postdocs) or on the Student Health Service portal (for students). Those who were vaccinated through the Penn Medicine system must still submit their vaccine information through the appropriate channel, as this information is not directly accessible to the University.
As new science and guidelines from the CDC and the Philadelphia Department of Health become available, guidance around testing, quarantining, and isolation will also evolve. For the time being, contact-tracing capabilities will remain available for all members of the Penn community as guidance for quarantine and isolation continues to evolve.
For the time being, members of the Penn community who are fully vaccinated are exempt from most quarantine restrictions, are not required to wear a mask or physically distance, and do not have to undergo weekly saliva-based testing. "This is the closest to normal we've seen since March 2020," says Dubé about the benefits of getting vaccinated against COVID-19.
What should members of the Penn community expect as they return to campus?
Individual Schools and Centers will begin a phased return starting July 6 in preparation for normal on-campus operations for the fall semester to resume on Sept. 7.
"The Schools and Centers have done a great job of thinking through their phased-return plans, and everyone has made decisions for their population and stepped up what they can do to help people feel comfortable coming back," says Halbritter.
"It's completely normal to feel nervous about coming back," says Dubé, who recommends that those who have not been on campus during the pandemic use the phased return as a time to reintegrate into on-campus routines once again.
To support members of the Penn community who may have different thresholds in terms of when they feel it is OK to unmask, Penn is committed to being a mask-inclusive campus. Wearing a mask for any reason is supported and welcomed as individuals figure out on their own time what works best for themselves.
"We're in a state of evolution. It's taken us a year and a half to get here, and it's not going to change overnight," says, Erika Gross, chief operating officer for Wellness Services. "It's about being comfortable with where we are in the pandemic and managing your own sense of comfort."
Wellness team members also recommend that members of the Penn community take time to "disconnect, reflect, and rejuvenate" by taking advantage of any unused paid time off and enjoying the summer as a time to recharge before the start of the fall semester.
What is the role of COVID-19 vaccines in resuming in-person activities on campus?
The ultimate goal, says Dubé, is to keep the Penn community and its neighbors safe as the campus is repopulated. While there are numerous benefits of vaccination, he says, there will be options for those who are unable or who choose not to get vaccinated to engage with Penn's campus through regular saliva-based testing and masking requirements.
"Individuals who have struggled with whether or not to get vaccinated should feel welcome to reach out to the University to access resources and find answers so that their apprehensions can be addressed so they can feel educated and empowered," says Dubé. "The virus is still there, and so far vaccines are effective against variants. There is an urgency for unvaccinated community members to get vaccinated to avoid any unforeseen challenges."
To learn about how the COVID-19 vaccines work, vaccine and testing requirements for the Penn community and where to access a vaccine for those who are not yet vaccinated, visit https://coronavirus.upenn.edu/content/vaccinations.
For more information on COVID-19, visit https://coronavirus.upenn.edu and follow @COVIDPenn on Twitter and Instagram.