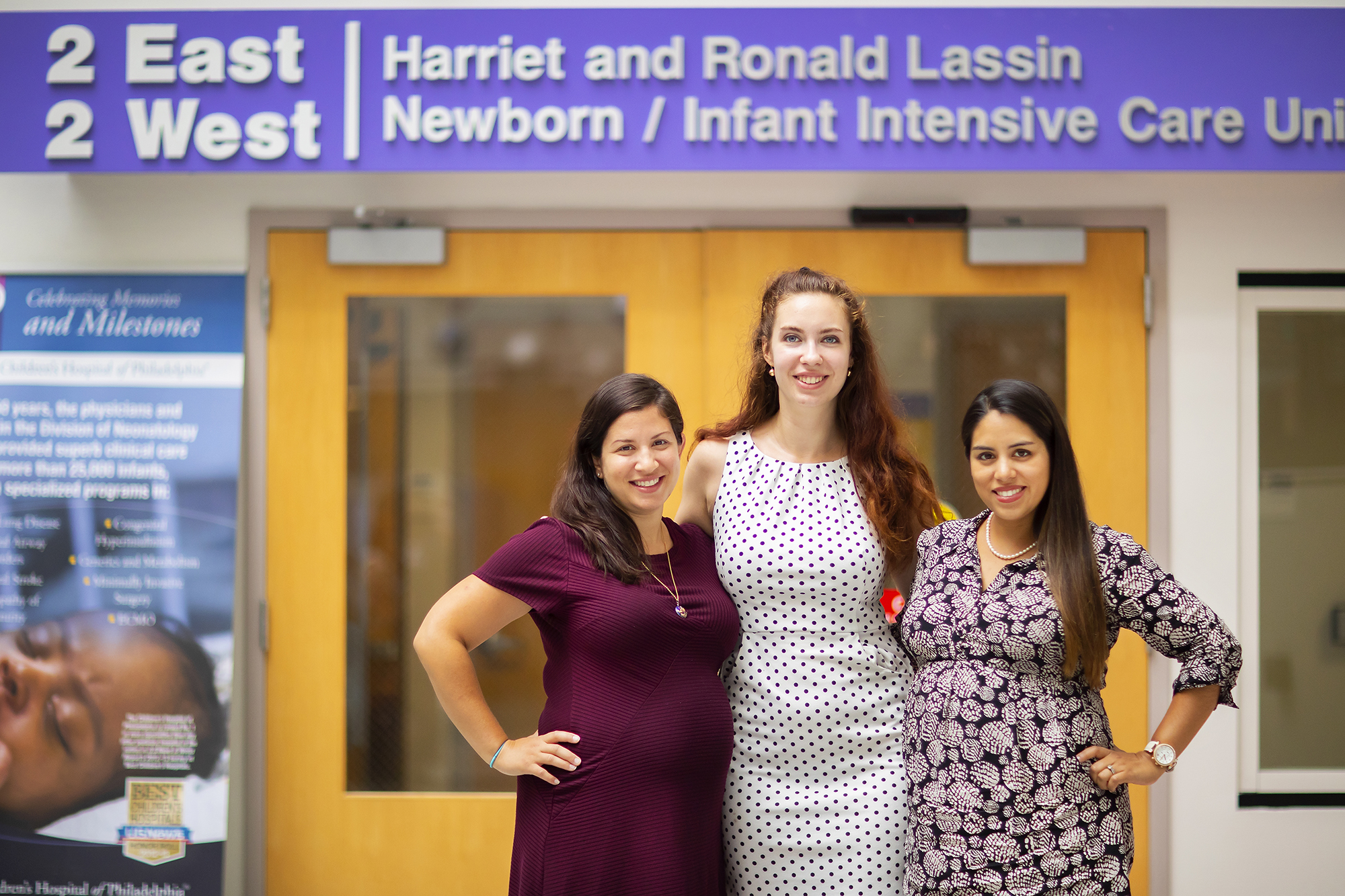 When Joanna Parga-Belinkie and Diana Montoya-Williams, longtime friends and neonatologists at the Children's Hospital of Philadelphia (CHOP), became new mothers one year apart, they realized that even physicians who work directly with newborns could have questions and anxieties about raising children. Out of that insight came a podcast, "Baby Doctor Mamas," in which the pair addresses common questions from the perspective of both pediatrician and mother. 
Down the hall at CHOP sat their friend and occasional collaborator Katie Lockwood, a fellow pediatrician and host of another CHOP podcast, "Primary Care Perspectives," an interview-style program targeted to other pediatricians. As both podcasts evolved, the doctors became curious: Who was listening and what were they learning?
"It's just not a type of media that clinicians have been utilizing at all to reach patient populations," Parga-Belinkie says. "We thought it was a good window for research." It wasn't until they started vetting possible candidates to take on this research, though, that the doctors met Penn's Julia Kafozoff, a sophomore in the College of Arts & Sciences from Monroe Township, New Jersey, who had an interest in medicine, as well as audio production experience from interviewing professors and working at the student radio. She seemed like the perfect fit.
For 10 weeks this summer, Kafozoff's tasks and experiences have been all over the medical map during the internship, which she was awarded, with a stipend, through the Penn Undergraduate Research and Mentorship program, part of the Center for Undergraduate Research and Fellowships. 
On some days, she shadows Parga-Belinkie in the neonatology unit and Lockwood in the primary care clinic to gain exposure to the hospital environment. On other days, she listens to past episodes of "Baby Doctor Mamas" to come up with a clip compilation for a new introduction. But primarily, she works on building and refining the survey that will go out to approximately 100 physicians and 100 patients to determine the influence of podcasts in their lives.
"Her surveys will kind of give her the full circle of what do the parents and families and providers who are the recipients of these podcasts think about the material that we're creating. She'll really get a full 360-degree view of the podcasting landscape," Lockwood says.
All three physician-podcasters have been working on their programs for several years. Parga-Belinkie and Montoya-Williams met as undergraduates at Harvard University and have remained friends since. Now, more than 15 years later, their offices are only a few feet apart in CHOP's neonatology department. After having their first children a year apart, they decided to start "Baby Doctor Mamas," a podcast for mothers, from mothers, who also happen to be trained pediatricians. In a typical episode, the pair, and sometimes an expert guest, will discuss a motherhood-related topic like cloth versus disposable diapers, the necessity of baby monitors, or postpartum depression. 
"If I had so much insecurity and anxiety and felt so much isolation as a neonatology-trained physician, then I couldn't imagine what some women and men who didn't have my resources and education and support system might be feeling," Montoya-Williams says. "The idea of making this experience less isolating, less overwhelming for more people in an accessible way was really appealing."
Lockwood's podcast, "Primary Care Perspectives," is a little different. She interviews experts on a variety of subjects, like adolescent e-cigarette use, fever in children, and gender identity and sexuality. The audience is mainly other primary care physicians who care for children.
As Kafozoff develops the main survey, she continues splitting her time between Lockwood and the Doctor Mama duo, either shadowing their medical work or aiding in the production of their podcasts. She's developing a new introduction for "Baby Doctor Mamas" and will appear on an episode of "Primary Care Perspectives," where she'll flip the script and interview Lockwood. This will give her insight into how to produce an episode from start to finish.
Though the primary objective of Kafozoff's survey research is to determine who's listening to the podcasts and what they're learning, she says she also hopes that the survey will broaden the audiences.
"A byproduct of the research is to just get the word out more about both podcasts, to really diversify the audience demographics," Kafozoff says. "Hopefully, that's an outcome of the research—not only to learn more about how people are receptive to the podcasts, but in the process, actually introduce more people to them, and just keep them growing."