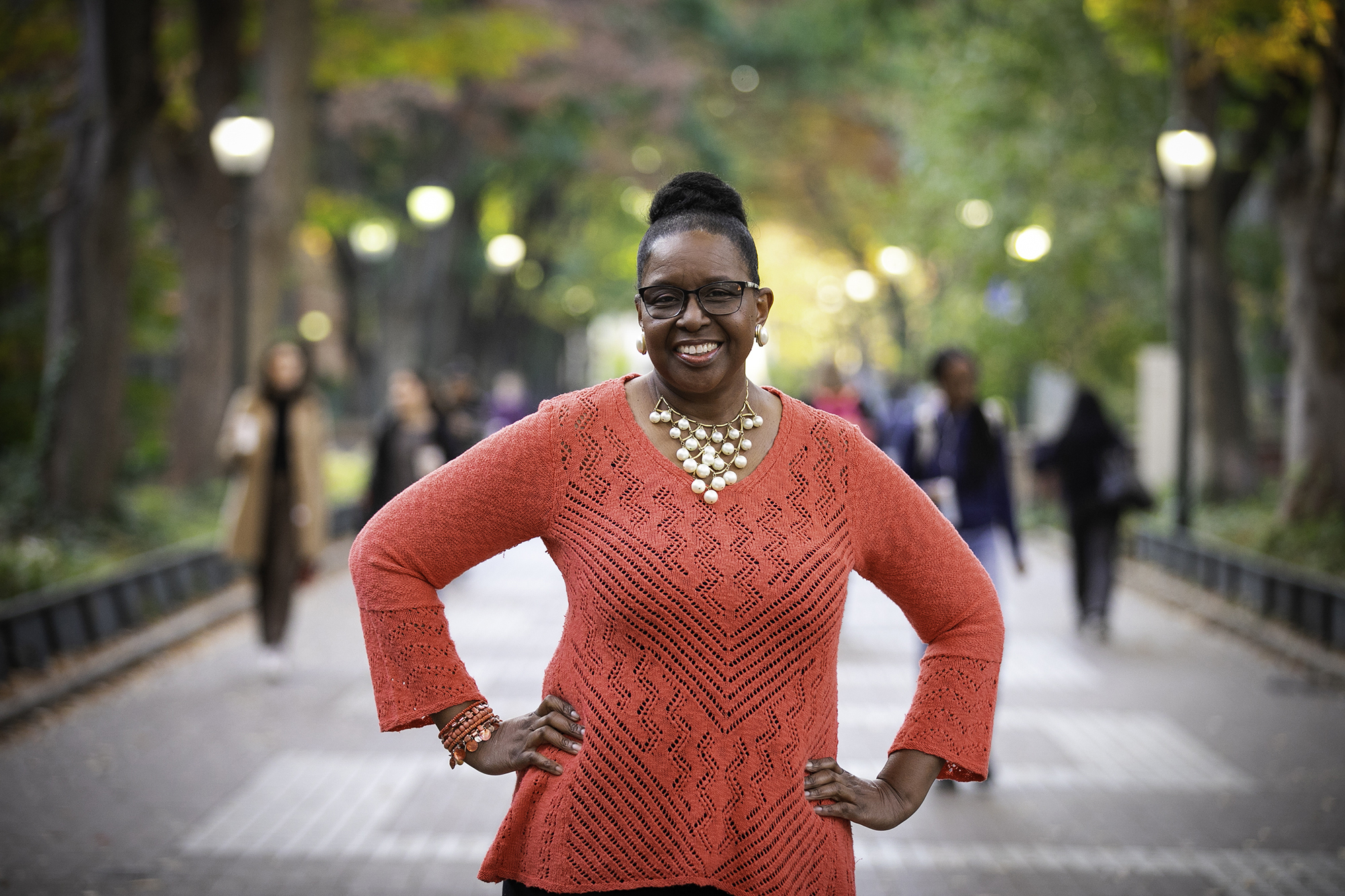 Who

Bernadette Butler is the associate director of equity and inclusion in the Wharton School's Undergraduate Division, working to support and empower undergraduates as they set goals for their time at Wharton.

Butler is also an undergraduate herself.

Though she was an excellent student in high school, her transition to college life didn't go quite as planned. Still, she did just fine: She enjoyed a career in banking before a series of mergers left her unemployed, at which point she pivoted to human resources. When an opportunity came knocking to help lead an educational program in 2004, she was thrilled. The program invited minority high school students from around the country to study at Wharton for the summer.

"It sounded really exciting to me and was an opportunity to support minority students who could study at a school they may not ever envision themselves coming to—not only at the University of Pennsylvania, but the Wharton School," says Butler. "Empowering the next generation was enticing to me."

When a full-time position opened at Wharton, she jumped at the chance.

What

For years, Butler says, her cursor hovered hesitantly over the "Apply" button to begin undergraduate studies at Penn. Like many students, she felt impostor syndrome.

"The idea of Penn, the rigor—'Can I handle it?'" she recalls wondering. "I had the same concerns that I think all students have, especially students in our community that have impostor syndrome. But at some point, I realized that, for me personally, it was a gift, the way I got here, and the opportunity to study at Penn is a gift that I didn't want to discard because of my insecurities or whatever hindrances might have gotten in the way. So, I had to knock them out of the way."

Part of the impetus, she says, is that she wanted the experience of in-person classes and had the chance to be in the final cohort of in-person College of Liberal & Professional Studies undergraduates before the program transitioned online.

She sought to fulfill many fundamental requirements of the program at first—again, like any other student—and is finding new interests as she goes. She settled on taking classes that "bring me joy," she says, which has recently led her in the direction of urban studies. The interest was spurred after taking several courses about interfacing with communities, both with Herman Beavers of the Department of English and through the SNF Paideia Program at Penn.

"This semester I found a Paideia course called Participatory Cities, so we are learning how to engage with the community— I mean really engage, with steps A to Z," Butler says. "We've had speakers come in who are community organizers or activists and they talk to us about how someone started a [community organization], or someone else was working in Kensington and we heard about all her challenges. It's a fascinating course and I'm loving it; it's going to speak directly to how I then go back to my leadership and offer advice to them or ideas about how we can design a program for Wharton students."

Why

"My goal is to finish," she says. "Because I need to say to myself, 'This is something you completed.' It's a personal journey for me at this age and station in life; I'm not doing a career change or planning a new job or whatever, so this is for personal enrichment and to look in the mirror and say, 'You did it.'"

She adds that it's also been a way to stay current and relate with students she works with. Moreover, as a West Philadelphian who has recently spent more time at home as a caregiver, she's felt more engaged with actively participating in her neighborhood. Classes like those offered by Paideia are a boon to that. She hopes she can also serve as a role model to other adult learners in a similar position.

"I don't want to sound cliché, but it's really never too late," she says. "You have to accept where you are in your journey and accept that while it's not too late, it may mean some sacrifices and adjustments here and there." And, of course, a willingness to learn.