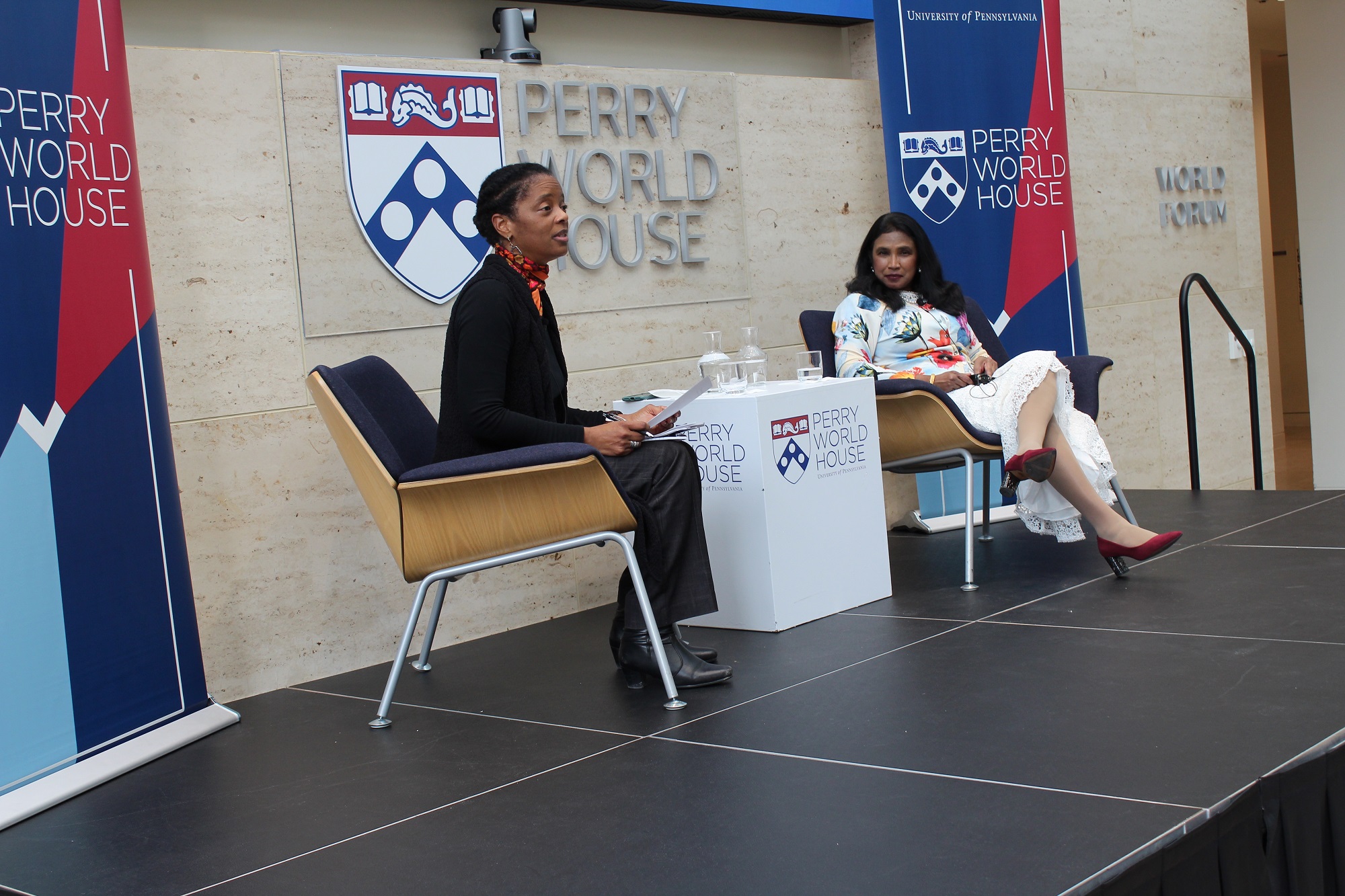 In a kickoff event marking Women's History Month, Rangita de Silva de Alwis, who teaches international women's rights at the University of Pennsylvania Carey Law School, joined moderator LaShawn R. Jefferson, executive director of Perry World House, for a discussion on "Global Justice: The Struggle for Women's Human Rights."
The hybrid event focused on the United Nations' Convention on the Elimination of All Forms of Discrimination against Women (CEDAW). Adopted in 1979 by the UN General Assembly, CEDAW is considered an international bill of rights for women. Here are four things de Silva de Alwis and Jefferson shared about the convention.
1. The United States is just one of five countries that has yet to ratify the CEDAW
The United States was one of the first to sign the convention, adopted in 1979, during the administration of former president Jimmy Carter, said de Silva de Alwis, but there has been little movement since then. The other countries include Iran, Palau, Somalia, and Tonga. Last spring, Sudan became the latest country to ratify the CEDAW—with notable exceptions
2. Only 10 countries across the world offer full legal protection to women
In 18 countries, husbands are legally allowed to prevent their wives from working, and 140 countries have laws that prevent women from working for specific jobs.
Worldwide, 25 countries prevent women from passing on their nationalities to their children on an equal basis with men, while more than 50 countries maintain nationality laws that discriminate on the basis of sex. That means if a woman from the United Arab Emirates, for example, marries a man from Oman, she cannot confer her nationality on either her children or her husband.
"If a man marries a woman of a foreign nationality," said de Silva de Alwis, "he automatically transfers his citizenship rights and all the rights to education, access to health care, access to all of the resources, but if a woman marries a foreigner" she does not have these rights.
"I had never imagined, growing up in the U.S., that there were places where women did not pass on their own nationality," said Jefferson. "Is there anything more central to your agency and your legal status in the world?"
3. The CEDAW covers not just civil and political rights but economic and cultural rights as well
The treaty "deconstructs and dismantles this false dichotomy between the public and the private," said de Silva de Alwis. Article 5 of the CEDAW states that governments should take appropriate measures "to modify the social and cultural patterns of conduct of men and women, with a view to achieving the elimination of prejudices."
4. The CEDAW marks the first time that international law has looked to take on matters of private violence against women
This includes family members, addressing family and intimate partner violence, de Silva de Alwis said. This sets the stage to look at femicide, including honor crimes, when women are murdered in the name of their family's honor, she said.
"Historically, the criminal law has taught of these crimes as exculpatory offenses and have reduced the punishment for those who are accused of femicide, or honor crimes. So, it is mitigating those crimes. What it does, is renders women second-class citizens."
"The situation is dire, but there is also enormous hope," said de Silva de Alwis. "We have to look to this transnational movement on women's rights and leadership." There has been a global reckoning in response to the #MeToo and Black Lives Matter movements, said de Silva de Alwis. The CEDAW, she said, is redistributive justice to correct historical power differences, making sure that all women have agency.