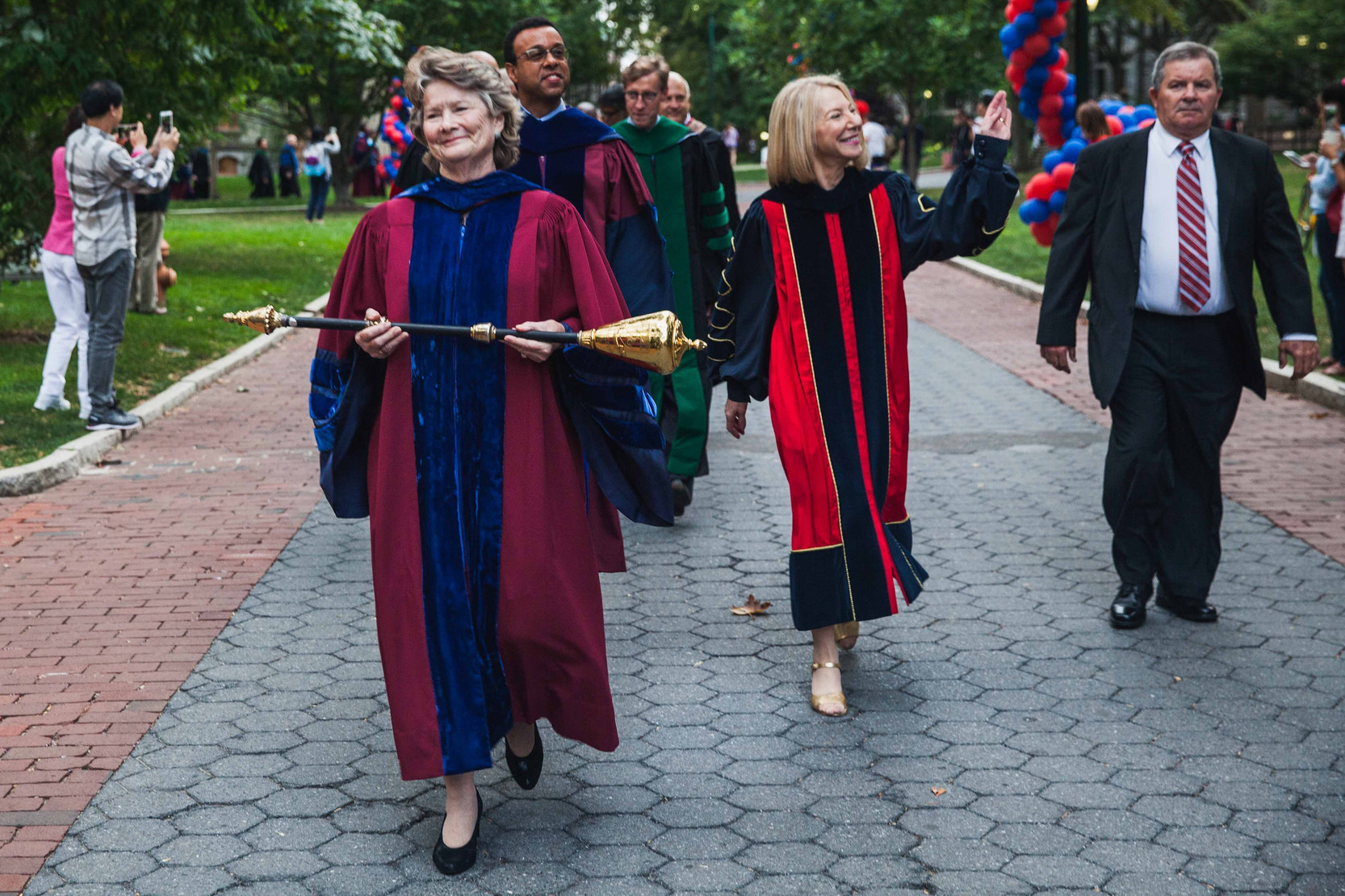 As the sun set before the first day of classes for the Class of 2021, the annual Convocation ceremony, a tradition dating back to 1910, served as a formal welcome for Penn's incoming class.
The capstone for their Orientation Week, Convocation began with the 60-piece Penn Band leading student processions down Locust Walk and onto College Green.
University Chaplain Charles Howard welcomed attendees with an invocation that called on the Class of 2021 to become soldiers of love dedicated to helping others.
Penn President Amy Gutmann offered words of wisdom to nearly 2,500 new students, who come from 72 nations around the world, all 50 states, as well as Guam and Puerto Rico. The Class of 2021 yields 132 students from Philadelphia.
"We stand for love, not hate; inclusion, not exclusion; compassion, not contempt; empathy, not antipathy; understanding, not ignorance; and the elevation, not the degradation of the human mind and spirit," Gutmann said. "Inclusion and the free exchange of ideas are foundational to innovative teaching and research, and also to democracy."
Gutmann shared that at Penn, incoming students would have to overcome the discomfort of stepping out into new territory, explaining that mapmakers of old called it "terra incognita," or the "land unknown."
She also encouraged students to stand, look around, and introduce themselves to someone they have not met yet. Then, she asked them to take out their phones and pose for a "selfie."
"You now have the perfect memento of the energy that comes from stepping into the unknown. The more you actively engage with diverse ideas, the more life-changing your experience here will be," Gutmann said. "We are here to help you succeed both intellectually and as whole people. We are absolutely committed to helping you succeed. So, venture boldly into the unknown. Engage with the widest range of ideas and individuals. Never hesitate to ask for help."
Rachel Wu, an undecided major in the School of Arts & Sciences from Beijing, China, said Gutmann's speech, particularly the part about "terra incognito," motivates her to be more open-minded during her time at Penn.
"I'm inspired by the idea of 'terra incognita.' I'm going to open myself to new things, explore my academic interests, and embrace my own 'terra incognita,'" Wu said.
In addition, Gutmann highlighted the first-generation students at Convocation. One out of every eight students in the Class of 2021 self-identifies as a first-generation student, that is, the first in their family to attend college.
One of those students is Trevor Núñez, an incoming freshman from Brooklyn, N.Y., who plans to major in political science. He said Convocation was a great introduction to the University, and he was most inspired by the words of Claire Lomax, a Penn Trustee and representative of Penn Alumni.
Lomax spoke about her time on campus in the early 1980s and how she has stayed engaged through leading the James Brister Society, which improved the quality of the campus experience for students, faculty, and administrators of color for more than 20 years.
"The procession, the regalia, the formality of this event is intentional—designed to make us pause to recognize that by joining the Penn family, you are becoming part of a tradition of academic excellence, innovation, interdisciplinary learning, civic engagement, and inclusion," said Lomax, who continues her support of other programs at Penn, including the School of Social Policy & Practice's Pipeline for Promise program, which introduces students from local community colleges to the field of social work.
She also provided a few words of advice for the Class of 2021: stay present, stay balanced, be brave, speak truth to power, and remain true to yourself.
"When Claire Lomax spoke about her days here at Penn is what meant the most to me," said Núñez. "She acknowledged how an incident motivated her to get active and speak truth to power. In that process, she found her passion. Her words were inspiring, to say the least."
During his first Convocation as Penn's new Provost, Wendell Pritchett told students that diverse interactions will not only help them to navigate life at the University, but also the future that awaits beyond Commencement. He also encouraged students to be strong during times of difficulty.
"Trust yourself. You've gotten this far already, but don't be afraid to ask for help. That's what we're here for," Pritchett said. "Your next four years will be filled with the acquisition of knowledge; with your discovery of the shape of the world and your place in it."
In the Class of 2021, 54 percent of the class was admitted via Early Decision; 18 percent identify as the child or grandchild of Penn Alumni; 42 percent of U.S citizens identify as students of color; and 53 percent are female. 
Anannya Shandilya, an incoming freshman finance and accounting major in the Wharton School, came to Penn from Indore, India, and enjoyed Convocation.
"It was highly inspirational and really welcoming because I came from a far off place," she said. "It made me feel like I'm becoming a part of a good community here and everyone is accepting me readily."
Considered a "bookend" to the Penn experience, Convocation is the first of three ceremonies during which the Class of 2021 will march together. The next time will be in their junior year, as they parade across campus carrying canes and wearing red t-shirts and faux straw hats to celebrate Hey Day. The final time that they'll march together is wearing full Commencement regalia, strolling down Locust Walk and heading toward the graduation ceremony at Franklin Field in May of 2021.
Photo at top: University Secretary Leslie Laird Kruhly, Penn President Amy Gutmann, and Penn Provost Wendell Pritchett lead administrators down Locust Walk towards Convocation on College Green.