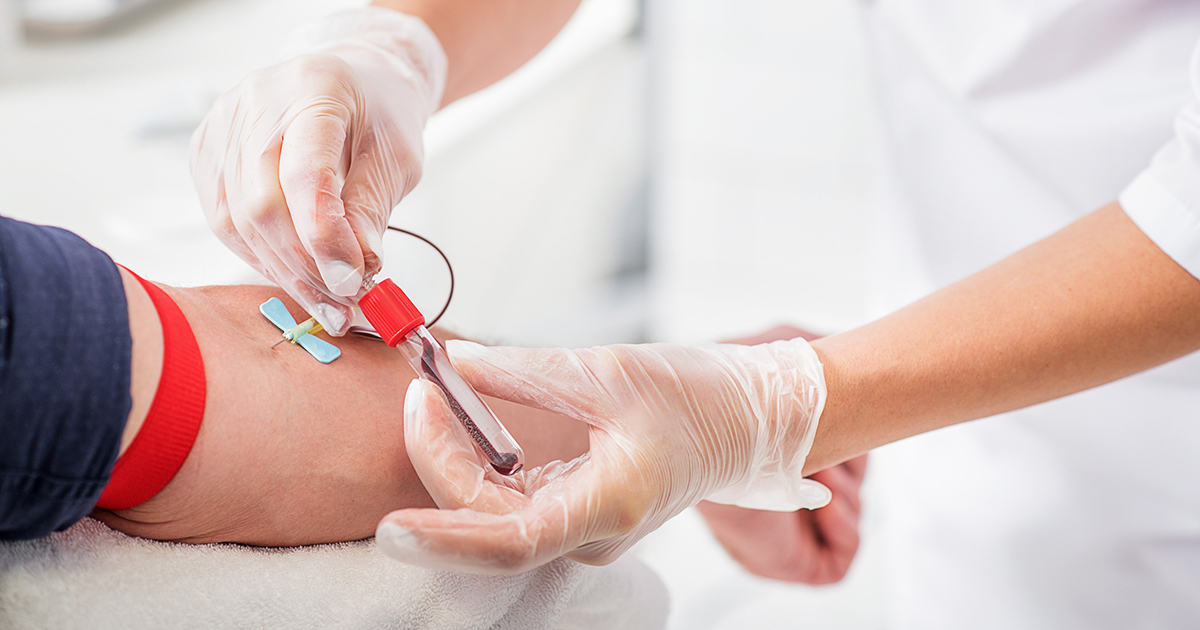 On April 4, the FDA announced a relaxing of its restrictions on men who have sex with men donating blood, which previously called for 12 months of abstinence before donation. A controversial policy that has been in place for decades, the relaxing—which temporarily revised restrictions to three months—has drawn attention to the subject and summoned calls for a permanent lifting of the rules altogether.
To explain the issue from a medical standpoint, Katharine Bar, an assistant professor of medicine at the Perelman School of Medicine with expertise in HIV and general infectious disease care, spoke with Penn Today for a Q&A. 
Could you explain, in brief, the history behind this restriction and how it came to be?
Back in the 1980s, the FDA placed restrictions on blood donations by gay men. When the ban was started, in 1985, blood banks had limited abilities to test blood products, so they banned donations from several groups who were found to have higher rates of HIV disease, including gay men.
We've obviously come a long way both in terms of our understanding of the epidemiology of [HIV] and our ability to safely test and screen blood products. We have good tests to diagnose people with HIV disease and we have sensitive assays to test blood products to make sure they are safe to be given for donation. So, this has evolved a long way, but the U.S. has still maintained a fairly regressive policy that a lot of people believe puts irrational or homophobic restrictions on who could donate blood. Up until 2015, any man who had had sex with another man was banned from blood donation for life. In 2015, the ban was changed to one year, meaning a gay man would have to abstain from sexual activity for a full year in order to donate blood. Coinciding with the recent shortages of blood donation, the FDA has changed restrictions from one year to three months. But they are still restricting men who have had sex with men within the past three months from donating blood.
Our ability to screen blood products for [HIV] is really excellent right now. We can do tests on individuals' blood to see whether they have been infected with very great sensitivity. There is a small period of time where a person could be acutely infected, and we wouldn't be able to test that either from a person's blood, but our assays would be able to detect any virus in the blood.  So, the rationale behind banning a whole group of people who are sexually active, regardless of the actual risk they have of being HIV-positive, is questionable. And many people have regarded even this less restrictive ban as a homophobic and outdated process.
What are other countries doing?
Some countries continue to ban certain groups of people, but many countries are moving to risk behavior-based screening. Meaning, if you have recently done things that increase your risk of HIV or other blood-borne pathogens, like getting a new tattoo, for instance, you are restricted. If you self-report that you have participated in any risky behaviors, whether straight or LGBTQ, whatever your identification is, it's your behaviors that would limit your ability to donate blood. Many countries have moved to that, but the United States has not. 
And the new recommendation is three months. But effectively, still a ban?
For many gay and bisexual man, it is still effectively a ban. Regardless of the actual risk of your relationships, if you report any sexual activity, you are banned. Consider if they imposed this same restriction on heterosexuals—no donation if you have been sexually active in the past three months. That would really limit our country's blood supply. Many people find this nature of the ban—the difference in rules for gay versus straight people—homophobic, and kind of inappropriate given where the science and need is.
The restriction encourages lying, no? If you wanted to donate blood, you'd just not mention these things. 
Well, there's always that part of blood donation. Blood banks ask people to honestly report their identities and behaviors. But there is always testing of the blood products to back up the screening process. Many of the behaviors blood banks asked about are potentially illegal or stigmatized, so honesty is disincentivized. There's a long history of people wanting to donate plasma and blood, etc., especially for to companies that pay for donation, even if they are participating in high-risk behaviors, like drug use or commercial sex work. And that is why the screening processes are so essential. 
We need to, regardless of what behaviors people report, test their blood so that we can safely say, 'We do not detect any HIV, any Hepatitis C virus.' The screening processes can restrict a lot of higher risk donors, but if they are too broad, they restrict a lot of other donors, also.  
And why would this restriction be gender-specific?
The rates of HIV are, unfortunately, higher in gay and bisexual men than in lesbians. Epidemiologically, there's a higher risk of HIV acquisition in men who have sex with men due to the higher rates of HIV disease within their sexual networks and higher risk of HIV acquisition per sex act. But, the risk for any one individual is highly variable, and more dependent on their specific behaviors or networks than their identity. For example, a gay man in a monogamous relationship would be at low risk of HIV acquisition, but still be banned from blood donation currently.
How could this restriction be changed or lifted to be more effective and ethical?
I think we should look to restrict blood donation only in people who have recently participated in high-risk behaviors, and this can be done in a more inclusive and equitable way if we do not focus on sexual orientation. Given the sensitivity of our available tests to screen blood donors and their blood products, I think we can move to include straight and LGBTQ people who choose to have ongoing sexual relationships into the blood donor pool. I think the FDA and blood donation organizations, like the Red Cross, are exploring this and I hope we can move toward this in the U.S. 
Could you speak to the state of blood donations? How would a lifting of this restriction help that?
We always need blood. And certainly, in this current COVID-19 pandemic, many blood drives have been canceled, and people are much less able to safely donate blood, so our supplies of blood have fallen. I believe our needs for blood have also risen, at least in certain regions. We are in a situation where there is a dramatic limitation in our blood product pool. That may be helped by the change in the U.S. government going from 12 months to three months restrictions for gay men, but the reality is that is still a restriction on a lot of people who would be willing participants from donating blood. 
At Penn, right now, we're working on things like trying to develop convalescent plasma donations, but we're aware of all these different ways people could be donors to try and contribute to the medical effort to deal with the COVID-19 pandemic. If there's an individual who has had COVID-19 and has recovered, for instance, we're asking for those people to consider donating plasma as a potential therapeutic for other people. For clinical trials, etc. There may be gay men who have recovered from COVID-19 and interested in donating their plasma, potentially with valuable antibodies in their plasma. But, because of the current restrictions, they are unable to donate. That's one example of how that person could have a real, valuable role to play, but is restricted based on something that is not completely evidence-based.
And it's just unrealistic to think that people are going to be abstinent for years so they can be blood donors. That's asking too much of individuals. There are a lot of people who would like very much like to contribute and serve however they can, including with blood or plasma donation. If we can effectively screen their blood, then it is a missed opportunity to prevent this whole, diverse group of people, from contributing in this way.