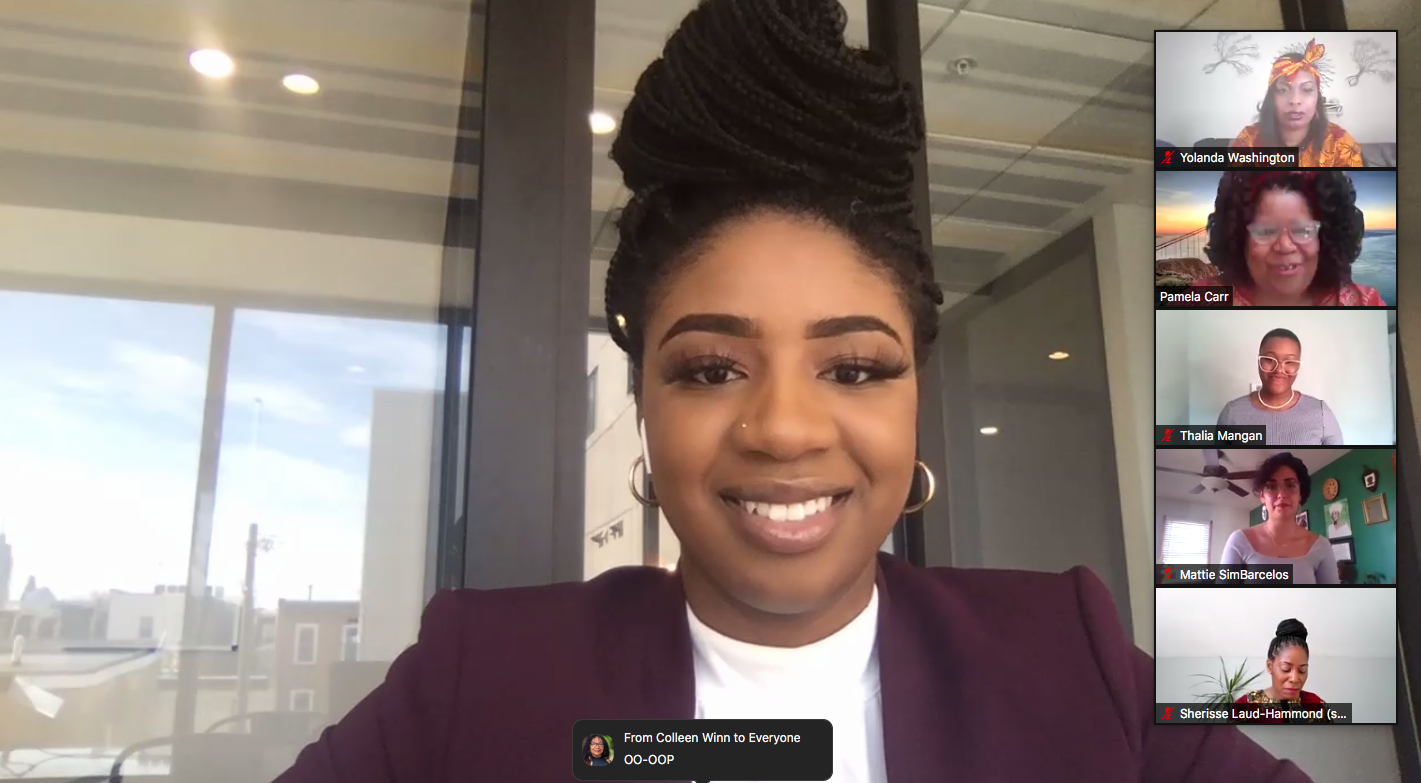 The annual Women of Color award ceremony celebrated its 34th year in an online event led by the Women of Color at Penn (WOCAP) Planning Committee and the African American Resource Center (AARC). The awards recognize individuals who have worked to increase respect for women of color at the University of Pennsylvania, the University of Pennsylvania Health System, Penn Presbyterian Medical Center, Pennsylvania Hospital, and the Delaware Valley community. There is also a community member award, as well as the Joann Mitchell Legacy Award, named for the senior vice President for institutional affairs and chief diversity officer at Penn.
"Women of Color at Penn has been an advocate for and celebrant of women of color for over three decades," said AARC Director Valerie Dorsey Allen. "During our current times, we are exposed to so much senseless violence, lives lost due to hate, and lives lost due to the pandemic. It is important that we recognize our common humanity and our interconnectedness. That has been one of the missions of WOCAP since its inception. Whether through our lecture series, the Queen's Tea, or informal mentoring, we come together to celebrate and promote causes that impact women and ultimately improve the quality of life for us all."
Thalia Mangan, an immunology graduate group coordinator at the Perelman School of Medicine, served as chair of the Women of Color at Penn. She opened the event, introducing President Amy Gutmann, who thanked Mangan for her and the committee's determination and achievements. "When the story of these times is told, it will be a story of faith and determination, of courage and perseverance," Gutmann said.
It is especially important to take time out to pay tribute to the honorees and their work, Gutmann said. "For more than 30 years, Women of Color at Penn has illuminated and celebrated remarkable women of color whose work—while not unnoticed—all too often had gone unsung," she said. "Here's to many more years of celebrating the remarkable women of color who sustain and inspire us all."
After an invocation led by Sana Saeed, five women—Toyce Holmes, Sarah Badlis, Elisa Foster, Amanpreet Kaur, and Amanda Peña—gave prerecorded presentations about their identities as women of color. The women talked about their family backgrounds and University experiences, their struggles and strengths, and what each hoped to pass on to current and future generations. At the close of each presentation, a refrain was offered: "I am she, and she is me." Coined by LaShauna Connell, this year's Joann Mitchell Legacy honoree, the phrase spoke to the sense of camaraderie and continuity amongst women of color.
Sciaska Ulysse, a biological basis of behavior major originally from Roselle, New Jersey, was the year's undergraduate honoree in recognition of her extensive work with the Netter Center for Community Partnerships, where she has worked to connect with high school students on a shared love of science. Ulysse helped introduce neuroscience, cardiology, gastroenterology, and veterinary medicine concepts at West Philadelphia High School and Sayre High School through hands-on, inquiry-based activities, in addition to serving as a mentor with the Community School Student Partnerships program. She was selected to participate in the Penn Program for Public Service internship and research seminar, co-creating literary lesson plans with high school students, as well as the Netter Center Student Advisory Board.
Ulysse is also president of the Minority Association of Pre-Health Students, an emergency medical technician, a beauty stylist for The WALK Magazine, and a member of the Sphinx Senior Society. Ulysse is a graduating senior who plans to earn an MBA and M.D., working to address health disparities.
"I'm so honored to be recognized for my extensive work with the West Philadelphia community, and I'm so excited to see how we can give back to communities after graduation," Ulysse said. "The fight is not over, and the march continues on. 'I am she; she is me'; we are sisters, and we are one."
Tosin Owoyemi is a second-year medical student at the Perelman School of Medicine, where she is chapter co-president of the Student National Medical Association, which works to support Black medical students and marginalized communities. Owoyemi was honored for that role, as well as her work as a Johnson Scholars mentor to Penn undergraduates interested in medicine. She sits on the School of Medicine Admissions Committee, serves as the patient advocacy and education chair for the student-run University City Hospitality Coalition community medical clinic, and volunteers with the CHOP FamilyConnects social needs resource program.
"This year has been a very difficult year, yes in the setting of COVID, but also with the magnifying glass that's been held up to the ever-present history of racism and structural inequity," Owoyemi said. "I think it really challenged all of us to use our creativity to determine how we're going to ask the same questions that we've been asking for several years but demand a different response and demand action now." Owoyemi thanked the women of color within the Perelman Medical School as well as the University of Pennsylvania Health System for serving as an example, as well as all graduate and undergraduate students who have been pushing to maintain the momentum of the Black Lives Matter movement and enact change.
Sherisse Laud-Hammond was the staff honoree as the director of the Penn Women's Center, where she supports students, staff, faculty, and community members through counseling and programming related to women's support and advocacy, gender equity, and interpersonal violence.
Dorsey Allen introduced Laud-Hammond and her work in creating a space at PWC where students, staff, and faculty felt welcome. "They knew they were in a safe space where they could explore be themselves and let their guards down," Allen said. "Sherisse always asked, 'How are you doing?' It is that rare soul," Allen said, "that waits for the real answer."
Laud-Hammond spoke to the strength she derives from being in community. "One of the only reasons I'm here today, in this space, at this moment, is I can't count the number of people who have supported me," Laud-Hammond said, including "people who called me when I thought I was alone, people who finished my sentences when I didn't have the words, and people who broke the glass ceiling for all of us to be able to attend a women of color award celebration."
Laud-Hammond said she wants "to become comfortable having uncomfortable conversations and to do a Shirley Chisholm and bring my own seat to the table if I'm not invited."
The community honoree was Antoinette Coward-Gilmore, founder, CEO, and artistic director of Philadelphia-based modern dance company Danse4Nia. Coward-Gilmore was honored for her work pushing for social change and in sharing the value of the arts through her dance company's annual performance season, residencies, partnerships, and other school- and community-based programs.
"We are at the table; we are making it happen; we have been making it happen," said Coward-Gilmore. The award, she said, "will always be a reminder to me that my work is not done."
LaShauna Connell accepted her Joann Mitchell Legacy Award for supporting women of color throughout the course of Connell's 15 years at Penn and the Perelman School of Medicine. Connell has also served as the Women of Color at Penn chair and the chair of the logistics committee during the past 10 years.
"Receiving this acknowledgement today is truly a highlight of my year," Connell said. She also addressed remarks to Mitchell, saying, "It is truly an honor to receive an award in your name that celebrates your legacy, your leadership mission to so many of us in the University of Pennsylvania."
The 34th annual Women of Color at Penn Planning Committee was supported by the Affirmative Action and Equal Opportunity Programs, the African American Resource Center, the Almanac, the Annenberg School for Communication, the Barbara and Edward Netter Center for Community Partnerships, the Division of Public Safety, Human Resources, Information Systems and Computing, the Office of the President,the Office of Student Affairs, the Office of the Vice Provost for University Life, the Perelman School of Medicine, the School of Engineering & Applied Science, the School of Social Policy & Practice, Student Financial Services, and Wharton Finance & Administration.