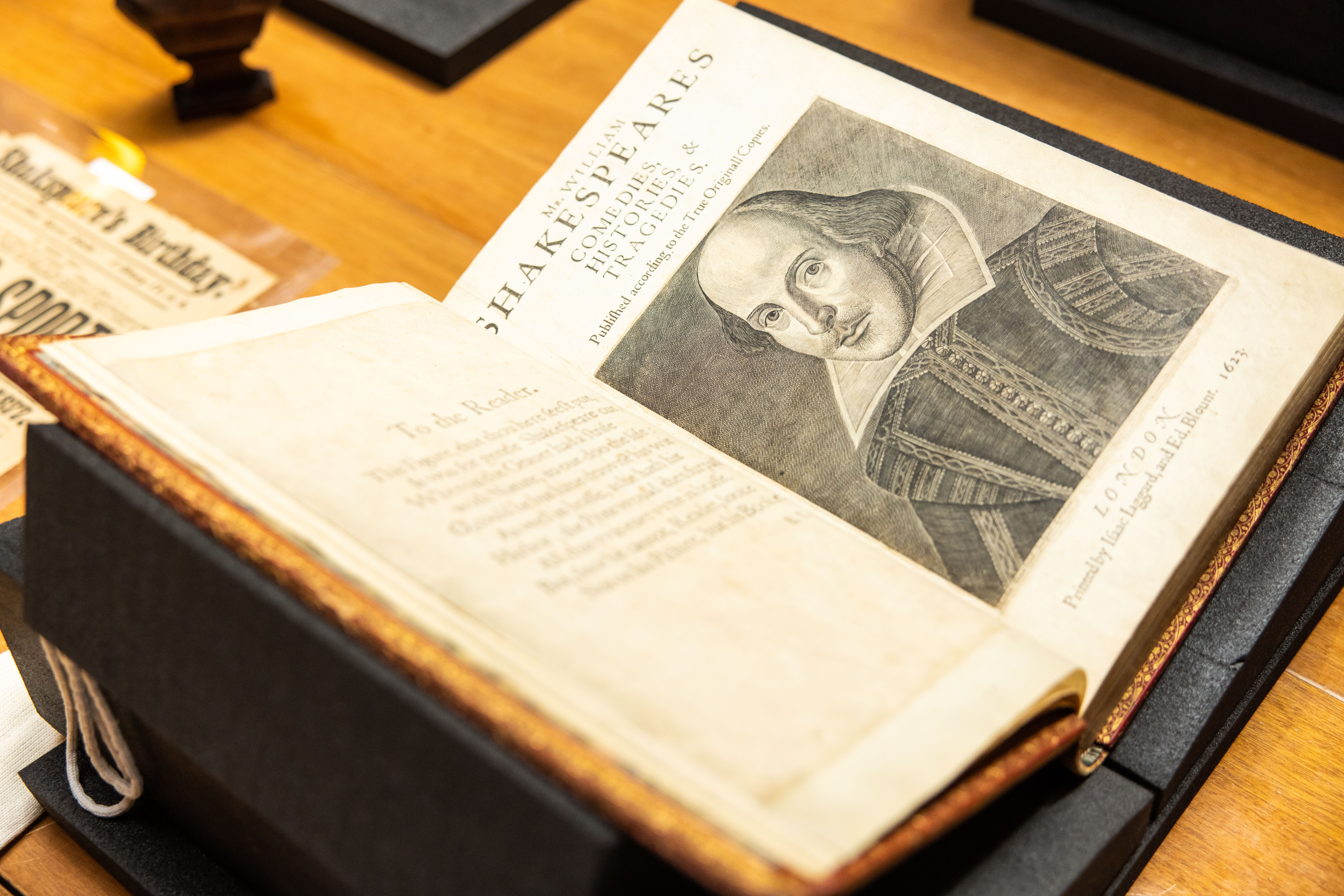 William Shakespeare was the star of the show during a Penn Libraries celebration of his "Comedies, Histories, & Tragedies," better known as the First Folio, in this 400th year since its publication.
But the starring performers were Penn students in the Theatre Arts Program's Acting Shakespeare class, taught by Jennifer Joan Thompson of the School of Arts & Sciences. The 16 class members took turns performing excerpts from "Romeo and Juliet," "Hamlet," and "Twelfth Night," explaining what they learned throughout the hourlong performance. In addition, three students chosen in an English Department sonnet contest read their original works.
Thompson said her class visited the Libraries early in the semester to see some of the historical texts. "All semester we've been asking, 'How are these plays, over 400 years later, still so vibrant and alive and accessible in terms of the characters' passions and emotional lives, and how does the profundity of the questions these plays ask remain so resonant and urgent today?'" says Thompson.
The celebration on Sunday afternoon marked the day of Shakespeare's birth on April 23, 1564 (as legend has it), and the day of his death in 1616.
Starring in the historic Lea Library on the sixth floor of the Van Pelt-Dietrich Library Center were books and other objects from Penn's Horace Howard Furness Shakespeare Library, including the four folio printings of the 17th century. One is a first edition printed in London in 1623, published "according to the True Originall Copies" by Isaac Iaggard and Edward Blount. The others are a second printing, dated 1632; a third printing dated 1664; and another in 1685.
The event is part of a region-wide series of celebrations of the anniversary, says John Pollack, curator of research services at Penn's Kislak Center for Special Collections, Rare Books, & Manuscripts, who helped to organize the "student-centered" celebration of the First Folio.
A website named Philly First Folios was created by Penn's Zachary Lesser, the Edward W. Kane Professor of English, whose teaching, research, and writing focus on Shakespeare, along with Eleanor Shevlin, professor of English at West Chester University. The website, which lists regionwide events, was funded in part by Penn's Workshop in Material Texts.
The Libraries has been involved in digitizing First Folios that are featured on the website, Pollack says, including Penn's from 1623. Others are from the Free Library of Philadelphia, Haverford College, Lehigh University, West Chester, and Bryn Mawr College.
On the table in the Lea Library with Penn's four folios were individual books from the early 17th century with Shakespeare's plays, including "Hamlet" and "Romeo and Juliet," and an elaborately embroidered pair of gloves that were said (in the 18th century) to have belonged to Shakespeare.
But the true focus of the nearly 100 people attending was on the student performers, taking turns in roles while performing some of Shakespeare's most famous scenes and monologues.
"One of our most central ideas has been acting is arguing," said second-year English major Emily Maiorano to the audience, in the first of several explanations about the learning experience, discussing plots, characters, language, and other aspects of Shakespeare's works.
"Not in the way of a heated debate or physical altercation, although some Shakespeare scenes do contain those, but more so in the sense of staking a position, laying out a line of reasoning, and building a case through language," continued Wharton School second-year Ryan Ghose.
"One of the most obvious ways Shakespeare does this is sonnets. Sonnets usually begin by establishing a position, then the next two stanzas deepen or complicate the argument, and then the final couplet summarizes or sometimes finds a resolution to it," Maiorano concluded.
The three student winners read their sonnets: fourth-year Nidhi Bhatt, second-year Zuza Jevremovic, and fourth-year Wes Matthews, all in the College of Arts & Sciences.
The actors continued to share what they had learned and how they interpreted Shakespeare's works, in single monologues, scenes in groups, and as a full ensemble. They added their own flair, with wigs and daggers and roses, singing Taylor Swift's song "Love Story" about Romeo and Juliet, and demonstrating iambic pentameter by beating out the rhythm in unison with their hands and then their feet.
"The opportunity to think about the endurance and aliveness of these texts over time has been so enriching, and this event, facilitated by our incredible librarians, allowed us to use performance to participate in a trans-historical conversation about what makes these plays so enduringly human and to reflect on what Shakespeare contributed to our understanding of our relationships to others, to life, and to our mortality," Thompson said.
"It was wonderful for the students to have an event that elevated their work and placed it in a larger context, both through a proximity to the historical texts as well as by sharing all of the beautiful work that they've been doing for the course with the public."