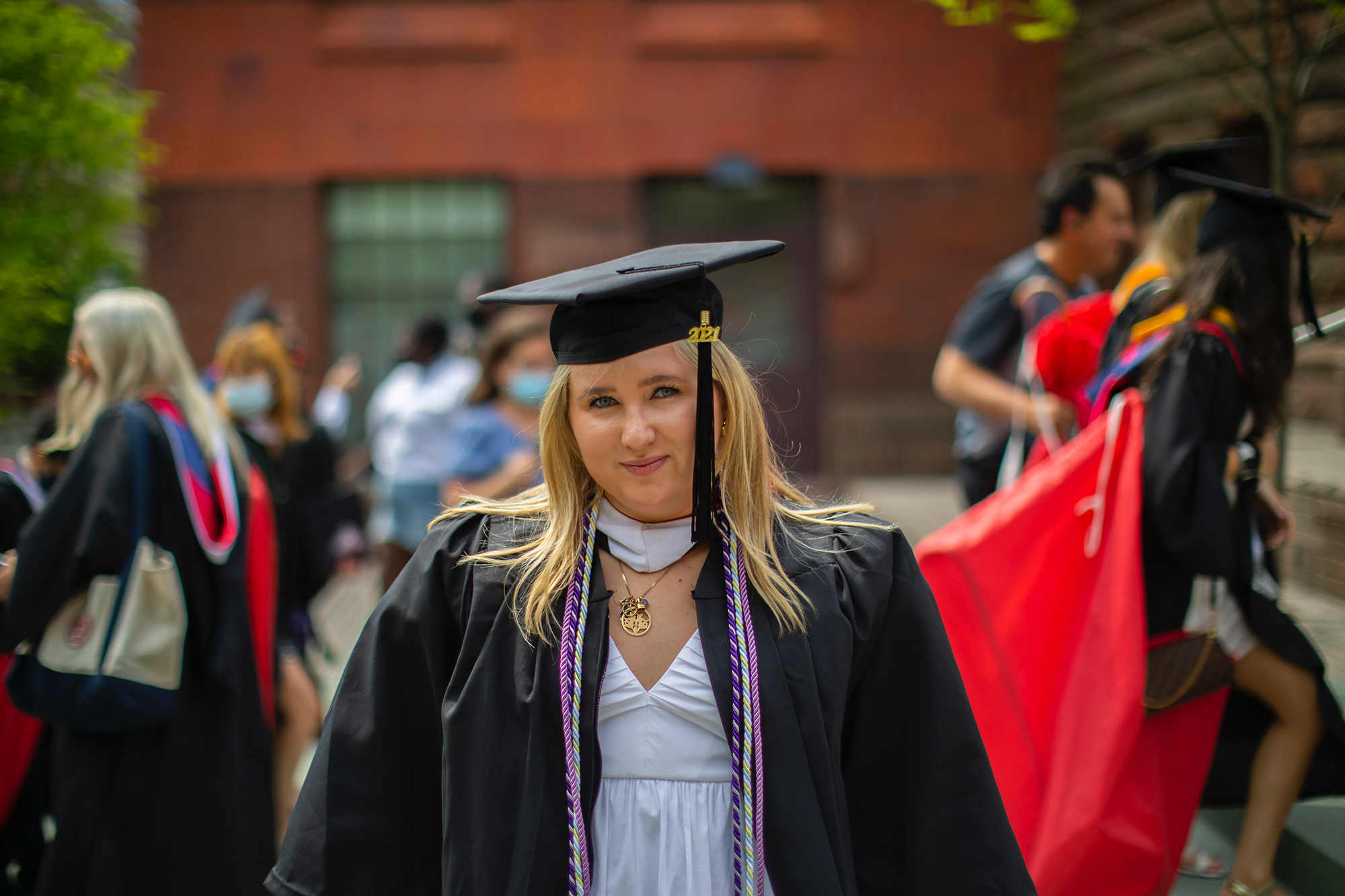 Winning an Academy Award could be considered the pinnacle of a career, but for Claire Sliney, the first University of Pennsylvania undergraduate to receive an Oscar, it was just the beginning. 
Sliney also is the first Penn student to receive the Fulbright-National Geographic Storytelling Fellowship, and now she is preparing to move to Paris to pursue her project. She plans to make a documentary film featuring stories of French-Maghrebi women immigrants juxtaposed against the way they are portrayed in French cinema.
Sliney, who is from Los Angeles, graduated in May from the College of Arts and Sciences with her bachelor's degree in philosophy, politics, and economics and in gender, sexuality, and women's studies.
"I saw the Fulbright as a really meaningful way to be able to not only do research on this subject, but to make a film about it and have a vehicle for storytelling, not just in theory but in practice, and share the work on a global scale," she says. 
It was two years ago, when she was a sophomore, that the film she executive-produced, "Period. End of Sentence." was nominated for and won the Academy Award for best documentary short subject. The film was created through a nonprofit Sliney co-founded with other high school students, The Pad Project, led by her English teacher Melissa Berton at the Oakwood School.
The Pad Project raised money to fund a sanitary-pad-making machine to jump-start a microeconomy in Kathikhera, a village outside of New Delhi, as well as the documentary. The film documents the machine's impact on the lives of the women and the local community as they work to alleviate "period poverty" and against the stigma of menstruation. 
"With 'Period. End of Sentence.', I was inspired to continue down this path of documentary filmmaking that felt rooted in social justice and activism—sharing, not telling, the stories of people who are not usually given that platform," Sliney says. "I have the drive to work to help share these stories." 
Gwendolyn Beetham, associate director of Penn's Gender, Sexuality, and Women's Studies Program, was Sliney's professor in two classes, as well as her academic adviser. "I think what Claire has been able to do is identify and then amplify women who are marginalized and are not given a lot of voice or a lot of airtime in popular conversations," Beetham says. "She is able to think about the best ways she can use her strengths to address and help alleviate some of those challenges."
Oscar recognition
It was during the busy spring semester of 2019 that Sliney flew to Los Angeles and went up on the stage during the Academy Awards as the "Period. End of Sentence." documentary team accepted the Oscar. Then she returned to Penn to make it back in time to take her French midterm.
That semester she was taking five classes, meeting commitments for her sorority, helping organize the OWN IT women's leadership conference, and managing marketing for The Pad Project. Then came the Oscar win, which resulted in dozens of media and speaking requests, including jetting back and forth from Los Angeles to New York to appear on ABC's "The View" during spring break. 
"I think back to what my life was like during that spring semester. It was such a whirlwind. I had all of these things in motion right at the same time. I don't know how I did it," she says. "It felt like, 'I've got to get everything done. I have a lot to accomplish and it's really exciting. But I have to make sure I live in the moment.' It was definitely a big learning and growing moment for me." 
The Pad Project grew exponentially after the Oscar win, increasing the number of pad-vending machines, donated period products, reusable pad-making programs, educational programs on menstrual hygiene management, and other advocacy in several countries, including the United States. 
"We really tried to spend those next six months to a year replying to all the inquiries from around the world and developing an infrastructure and establishing the nonprofit as a legitimate organization," says Sliney, who created and has continued to manage the marketing campaign and social media platforms. 
She had to balance and juggle her Penn and outside commitments but found ways to weave her work with The Pad Project into her life on campus, she says. "There were so many Penn students who reached out with an interest in the work that we were doing, or who wanted to chat and hear more about the documentary, or who were passionate about public health," she says. "It was really fun to be able to meet new people at Penn and expand my life in that way, by letting The Pad Project become a part of who I was and not try and keep it separate." 
Beetham says she was impressed by Sliney's drive to apply what she was learning in the classroom to the world outside of school. "One of the things that strikes me about Claire is that she wants to talk through things. She wants to be sure she is being as thorough as possible, and that is an important quality for a researcher and bodes really well for what she wants to do with the Fulbright," Beetham says. 

Path to Paris
The path to the Fulbright for Sliney started in Paris studying through Penn Abroad during the spring semester of her junior year, finally realizing a dream she had had since she first started studying French in middle school. Right away she connected with her professor who is now her Fulbright project advisor in France, Marie Mercat-Bruns, an affiliated professor at Sciences Po Law School and a law professor at the Conservatoire National des Arts et Métiers. Mercat-Bruns manages a legal clinic in Paris with a division that focuses on immigration law.
"It was hearing about her work with the clinic that sparked a conversation about immigration in France," Sliney says. "It centered around a lot of these themes of identity, of self-expression, of immigration, of religion, and the ways in which the hijab and other religious symbols can be interpreted and criticized by various cultures."
The pandemic forced Sliney to abruptly leave Paris and return home to Los Angeles in March of 2020. "I feel like I had a very rich experience being there, even though it was short-lived," she says. 
She then dedicated her summer to The Pad Project, working full-time as the marketing and public relations coordinator, also managing social media accounts with tens of thousands of followers. The previous summer, Sliney had worked on Kamala Harris's presidential campaign, and she brought some of those skills to the expanding nonprofit. 
The Pad Project has had more than 3,000 requests from nearly 100 countries for pad machines and other support since the film's release. The project now has partnerships in several countries beyond India, including Sierra Leone and Guatemala, and several U.S. cities, including Philadelphia and Los Angeles. 
As she looked toward her final year at Penn and opportunities for global engagement, she applied for and was chosen as a 2020-2021 Perry World House Student Fellow. 
Senior honors
Returning to an off-campus apartment for her senior year, Sliney pursued an honors thesis about the forced or coercive sterilization of incarcerated women in California. "It has a lot of ties to the history of eugenics in the U.S., the manipulation of birth control, and reproductive rights," she says.
Her research advisor was Anne Teitelman, associate professor emerita of nursing. Sliney wanted to interview women in person, but that was made impossible because of the pandemic. The Penn Libraries' Richard James helped Sliney conduct systematic literature review research virtually on the subject.
"It wasn't an easy topic to study from the literature," Teitelman says. "What we both came away with is that nobody's paying much attention to this problem. It's almost invisible in the literature. That's a major point Claire was able to pull from this and to point for the need for more scholarship in this area."
Sliney was creative in her approach, says Teitelman. "Her introduction was very robust and in-depth, and she brought in all kinds of threads, weaving them together to form her perspective: historical, ethical, philosophical," she says. "In her analysis of the literature, she insightfully identified several key themes. I think it surprised her that she discovered these themes: This was her original research." 

Finding the Fulbright
Thinking about the future and making plans during the pandemic was a challenge, Sliney says. But working with Lauren Orr at Penn's Center for Undergraduate Research Fellowships she discovered that Fulbright research projects can be individually designed. Providing funding for nine months, the Fulbright is self-motivated and self-directed, designed to foster cross-cultural understanding.
Orr says the Storytelling award "supercharges" the traditional Fulbright grant, connecting Sliney to additional resources, training, mentorship, and opportunities to pitch to National Geographic platforms. "All of this support will allow Claire to continue to develop her already stellar portfolio as a storyteller, amplifying both her own voice as a documentarian as well as the voices she aims to center through her film," says Orr. 
Sliney plans to conduct a comparative analysis juxtaposing the cinematic representations of French-Maghrebi women who have settled in Paris since the end of colonial rule in Morocco in the 1950s against the testimonies of immigrants today. 
The key, Sliney says, will be to create a platform "for women to speak for themselves, letting them be the ones to tell their stories." She sees herself as "the mechanism for the delivery of these stories and those voices." That is why, she says, she loves documentary filmmaking.  
"What are the implications socially, culturally, politically of the ways in which they aren't depicted in French cinema? What are the implications for them, experiencing their identity through film, their understanding of it?" she asks. 
"There are generalizations and assumptions about these immigrant women. I want to look at how these depictions are in contemporaneous media and films in relation to the lived experiences of these women," she says. "It's centered around agency and feminism in a way that is authentic to the lived experiences of women whose voices are often ignored by major media sources or by film or other mechanisms of storytelling."
She is focusing on a documentary short, she says, because it is easily digestible and more accessible than a full-length film. Peter Decherney, professor of English and cinema and media studies who has made several documentary shorts, was Sliney's Fulbright Faculty Committee adviser, reviewing and helping her with her application. 
"Claire is the first Penn student to graduate with an Oscar behind them. That could open a lot of doors," Decherney says, describing her as "extremely articulate and passionate" about the project. "I think it is impressive that she has chosen to use her opportunity to take on another cross-cultural and research-heavy film project." 
Preparing the project
This summer, Sliney is preparing for her move to Paris and starting to put into place the foundation of the project, conducting preliminary research with Mercat-Bruns, assembling a team of producers, and roughing out a schedule. She also plans to connect with nonprofits, organizations, legal clinics, and community centers.
Developing a relationship with the women who will be featured in the film is critical, she says, and will be her primary focus once she settles in France. "The last thing I want to do is impose assumptions or impose a narrative upon the women with whom I hope to work," she says. "I want the documentary to feel very much like a partnership, a vehicle for them to tell their stories."
She will continue to work with The Pad Project as a member of the Founders' Board of Directors, she says. She has been working this summer on marketing a new book by Anita Diamant based on The Pad Project and the documentary "Period. End of Sentence. A New Chapter in the Fight for Menstrual Justice." just published by Simon & Schuster.
"I think that I'll always be involved with The Pad Project, no matter what, for the rest of my life because it's something that I've engaged with for so long," she says.
Sliney plans a career centered on impact-driven filmmaking. "I love using film as a way to tell stories and share the voices of others," she says. "And so right now I'm following those passions and seeing where they take me."