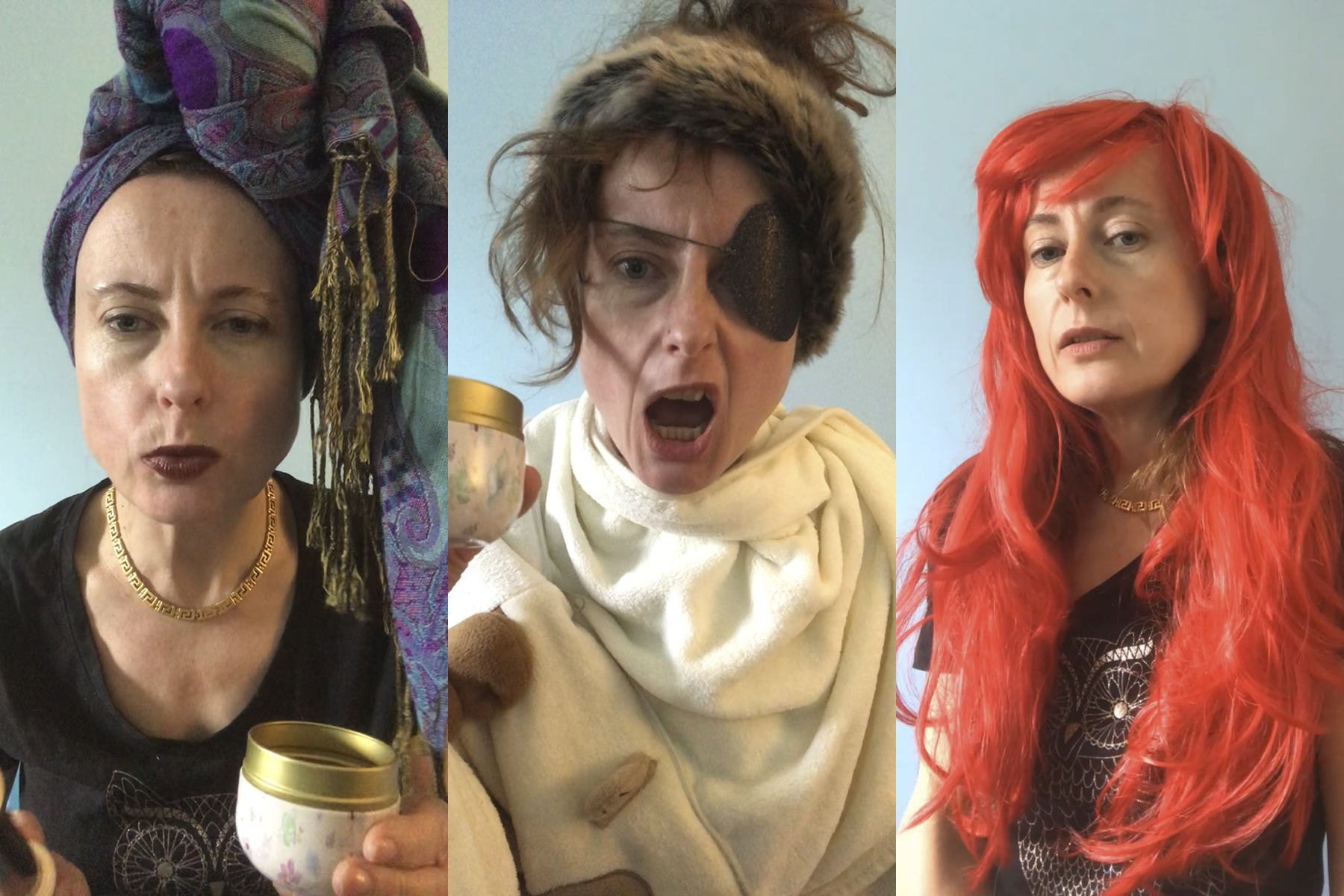 Finally, the perfect reason to wear the wig with the long, shiny, red hair. 
Emily Wilson raided the family costume box to prepare for her latest project: recording herself reading a passage from each of the 24 books of her translation of the "Odyssey." While at home with her three daughters during the coronavirus pandemic, it seemed like the perfect time to create a dramatic reading series. 
She calls it Odyssey-a-Day. The videos are posted on YouTube, Twitter, and her website along with short summaries. 
"I love reading out loud," says Wilson, Penn professor of classical studies and chair of the Program in Comparative Literature and Literary Theory. "Since the virus hit, I thought this was the time to do this."
Wilson garnered wide acclaim for her 2017 translation of Homer's Odyssey, including a Guggenheim Fellowship this year and in 2019 a MacArthur Fellowship. She is currently working on a translation of Homer's other epic poem, the "Iliad." 
The actress Claire Danes reads for the "Odyssey" audiobook. But Wilson was aiming for something different: short homemade videos with costumes, dramatic voices, and flourishes to showcase specific things about different characters. 
"I wanted to make viewers laugh by surprising them," she says. 
And she was thinking about online teaching, projects that are fun but are also educational and provide insights. "How can I use this format to communicate with students? Having them do mini-readings is something they could do in isolation," she says. 
The video readings are an average of three minutes each, which is about how long it takes to read a page. Choosing the passages to represent each book of the poem and yet have them convey the story when put together, was a particular challenge.
"I wanted to give something like a narrative of the whole poem," she says. "I was prioritizing passages that had a lot of dialogue. I was aware that I was leaving out long descriptive passages, even though some of those were my favorites."
She deliberately wore the same black t-shirt with an illustration of an owl in each video. An owl traditionally represents the goddess Athena, who appears throughout the poem, often in disguise. "No matter who is there, Athena is there, all the time," she says.
Wilson's Athena wears a laurel leaf gold headband, but also several disguises: a little girl with ponytails and bright-colored scrunchies, a woman of mystery with a silver headwrap, and often a pair of big black sunglasses.
"I was just using what I had in my house," says Wilson. A clear plastic umbrella substitutes as a spear. A silver bike helmet as armor. A white plastic recorder as a wand. 
Speaking in her native British accent, Wilson gives the characters voices, from deep and gravelly for Odysseus to high and quavering for his wife, Penelope.
Odysseus is represented by a floppy canvas sun hat Wilson usually uses for working in the garden. The red wig? Calypso, the alluring nymph who captures Odysseus for many years. 
"I don't have many opportunities to wear a red wig," Wilson says, noting that it was part of a Halloween costume years ago. Circe, another goddess who tries to prevent Odysseus from returning home, appears in glittery makeup and a colorful scarf with elaborate fringe. 
Wilson portrays the Sirens by wearing feathers, found in her girls' craft supplies, stuck in her hair like a crown. "It looks like a bedraggled sea bird, the opposite of glamorous," she says. 
The filming was done in an upstairs study featuring sky blue walls, usually in the afternoons when her daughters were occupied. Wilson would go through the text of the translation to pick the passages for three or four books, sometimes abridging the text. Then she'd go collect props and costume pieces and practice a couple of times. 
Using her laptop elevated to eye level, book open to the side, she would turn on the video. "Mostly I would do it in one go," she says. 
Wilson posted the first video on May 15 and continued every day until June 1. She suspended the series then due to the police killing of George Floyd and the resulting protests against racial injustice and police brutality.  
"I felt so distracted that I couldn't focus on doing the videos. Those first really intense weeks I felt wasn't the time for this," she says. "I didn't want to take up air space at that time." 
Wilson resumed the series on June 22 and posted the excerpt from the final book on June 28. As of this week the 24 videos, which total an hour and a quarter, have more than 17,000 views on YouTube. 
They are also posted to Wilson's Twitter account, @EmilyRCWilson, which has more than 30,000 followers. There the videos received enthusiastically positive comments, including some from educators who said they plan to use the series in their teaching. 
"I would love it that people would use it in class," she says. "It's the type of thing that works on many different levels."
She is now contemplating creating dramatic reading videos of passages from some of her other translations, works by Seneca and Euripides, and even perhaps a teaser for her new translation of the "Iliad." 
Maybe the red wig will make another appearance.