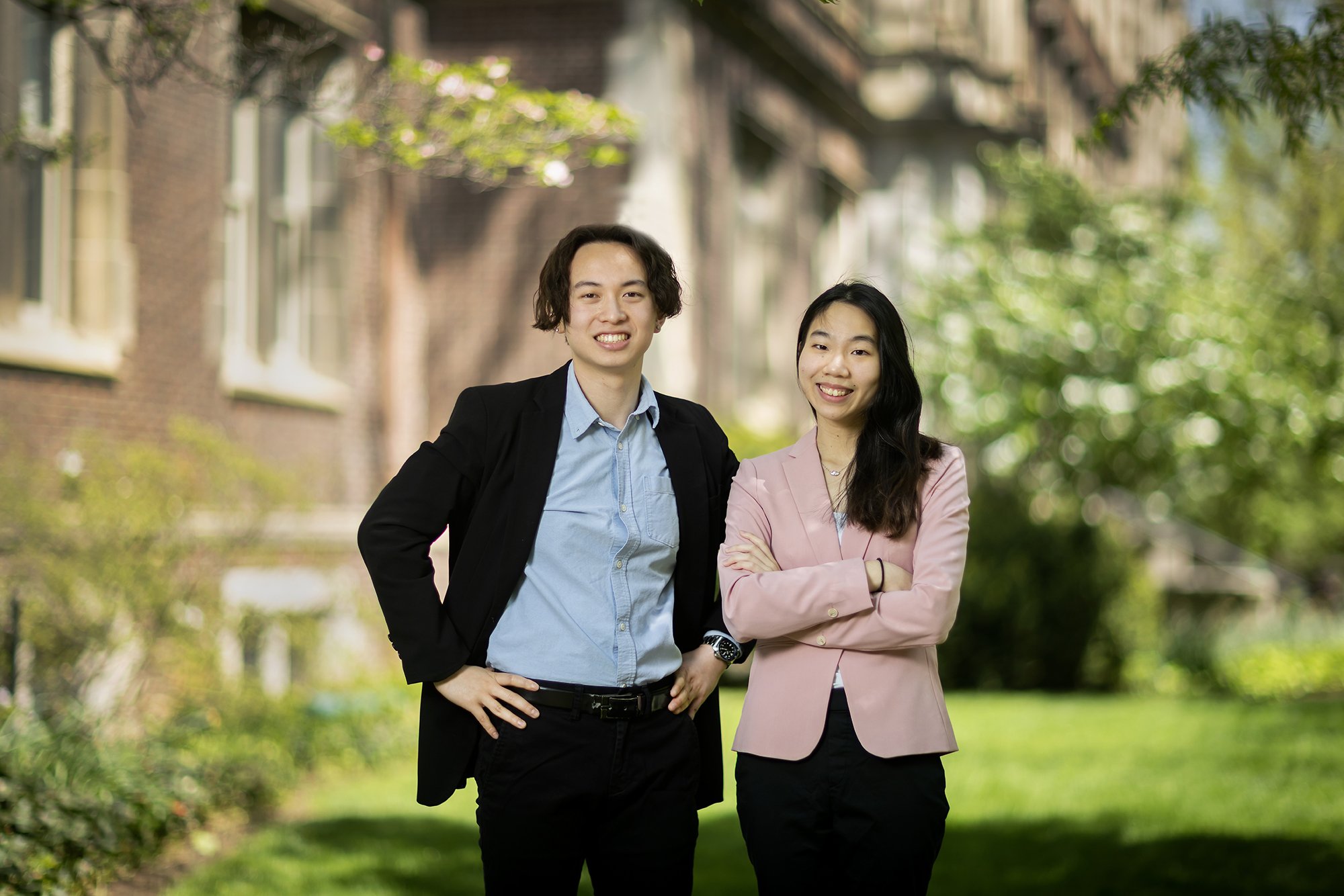 When Catherine Chang was young, living in Taiwan, her aunt discovered her grandmother on the floor struggling to breathe; she'd had a heart attack, they'd later realize. Unsure what to do, her aunt panicked and called Chang's mother. 
It's this moment that motivated Chang, who graduated in December, to become an EMT with Penn's Medical Emergency Response Team (MERT). 
"My aunt was really regretful for not knowing these skills, and when I went to college and saw MERT at a fair, with the red polo and bikes, I thought they were really cool and wanted to join," Chang says. "I never knew EMTs were a thing on college campuses and thought, 'If I can join during my undergrad career, I really want to join.'"
Chang and her business partner Kenneth Pham, a graduating fourth-year student from South Philadelphia, are two winners of the 2023 President's Engagement Prize, for their nonprofit venture ActFirst. The project, an idea of Pham's, is an outgrowth of MERT, which is a student-run service organization that allows Penn students to work with University partners in a complementary way to administer on-site emergency care. Act First aims to take the skills learned from MERT and extend them to high-school-age students in Philadelphia, teaching students CPR, how to prevent blood loss, and how—and when—to use Narcan. 
"It was last summer when I started thinking about what I wanted to do after I graduated, and I knew I'd take a year off school regardless [before going to medical school], and as a leader on the MERT board, I knew I was really passionate about what it could do and the issues surrounding it: the opioid crisis, the gun violence epidemic," Pham recalls, explaining that he realized he wanted to start a grassroots organization of some kind. "I thought the best way to combine the skills I learned in EMT school and being a Philly native was to implement those skills into the Philly school system."
It was soon after that he sought mentorship from Josh Glick, an assistant professor of emergency medicine in the Perelman School of Medicine and medical director of MERT, and asked Chang—whom he'd met through shared shifts at MERT—to be his partner. Chang describes herself as a details-oriented person who's good at communicating, rounding out Pham's administrative skills and big-picture vision for guiding the mission of the program. 
"Kenneth and Catherine have been dedicated MERT members throughout their Penn careers, and it is inspiring to see them take those skills to a new level in such an important way in Philadelphia," says Penn President Liz Magill. "Their initiative will have a positive impact by fostering a new generation of students equipped with life-saving training."
A fundamental piece of Act First's mission, Pham says, is to not just teach students how to do CPR, use Narcan, or prevent blood loss, but to empower them. 
"The broader picture is even though these are intimidating and challenging topics for students to learn, we hope to create a new body of students able to tackle them and also be confident in tackling them," he says. "Because it's easy to learn how to do CPR, but it's also intimidating to know what to do when someone collapses in front of you. What we want to do is train not just skills, but to be confident in using them."
So far, they've conducted a pilot at Mariana Bracetti Academy Charter School, teaching students alongside a certified CPR instructor from MERT. They plan to use the summertime to become officially certified to teach CPR, build a team of instructors, and continue reaching out to potential partner schools—charters and private schools to start, Pham says. The goal is to launch in the fall with three schools, teaching each grade—totaling 12 lessons. They'd like to double that goal for the spring semester and establish sustainable operations by this time next year, when MERT will absorb the program as a ready-to-go operation. 
Another important piece of the program, Pham says, is that it teaches blood loss prevention: skills like how to make a tourniquet and ensure someone doesn't die of shock. It's a misconception, he explains, that people with gunshot wounds die from the bullet striking a vital organ—often, it's because of hemorrhaging. By teaching students what to do in that situation, the idea is they can get more people to the hospital and operating room before it's too late. It's also his contribution to addressing gun violence in Philadelphia. 
Their mentor, Glick, commended them for the extensive research they conducted to demonstrate the effectiveness of the trainings, as well as highlighted the need considering the disproportionate impact of opioid-related overdoses and gun violence in Philadelphia compared to the rest of Pennsylvania. It also, he says, is a valuable service to Philadelphia schools that, by state law, are required to teach CPR but often do not have the resources to do so. 
"To say that we have high-quality and eager instructors and can provide this type of training free of cost to schools, we wanted to take the burden and the onus off them to provide this training ourselves and make sure it's done in a way that's both effective and engaging for students," Glick explains. "That's the motivation."
He describes both Pham and Chang as "exceedingly driven" and complementary in their skillsets. His advice for them in the future, he says, is to stay hungry. 
"Stay motivated, and stay hungry," Glick says. "As a mentor, you always wonder statistically if over 60 people apply for a prize, it's a longshot no matter how strong an applicant you think your mentee is. But in the back of my mind, I think I was confident in the project they selected and the follow-through they had to prepare for this. I'm incredibly proud, not at all surprised, and really excited to see what they do in the coming year."