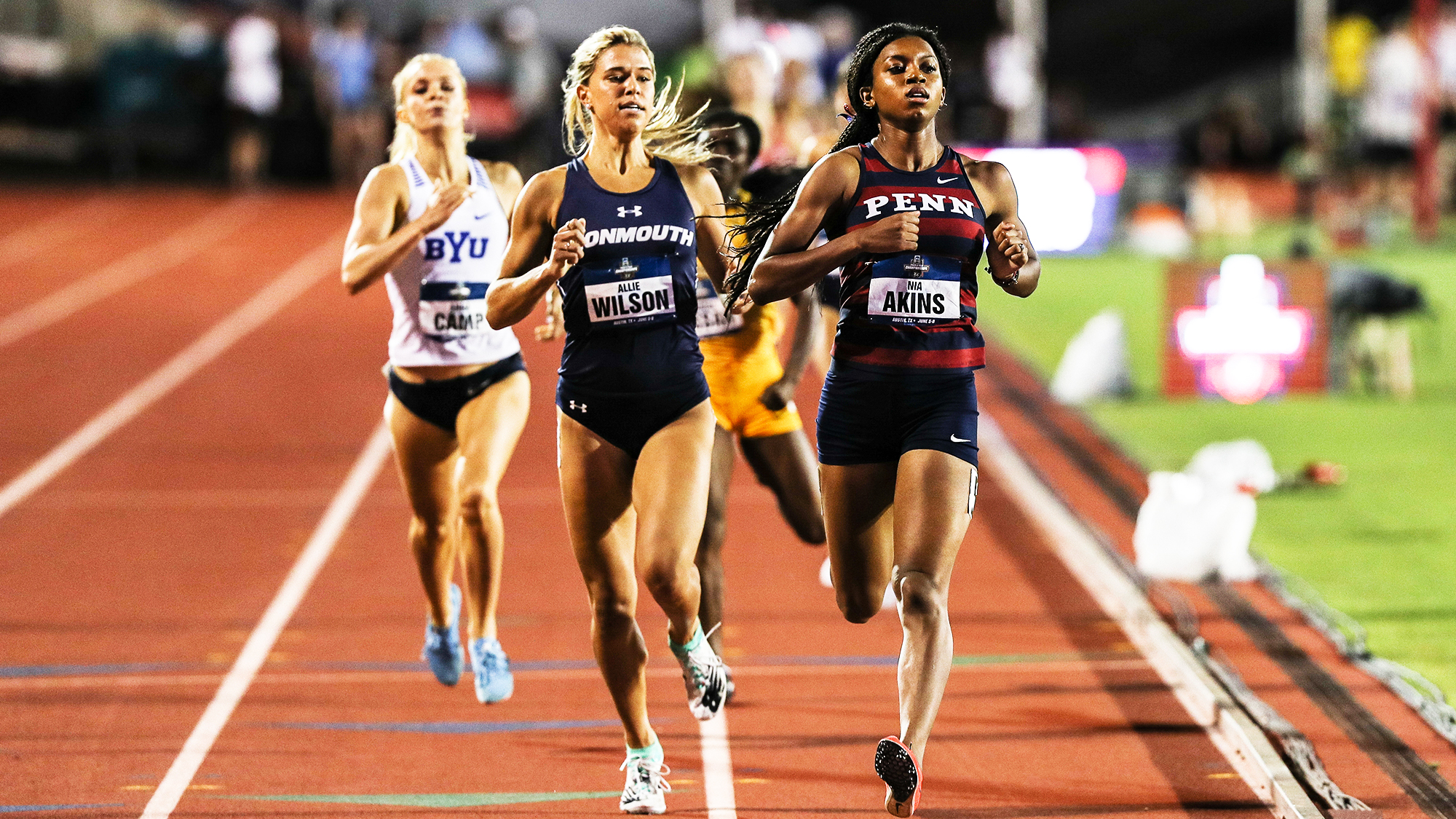 Two athletes on the women's track and field team came within hundredths of a second and hundredths of a meter of winning their respective events at the NCAA Outdoor Track and Field Championships in Austin, Texas, on Saturday.
Junior middle-distance runner Nia Akins finished second in the 800m with a time of 2:01.67, a new Penn record. She was right on the heels of winner Jazmine Fray of Texas A&M, who crossed the finish line in 2:01.31. Akins' runner-up spot is the best all-time in outdoor competition in school history.
Senior high jumper Anna Peyton Malizia finished third, clearing 1.84m, a new school record. Zarriea Willis of Texas Tech was first, clearing 1.87m. 
Akins wrapped up a memorable season in which she finished second in the 800m at the NCAA Indoor Track and Field Championships, and put up terrific times at the Indoor and Outdoor Ivy Heps, and the Penn Relays.
She won the 1000m at the Indoor Ivy Heps in February—breaking the conference record—and anchored the winning 4x880 relay team. She was named Most Outstanding Indoor Track Performer at the meet, making her the first Penn woman to win the award.
At the 125th running of the Penn Relays in April, Akins was part of a four-woman team that won the College Women's Championship of America Distance Medley Relay. The quartet became the first women's team in Ivy League history to capture a Championship of America title at the Relays. Akins was named College Athlete of the Meet, and became the first Penn athlete, male or female, to be bestowed the honor.
In May, Akins won the 800m at the Outdoor Ivy Heps and anchored the victorious 4x800 relay team. Again, she was selected Most Outstanding Female Track Athlete.
Malizia won the Indoor and Outdoor Ivy Heps titles in the high jump in both her junior and senior seasons. This season, she also set the indoor and outdoor school record in the high jump. 
At the Penn Relays, she became the first woman in school history to win the high jump championship, clearing 1.82 meters.
Both Akins and Malizia have been named First-Team All-Americans.