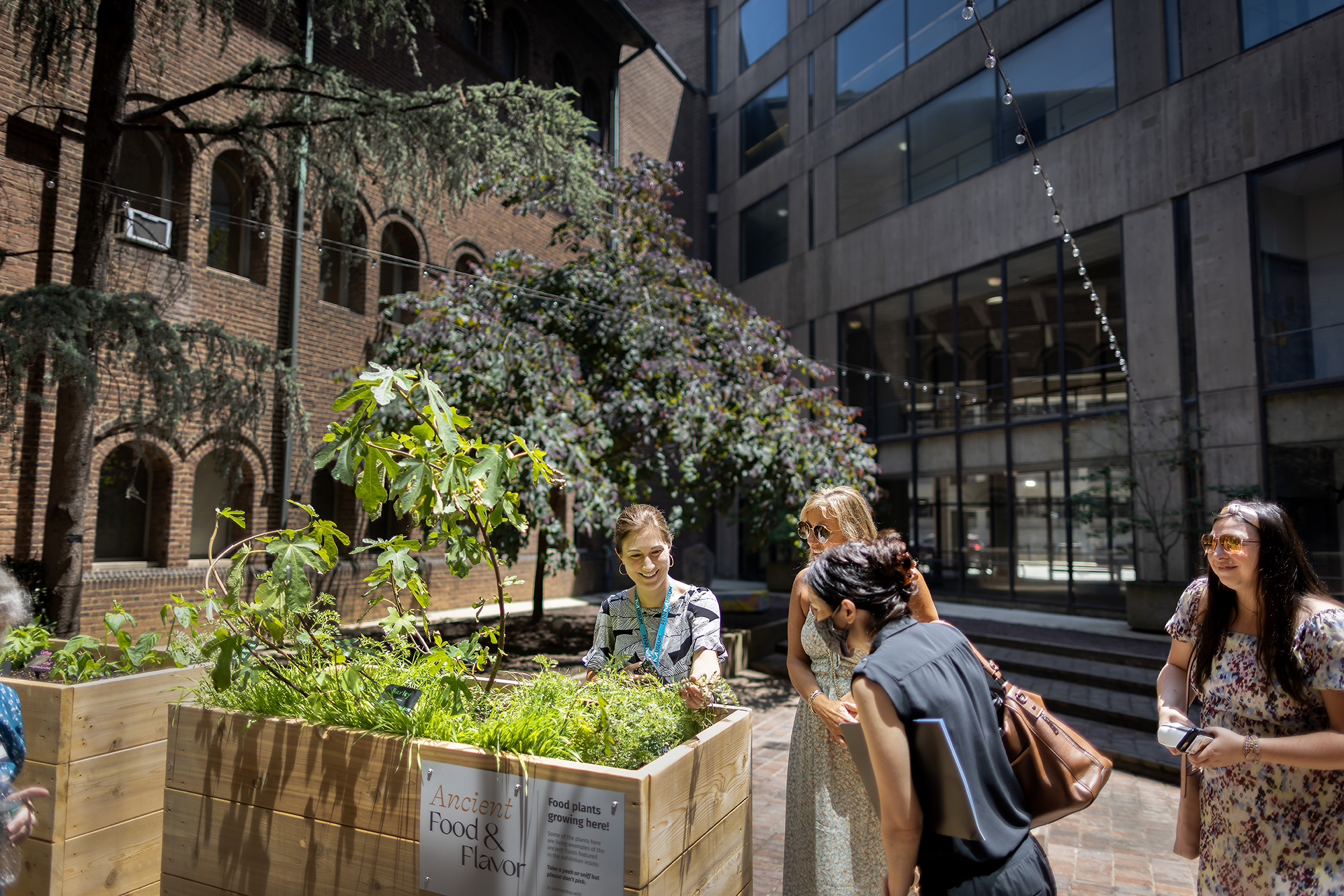 The seeds featured in the indoor portion of the Penn Museum's new exhibition are thousands of years old, while those in the outdoor garden are still growing. 
The Museum's first exhibition to focus exclusively on food, "Ancient Food & Flavor" features more than 150 objects and organic materials, most on public display for the first time. Among them are handmade tools and vessels used for gathering, storing, and processing food, as well as some of the oldest preserved strawberry seeds in the world, dating back some 6,000 years. Other items on view include ancient corn kernels, carbonized grape seeds, slices of crab apples, and dried llama jerky. 
The materials come from archaeological sites in Jordan, Peru, and Switzerland. In a partnership with Bartram's Garden, three large planter boxes in the adjacent outdoor courtyard include staple crops from the three countries, as well as a fourth featuring historically documented plants from Pennsylvania. 
The outdoor plants will be growing through September as part of the exhibition, which opened June 3 and will be on view through the fall of 2024.
"We're always at work attempting to get more information about ancient people by studying what has been left behind," said Katherine Moore, co-curator of the exhibition and the Mainwaring Teaching Specialist for Zooarchaeoogy in the Museum's Center for the Analysis of Archaeological Materials (CAAM), during a talk and tour last week.
A practice professor of anthropology, Moore is interested in reconstructing the use of animals in prehistory from social, economic, and environmental perspectives. The exhibition was inspired by a popular Penn course she teaches, Food and Fire, now in its 10th year. 
While Moore's research focuses on animal life, co-curator Chantel White, teaching specialist for archaeobotany in CAAM, specializes in the study of plant remains and the connections between agriculture, environment, and food practices. 
"Our interest in food is deep," White said during the talk, "and intertwines with what we know about the importance of food in the past." Moore and White together teach the intermediate course Living World in Archaeological Science, which also contributed to the exhibition's design.
The exhibition, Moore said, helps to answer the questions they are often asked and that they ask their students in their labs: How do you know? How can you tell? How did you find it? Food remains can be examined as evidence of daily lives long ago, including social meaning and survival, Moore said, although the study is "admittedly painstaking but compelling."
Animated videos in the exhibition are the result of their research, showing the food in the context of human activity and use, White said. "A key element is recognizing the weeks and months and sometimes even years of human labor that's needed to obtain food from the land," she said. 
A microscope station makes it possible for visitors to examine various seeds, including strawberry and raspberry. "We really want people to connect with food in multiple ways," Moore said. 
Another way to connect is by going outside to see live crop plants growing in the wooden planter boxes in the courtyard, all representing what would have been grown in ancient times, including barley for Jordan, quinoa for Peru, hazelnut for Switzerland, and persimmon for Philadelphia.
The 6,000-year-old materials from the wetland site of Robenhausen in the Swiss Alps have been in the Museum's collection the longest, dating back to the 1850s, which was very early for archaeological science, Moore said. "These materials from the three sites represent some of the history of archaeology," Moore said. 
The tiniest things are most spectacular: the strawberry seeds from the Switzerland site, stored in an unusual way in a glass vial by archaeologists more than 150 years ago. "The part of the archaeological record that really connects plants and animals is the ancient manure that we have from goats," Moore said.
The site in Pachacamac in Peru was excavated by Penn archaeologists in 1895-96, led by Max Uhle, who "was interested in everything," Moore said. "He loved food and brought back many samples and wrote little notes about them." Included are ancient potatoes, fruits, chile peppers, peanuts, and beans, along with the llama meat jerky. 
"Come over and take a look," White said during a tour. "Somebody 6,000 years ago cut these little tiny crab apples in half and dried them, and then they were later burned in some sort of fire." The burning helped preserve the apples, she said, because it made them unattractive to insects and bacteria that live in the soil.
A fire also preserved remnants of winemaking in the Numayra settlement in Jordan, including 4,000-year-old grape seeds inside pots that were crushed. "Here you can actually see some of the pressed grape skins from stomping the grapes and making the wine," White said. 
Also on view is a cross-section of a bristlecone tree, one of the oldest organisms on earth, showing rings that date to 4,100 years ago. Its age was confirmed by radiocarbon dating, a unique example in Penn's collection that is important to archaeological science, Moore said. 
Both Moore and White said they plan to incorporate the exhibition into their teaching Penn courses in the coming year and want the community to become a part of the exhibition as well. The public is invited to contribute photos and stories about their favorite foods and recipes that will then be displayed on a digital installation in the exhibition. 
White said the goal of the exhibit is to make food come alive for visitors: "My hope is that people become more interested in archaeological science, and they start to see food connections between their own lives and what they see in the exhibit cases."