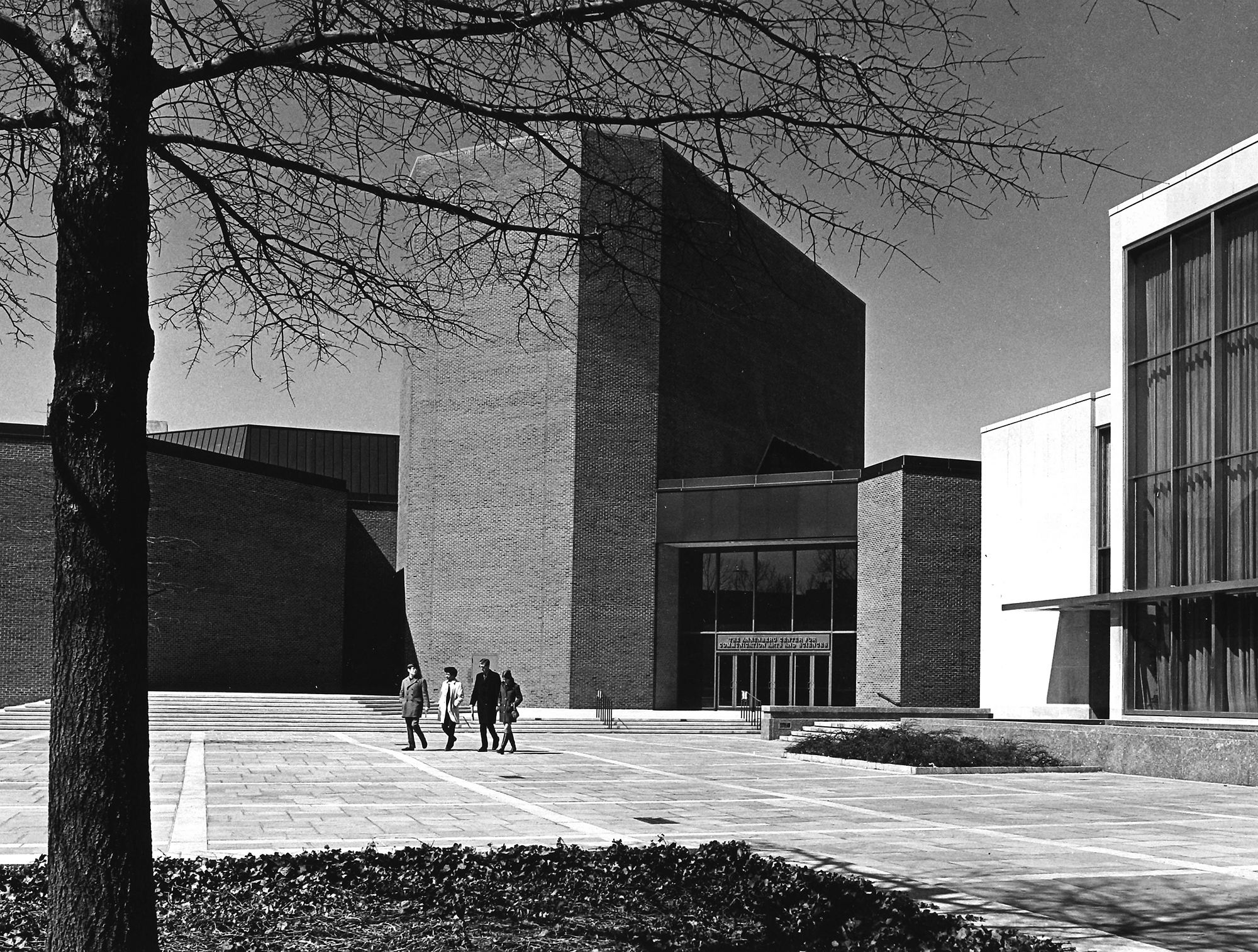 In 1976, the Abbey Theatre Players' "The Plough and the Stars" made its Philadelphia debut at a time when Irish theater was often confined to festivals or Ireland itself.
In 1982, "A Philadelphia Tribute to Grace Kelly" was hosted as a gala and film series showcasing the actress' best works. In-person tributes included in the event involved the likes of Frank Sinatra, James Stewart, Celeste Holm, and Bob Hope.
In 1983, August Wilson's "Ma Rainey's Black Bottom" had its Philadelphia debut, marking the first-ever Philadelphia presentation of Wilson in the city and paving the way for three Tony Award nominations.
In the late 1990s, at the height of the AIDS epidemic, a theater company from Montreal presented a piece involving an empty swimming pool, two young men, and death from an unnamed disease. The kicker: It was designed for children.
In 2019, seven women illustrated the journey of the Middle Passage in an interactive sculptural environment—an interdisciplinary work with elements of dance, immersive performance art, and strobe lighting.
And, in 2020, dancer Caleb Teicher and beatboxer Chris Celiz debuted Philadelphia's first major-theater livestreamed performance.
The throughline for all these events? The Annenberg Center for the Performing Arts.
A milestone anniversary
The Annenberg Center for the Performing Arts, now known as Penn Live Arts (PLA) to reflect the Center's reach in Philadelphia more broadly, commemorated 50 years of programming in 2020. PLA's celebratory events were delayed until this season, in consideration of the limitations from the COVID-19 pandemic. The 2022-23 season will instead mark the anniversary, with standout programming like the Alice & John Coltrane Festival, the ListenHear series (highlighting contemporary music), and a year-long residency with the Negro Ensemble Company that will include a one-act play festival and the world premiere of a full-length work—all commemorating, celebrating, and advancing 50 years of experimentation at the theater complex. 
Alongside the milestone comes a transformational gift from Stuart Weitzman that will chart the next chapter of PLA's journey: The multipurpose Stuart Weitzman Theatre will be added in the existing Annenberg Plaza, and a renovation will allow the Montgomery Theatre to better accommodate film screenings and associated events. The Weitzman Theatre will function first and foremost as a performance space for student groups, addressing a longstanding need, while the Montgomery Theatre's renovations will make it a home for not just PLA programming, but that of campus organizations like the Wolf Humanities Center, or departments like Cinema & Media Studies.
"What I like about this project is it goes back to this idea of supporting a wide variety of performance types," says Christopher Gruits, executive and artistic director of PLA at the Annenberg Center. "When the Center was built, it was intended to support experimental and innovative theater and electronic forms of media and communication. So when you think about 21st-century theater, with 300-350 seats, it's going to be very flexible [for that type of live arts]."
"The entire team at Penn Live Arts—those of today and years' past—deserve our praise for a job well done and our support for an even brighter future ahead," says Penn President Liz Magill. "With an already impressive legacy of 50 years of cutting-edge performance, thoughtful inclusion, and engagement with the broader Philadelphia community, Stuart Weitzman's generous gift provides an opportunity for significant expansion to the Annenberg Center that will set the stage for growth, change, and impact to performing arts at Penn like never before."
The Annenberg Center: Early history
When planning began for the Annenberg Center in 1966, there was no shortage of ambition for the $5.7 million performing arts center, funded primarily by former U.S. Ambassador to the United Kingdom Walter Annenberg. 
Early administrative memos of the time expressed interest in no less than: instructional, office, and rehearsal space for the Department of Music; a space for a planned drama major that would ultimately never pan out; a space that would push technological boundaries and house a film program; and the staging of in-house productions—which would come to fruition, albeit with only a handful of plays, such as "Hough in Blazes," "All My Sons," and the first-ever production at the Annenberg Center, "St. Joan of the Stockyards," which was a Marxist reimagining of Joan of Arc by German playwright Bertolt Brecht. The Center opened its three theaters on April 8, 1971, with a dedication attended by, among others, the chair of the National Endowment for the Arts, Nancy Hanks; then Dean of the Annenberg School for Communication George Gerbner (the Center would later form its own board and today operates independently of the school); Walter Annenberg; and Richard "Dick" Kirschner, the inaugural managing director of the Center.
In a letter, former President Richard Nixon offered remarks on the Center's opening.
"I know that this exciting new Center will be a lasting tribute to the vision of its distinguished benefactor and a major instrument in the progress of American arts and culture for many years to come," wrote Nixon.
And so, it has. 
Prior to the opening of the Center, performing arts on campus was more scattered and would often take place at Irvine Auditorium and Houston Hall, says Randy Swartz, artistic director of NextMove Dance. Swartz, who led the Center's dance programming for most of Annenberg's history, was a presenter of live arts and films at Penn as an undergraduate, founded what was then the student club Penn Video, and was entertainment editor at The Daily Pennsylvanian. He recalls that while, at the time, color TV had taken off in a way that absorbed the masses, college students still sought out live arts and would show up for his presentations—everything from comedy acts to films. 
After Kirschner resigned as the Center's director, in 1975, Steve Goff was named the interim managing director, with the role later becoming permanent for him. It was in collaboration with Goff that Swartz created the Dance Affiliates series at the Annenberg Center, an intentional pivot to presenting dance acts in a city that did not otherwise have a stage as conducive for dance. Swartz had previously worked with the Walnut Street Theatre to present touring dance companies before making the switch to Annenberg and launching a dance series that is, arguably, what the Center has grown to become most known for.
"For a while, I also presented at what is now the Miller Theater on Broad Street," Swartz says of presenting in the late 1970s. "That was when there was not even a glimmer of a Kimmel [Center]." 
By 1983, the Zellerbach Theatre at the Annenberg Center was home to Swartz's Monday night dance series and other contemporary dance performances that ran from Thursday to Saturday, and sometimes Sundays. His series began as Dance Celebration, and was known as such for many years, before being changed to NextMove—which ended its run in 2020. 
One ongoing success of the program is Philadanco's "Xmas Philes," which debuted in 2000 and was broadcast nationally—something Philadanco founder Joan Myers Brown says she "can never forget." 
"We've always been welcome in the community and supported not only financially, but with promotion," says Brown of her experience with the Annenberg Center. She also says the Prince Theatre stage is the city's ideal platform for dance because of its size and breathing space for dancers. 
In all, Swartz presented hundreds of dance companies in his 37 years at the Annenberg Center—many times with dancers who'd go on to have Broadway careers. Other performances would have a soft opening in Philadelphia before heading to New York: Paul Taylor, for example, would often trial-run shows at Annenberg, and his dance company still performs at the Annenberg Center.
Developing programming at Annenberg
Much of the foundation of PLA's programming today can be traced back to the tenure of Goff, who is also a Penn alumnus and whose theater background influenced the early years of the Center. 
Sitting in his home in Bryn Mawr, sipping coffee and nibbling on apple cake he freezes for guests, he muses about his days at Penn—a former band kid with a self-admitted mediocre voice who somehow ended up joining the Mask and Wig Club, learning to dance. Mask and Wig, ultimately, spurred much of his interest in arts and theater; enthused, he'd cut classes on a Wednesday and go to New York for a matinee and evening show, or "second act" shows in Center City at the Miller Theatre. (For the uninitiated: "Second acting" refers to sneaking into a show during intermission when audience members returned to their seats from an outdoor smoke break.)
Goff came to the Annenberg Center after serving as business manager of student performing arts at the Mask & Wig Club. When Kirschner resigned, he stepped in and, after resolving a financial deficit, began to reimagine what the Center could do. Soon, the theater was presenting off-Broadway productions, plays from the Kennedy Center, and work from regional theaters such as a production of "Awake and Sing!" by Clifford Odets, which was staged with a young and then-unknown Richard Gere. The Center brought in works that dealt with topics that, Goff stresses, were "the kind that should be at Penn." One he cites is The Goodman Theater's "Sizwe Bansi is Dead," written by Athol Fugard. The topic was apartheid in South Africa.
But dance, of course, was and is a major part of the Center's contributions to the campus and the city's arts community. 
"We didn't start talking about dance right away," Goff explains. "I didn't know anything about dance—and I danced for five years, so it was kind of funny. But at the time we got serious about dance and Randy Swartz, a Penn alum, came to see me."
The dance programming was an instant and enduring success, Goff says. It added to the Center's programming while enabling Swartz to present new dance with new companies—and was, again, Goff adds, what he felt "a university should be doing." 
As time went on, Goff also introduced to the lineup what was then referred to as "new music," the most prominent composer example being Philip Glass. The Center presented a performance of the films "Koyannisqatsi" and "Powaqqatsi" at Irvine Auditorium—as it was larger and able to accommodate the overwhelming crowd of 1,400 people.
"It brought in people who we thought would never come to Annenberg," Goff says.
All the while, he began engaging with student groups to organize educational programming tied in with Penn. Playwright and Pulitzer Prize-winner Edward Albee, in one instance, came to campus for a week and met with students between performances he would direct. The Center also began to engage students interested in the business side of the arts: The Wharton School hosted a program called Wharton and the Arts, which would often meet with Center staff and do a tour. Many students, Goff says, would ask how they could get involved, and he'd point to the box office. The box office, Goff says, would serve as training grounds for people who would develop enormous theater careers, including that of Todd Haimes, director and CEO of Roundabout Theatre Company; Vicki Reiss, executive director of the Shubert Foundation; and David Stone, a producer of "Wicked." 
Another pillar of Goff's time at the Center was the development of the Philadelphia Children's Festival, which is now the longest-running festival of its kind in the United States. (It will return in May.)
"Early on, when I'd just began the job, I thought that at some point I'd like to get us involved in children's theater," Goff says, "because I thought there was a whole lot more in that than 'Jack and the Beanstalk' and 'Cinderella.'"
The programming began under Catherine "Kaki" Marshall. It started small, with two shows in the first year, then three the next, and eventually grew to be an event that drew children from schools across the city, bused in for several shows during the school year. Truly, the festival was an international one: Center staff would travel to scout shows from around the world. 
The festival is among the accomplishments Goff says he thinks most fondly of. He was able to leverage the festival into further financial support from Walter Annenberg and fill a growing gap in what public schools were able to offer children, in terms of arts exposure. 
Years later, when Goff was hospitalized, a nurse asked him about his professional life. He explained his role at the Center and, enthusiastically, the nurse recalled going to the Children's Festival with classmates, in a class of mostly Black students.
"It clearly had a lasting and positive effect in introducing children to the performing arts," says Goff. "And that was so wonderful to hear that comment, that it had an effect. If you could only do more of that—and we did a lot."
The festival would evolve as time went on, under the heading of Brian Joyce, who became its director in 1991. At its height, Joyce says, the festival encompassed five days and seven theaters, extending beyond Annenberg and into West Philadelphia community spaces like International House. Some festivals took on national themes, like Nordic or Dutch-Flemish, or Canadian. In all, Joyce says, he saw 3,000 shows in 15 years, scouting potential pieces to bring to Philadelphia. Ticket sales reached 22,000 each year, with opportunities to attend supported by corporate sponsors.
Many children's theater performers brought to the Center, he emphasizes, were risky, such as a puppet-ballet piece from Montreal, created by Theatre de L'Avant-Pays, called "Impertinence," which used plastic marionettes and culminates in a character being beaten severely. 
"We changed the way people look at children's theater, and that's an amazing accomplishment and source of extreme pride," Joyce says. "And the University, Steve Goff, [former managing director] Mike Rose, the board, they supported 100 percent, which is an amazing thing."
Life after Goff
Goff retired in 1998, capping what was practically a lifetime at the University. At that time, Michael Rose was appointed managing director, after having successively established the Stockton College Performing Arts Center and Rowan University Center for the Arts, South Jersey's leading performing arts centers, over the previous 21 years. 
"Steve ran the Center for 25 years, during which time he brought to our stages incredible theater, music and dance from New York and around the world, hosted major theater openings by directors like Joe Papp and Hal Prince, and achieved an extraordinary curatorial legacy for the Center, thereby making it the Philadelphia region's preeminent, university-based performing arts center," says Rose.
That, of course, all changed in the mid-'90s and early 2000s, when the Drama Guild and the Philadelphia Festival Theatre for New Plays, beset by bankruptcy, ceased operations at the Center. Further change took place when northeast theater opening models and show touring costs changed, and when the Kimmel Center opened in 2001 in Center City.
During the next 18 years, Rose continued Goff's international theater and dance programming legacy, greatly expanded the Center's jazz and world music offerings, and added music to the Center's International Children's Festival. Channeling the vision of former Penn presidents Judith Rodin and Amy Gutmann for the University, he sought to make the Center more inclusive, an initiative that resulted in the Center's recognition by the William Penn Foundation as having among the most diversified audiences in Philadelphia.
Collaborating with faculty and staff around presentations like Moises Kaufman's "The Laramie Project," Eve Ensler's "The Vagina Monologues," and Toshi Reagon's "The Parable of the Sower," while embracing relationships with theater companies like the Globe Theatre of London and the Abbey Theatre of Dublin, he further expanded programming connected to the academic community.
"During my time at Penn, I enjoyed working with an extraordinary group of people on our staff and across the University, with highly respected international artists, and with their artistic agents across the country and world who still regularly made commitments on a handshake basis," Rose says.
In 2016, following Rose's retirement after 18 years at Penn, the University appointed Gruits as the next director of the Center. He still keeps in touch with Rose and Goff.
"I've been honored to inherit a legacy of programming that was incredibly high-caliber as well as a long commitment to diversity and a real investment in artists of color," Gruits says. "Mike and Steve did a terrific job establishing that foundation. It's really allowed me to build on that base and begin to broaden the programming mix. Over the past five years, we've added an early music series, brought back film, and recommitted to new music while also presenting over 60 premiere works and 24 Philadelphia artist debuts. It's exciting to continue and expand that national reputation that Mike and Steve first created."
A future of inclusion and further student engagement
Nate Chinen, a Penn alumnus who graduated from the College of Arts & Sciences in 1997, was a work-study student at the Center during his first year at Penn. What he remembers is the Center's "humming energy."
"I just remember feeling like it was a nerve center," he says. "There was so much energy and excitement in the community because the student performing arts are so student-run, and there's a lack of a kind of top-down administration, so it ends up being pretty chaotic. But it also means that [for] the kind of creative artist who is really driven and motivated, there are no barriers to entry."
After recently moving back to the area, Chinen now frequents the Center for world-class performances, particularly for jazz. (He's excited for the season's Coltrane celebration.)
"The Annenberg is a regional treasure, a jewel in Penn's crown," adds Anita Allen, a professor of law and former chair of the Provost's arts committee. "It's a place where one can aways find something magical and fascinating happening. Chris Gruits breathed new life into the Annenberg and is an apt leader to guide commencing the next 50 years."
For Gruits, looking to the future, he wants to pursue more programming that emphasizes cross-cultural understanding, continue to experiment with technology (such as investing in equipment for livestreaming during COVID-19 lockdowns), and physically revamp the space. Aside from the pending Weitzman Theatre expansion, that revamp has partly been accomplished already with the Arts Lounge and the added presence of The Sachs Program for Arts Innovation in 2018. The Sachs Program is housed in the Center and has added a new mural, sculpture, and hosts rotating exhibits in the Feintuch Lobby. 
"Sachs has added so much," says Gruits. "They've really added an entirely new physical dimension to our space, and Keith and Kathy [Sachs'] gift enabled all these amazing upgrades: visibility, on the one hand, to make sure people understand what's happening inside, but also when you come into the main lobby there's exhibition space, new furniture, and it's welcoming."
The Sachs Program has also served as a collaborative partner, he adds, providing a different curatorial perspective and expertise. Later this fall, the Center will present a faculty architectural exhibit in collaboration with the Stuart Weitzman School of Design—a first, and partly inspired by the evolution of the lobby space.
But most importantly, Gruits is focused on deepening the connection to Penn through the curriculum and expanding support for students in the performing arts, while at the same time continuing to broaden PLA's relationship with the wider community through innovative programming and engagement.
Pointing out artists-in-residence like hip-hop choreographer Rennie Harris and an upcoming, scholarly stage reading of "Beowulf," Gruits says, "Every year we have several projects that connect resident artists with Penn students as well as local schoolchildren. It provides a unique perspective and adds a totally different dimension to learning. You'll see more of that from us in the future."
The heart of the Annenberg Center, though, is the audiences: students, staff, faculty, West Philadelphia residents, and beyond—all the lives and experiences that make up the lifeblood of the Center. Swartz zeroes-in on an element of the Center's audience that he thinks is special: trust.
"An audience can be judged best by when something doesn't work and it doesn't dissuade them from coming back," Swartz says, reflecting on his decades of programming at the Center. "You can't hit homeruns all the time."
Gruits agrees.
"There's always a level of uncertainty in presenting innovative and new works," he adds. "As we move forward into our next 50 years, having audiences that are willing to take chances on adventuresome programming puts Penn Live Arts in a unique position to push the boundaries of what is possible in the performing arts."