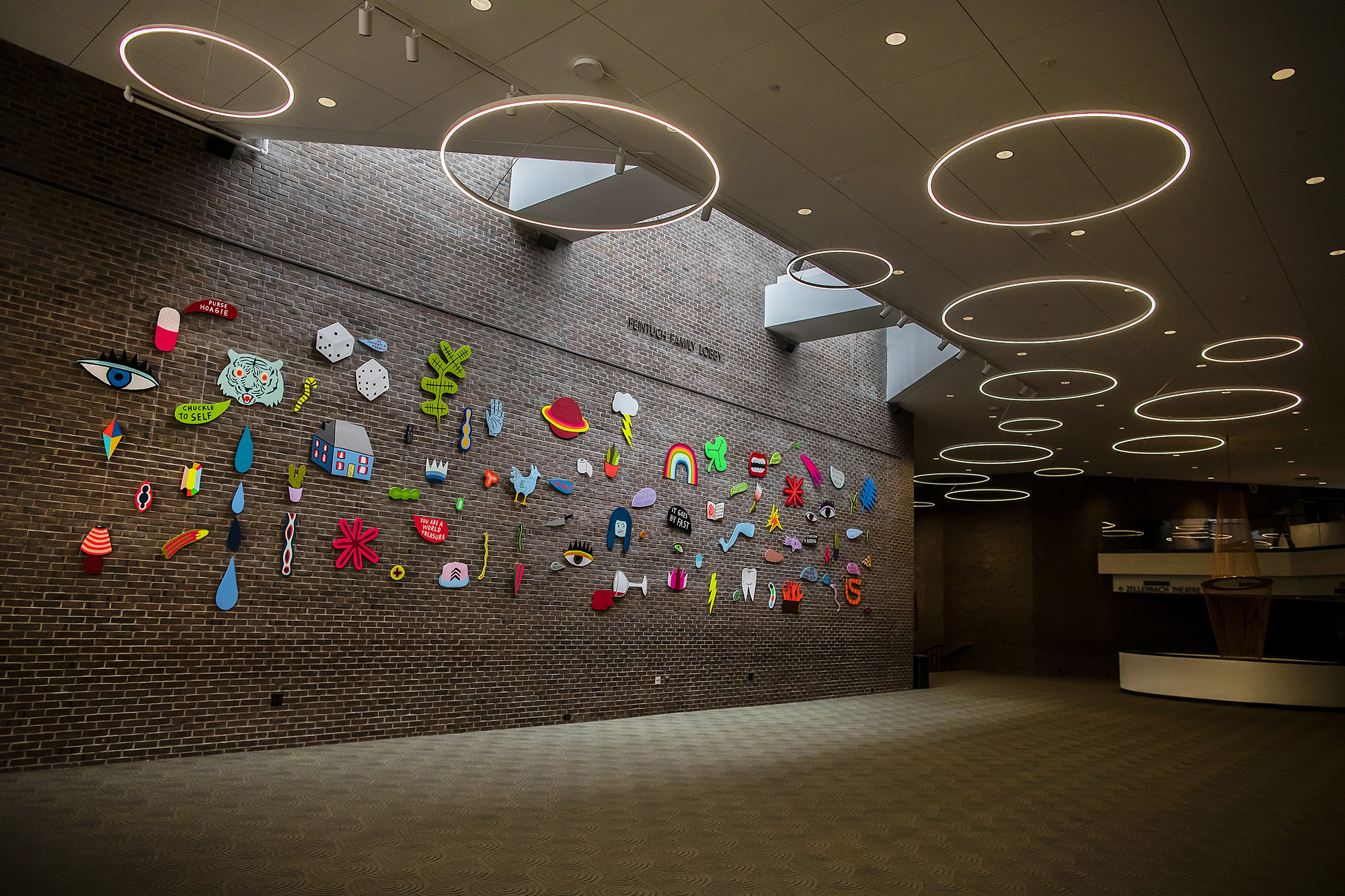 Shortly after the May 2021 primary elections, Martha Rich celebrated the victory of a judge whose campaign she volunteered for. At a reception for staff and volunteers, she encountered a table filled with tiny hoagies, though she wasn't quite hungry enough to want one in the moment.
"I'll probably eat this later," she thought, and stuffed one in her purse.
It was, she'd later dub it, a "purse hoagie." The phrase now salutes entrants to the lobby of the Annenberg Center for the Performing Arts.
The event was one of many in her daily life that make up "It goes by fast," the first exhibit in the Annenberg Center's new Arts Lounge space. The lounge is a collaboration between The Sachs Program for Arts Innovation and Penn Live Arts.

Rich, a 2011 MFA alumnus from Devon, Chester County, who lives and works in South Philadelphia, crafted approximately 90 pieces strung on the 75-by-20-foot brick wall of the Arts Lounge space in Annenberg's lobby. They're each colorful representations of moments in her life and public observation. She's literally turned eavesdropping into an art.
It's not the first time she's done this type of collage-like collection of individual artworks, either. For this reason, she carries a notebook with her to jot down overheard statements that catch her attention. Sometimes they turn into art, sometimes they don't—"Whatever feels right," Rich says. "It's hard to tell you how I know, but I know.
"I've been [writing in my notebook] since I started coming to Penn, because I took the 40 bus and you can't help but eavesdrop on everyone's conversations," she laughs. "So, I carry this book around with me and write down funny sayings. Sometimes it's doctors, sometimes it's people going to a methadone clinic—it's all up and down, but it's interesting. That's what I do; that's my art now. It's all intuitive and what I come across."
She describes her art as "informal, playful, and weird and wacky," explaining that some of it doesn't really make any sense, but in this case serves as an interesting, colorful contrast to the modernist brutalist design of the Annenberg building. Some of the pieces are expressions she feels passionate about—"Pay people more," reads one work—while others have more of a backstory, like a chicken piece that was inspired by a police warning on the Citizen app. The piece stems from a dispatch about a chicken attacking people on 44th Street.
The exhibit is the first in the new Arts Lounge space at the Annenberg Center, part of a $2 million renovation made possible by a gift from Penn alumni Keith and Kathy Sachs.
"We're excited and thankful to Keith and Kathy Sachs, and John and Chloe [of The Sachs Program], for this collaboration, and I think this is just the beginning of a really great range of programs and events that are going to be activating the Arts Lounge space," says Chris Gruits, executive and artistic director of Penn Live Arts. "It's a new and exciting space for students to use more than they already use it. It's a space with dynamic energy in the heart of campus."
Gruits says he's most excited about the range of visual arts that are finding a home at the Annenberg Center, with the Arts Lounge being only the latest example. Already, Penn Live Arts has begun collaborating with Maori Holmes, curator-at-large for Penn Live Arts, to curate film screenings. Complementing that, part of the larger renovations project includes a recently installed film projector in the Montgomery Theater. Moreover, graduate students in the Stuart Weitzman School of Design recently began woodworking in the building's basement woodshop as part of the Graduate Fine Arts sculpture program, and Annenberg has welcomed academic collaborations during recent seasons that are tied to Penn Live Arts programming.
As time goes on, the Arts Lounge will be home to not just the exhibition space and recently installed chairs, but a rotating coffee cart and plenty of event programming, ranging from art quizzos to open mics. Collaborations from departments across campus are also anticipated.
In that sense, Rich's exhibit is only the beginning of a long narrative for the space.
"We want classes to meet here, we want different student groups to host events here, we want different departments to host events here," says Chloe Reison, associate director of The Sachs Program. "We want this to be an active space for the arts community."
For now, surveys have been conducted to understand the needs and wants of students, examining what times they might, for example, want to come to the lounge to study. An extension of that, in the spring, will be a pilot run of the coffee cart during select hours.
By spring, the space will also have improved wayfinding for The Sachs Program office space and Theatre Arts Program, a mural on the north wall of the lobby stairwell, new signage outside 37th Street, on Walnut Street, and in the Annenberg Plaza, as well as couches and tables. Spring will also see the installation of the second Arts Lounge exhibit, which will be announced later this fall.
In the nearer term, The Sachs Program will announce its latest grant application cycle on Oct. 4, with two new categories: one for alumni, and another centered around community partnerships—meant to foster more collaboration between Penn and various arts and civic engagement organizations in the community. Students, faculty, staff, and now alumni are encouraged to apply for a range of grant opportunities in the arts.
The Penn community is invited to celebrate the opening of "It goes by fast" on Sept. 14 from 4:30 to 6:30 p.m., with a reception and remarks taking place outside in the tented Annenberg Plaza. Remarks by Interim Provost Beth Winkelstein, Chris Gruits, and John McInerney will begin around 5:15 p.m.; a Q&A with the artist and Associate Professor of Fine Arts Jackie Tileston will begin around 5:30 p.m. Registration is required.
"It goes by fast" runs through Dec. 17.