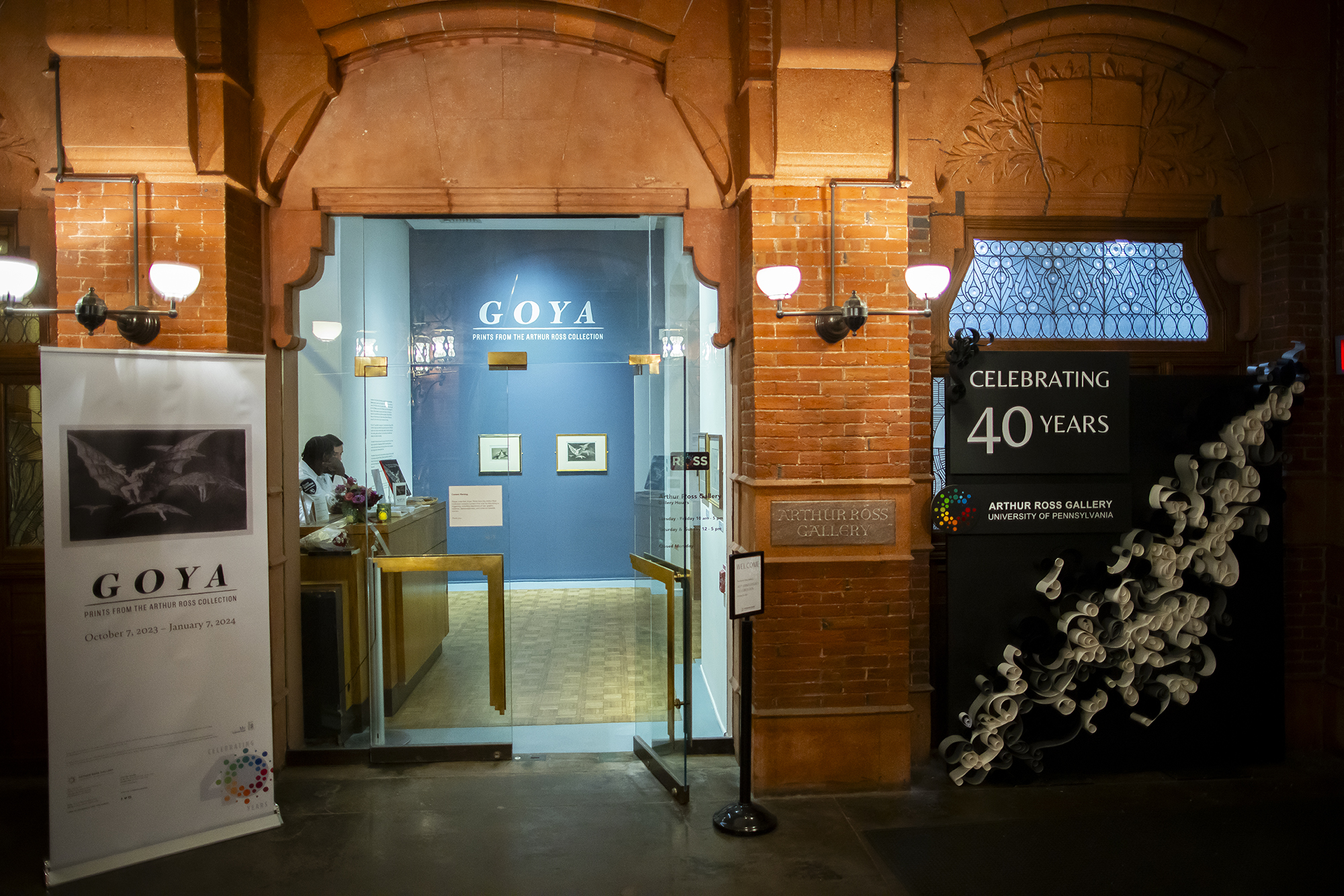 The Arthur Ross Gallery opened in 1983 with an exhibition featuring rare prints of etchings by Spanish artist Francisco José de Goya y Lucientes. Goya prints again fill the Gallery to mark its 40th anniversary.
The exhibition "Goya: Prints from the Arthur Ross Collection," on view through Jan. 7, 2024, features 38 rare first-edition etchings, on loan from the Yale University Art Gallery. 
"New York investor, philanthropist, collector, former Penn student, and longtime friend of the University Arthur Ross loved Goya's work. Above all, he admired the intensity with which it stands up for intelligence, imagination, and broad-mindedness. These are values that this University is very proud to share," said Penn President Liz Magill at the Oct. 20 celebration.
"This is a space where anyone in our community can come to have a personal encounter with art. Maybe they'll be inspired, maybe they're challenged, maybe they escape their everyday distractions, to enjoy a moment of quiet contemplation," Magill said, noting that the Gallery and exhibitions are free and open to all. "Everyone in this room knows that Arthur collected art with the intention of sharing it."
Magill also acknowledged Ross's widow, Janet Ross, who attended the celebration, "for her support in furthering Arthur's vision and championing it here at Penn."
Janet Ross recounted her husband's role in creating "a lively arts gallery" to help in the effort to save the historic building designed by famous architect Frank Furness, now also home to the Fisher Fine Arts Library. "So many different kinds of energy and imagination have transformed this space over and over."
It was "absolutely visionary" to create the Gallery "with such a radical openness to content and freedom of artistic and curatorial expression," covering "many periods in history and regions around the globe," said André Dombrowski, the Frances Shapiro-Weitzenhoffer Associate Professor of 19th Century European Art in the School of Arts & Sciences. 
"I believe that this openness, interdisciplinarity, and willingness to experiment and take risks is the key ingredient, and the breadth of topics is truly extraordinary over the years," said Dombrowski, who has been chair of the Gallery's board of advisors for the past five years. 
Since it's opening, 172 exhibitions have been on view in the Gallery. "Arthur Ross's vision to share his joy of art with others continues today with our mission to engage, educate, and inspire. And in many ways to empower the next generation as well," said University Curator Lynn Marsden-Atlass. 
The current exhibition includes 20 prints from Goya's "Disasters of War" (Los Desastres de la Guerra) series, and 18 prints from his "Follies" (Los Disparates) or "Proverbs" (Los Proverbios) series. An additional print, Goya's "Self Portrait," is from the Penn Art Collection.
This is the final Gallery exhibition for Marsden-Atlass, who retired in August after 15 years as executive director. She stewarded 53 exhibitions during her tenure, 11 of them drawn from the Penn Art Collection, along with hundreds of related programs, such as lectures, music, and dance. "It has been a joy. Collaboration has been essential to every single exhibition and program," said Marsden-Atlass.
Why Goya for this anniversary? Because, said Marsden-Atlass, as Arthur Ross wrote for the Gallery's inaugural exhibition in 1983: "Goya ushered in a new age in art." 
Considered one of the first modern masters and the greatest Spanish artist of his time, Goya greatly influenced the work of many important artists, including Paul Cézanne, Édouard Manet, and Pablo Picasso, Marsden-Atlass said, and continues to inspire artists today.  
The Arthur Ross Collection at Yale has the complete set of 82 of Goya's war prints, and an extremely rare complete first-edition set of the 22 "Follies" or "Proverbs" prints, the last major series by Goya. Ross acquired the prints in the 1980s for the Arthur Ross Foundation with a mission to make them available to the public by sharing them with universities, galleries, and libraries, Marsden-Atlass said.
Ten of the prints that were included the Arthur Ross Gallery's first exhibition return for the current one. And Goya prints of bullfighting were part of the exhibition that celebrated the Gallery's 30th anniversary. 
Marsden-Atlass co-curated the current exhibition with Emily Zimmerman, interim director of exhibitions and programs at the Gallery. They visited Yale in June to examine the Goya prints and choose which to include in the exhibition. 
"We looked at the whole portfolio and there were some iconic works that stood out," Zimmerman said, noting two on the entrance wall of the exhibition: from the war series, "What Courage!" (Que Valor!), and from the "Follies" or "Proverbs" series, "A Way of Flying" (Modo de volar). 
Created between 1810 and 1820, the war prints are considered one of the most unflinching artistic depictions of war, drawn from the Napoleonic invasion of Spain and the Spanish War of Independence, Marsden-Atlass said. Goya created them by experimenting with a novel range of printmaking techniques, including etching, aquatint, engraving, and drypoint.
The "Follies" or "Proverbs" series, created between 1816 and 1819, offer what are considered timeless indictments of the societal ills and foibles of the human spirit, including ignorance, foolishness, insensibility, and a lack of reason, Marsden-Atlass said.
The series were first published more than three decades after Goya's death. The war series, published in 1863, was previously deemed too difficult for society to accommodate, and the "Follies" and "Proverbs" series, published in 1864, was thought to put the artist in jeopardy of the Spanish Inquisition. 
Saying Goya "neither glorifies nor condemns either side and focuses on the carnage, misery, and horrors of war in an original way," his timeless series has "stood as one of the most poignant examples of protest against war," Marsden-Atlass said. "He makes us virtually an eyewitness to these atrocities." 
Given Goya's graphic unflinching depictions of war, violence, dismemberment, and violence toward women, the curators included a warning at the entrance to the exhibition. 
Several events related to the exhibition are planned, including a Nov. 7 lecture by Antonio Feros, the Walter Annenberg Professor of History in the School of Arts & Sciences, to explore the political, cultural, and ethnic tensions in Spain during Goya's lifetime.