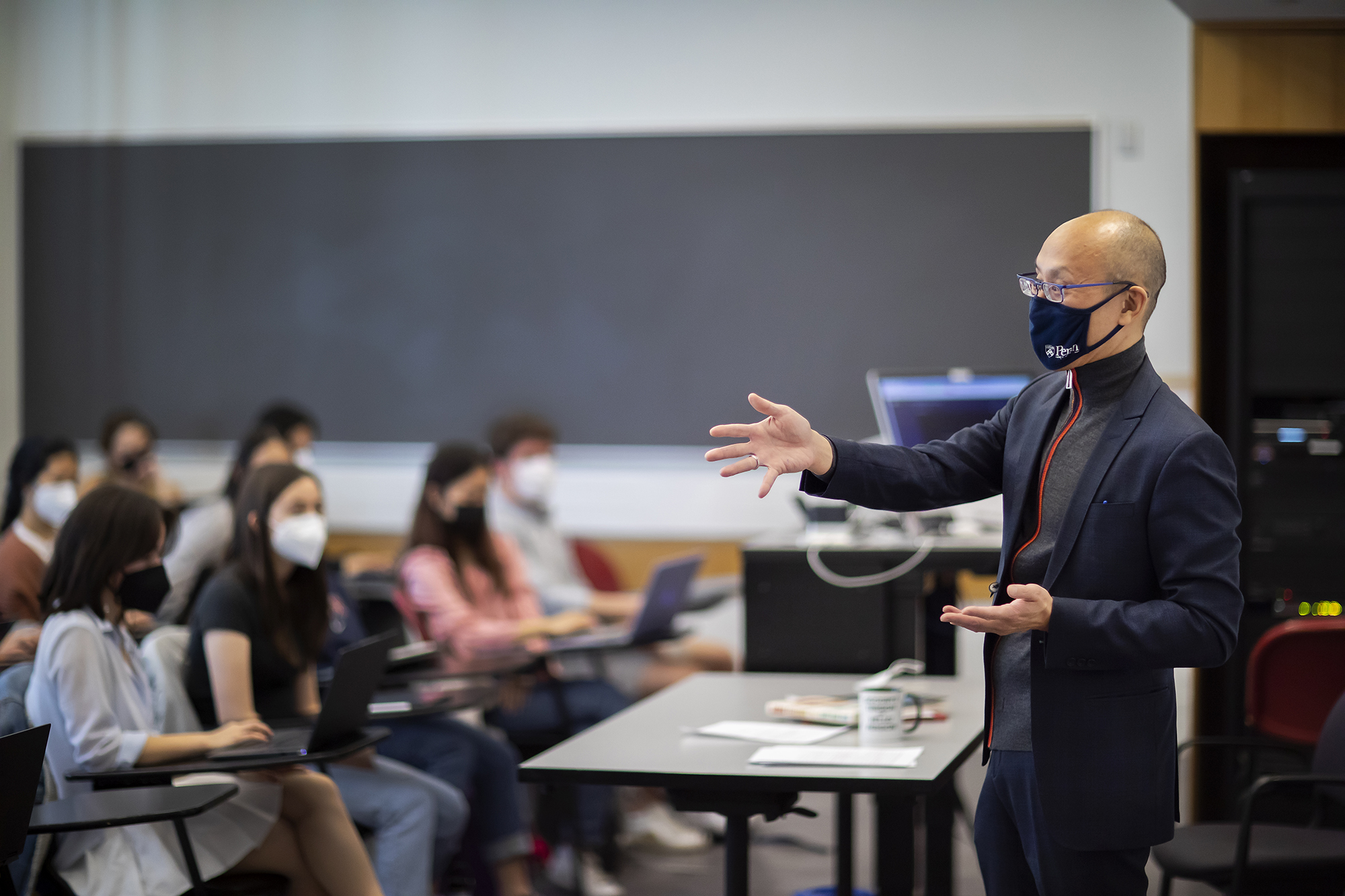 When high school students are taught American history, Asian American representation is invisible, says Fariha Khan, co-director of Asian American Studies (ASAM). "It's the constitution, the 13 colonies, then we're back to the founding fathers," she says. "Maybe students get a day on the Chinese Exclusion Act, a day on the Japanese internment. That's the narrative?" The message, Khan says, is that Asian Americans are perpetual foreigners; they're not part of the nation's foundation. 
Asian American Studies was purposefully constructed to counter this narrative, says Eiichiro Azuma, professor of history and Asian American studies, who co-directs the program with Khan. The program is now celebrating its 25th anniversary with a podcast miniseries, weekly alumni events, and a March 19 conference with keynote speaker Cathy Park Hong, author of "Minor Feelings: An Asian American Reckoning." While the program is having a celebratory moment, "It's important for us not to be too comfortable," Khan says. "Racism and xenophobia are very much a part of our American life, and so we have to remain relentless as we grow."
The Asian American Studies program, launched in the fall of 1996, "began with this movement from students wanting to be recognized and included," says Khan. An external review committee found in 1992 "a particular sense of urgency" among the students, their report states. In 1993, Students of Asian Affairs launched a petition of support for a permanent professor of Asian American Studies. They received over 1,016 signatures in three days.
At that time, the East Asian languages and civilizations department was called "Oriental studies," which "made it seem like it was a rug instead of lived experience," she says. Students began a long fight to lobby for the department's name change—which took years, David L. Eng, the Richard L. Fisher Professor of English and Asian American Studies, notes—and to demand courses about their history.
Along with considering countries of origin and the history of Asian immigration and Diaspora, ASAM looks specifically at the Asian American experience in the United States, says Azuma. This is an intentional approach. "As opposed to other racialized minorities in the United States, Asian American history has a lot to do with what's called Orientalism," says Azuma. "Orientalism is a way of thinking that creates the idea of a completely opposite world and peoples, as opposed to the Western world," where Americans see themselves belonging, he says. "The Asian American Studies program is a challenge to this Orientalist thinking in America."
As Asian American Studies celebrates 25 years at Penn, "this is a really important moment for us to assess our growth and reassess our history," Khan says. "It was a history of struggle and relentless perseverance to be legitimized. It's important to say, Yes, it's great, but we want to recognize that it was very hard, and it was because of a lot of painful effort that we can stand here today."
The University is currently in the process of hiring at least three new faculty members who will offer additional courses in Asian American studies, Eng says. This cluster hire will double the number of faculty in the program. "There is a lot of opportunity for growth," Khan says. 
This means more research and mentorship, along with additional programming and course offerings. For many students, ASAM classes mark the first time that students have learned about their histories or thought about Asian American issues from a theoretical perspective, she says. "Because we'll have more faculty teaching, we'll be able to offer a major," Khan says. 
"There is so much student interest," Eng says. Introduction to Asian American Literature and Culture, taught by Eng and Professor of English Josephine Park, is one of the largest class offerings in the English department. It fills up the day registration opens, Eng says. "As we expand the program, we will be able to offer these much-in-demand classes on a regular basis." 
As the child of Vietnamese refugees, Claire Nguyen, a history major with minors in English and ASAM from San Jose, California, has always been fascinated with the way people tell their stories. What's missing, they say, are the stories of those like Nguyen's family.
"A lot of time, the history that we're taught doesn't address Asian American history," says Jennifer Kang, a sophomore majoring in sociology with minors in nutrition science and ASAM. Asian American history should be required learning as an essential part of American history, she says. "Our histories inform our current society. By learning history, I'm able to understand my place."
As children, Kang and Nguyen didn't understand how to address this lack, a limited framework that was presented as comprehensive but did not include their families' history, experience, or perspective. Growing up in Columbus, Indiana, Kang never had an Asian American teacher. The only Asian instructor in the school was the one who taught Chinese, she says. 
"When you hear 'model minority,' you hear, 'that's a good thing, question mark,'" says Nguyen. "However, the model minority myth originates from a white sociologist's characterization of Asian Americans as 'hardworking and self-reliant' in direct comparison to 'lazy, welfare-dependent' Black Americans," Ngyuen says. The model minority myth creates homogenizing, racist stereotypes of both Asian and Black Americans that pits the two communities against each other and minimizes the diversity of the Asian American experience, they say. 
Eng recently co-authored a book with the psychotherapist Shinhee Han on the psychic toll for Asian Americans called "Racial Melancholia, Racial Dissociation: On the Social and Psychic Lives of Asian Americans." The book discusses the feelings of depression and isolation often felt by Asian Americans, and the barriers they experience in seeking psychological help. The model minority myth, Eng notes, "persistently represents Asian Americans as nerdy automatons, technically gifted in math and sciences, continuously working, compliant, wealthy, and exempt from discrimination. In fact, Asian Americans are the most economically stratified racial group in the U.S. More often than not, discrimination against Asian Americans occurs without recognition and without provoking any serious outcry or protest—on the part of others and, most poignantly, on the part of ourselves."
The spike in anti-Asian violence during the COVID-19 pandemic has made this crisis especially apparent. Learning about the harmful effects of the model minority stereotype—and the way it's been used to create a wedge between the Black and Asian communities—has been helpful, Kang and Nguyen say. But as the pandemic recedes, it's important to remember these lessons. "Racism doesn't disappear overnight as soon as a pandemic gets better," Nguyen says.
"How is history taught?" Eng recently asked his Introduction to Asian American Literature and Culture class, which has more than 40 undergraduates this semester. "As a series of facts that are not debated," one student says. "It's a very constrained geography," another adds.
"We learn history as national history," Eng says. "National history is most often a narrative of progress." Many of the students in Eng's class were born in other countries and have the experience of learning national history in two different places. "I learned so much in Singapore," one student says. "That was brought with me but none of it was recognized."
What happens when these narratives conflict? "When you come to the U.S. and start absorbing its history, there often are gaps and fissures," Eng says. "Those are different national stories that exist in your memory, and they don't necessarily coincide with the new ones you're learning." 
It's those moments of loss and breakage when "we have to rethink the problem of history," Eng says. "We think of literature as opinion, but we think of history as fact." It's that truth—or will toward truth—that can be dangerous, he says. Each nation tells its history with a different slant, he says.