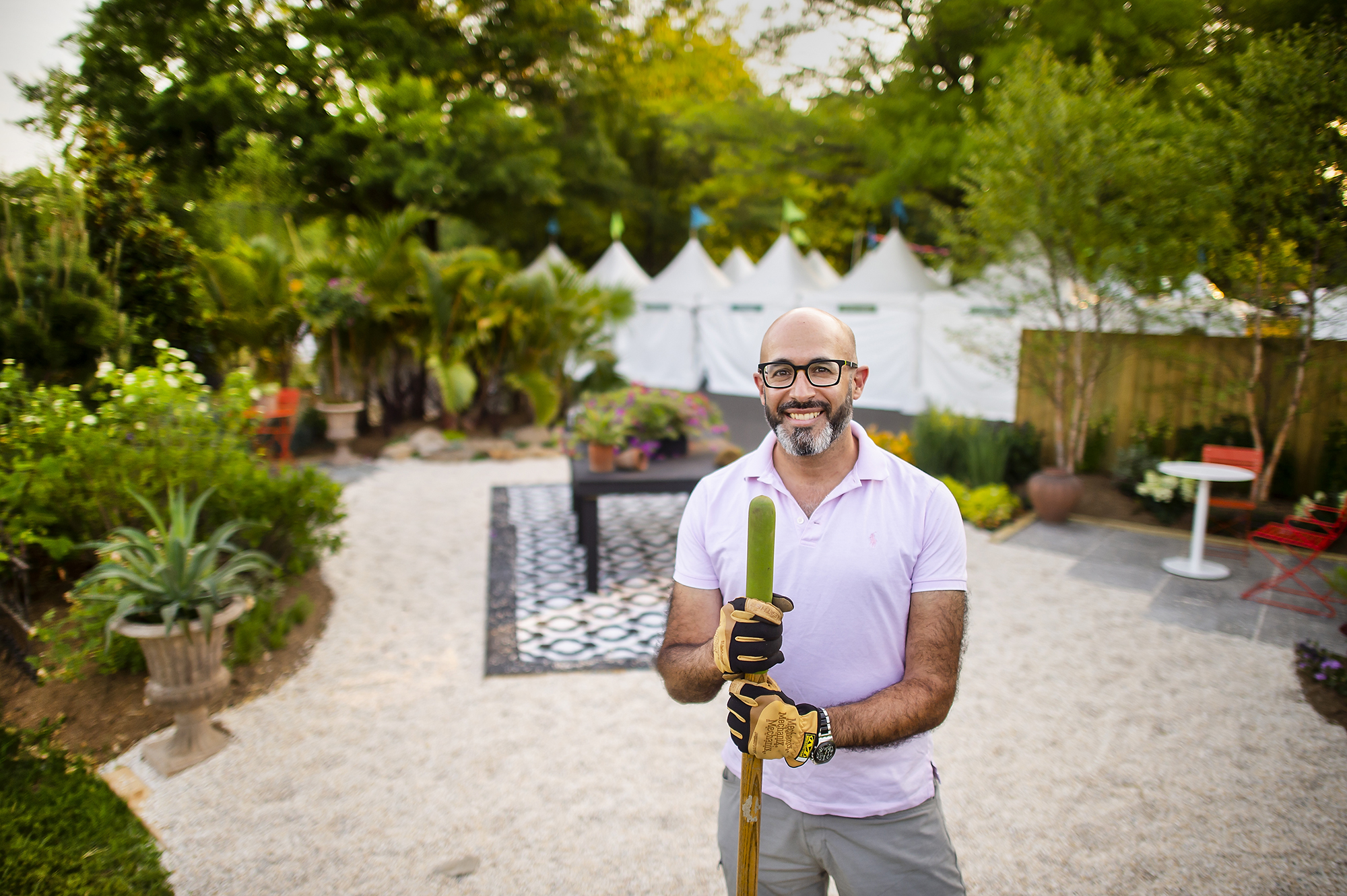 The 2021 Philadelphia Flower Show emerges this week as one of the first major annual events in Philadelphia since the onset of the COVID-19 pandemic. The Flower Show last appeared in March 2020 and concluded its full run just as stay-in-place orders swept much of the country.
This year, to accommodate pandemic-related safety recommendations, the show is not only being held later in the year than usual, but is also outdoors at FDR Park, spanning 15 acres. This year's theme: "Habitat: Nature's Masterpiece."
Among the 34 major exhibitors this year is Abdallah Tabet, a landscape architect and lecturer of landscape architecture in the Stuart Weitzman School of Design. Because of the "Habitat" theme, Tabet was initially interested in exploring ecologies and the environment, but as he began to mull over how different our sense of habitat has become in the past year, he adapted his project to reflect a more common pandemic habitat—in his case, time spent in the backyard on video calls with his family across the world.
"I wanted to think differently, because [our] habitat was different, and because this year was different. And so, I wanted to talk about the habitat we live in—the human habitat, the urban habitat, and really, the urban gardens that made us, in a way, survive or keep our sanity levels during this pandemic," says Tabet, who is also an associate at OLIN. "I'm lucky enough to have a backyard and my parents in Beirut have their own backyard. We were Facetiming from our gardens. So, I wanted to do this juxtaposition of these two landscapes—the Philly backyard and the Beirut Backyard. 'Beirut/Philly.'"
His installation is approximately 1,200 square feet and reflects plants from Philadelphia and Beirut. The exhibit focuses on plants from these specific environments and is divided diagonally, broken up with lounge furniture for people to sit down and rest. Catching the eye on one side of the exhibit is subtropical plant life like the spindle palm, and switchgrass on its opposite side. Stone incorporated into the space is a reference to the Mediterranean gardens that often have rough stone masonry walls.
At the center of the piece is a meeting table—a gesture to the more optimistic picture of the pandemic in some parts of the world.  
"I've included this giant dining table with a big centerpiece, hoping for the better days ahead where everyone can come and sit around for a nice meeting together," Tabet says, noting that the centerpiece mixes plant life from both Philadelphia and Beirut. "It's a little nod to last year, but with the hope these barriers are slowly falling and we are moving back to a more normal social life."
The concept was also inspired by his own experience of adding plants to his home during the pandemic. He's doubled the number that live in his house, he says, especially after adopting plants from his office last March. (And the plants of coworkers who opted not to take theirs home.) 
"I fell into the trend of plant conversations during lockdown, and so I was attracted to that," he says.
His exhibit was awarded a bronze medal by the event's jury. He originally intended to include students as part of the exhibit development, but was limited by social distancing measures. He plans to include students as part of the process if invited to participate in next year's Flower Show. 
The Flower Show, which runs June 5-13, is divided into three districts, each with its own displays of horticulture and sets of vendors and food and beverage purveyors—"It's like a mini-show within a show," says Sam Lemheney, PHS chief of shows and events.
This is, in part, a new feature made possible by the outdoor layout. Included in the show is the Plant District, where "plant galleries" will reside; the Garden District, which specifically accommodates gardeners looking to gain knowledge; and the Design District, home to large displays like Tabet's. 
"It's the first time ever that the show is outdoors. After 193 years, it's the first time outdoors—I still can't believe it," says Lemheney. "We're excited for this to be the first, and after 193 years, we're still learning to do things differently." 
Exhibitors have, he says, found new ways to interpret nature by way of the installations being outdoors. Much like actual landscaping, they have also worked around a variety of pre-existing majestic trees in the park that set a backdrop for the show. Lemheney adds that guests can expect to see an abundance of color in this year's show.
For Tabet, he looks back on the experience of planning his installation as a refreshing one, after years of working with PHS through the Tree Tender Program and chatting with the organization in a more unofficial capacity. He's also accustomed to working on larger projects at OLIN that often take years to complete, such as the recently inaugurated Philadelphia Museum of Art expansion. By comparison, he says, this project is akin to "building a bouquet, not a landscape." 
"And then it goes back to lawn, as if nothing ever happened," he muses. "But it will be fun."