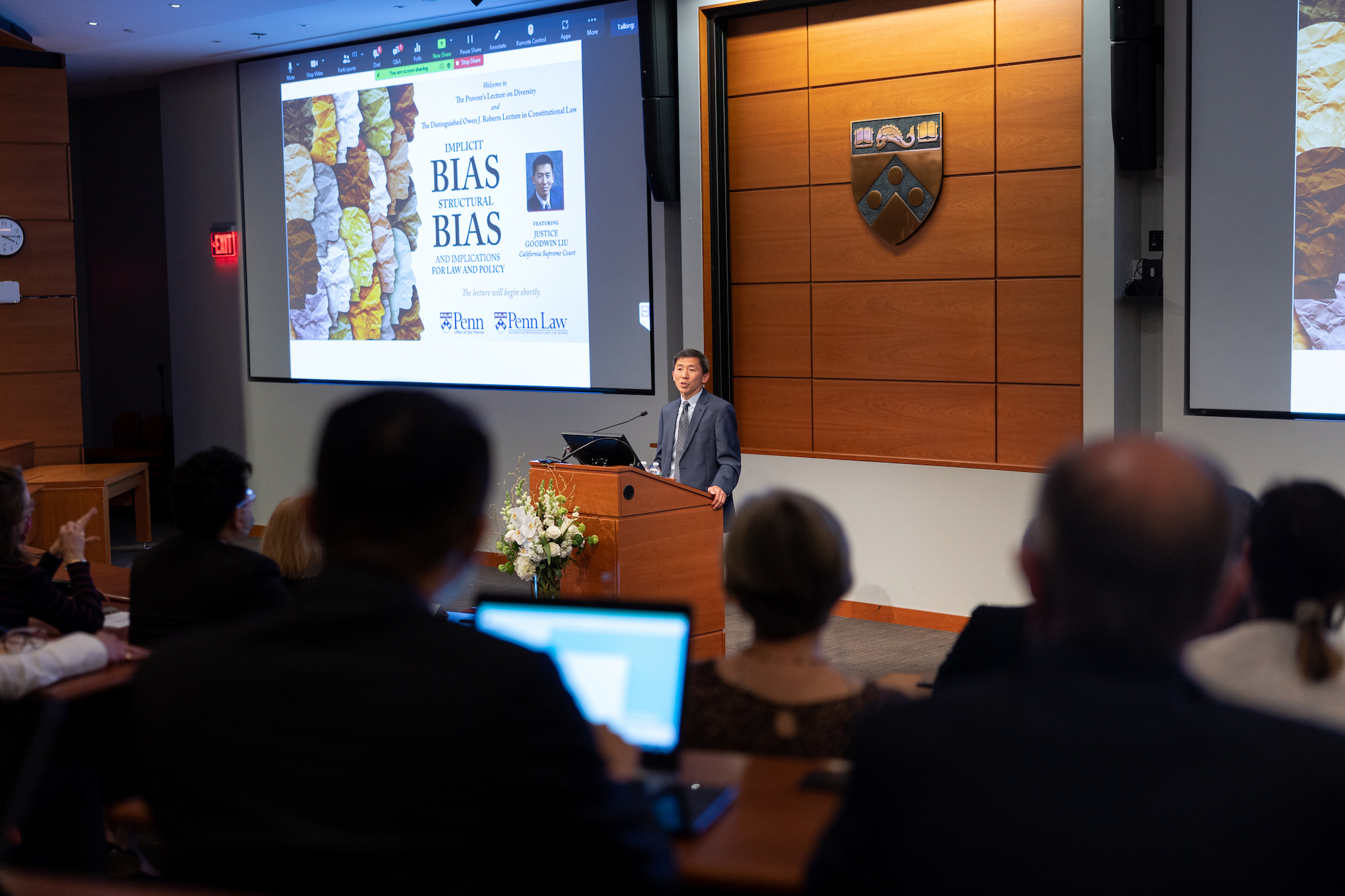 In almost every organizational setting, leaders have been grappling with issues of diversity, equity, and inclusion. The terms "implicit bias" and "structural bias" have become familiar in these discussions, but the concepts aren't always well-defined. 
The Provost's Lecture on Diversity joined with the Owen J. Roberts Lecture in Constitutional Law to host Justice Goodwin Liu of the California Supreme Court. Drawing on recent work from the National Academy of Sciences, Liu shared his thoughts on implicit bias and structural bias, as well as possible legal responses and mitigation strategies applicable to a variety of institutions and organizations.
In remarks before the event, Ted Ruger, University of Pennsylvania Carey Law School dean and Bernard G. Segal Professor of Law, pointed out that the lecture's namesake, former U.S. Supreme Court justice and former Penn Law dean Owen J. Roberts, was one of three dissenting votes in Korematsu v. United States. In that case, the Supreme Court ruled that wartime internment of American citizens of Japanese descent was constitutional.
"He saw then that group-based stereotypes and descriptions based on national identity were fundamentally un-American: inappropriate then, inappropriate now," Ruger said. "I'm pleased that Justice Dean Roberts saw that half a century ago, and we still recognize how fundamental such stereotyping is to our enterprise and to our national and global values."
In introducing Liu, Interim Provost Beth Winkelstein said few people are better versed in how inequity plays out within democratic institutions, and in particular, the law.
"Last year, after an unprecedented number of attacks on Asians and Asian Americans, Justice Liu noted in the Los Angeles Times the striking lack of diversity in the top ranks of the legal profession," she said. In that op-ed, Liu wrote that a 2017 research study conducted with several colleagues found only four Asian American elected prosecutors in the United States. California, where six million people identify as Asian American, has one. 
"What accounts for such outcomes? Increasingly, it appears that implicit bias plays a large role, and there's new scientific evidence to support this contention," Winkelstein said.
Liu told the in-person and virtual audience that implicit and structural bias have long been topics of personal and professional interest to him. "Like many people who grew up in an immigrant family, I have had my own share of experiences navigating cultural and racial ethnic differences," said Liu, who is the son of Taiwanese immigrants. "As a judge, I've seen these issues in my daily life. Implicit bias and structural bias play out in areas like jury selection, search and seizure, and the criminal justice system writ large." 
Liu also noted that implicit and structural bias are often left undefined, which can make the concepts imprecise, too broad, and vulnerable to caricature. He said he hoped to help provide more precision and nuance. "And the good news, I think, is that we've never been in a better position to do just that in light of the evidence and the science," he said.
Liu highlighted several studies on implicit and structural bias, which also showed the difficulty in fighting such entrenched and pervasive notions. "Our implicit biases are often at odds with our conscious beliefs or intentions," he said. "No one is immune."
That's not to say everyone is racist or sexist, he said. "Those labels suggest a mindset of malevolence or antagonism, and overextending these labels is unhelpful. Not only does it obscure understanding of implicit bias, it also turns such bias into an accusation," Liu said. "We should not conflate implicit bias with conscious bigotry."
In discussing structural bias, he talked about one of most common issues he encounters as a judge: racial discrimination in jury selection. Litigants have a certain number of opportunities to remove prospective jurors for any reason, except discrimination based on race or other protected characteristics. However, it is lawful to remove a juror for a race-neutral reason highly correlated with race. 
"Very commonly, prosecutors ask Black actors questions like whether they or their close friends or family have ever had a negative experience with law enforcement. That's almost every Black person in America, right?" he said. "If a jurist says yes, then a prosecutor can remove the juror on that basis. That's not considered racial discrimination. It's not hard to see the problem here."
A number of state courts and legislatures have recognized this bias as a form of unlawful discrimination in the context of jury selection, he said. Last year, the Arizona Supreme Court eliminated peremptory strikes altogether from the jury selection process, in part because they're susceptible to implicit bias.
Liu sees two options for dealing with these problems. "One is to develop ways of ridding ourselves of such biases, and the other is to assume that we can't really rid ourselves of such biases, at least not easily, and instead work to prevent their operation or to mitigate their effects," he said.
In closing, he mentioned current efforts to restrict or eliminate education about implicit bias and structural bias. There's no doubt these topics can be uncomfortable, he said, and must be handled with care. "But thanks to two-plus decades of research, we now know more than we ever have about the subtle yet consequential ways that bias operates in our society, and we have much more to learn about how to counteract such biases," Liu said.
"As a judge, as a citizen, and perhaps most importantly, as a fellow human being," he said, "I value the fair treatment of other people. I feel we all should be called to understand the full extent of the work that we have yet to do."
The entire lecture can be viewed on the University of Pennsylvania Carey School of Law's YouTube channel.