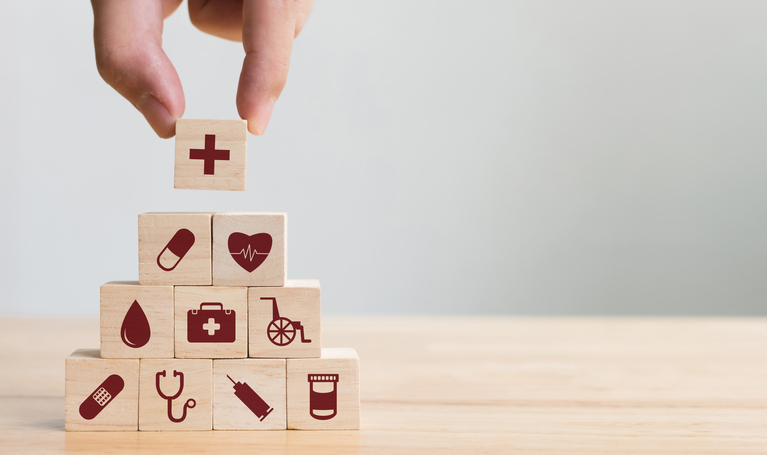 As part of this year's "Be in the Know" campaign, through Friday, Nov. 30, the Division of Human Resources is hosting its fall wave of biometric screenings that not only encourage knowledge about personal health metrics among faculty and staff, but offer financial incentives.
The screenings, hosted at of a variety of locations—ranging from the LGBT Center to the Perelman School of Medicine—are scheduled for nearly every weekday and are conducted by AREUFIT Health Services. Benefits-eligible staff members and faculty simply have to register for a screening, present their Penn ID, and participate in screenings for blood pressure, blood sugar, and HDL cholesterol. (Fasting for LDL cholesterol and triglycerides is optional.) Test results will be provided on-site, and will later be submitted digitally to StayWell's portal. On StayWell, a Penn employee can take an approximately 15-minute StayWell online health assessment asking about nutrition, exercise, and lifestyle. Upon completion, participants earn $100 that can either be included in payroll, or applied as Penn Recreation credit. 
"Penn truly supports your overall well-being. We want you to invest in yourself by making health a priority, and utilizing Penn's numerous wellness and work-life resources," says Senior Health and Wellness Specialist Chris Hyson. "With the modern complexities of life, both at home and at work, it's critical to set aside time for your well-being and to develop a relationship with your personal physician. Whether it's attending a biometric screening, mindfulness programs, or group fitness classes, Penn makes it more convenient."
In lieu of attending an on-campus biometric screening, staff and faculty can submit results obtained from their physician between July 1, 2018, and through June 30, 2019. 
After completing the first two steps, participants can engage with a variety of "Bonus Actions" that earn them additional points and incentives. Examples of activities include tracked workouts at the gym, seeing a dentist, completing Penn's Comprehensive Smoking Treatment Program, or taking part in StayWell's meditation experience program. There are 32 bonus actions to choose from.
One new addition to the list of bonus actions: financial wellness events. 
"Financial wellness is part of a trend in comprehensive employee benefits," Hyson says. "People have a lot on their plates, but feeling confident about your financial well-being can have a positive impact on their overall health, stress levels, and ability to concentrate at work." 
Participants can earn up to 200 bonus action points, allowing for a total of $300 in rewards, when taking into account the biometric screening and online health assessment. Participants do not have to reach 200 points to earn money, but payments are issued, through payroll, in 50-point increments. Staff and faculty can also continue beyond those 300 points and earn an extra 50 to become a "Be in the Know VIP," winning admittance to a special reception for all VIPS and a gift. 
"Don't leave that money on the table," Hyson says. "And more importantly, make sure you're taking care of yourself."
What to know
Looking at the big picture, Carmen Guerra, associate professor of medicine at the Hospital of the University of Pennsylvania, notes that there are a number of common conditions that should be screened for throughout a lifetime, in consultation with a general physician.
Below, Guerra discusses just a few easily detected diseases in screening that people should be aware of. 
• Diabetes and prediabetes "At the top of the list of what to screen for would be things like diabetes—and especially prediabetes," Guerra says. "That's the stage before diabetes, which is associated with zero symptoms. People often don't know about that." More than 84 million U.S. adults, according to the CDC, are estimated to qualify as prediabetic, which means a person is three to five times more likely to develop diabetes. Because the risk for developing diabetes increases with age, everyone should start screening for it starting at age 45, she says—or sooner, for those with risk factors like family history, gestational diabetes, significant weight gain, or high blood sugar in a blood glucose test. The method for a definitive screening is a hemoglobin A1c test—different from a blood sugar test—that examines the sugar coating of red blood cells. Diabetes is diagnosed through a fasting glucose test that is 126 or greater, or the A1c level is 6.5 percent or greater. Prediabetes is diagnosed with a fasting glucose of 100-125 and an A1C level of 5.7 to 6.4 percent. "As a society, I think we need to continue our education about prediabetes, because it impacts so many people and, too, because there's so much you can do to decrease your risk of becoming diabetic," Guerra says, like exercise and reducing refined sugars and carbohydrates.
• Colorectal cancer "This is one of the—if not the—most preventable of cancers," Guerra says. The reason, she says, is because it can be detected early, and a colonoscopy—the test itself—removes polyps, reducing the risk of getting the cancer. "It's actually a cancer early detection and a prevention test, unlike other tests," she says. "This doesn't get communicated, and I wish more people knew and understood that." There are other tests for colorectal cancer—like a stool occult blood test or a CT colonography that scans the intestines—that are less stressful for patients. To that end, Guerra explains that getting tested at all is most important. Patients are encouraged to get a screening every 10 years, starting at 50; but, Guerra adds, an American Cancer Society guideline—of which she contributed as a guideline-writing committee member—recently changed to reflect increasing rates of colorectal cancer among younger people. That guideline suggests getting screened at 45.
 
• Breast cancer "A lot new is happening in the field of breast cancer screening," Guerra explains. While not all new techniques for breast cancer screening are standard just yet, researchers are increasingly looking at ways to screen for breast cancer in women with high-density breasts. In those cases, the small, cancerous specks of white a doctor would look for—sometimes the size of an eyelash, she says—that would show up in an image are significantly more difficult to spot because of an abundance of dense tissue. While there's not universal agreement on when to start receiving mammograms, Guerra points to the American Cancer Society's suggestion that the conversation start at 40; she takes that same approach with her patients.
• High cholesterol Cholesterol build-up, which can lead to heart disease, should be monitored every five years among those who receive a normal result in a screening, Guerra says. "We put the pieces of the puzzle together based on how the patient is feeling, but also by looking at family history," she says. "'What might they be at risk for?' And then look at exam and lab findings." If a patient has borderline cholesterol and a family history of heart disease, for example, that person may want to monitor cholesterol more closely.
• Cervical cancer Guerra emphasizes that women in their 20s should be diligent about having a pap smear to test for cervical cancer; according to the American Cancer Society, 13,240 new cases of cervical cancer are estimated to surface in 2018. "Unlike other cancers, where as you get older they become more likely, this one can affect young women," she says. For that reason, any woman who is 21 and older should establish a gynecologist and have a screening as recommended by the guidelines for their age.
Of course, the best way to assess risk factors for any of these—or other—diseases is to see a doctor and initiate dialogue. 
"We don't want people to get overwhelmed," Guerra remarks, noting that many of these screenings are spread over a lifetime, and not necessarily needed all at once. "The way to do this is to sit down with your doctor and have [them] determine what you're at risk for, and what tests to do to screen for disease at a given age.
"You don't have to figure out how to prioritize alone."