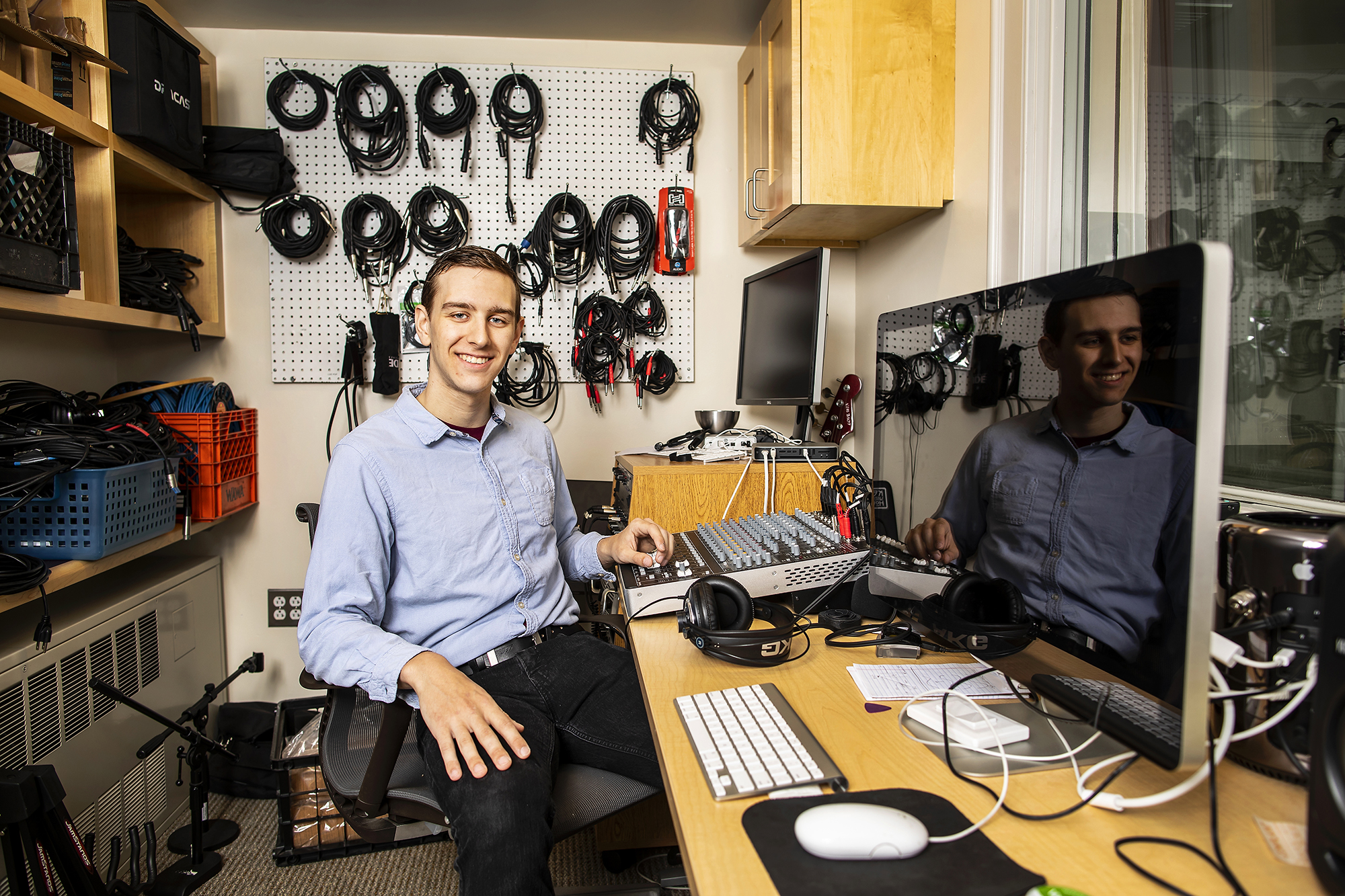 The start of Nicholas Seymour's summer internship at 1812 Productions came at the final curtain of the Philadelphia comedy theater's most recent show, so he joined the team to dismantle the set. 
The rising senior has had experience working backstage at Penn and during high school in his hometown of Columbia, S.C., but this 100-year-old theater has been a revelation. 
"Their whole fly system is loops of hemp ropes on a series of pulleys and metal hooks to make everything go up and down. It's pretty complicated," says Seymour. "Most of theaters I've worked with have metal wire cable." 
This glimpse into history is just one of the experiences he has gained through the internship made possible by the RealArts@Penn program. 
Seymour, a communications major, is also minoring in theater arts and gender and women's studies. Seymour is anticipating a career in theater, even though he came to Penn thinking he would study political science and go to law school. 
"I am grateful to have the ability to be at Penn to have opportunities academically and outside academics to realize that theater, which is such a joy for me, is something I can do professionally," he says. "For me that is something that is very empowering."
At 1812 Productions, he's had a wide variety of jobs that have given him a chance to experience the many aspects of running a theater. 
"Nick is so fantastic, a real go-getter," says Jaime Konowal, 1812 Productions general manager. "He takes initiative in doing things. He doesn't ask anybody to do something; he just does it. Also, he's such a funny guy. He fits in here perfectly." 
She recalls that his first job on his first day was to clean out the fridge because it had stopped working. "He did it with a smile," she says. "He didn't even bat an eye. He just said 'Sure, where is the trash bag?' And that's the way it's been the whole summer."
Seymour's interest in theater started in middle school. Although he had some roles on stage, it was behind the scenes where he felt most at home. Once at Penn, he joined the technical crew, working lights and sound, for the student performance troupe Mask and Wig. He will be the group's stage manager in the coming academic year. He also does technical and stage management for other student theater and performing-arts groups.
"I've had experience in just about everything: lighting, sound, set design, set construction, projection," he says. "Theater has always been my favorite extracurricular."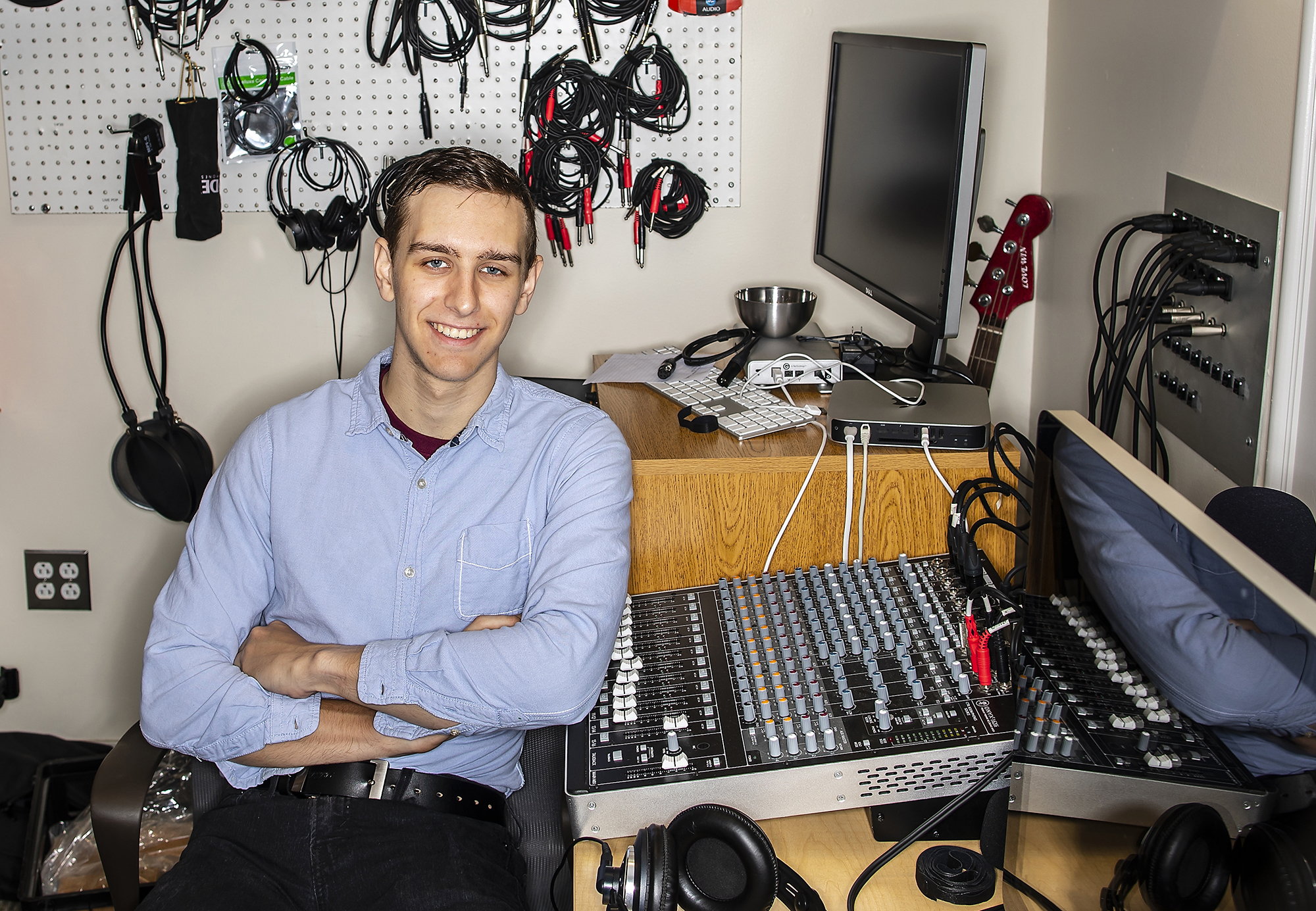 Since his freshman year at Penn, he has had a work-study job at Penn's Kelly Writers House and has worked at Wexler Studio, a jack-of-all-trades operating the video and audio equipment for live programs and studio recordings, as well as editing, website and other technical work. 
"Anything where I know I need someone cool-tempered and even-keeled, I will send Nick out there," says Zach Carduner, coordinator of Wexler, and a 2013 Penn graduate. "He's so confident. It's easy to just give him something and to know he will do it in a way that is level-headed. That confidence he has is very valuable and not easy to find." 
The first assignment at the studio for Seymour was to video interviews with students who had just completed internships through RealArts, which provides the compensation for and connection to the internships. "Everyone raved about so many awesome opportunities," he says. "This year I'll be on the other side of the camera." 
Seymour has worked on various projects at 1812 Productions: Setting up lights and sound for a fundraising event, working at the box office, talking to patrons, participating in discussions about marketing and ticket sales, learning about financing a show, and even sitting in on auditions for the upcoming season. 
"I'm getting to do things I've never done on theater and production. Up to now, it's always been the work of making the show happen, technically and performance-wise," he says. "All these things I've never done before. I'm really enjoying and want to continue to do now that I've tried my hand at it." 
Konowal says 1812 has had a Penn intern through RealArts for four years, which has been a significant help since the program pays the intern. "Definitely it has been successful for us," she says. "There is certainly plenty to do. And we've loved everyone what we've had."
Rehearsals have started for the theater's show opening in October, "Broken Biscuits". Seymour plans to help make preparations for outreach in Philadelphia schools and to tackle box office tasks to help the team get ready. 
But that will have to wait until August because he is currently taking a break from the internship to attend the five-week Penn in London summer-abroad program. He will be going to several theater productions as part of the course, "The London Theater Experience." He is also taking the course "Bodies, Art and Performance: Representing Race, Gender, and Sexuality." It is his first time out of the country. 
Seymour says he hopes to work in theater technical crews and office management after graduation. 
"Then I can decide whether I want to do a deep dive into those jobs, or go to graduate school for theater management, or technical theater, or academic work, or the theater-design side, or communications studies if I want to lean more toward marketing avenues."