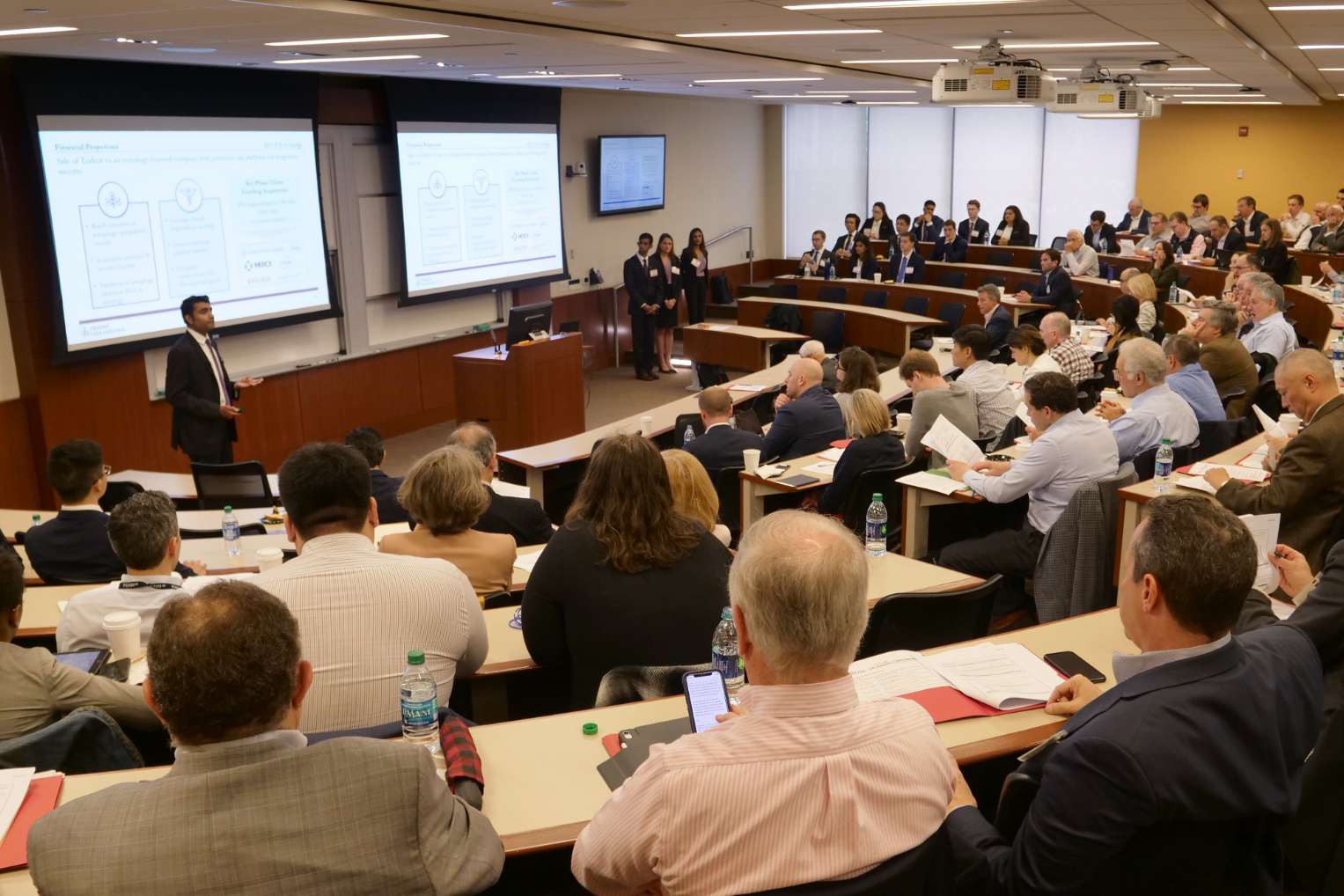 "Business and the natural sciences don't need to conflict. Instead, they create tremendous value when partnered together," Steven Nichtberger said as he addressed more than 125 business leaders, scientists, and entrepreneurs in a packed lecture theater. The "who's who" of biotech came to Penn on a rainy Friday morning to see the capstone presentations by seniors graduating from the Life Sciences & Management (LSM) program. 
Jennie Daisak, Krishna Patel, Kuhuk Shroff, and Vedant Thyagaraj kicked off the morning with their pitch for Trident Therapeutics. The team detailed a clinical development program for a new pancreatic cancer treatment, the culmination of a yearlong effort that applies their knowledge from the dual degree program administered jointly by the School of Arts and Sciences and Wharton School. 
But before it became an LSM capstone project, the small molecule behind Trident Therapeutics was the result of a "serendipitous" collaboration between Ravi Amaravadi from the Perelman School of Medicine and Jeffrey Winkler from the Department of Chemistry. 
"I came across research showing that autophagy allowed cancer cells to survive stresses," Amaravadi explains. "And this is what we were capturing in the clinic: We would treat patients with cancer drugs, we'd see a response, then the cancer cells survive and recur. So that's what drew me to possibility of understanding the [autophagy] pathway in more detail."
After learning about how drugs that target autophagy could make chemotherapy treatments more effective, Winkler's group modified chloroquine, a drug for malaria, that also happens to inhibit the last step of the autophagy pathway. This new form of chloroquine turned out to be 10 times more potent than the original and was also, unexpectedly, an effective anti-cancer treatment on its own. 
As Amaravadi and Winkler's collaboration began to produce results, Nichtberger took notice and contacted the two researchers to see if they would be willing to let their research be the basis for a capstone project. Nichtberger, who holds degrees from Penn in biology and economics, has led the capstone course since 2012, after previously co-founding and building an internet marketing company and multiple biotech companies, and then investing and advising in the health care industry.
For each year's capstone projects, using his knowledge as a physician, he keeps an eye out for "scientifically sound and potentially clinically meaningful" research that addresses unmet clinical needs while also representing novel approaches that biotech investors wouldn't have heard of. 
Each team of four to five students is tasked with developing a company around a small molecule, a large molecule, a gene therapy, a cell therapy, or a device using information and publications provided by the researchers. Every Friday afternoon in their senior year, students learn how to review scientific papers, find unmet clinical needs, determine a treatment's value, identify relevant business partners, and, ultimately, build a company. 
But the capstone isn't just about building a biotech company. One third of the grade is based on teamwork and leadership. Informed by feedback from each student's teammates and teaching assistants, Nichtberger has one-on-one sessions with each student to talk about how they can become better team members.
"Rather than having everybody tell you what you're good or bad at, the course requires that you proactively seek and constructively respond to feedback that you seek to self-improve," he says. 
Trident's capstone presentation shows just how well the team worked together, as each student took turns seamlessly presenting their capstone project, from the scientific rationale and preclinical data to pricing and marketing strategies. "It's imperative that everyone is on the same page because literally everything builds off one another," says Thyagaraj. "If each individual person is siloed within their area, then that level of nuance is not there."
Each team has access to its own advisory panel of experts in areas such as preclinical and clinical research, capital investing, banking, and mergers and acquisitions. But as instrumental as their advice was, Trident discovered that challenging problems often lead to uncertain answers. When met with conflicting advice from experts, the team's approach was to work as a team to develop a cohesive, rationalized decision that they could be confident in and defend. 
And while Trident was excited to see new results and a renewed interest in autophagy, working on a novel target with limited data on a heavily contested pathway wasn't easy. "Figuring out how to present the story was probably one of our hardest challenges," explains Daisak. "Pancreatic cancer is very tough to treat, but we think we have a mechanism that's unique to pancreatic cancer, and even a couple weeks or months is significant in this disease."
Yet despite the challenges of putting together a project in a novel and contested area of research, the team found themselves facing questions from the audience that made it clear that the story and their rationale were understood. The team was pleased with the detailed questions they were asked by the audience, ones that allowed them to talk about the essence of their company and what can be done to maximize their small molecule's chance of success in the future. 
Winkler, who got to work with the Trident team as an advisor, is impressed with what he considers an "extraordinary" program. "I think what the program really speaks to is the value of people who are going to have a foot in both doors. They're going to be among the most important people in drug development and bringing things forward to market," Winkler says. 
The Trident team is no exception. This team of graduating seniors is heading into the next career stage armed with a depth of knowledge unique to many of their colleagues. "What the classes give rise to are various conversations where you can begin to explore and see what are different ways of looking at problems, how might certain gaps in thinking in science be fixed by various ways of trying to solve problems in business or vice versa," says Patel.
But for Nichtberger, it's the skills in teamwork and leadership that will make them leaders in the field. "When they go to work at all the great organizations they to go work at, or in the schools they attend, what [former students] point toward is what they learned about teamwork and about themselves as teammates and leaders that makes them more effective in their real-world existence," says Nichtberger. "What they learn about their behaviors in a group and the impact it has on others is everything you need to know in order to be successful in a biotech company, in an investing role, and in life."