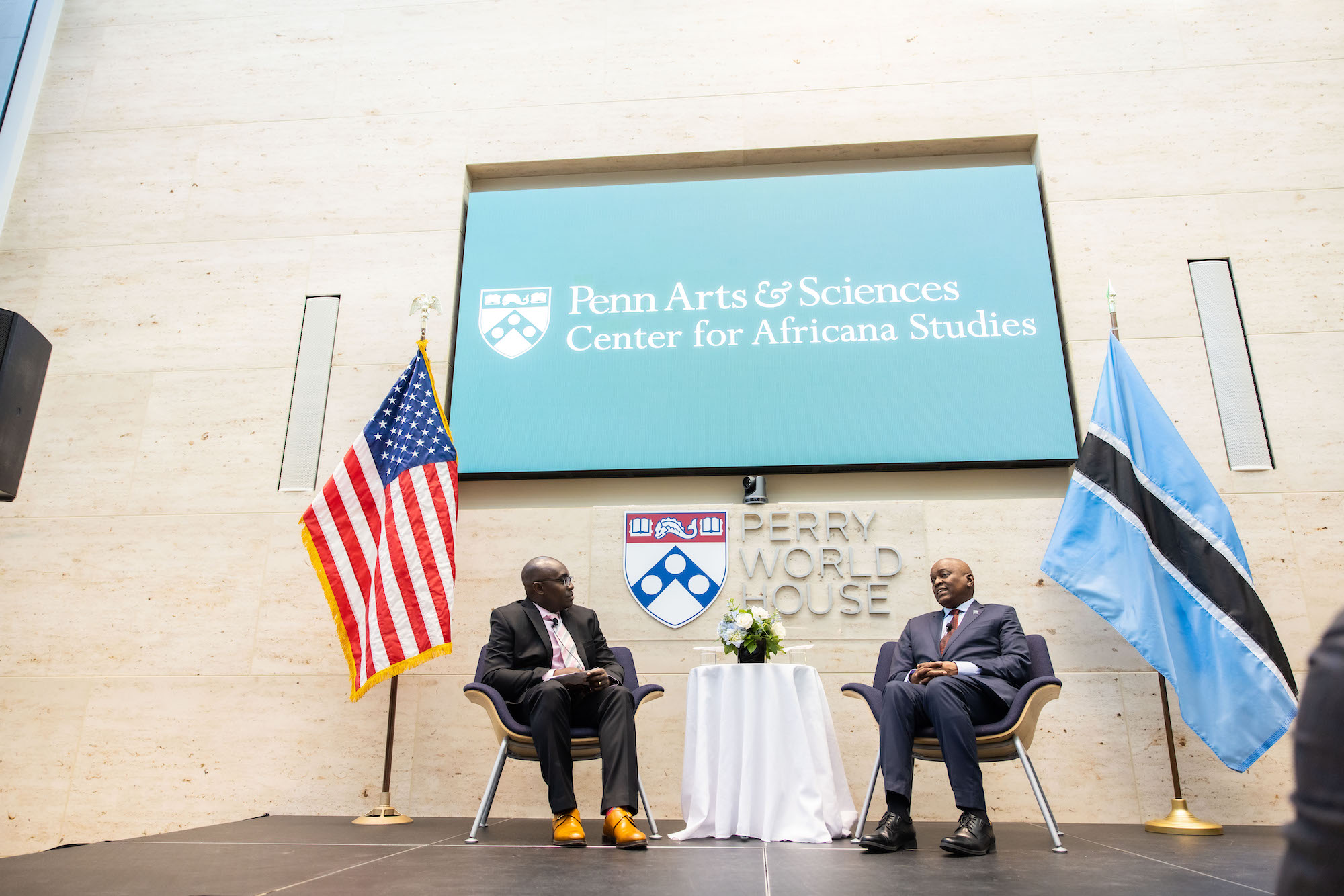 Botswana's President Mokgweetsi Masisi sat down with Wale Adebanwi, Presidential Penn Compact Professor of Africana Studies, to discuss his country's successes in furthering democracy, tackling the HIV/AIDS epidemic, supporting LGBTQ rights, handling the challenges of allowing elephant hunting, and the backsliding into authoritarianism by other nations in Africa. The talk was part of the second Annual Distinguished Lecture in African Studies.
Penn President Liz Magill started the evening with opening remarks to the packed room at Perry World House.
"I think it's fair to say that we are old friends," Magill said of Penn and Botswana, referencing the Botswana-UPenn Partnership (BUP). BUP began in 2001 as a project to provide HIV/AIDS treatment and over the last two decades has transformed into a clinical success story on many fronts: a scholarly exchange, a research alliance, and an educational investment.
Magill noted that this past July, Botswana reached the UN's AIDS target, which is a goal that 95% of HIV-positive individuals know their status, 95% of those are receiving treatment, and 95% of those receiving treatment have an undetectable viral load.
"And they are not the only remarkable numbers to come from Botswana," Magill said. "The oldest multiparty democracy in Africa, Botswana is admired for so many things, including its uninterrupted civilian leadership and its progressive social policies. These traditions have created one of the most stable and vibrant economies in Africa."
Magill also announced that the first Penn Global Seminar in Botswana will be held in the spring of 2024, saying "This evening's event is yet another opportunity to strengthen the ties between Botswana's leadership and this University," she said.
Camille Charles, the Walter H. and Leonore C. Annenberg Professor in the Social Sciences in the School of Arts & Sciences and chair of the Africana Studies department, introduced Masisi.
"The Republic of Botswana achieved independence in 1966, the same year that students began fighting for Black studies here in the United States," said Charles, noting that this year marks the 50th anniversary of the Africana Studies department at Penn. "Thus, in some ways, Black studies and the Republic of Botswana share an anniversary."
The world has been challenged by endless examples of conflict, violence, and corruption, Charles said, but Botswana is one of the few countries to remain above the fray.
"It's imperative that Africana Studies and the Penn community highlight people, institutions, organizations, and governments who may provide solutions to those protracted problems," she said. "Botswana's example offers us useful templates to reflect on."
Masisi thanked the University for the opportunity to share Botswana's story of good governance, democracy, and the management of natural resources, adding he hopes that others will find inspiration to build a strong coalition of global progress.
"It is critical to point out that Botswana's democratic ideals and economic transformation are underpinned by principles of democracy, development, unity, self-reliance, and 'botho,'" a Botswana concept of community, he said. The nation's practice of "kgotla" is also key to how the country functions, he said, "with the village a central point where everybody has a say and there is respect for everyone's rights. The 'kgotla' system promotes tolerance across inclusion, freedom of assembly, and speech. It also promotes human rights as well as collective decision making."
He went on to discuss his nation's management of natural resources and how diamonds were discovered in Botswana a year after independence.
He said Botswana's founders were convinced that to better manage the limited resources at their disposal a constitutional and multiparty democratic republic committed to the rule of law was the best way to take the country forward.
"This became exceptionally valuable for Botswana following the discovery of diamond deposits shortly after—and thankfully after—our independence," Masisi said, joking that he certainly wouldn't be in his current position if it happened before independence.
The people of Botswana can own land and use it as they like, but, if precious resources are found beneath the surface, that goes to the government to benefit all citizens. He said the laws surrounding how the wealth of mining is invested in the state is "probably one of the major reasons Botswana has been able to achieve tremendous economic growth, from being one of the poorest countries at independence to a high middle-income country and economy it is today."
Masisi said that, while the discovery of natural resources in some parts of Africa "became what is regarded as a resource curse, Botswana's natural resources and the discovery of diamonds became a resource blessing for the country to date."
Adebanwi started the conversation by asking Masisi what the single most important factor is for his nation to have had such success in the areas of good governance and management of natural resources.
"The critical ingredient is peace," Masisi replied, repeating the word three times for emphasis. "With peace, you are able to resolve whatever challenges you have. The absence of peace is a huge setback."
Adebanwi moved the conversation forward on the topic of Botswana's decriminalization of homosexuality in 2019 and asked why Masisi came out so strongly in support of LGBTQ rights.
The issue needed to be taken to the highest court to settle what the rule of law would be, said Masisi. Many in Botswana have conservative views of sexuality, and he knew people would be upset by the ruling. But the country is deeply committed to the rule of law, and he said he sees himself as the protector of the rights of every citizen.
"When our highest court spoke, my job is to comply," he said. "So, I called the national leadership of our gay and lesbian groupings, and I told them and their base that they will be supported and defended."
The conversation then turned to Botswana's decision to lift the ban on hunting elephants in 2019. Adebanwi noted the population of elephants has gone down due to poaching, but Botswana maintains that it's important to cull herd sizes for the safety of its citizens.
Masisi said that his country has set aside 40% of the nation as a reserve—"that's a big giveaway"—but elephants forage way beyond those boundaries and can come into destructive and deadly contact with humans.
"We are a developing country, we are vastly populated, we have limited resources, and many of our people are poor. When they earn a living plowing the field, herding their livestock, they sadly at times come face to face with the largest land mammal on earth. You don't need to be a rocket scientist to know who wins that contest," he said.
The absence of peace in the region is also contributing to Botswana's elephant problems, he said, with mother elephants remembering the dangers of landmines in Angola and violence in Namibia, many won't herd into those places anymore, preferring the safety of Botswana.
After discussing the return to authoritarian democracy in some places in Africa, the talk then turned to audience questions, which touched on topics ranging from knowledge sharing within the African Union and how Botswana's indigenous Bushmen group fit into the vision for national development, to health care goals and why the nation maintains the death penalty.
An audience member from Uganda noted his nation has had a single president for more than 30 years, and mentioned a saying in Africa that being president is like riding on the back of a lion: You don't let go because if you do, you'll most likely get eaten, the reason why many leaders cling to power. He asked how Africa is prepared to manage presidents who do not leave their posts.
Masisi says it comes down to embracing democratic ideals, and "one of the most important is that even before you get into an electoral contest, you must begin by respecting the rules, and part of the rules is that, if you are the loser, respect the loss, accept and embrace loss." He said he also supports the idea of sanctions for those who even threaten to not respect election results or term limits.
The Annual Distinguished Lecture in African Studies highlights voices and scholarship in African studies today. The lecture was sponsored by the Center for Africana Studies, Perry World House, Penn Global, and the Wharton Africa Student Association.