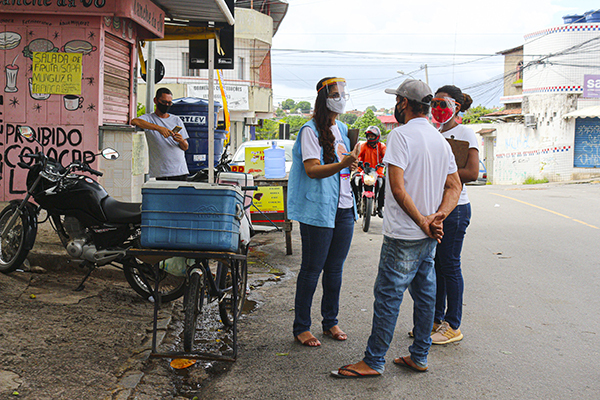 Brazil has become one of the world's deadliest hotspots for the novel coronavirus. More than 71,000 Brazilians have died from COVID-19 since March, and more than 1.8 million have been infected, making the country second only to the United States in deaths and infections. 
Brazil's far-right leader Jair Bolsonaro, after months of dismissing the virus, announced at a press conference last week that he tested positive for COVID-19. He told reporters he was taking the controversial anti-malaria drug hydroxychloroquine, then ripped off his face mask to give a thumbs up, apparently to show how well he was doing. 
Penn Today spoke with Melissa Teixeira, a historian of modern Brazil, to get her take on the nation's response to the pandemic, challenges the country faces in battling the virus, and what Bolsonaro's test results could mean down the road.
Brazil could have the world's highest death toll from the coronavirus this month. How did the country find itself in this position?
Brazil currently has nearly 2 million COVID-19 cases, with over 71,000 COVID-related deaths. These numbers are provisional at best, likely underestimating the spread of COVID-19 in Brazil. Even taking into account Brazil's population, with over 210 million people, these statistics are alarming and frustrating. 
Major cities like São Paolo have seen a surge of cases, as have rural and remote regions including in the Amazon, where the virus has disproportionately impacted Indigenous communities. 
To unpack why and how Brazil finds itself in this position, we first have to acknowledge all of the unprecedented challenges posed by COVID-19 and how so many nations have struggled with controlling its spread. Brazil is no exception. Still, for Brazil, we also have to consider the ways in which COVID-19 has exacerbated social and racial inequalities and the lack of access to health care, especially among poor and marginalized communities. 
Brazil's Sistema Único de Saúde (SUS) is the world's largest publicly funded health care system, guaranteeing universal and free health care. More than 75% of people in Brazil depend on the SUS system for health care, and it has been able to deal very well with previous health crises, like Zika for example. In recent years, however, the SUS system has been put at risk by chronic underfunding and a lack of political commitment to its mission. During this pandemic, we are seeing the consequences of this trend. I do, however, want to emphasize that health care workers on the frontlines of the COVID crisis in Brazil continue to show remarkable resilience in the face of all these challenges.
Then there's Jair Bolsonaro, Brazil's president, who has consistently downplayed the severity of COVID-19, calling it 'just a little flu,' while also disrupting the work of local officials and public health professionals to try to get the virus under control.
What's the reasoning behind Bolsonaro's response? 
Bolsonaro has downplayed the severity of the virus, like I said, calling it 'just a little flu' and replying time and again 'So what?' when asked about Brazil's rising death toll. He also refuses to wear a mask in public or wears one incorrectly, and he's dismantled many of the measures put into practice by state governors and municipal governments to enforce social distancing measures. 
To understand why, I think that there are two important dimensions to his response. First is the way in which he has politicized scientific and public health evidence. This, in part, seems consistent with other ways in which he and his administration has moved to defund science research, health care, and education. 
During the current crisis, Bolsonaro has clashed time and again with state governors and health care professionals over quarantine measures and unconfirmed treatments. As one example, Brazil's health ministry is currently headed by an interim minister after Bolsonaro fired his health minister, and a second minister resigned shortly after. This political instability poses yet another challenge to Brazil's health care system, especially to coordinate between federal, state, and municipal levels. 
The current administration shows a lack of respect for science and public health research, and this is something that many in the scientific community were already frustrated by, long before the pandemic. The response to COVID-19 has confirmed their worst fears. 
It also seems that Bolsonaro is trying to strategically pit the economy against public health outcomes. Thinking back to his presidential campaign in 2018, Bolsonaro put forth an anti-corruption platform and promises to jump-start Brazil's economy. In the past year or so, we've seen different ways in which his administration has become mired in its own corruption scandals. Bolsonaro has been trying to shift attention to the economy, even during the pandemic. This is a high stakes gamble. Brazil's health care infrastructure is being strained by rising cases, as it is underfunded and ill-equipped to handle the influx of COVID patients, especially in terms of critical care resources. 
What are governors and others doing to respond to the viral outbreak?
Brazil is a federal republic and is quite similar to the U.S. in terms of how it's administered. For this reason, it is not at all surprising or unusual that state governors have taken the lead in imposing lockdowns and social distancing measures to slow the spread of the virus.
In many states and cities across Brazil, lockdown orders were first imposed in March, which seem to have worked to slow the spread of the virus or put the virus on a downward trajectory. In late April, some cities started to ease social distancing guidelines to open up parts of the economy, just as the number of cases began to increase. 
As states and municipal governments are working to implement measures to control the spread of the virus, there is very little planning or coordination at the national level. It is important to consider that Brazil's public health care system is both regionalized and integrated into a single system. There is a lot of autonomy at the state and municipal level, but federal support is essential. States like Amazonas, for example, where its capital, Manaus, was one of the first epicenters of the virus in Brazil, have pleaded for federal assistance as they struggle to buy ventilators and set up field hospitals. 
Bolsonaro has also in many ways frustrated the efforts of state governors and municipal leaders by calling the lockdown measures an overreaction and in some instances even signing decrees that circumvent state and municipal decisions, like his opposition to the mandatory use of masks in schools and churches.
What are some challenges that Brazil faces in fighting the outbreak?
There are many challenges that Brazil is facing right now, many of which are not so different from the challenges facing other nations, including the United States. The health crisis is also an economic crisis, one that disproportionately impacts the poorest and most vulnerable. Inequality is a problem in Brazil, and the pandemic has exacerbated inequities in access to health care in Brazil, especially for Afro-descendent and Indigenous communities. 
Still, it is important to emphasize that Brazil was very well equipped to respond to this pandemic. Brazil has a strong publicly funded health system that guarantees free and universal coverage. It also has a long history of inventive and pioneering responses to public health crises.
Over the past century, it has become home to some of the world's leading institutes for research on infectious diseases, leading in South-South cooperation in health initiatives in Africa and other parts of South America. It has a long history of dealing with diseases like dengue fever and most recently Zika in 2014. Brazil's health care professionals and scientists have not just made strides in terms of working on vaccines and treatments but also in terms of community outreach to inform citizens about preventive measures. During the current pandemic, this tradition continues. Fiocruz, a public health research institute based in Rio de Janeiro, for example, has been hard at work in the search for a vaccine, while also partnering with community organizations in various favelas to distribute reliable information about COVID.
The current administration's lack of investment in these science and public health institutions is not only distressing in the context of a global pandemic but also in light of this tradition of public health innovation. There's a lot of frustration right now in Brazil among health care professionals and scientists because a lot of this institutional knowledge and science infrastructure is not being supported by the current administration.
I think one of the broader challenges for Brazil is not just how to deal with rising COVID cases right now but also how to rescue its public health infrastructure and salvage public confidence in science.
Who in Brazil has been most affected by the pandemic?
As in other societies worldwide, lower-income, marginalized, and vulnerable populations have been disproportionately impacted by COVID in Brazil. One of the groups most impacted has been Indigenous communities. According to the last estimates I saw, there have been over 8,000 confirmed COVID cases in Indigenous communities, out of a population of about 900,000. This is an alarming statistic. Part of this has to do with the fact that one center of the COVID outbreak was Manaus, in the Amazon region where one-fifth of Brazil's indigenous people live. 
This region has been impacted by a lack of funding and lack of equipment in its health care facilities, which has made it all the more challenging to extend medical care to Indigenous communities, especially those in remote areas. The current pandemic has exacerbated other ways in which Indigenous communities have been endangered in recent years, if we consider high rates of deforestation, for example, due to the expansion of Brazil's agricultural frontier into the Amazon and the rise in illegal mining activities.
Brazil has recently been hit by corruption scandals, and the president has been vocally anti-free press. Can you talk a little about those topics and address whether these issues affect the response to the virus and the public's reaction? 
Capable leadership and compassionate communication are essential during any crisis, especially during a pandemic. Stay-at-home orders, social distancing measures, the wearing of masks in public spaces are all measures that depend on public cooperation and individual sacrifice. We've seen that these measures can work to slow the spread of COVID-19. Public health campaigns, based in scientific evidence, are essential to reversing the rising trend in COVID cases, and these efforts need to be supported at all levels of government. 
Unfortunately, in Brazil we've seen misinformation and fake news campaigns proliferate through social media and WhatsApp messenger, often at odds with the recommendations of public health professionals. This, again, is something that needs to be set in a wider political context because of how Bolsonaro's rise during his 2018 campaign was in large part due to how he and his supporters used social media to spread misinformation.  
As for corruption, with COVID cases on the rise, corruption scandals have also proliferated in recent months across all levels of government. In several states, investigations into COVID-19 emergency purchases are currently underway, looking into contracts for ventilators, the misuse of public funds, and overpricing. These allegations of corruption are unfolding in a context in which hospitals are underfunded and overextended, posing additional challenges to health care workers on the frontlines. If COVID-19 began as both a health and economic crisis, these sorts of corruption scandals show that it can also precipitate a political crisis in Brazil. 
Now that Bolsonaro has tested positive for the virus, will that change anything?
It will be interesting to watch for whether the fact that Bolsonaro has tested positive for COVID-19 will in any way lead to a shift in his tune about the pandemic, whether in terms of his public behavior, particularly around mask wearing, or the policies he endorses.
As a historian, I'm a bit reluctant to make any predictions about the future. So, we will just have to wait and see how this situation unfolds. 
What needs to happen to get things under control in Brazil?
There's still a lot that we don't know about this virus and its trajectory, including if and when a vaccine might become available. In terms of how to get COVID under control, for Brazil like for many other nations, one important step is to continue to invest in its public health care system and to make medical care more accessible, especially for vulnerable communities, and more attentive to racial disparities in health outcomes. 
Above all, we can't ignore that COVID-19 is an economic crisis as well as a health crisis. Brazil's economy has been struggling since 2014, and the pandemic has exacerbated this economic crisis. Brazil's economy is largely based in the service sector, with a very large informal labor sector. Lockdown measures to control the spread of COVID-19 leave many without a job and without means to support themselves and their families. It is critical that unemployment benefits and emergency aid to informal workers remain available and accessible, so that workers do not have to decide between their health and feeding their families. 
Melissa Teixeira is assistant professor of history in the School of Arts & Sciences at the University of Pennsylvania.