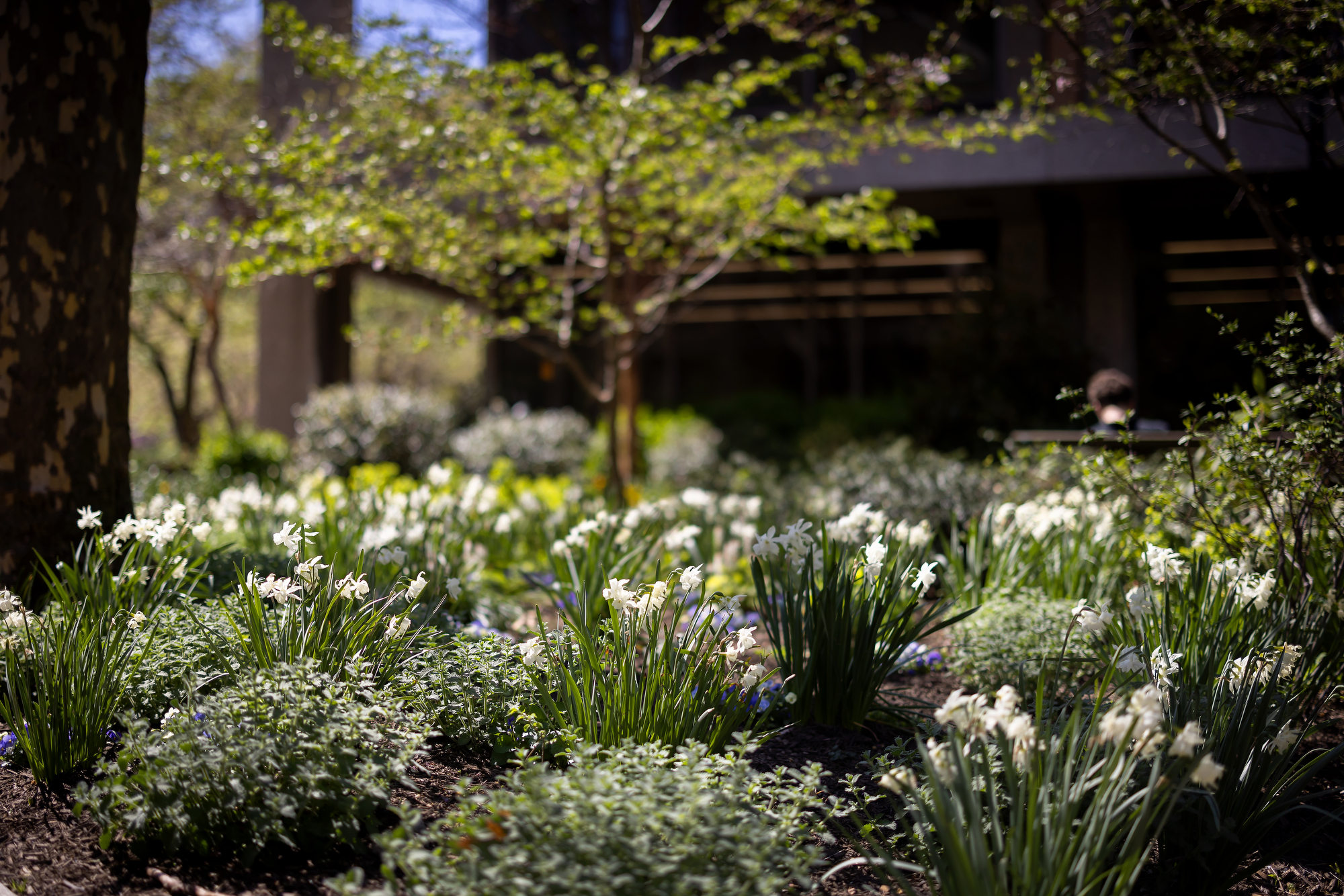 Penn is an undoubtedly urban university, firmly integrated into West Philadelphia. But that doesn't mean it's not also part of a natural system, its trees, soils, and wildlife contributing to and interacting with an environment that does not end at the campus borders.
Penn's Climate and Sustainability Action Plan—currently in its 3.0 version—lays out the University's commitment to prioritizing environmental sustainability. A key facet of that commitment entails how the campus itself is maintained. That's where the Ecological Landscape Stewardship Plan (ELSP) comes in.
The report, published in 2018, lays out a framework for managing the landscape at Penn using a holistic approach. Crafted by a team of experts in landscape architecture and ecological consulting with guidance from Penn staff and faculty, in particular the Division of Facilities and Real Estate Services' (FRES) Office of the University Architect and Operations and Maintenance, the report provides recommendations in four key areas: planning, design, and construction; maintenance practices; administrative structure; and outreach.
"We wanted to look at ecology from the beginning, starting with how we planned and designed projects," says Chloe Cerwinka, Penn's landscape planner FRES. "But we're not confining ourselves to that. It's about taking an ecological framework toward all of the different aspects of how we care for the landscape."
To deliver this 360-degree view, the report authors conducted a study of FRES's current management practices, staffing structure, operational guidelines, and more. They also examined four pilot sites on campus, each typifying a particular type of landscape or ecosystem: Shoemaker Green, Kane Park, Locust Walk, and 40th Street Field. The result is a 163-page report that covers everything from proper tree pruning techniques to recommendations for how to enhance FRES's website to improve outreach to the Penn community.
Today, nearly five years since the ELSP was shared, FRES has continued to evolve their practices, implementing many of the report's recommendations.
"The ELSP was a holistic snapshot of where we were and where we wanted to be," says Lundgren. "It allowed us to develop some guiding principles to ensure we're doing the right thing for the Earth."
Penn Today spoke with Lundgren and Cerwinka about several recent initiatives inspired or influenced by the ELSP that represent new directions in how they and others care for the campus landscape.
Nurse log
At the Gutmann College House, along either side of a walking path, parts of the trunk of a large red oak tree rest lengthwise on the ground. The siting is intentional. It's what's known as a "nurse log," a fallen tree that supports a variety of other life forms as it decomposes.
"It's an in-your-face look at ecology," says Lundgren.
During construction of the college house, the landscape architect on the project recognized that the tree was failing and would have required removal. In partnership with FRES, they chose to fell it and leave it, putting natural decomposition processes on full display.
"As time passes, you can see this settle into this new environment, and see mushrooms and insects slowly taking the tree apart," Lundgren says. "This is what happens in the woods every day and it's nice to bring that to campus. It's simple, cheap, and does a lot to help our native bugs. We're creating a new little world there."
Native, multilayered plantings
Planting garden beds with native plants is something the landscape experts at Penn have been doing for years. "We've planted meadows at Penn Park, bioswales at Shoemaker Green, and huge beds of grasses and perennials at the Penn Museum and other sites," says Lundgren.
Those efforts have ramped up in the years since the ELSP, with the dedicated efforts of the Operations and Maintenance Urban Park staff. Now, in more than a dozen sites around campus, beds that once housed only bulbs, English ivy or pachysandra, and perhaps a few trees are being filled with native groundcover and perennial plants, including many native species.
"What we are really trying to do is make it more of a natural environment," says Cerwinka.
Two prime examples are the Class of 1968 garden, located just east of Van Pelt Library, and the Class of 1964 garden, located just west of Hill College House. In consultations with alumni representatives from those classes, landscapers built those beds out using primarily native plants, with some annuals added each year to keep it "festive and celebratory," Lundgren says.
"There's nothing wrong with planting annuals—it's a way to celebrate the landscape and get the community interested in the landscape," he adds. "But since we've increased our planting of perennials, our budget for annual plants has gone down by roughly a third."
In addition to herbaceous perennial plants, greater emphasis has been placed on adding more shrubbery in certain campus locations, such as along Locust Walk. "Whenever we see an opportunity to add a shrub layer, we're trying to do that, because we know it's such an important facet of bird habitat," says Cerwinka, whose capstone project for her master's degree in environmental studies at Penn involved extensive bird surveys of campus.
Leaving the leaves
Each fall, the thousands of trees on campus let go of their leaves, many of which are raked, blown, or swept away by Urban Park staff to be mulched at a composting facility at Penn Park. But the ELSP launched a new practice for managing leaves: letting some of them be.
In pilot tests done in partnership with environmental consultants Applied Ecological Services, the FRES team has evaluated how leaving the leaves or swapping shredded leaf mulch for traditional hardwood mulch impacts soil health and biodiversity.
Just as every lawn on campus can't be converted to a meadow, every site on campus is not the right one to leave a carpet of leaves. But crews have begun using leaf mulch in a variety of locations, including garden beds along Locust Walk, where decomposing leaf material provides nutrients to feed the soil, and less labor is required to maintain them.
"If we can have the landscape be more self-sustaining, that's a good thing on so many different levels," says Cerwinka.
An added advantage of leaning into letting the leaves remain in beds is a reduced reliance on leaf blowers, which contribute a source of air and noise pollution to campus. Though they undeniably reduce the amount of time required to maintain areas of campus, the FRES team hopes to explore alternatives as plans are developed for the next version of the Climate and Sustainability Action Plan.
Planting climate-adapted species
When it comes to adding new trees to campus, the FRES team is planning for the future. As the climate warms, tree species that once would not have made it through a Philadelphia winter are persisting. In a pilot effort with Morris Arboretum & Gardens, FRES has planted a number of trees on campus that are adapted to warmer locales. Southern live oaks, Quercus virginiana, for example, their sweeping limbs an icon of the South, are now settling in at various locations on Penn's campus. Two were recently planted on campus, with a third to be added later this fall as a street tree, bringing the total to seven.
Other tree species and cultivars able to adapt to the urban environment and changing climate, such as post oak, overcup oak, swamp bay, magnolias, and "Sunfield" American elm have also been planted and appear to be thriving, Lundgren and Cerwinka say.
Morris Arboretum & Gardens' staff has also been planting more climate-adapted trees on its grounds in Northwest Philadelphia, but there's a question of whether they might do even better on the warmer urban microclimate of Penn's main campus.
"We're talking further with Bill Cullina, executive director of Morris Arboretum & Gardens, about how our goals around trialing more climate-adaptive species align with their goals of doing research and testing out how well those species are growing here," says Cerwinka.
In addition to the trees growing on campus, FRES is also working with TreePhilly to ensure the Penn community has opportunities to introduce southern species onto their own properties. During the annual Creating Canopy tree giveaway, will be offering some new species, like the Ashe's magnolia and the gordlinia, that Penn staff and faculty can claim for free and plant in their yards.
Communication at every level
While not as flashy as new flower beds or stately trees, the ELSP's guidance on both internal and external communication and design and maintenance guidelines may be the plan's most transformative recommendations.
The ELSP authors note, "The process of ecological stewardship indeed begins during the planning, analysis, design, ecological landscape stewardship plan, and construction of landscapes."
To smooth that process, a new staff member has joined the FRES Operations and Maintenance team to serve as a liaison with the Design and Construction department. "It's so helpful to have that connection right from the beginning of a project, to ensure that all the right stakeholders are at the table," Cerwinka says. "We're able to get feedback and have a much more successful project at the end of the day."
In addition, guidelines for design and construction have been improved and updated on the FRES website, fleshing out policies concerning the protection of trees and landscapes during construction processes. "It's like if you were getting a new AC system at your house, you can't let the contractor drive all over the front yard," Lundgren says. "Our consultants have to respect the site."
Crew training and continuing education is another topic emphasized in the ELSP. Sam Royer, Penn Park supervisor, and Craig Roncace, Urban Park manager, hold regular training events to ensure every person involved in campus upkeep is in the know when it comes to evolving management practices.
"Giving our urban park folks more ownership over some of these projects is hugely important," says Cerwinka. "It can't be that we come in and implement a landscape and plant stuff and then walk away. It has to be a collective effort."
Looking ahead, outward-facing communication will be a continuing focus. Rolling out projects with a new look on campus can help shift expectations of the campus community, says Lundgren.
"When we built Shoemaker Green, with its bioswales full of native plants and grasses, people were like, 'Why are all those weeds here?'" he says. "It's a different aesthetic paradigm."
Overall, the ELSP offers signposts along an evolving path in how Penn is maintaining and improving its landscape. "Having the plan lends us this galvanizing energy around the importance of ecology in how we do things," Lundgren says. "We're taking recommendations from this and continuing to dig in, using these underlying principles as a guide."
Robert Lundgren is the University landscape architect in Penn's Division of Facilities and Real Estate Services.
Chloe Cerwinka is the landscape planner in the University of Pennsylvania Division of Facilities and Real Estate Services.