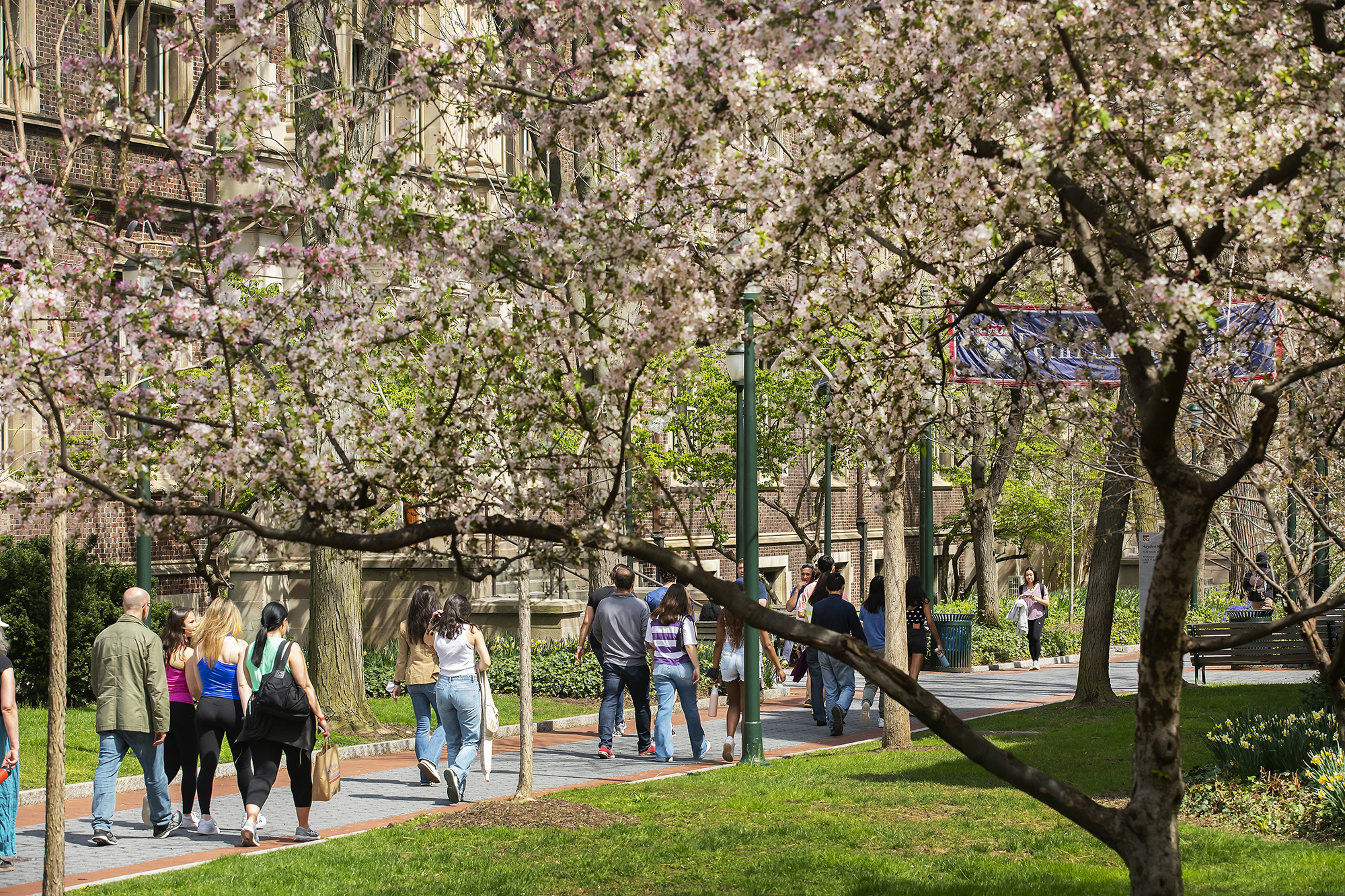 The University of Pennsylvania Sustainability Office today released the Climate and Sustainability Action Plan 3.0 FY22 Annual Report charting progress toward the goals of Penn's Climate and Sustainability Action Plan 3.0.
"Combating climate change is a top priority at Penn," said President Liz Magill. "Combining research, educational, operational, and investment initiatives, we are bringing every aspect of our enterprise together to help secure a more sustainable future for our community and the world."
To produce the report, Penn Sustainability compiled data and metrics for fiscal year 2022 from many academic and administrative units, tracking metrics in academics, utilities and operations, physical environment, waste minimization and recycling, purchasing, transportation, and outreach and engagement.
"As we close out the fourth year of this five-year plan, we mark significant progress with all campus partners," said Anne Papageorge, senior vice president of Penn's Division of Facilities & Real Estate Services (FRES). "With this FY22 sustainability report, Penn continues to provide public, transparent reporting of our sustainability initiatives."
Penn Today breaks down key achievements with five of the report's top takeaways:
Academics
Penn is making strong progress tracking academic engagement in sustainability, led by the Environmental Innovations Initiative. During the 2021-22 academic year, 4,695 students enrolled in sustainability-related undergraduate and graduate-level courses. Of these courses, 2,041 students participated in sustainability focused courses and 3,742 students participated in sustainability inclusive courses, as defined by the Association for the Advancement of Sustainability in Higher Education.
Utilities and operations
Toward Penn's 2042 carbon neutrality goal, construction began in April 2022 on the solar energy project that is part of Penn's Power Purchase Agreement. Two new solar energy facilities are under construction in central Pennsylvania, from which Penn will purchase all the electricity generated, an amount equal to approximately 70% of the total electricity demand of the academic campus and the University of Pennsylvania Health System.
Waste minimization and recycling
Penn Sustainability, in partnership with FRES urban park and housekeeping teams, created a waste precinct map to help schools and centers better connect and disseminate waste and recycling data to building administrators. Waste audits were also conducted across building types to identify strategic opportunities for increased diversion. FRES has obtained a truck equipped with a scale to start collecting monthly data for open top trash and recycling dumpsters.
Procurement and transportation
At the start of FY22, Penn Procurement implemented an additional fee for travel booking costs to purchase offsets for Penn's air travel-related carbon emissions. These fees go to the Travel Sustainability Fund, which invests in best-fit sustainability projects that will fully offset the carbon impacts of the University's air travel. Penn Procurement also partnered with TerraCycle to support mask and glove recycling. In FY22, more than 31,500 masks and 17,200 gloves were recycled on campus.
Penn Transportation purchased four electric vehicles for use as passenger vans. This purchase is expected to produce a minimum 13 metric tons of carbon dioxide equivalents (MTCDE) reduction per van per year, totaling a 53 MTCDE or more reduction for the four-van electric fleet annually.
Outreach and engagement
The University continues to expand opportunities for outreach focusing on sustainability. In FY22, campus-wide events and initiatives included Earth Week, the Freezer Challenge, and the Green Living and Green Hybrid Office programs. In the fall of 2022, Penn hosted its third annual Climate Week, led by the Climate Week Organizational Committee, comprised of the Environmental Innovations Initiative, Penn Sustainability Office, faculty lead Simon Richter, Climate Leaders @ Penn, and Student Sustainability Association at Penn. The week included 45 unique events with 28 organizations and more than 1,700 people participating.
The Climate and Sustainability Action Plan 3.0 FY22 Annual Report is hosted on the Penn Sustainability website.