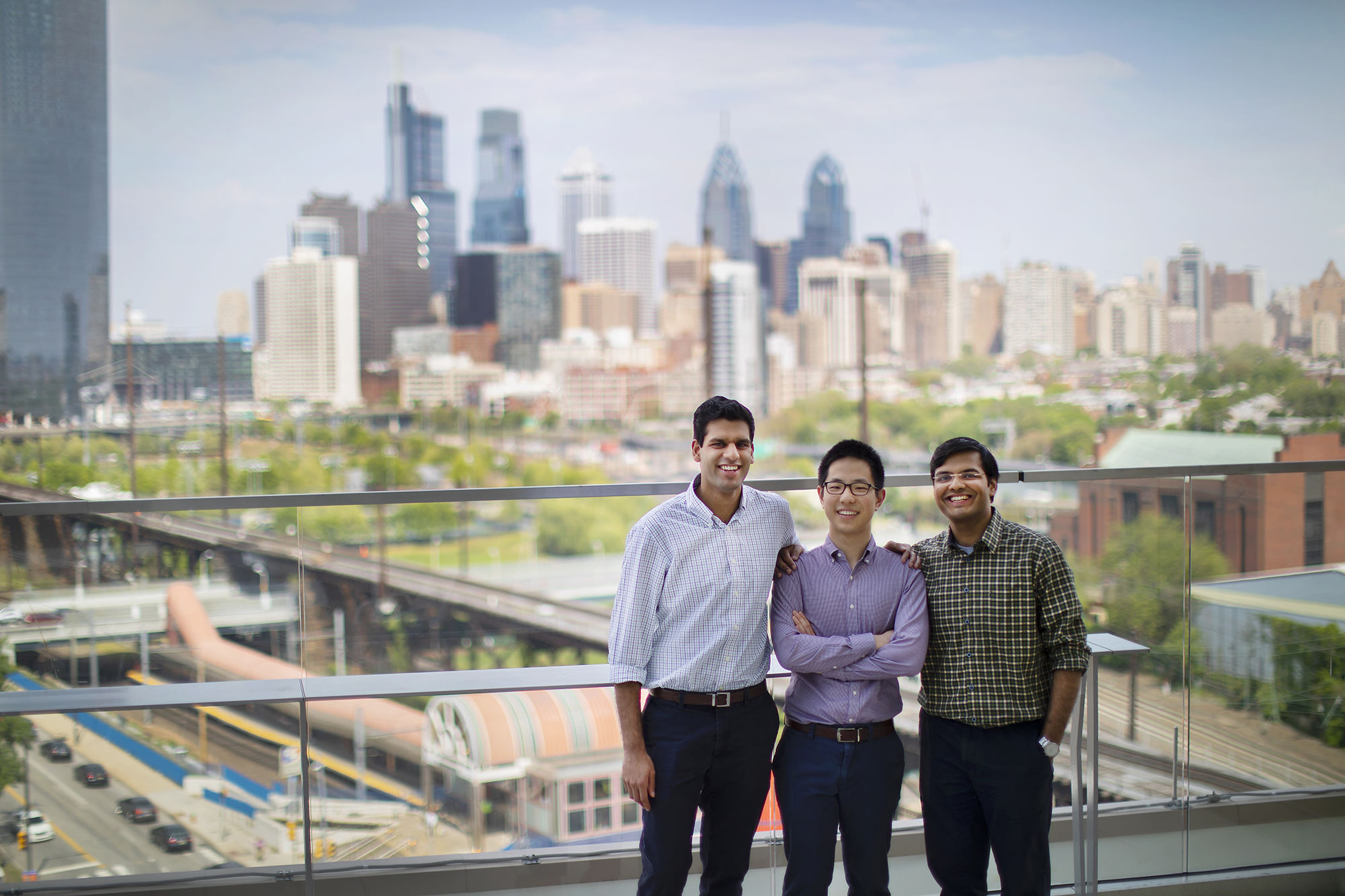 The epitome of interdisciplinary, three students at Penn have tapped into the University's engineering, medical, and business schools to help get their startup Sanguis off the ground. 
Meaning "blood" in Latin, the company—which won top prizes at last month's back-to-back PennVention and Penn HealthX pitch competitions, and the Penn Wharton Startup Challenge—is the foundation for an in-the-works medical device that could potentially improve the lives of cancer patients by allowing them to test their neutrophil levels at home.
"It should be as easy as a finger prick, where you place the blood onto the microfluidic chip, insert it, and get your numbers right then and there," says Prateek Agarwal, who's in his third year of Penn's joint MD/MBA program.
Every year, about 650,000 patients in the United States undergo chemotherapy. A cancer treatment that depletes the body of key infection-fighting cells called neutrophils, it leaves patients vulnerable to serious, life-threatening infections.
"The majority of chemotherapy patients, when they go home, they'll experience a drop in their neutrophil counts as a side effect," explains Daniel Zhang, a third-year student in the MD/Ph.D. program at Penn. "For most of the people, the drop is very short-lived. They're able to recover quickly and without a problem. But for some, it ends up being a big burden. It's directly linked to about 15,000 deaths each year."
The students have already developed—in the third co-founder Divyansh Agarwal's Grays Ferry home—a preliminary prototype of the handheld, portable blood cell counting device. (It's a similar concept to other at-home medical devices: Think glucose meter or INR monitor.) 
With a U.S. patent filed on their technology, the team's hope is that their platform to count neutrophils will be applied to other cell counting methods.
"We imagine that Sanguis will be every patient's personalized chemotherapy companion, and the idea is that it's something you use every day for the course of chemotherapy," says Divyansh Agarwal, a third-year MD/Ph.D. student. "It's your companion in a sense that it will tell you when you're at risk and when you need to contact the physician to then develop a care plan together."
The team, having participated in the Penn Center for Innovation's I-Corps Program, has already had the ability to engage with oncologists, validating the clinical need for the product, says Prateek Agarwal. He adds that they've also learned from patients that "they would certainly use it and would benefit from it, from an emotional as well as monetary and lifesaving perspective." 
Thanks to various grants and business competitions—local and afar—the Sanguis team has secured more than $80,000 in funding since its inception in the summer of 2016. Most recently, Sanguis earned $5,000 at the PennVention competition on April 10, and another $5,000 at the HealthX competition on April 18. At the Penn Wharton Entrepreneurship Startup Challenge on April 27, the trio took home the Perlman Grand Prize: $30,000 cash, plus $10,000 in legal services and $5,000 in accounting and strategy services. 
"If you look at the list of competitions we've participated in, it's all over the map, from engineering, to medicine, to business," says Zhang. "And if you think about the kind of interactions we have on a daily basis—we fabricate a portion of our device at the Singh Center for Nanotechnology, we talk to physicians in the hospital, and chat about regulatory affairs with local [business] experts—what's allowed us to be successful is the diversity of all the different schools on campus."
"It's all in one place and interconnected," adds Divyansh Agarwal. "This one-campus concept of Penn has become really important."
This summer, the group is planning to finalize their prototype, and leverage relationships to pursue a small clinical trial. Ideally, says Prateek Agarwal, they would like to pursue the clinical trial in conjunction with seeking FDA approval next year, and soon after look into strategic partnerships.
"We're going to need help from people who are experts in the area of medical device development," he says. "Ideally, we'll sell the technology to a big medical device company or license the technology, because that will be the best way to get the device into the hands of patients who are suffering."
Chatting at the Jordan Medical Education Center, the Sanguis founders are laid back, but also on-the-ball. When one stumbles, another is there to finish the sentence, and their diverse talents and knowledge mesh together in a way that boosts comfort and trust all around.
Zhang begins to tell a story of how, a few months ago, they decided to fly to Texas for the Baylor New Venture Competition. On the road at 4 a.m., the three were still working on their pitch while driving to their destination. The work paid off; they took home the first prize in Baylor's Elevator Pitch Competition.
"I remember asking Dan a few weeks before, 'Is this really feasible, or worth it?'" says Prateek Agarwal, who was at the time studying for his medical licensing exam he'd take just a day before the competition in Waco. "His response was: 'We'll make it work. Let's do it.'"
That camaraderie—the way they push each other to keep going—has been immensely important, says Divyansh Agarwal.
"When you have friendship and that ability to speak to each other frankly, it makes a huge difference in motivation and driving the work forward," says Prateek Agarwal. 
The trio—who studied at Harvard, Yale, and Massachusetts Institute of Technology before coming to Penn in 2015—became instant friends after meeting that fall. It was the following summer, somewhere between binge-watching episodes of "Silicon Valley" together, that they decided to form Sanguis.  
"In the beginning, it was just a cool idea that resonated with us in terms of our personal and professional experiences," says Prateek Agarwal. "It started us off on a journey that has turned into so much more."
With numerous successful pitch competitions under their belt, the Sanguis team's goal going forward is to ensure their work will "never be forgotten," says Divyansh Agarwal.
"It's very easy if you look at the history of these programs, to be winners, but forgotten names," he says. "It's our goal to continue with the original mission in mind, which is to improve the lives of cancer patients, and continue working on that for however long it takes for this device to reach fruition."