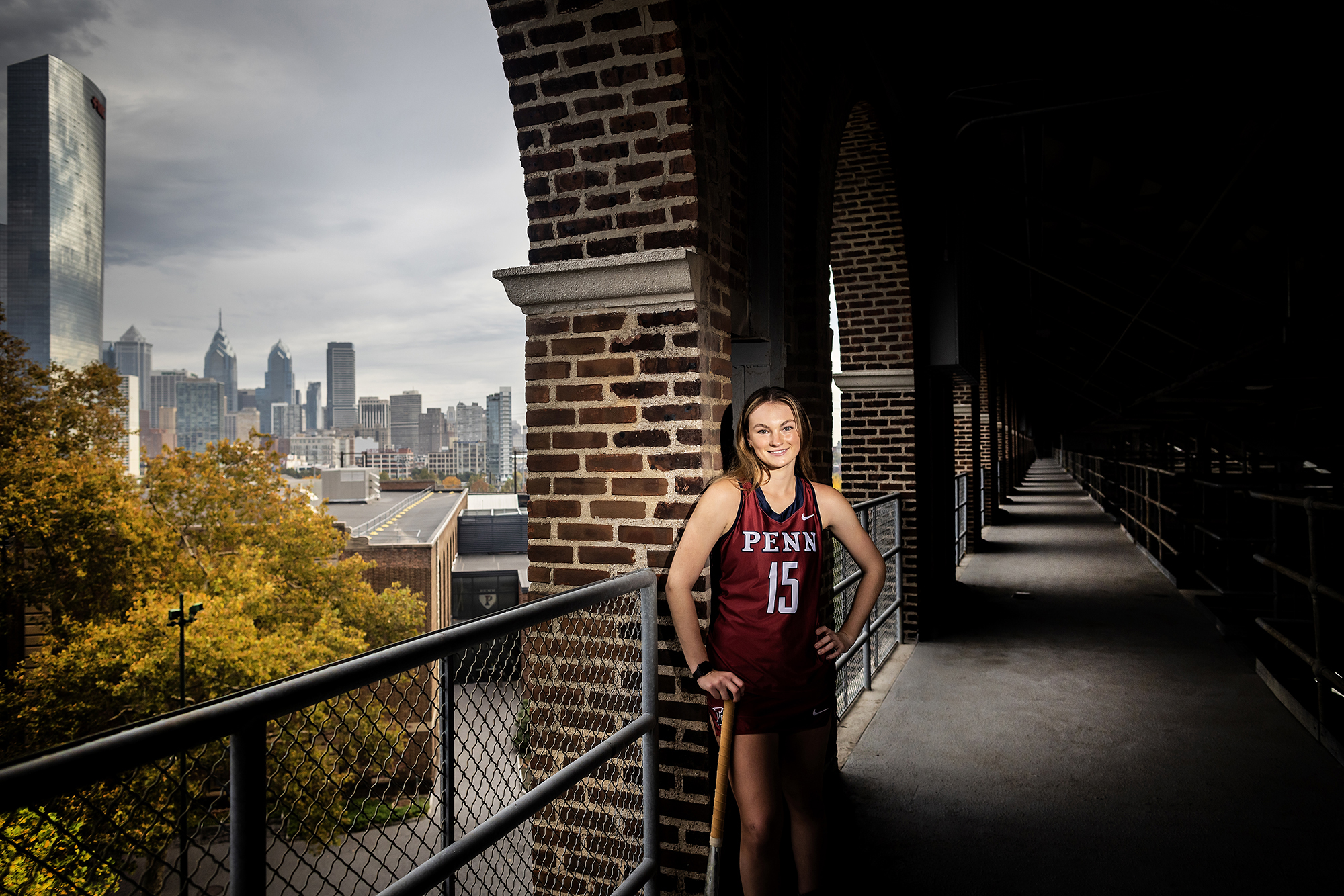 Allison Kuzyk, a fourth-year forward on the field hockey team, has been on a tear as of late.
Against Brown at Penn Park on Saturday—Senior Day for the Quakers—she scored both of Penn's goals in their 2-1 win.
The following day against Delaware in Newark, she scored two goals in the Red & Blue's hard-fought 4-3 loss.
On Wednesday, she was named a First-Team All-Ivy selection, along with her teammate, fourth-year goalkeeper Frederique Wollaert.
Indubitably, Penn is hoping Kuzyk's hot streak continues as they gear up for the inaugural Ivy League Field Hockey Tournament, which begins Friday, Nov. 3, at Harvard's Berylson Family Field Hockey Field. The 4th-seeded Quakers have set their sights on upsetting the top-seeded Crimson, the 9th-ranked team in the country, in the first round. Harvard won the regular season matchup 2-0 in Massachusetts on Oct. 21. The Red & Blue have not won in Cambridge since 2015. Second-seeded Cornell and 3rd-seeded Princeton clash in the other semifinal. The winners will face off in the Championship Game on Sunday, Nov. 5.
Kuzyk, a co-captain from Vancouver, Canada, and an urban studies major in the School of Arts & Sciences, ranks second in the Ivy League in shots (66), shots on goal (39), goals (13), game-winning goals (4), and points (27). Her superb play helped the Red & Blue finish the regular season with a 5-2 record in the Ivy League. They played their usual grueling non-conference schedule, with games against No. 1 North Carolina, No. 9 Louisville, No. 3 Northwestern, and No. 13 Saint Joseph's.
Penn Today visited Kuzyk at Vagelos Field to discuss her field hockey career, how Vancouver is like Seattle, her most memorable game, playing for the Junior Canadian Field Hockey Team, her interest in real estate, and her plans for the future.
When did you start playing field hockey? I think I was maybe 9. I played ice hockey growing up and my mom had played field hockey, and she just told me to go try it one time. I think I was 9 and I've been playing it ever since.
What do you enjoy about the sport? I definitely like the team aspect of it and just being able to try to achieve a common goal with my teammates. And playing it is just a lot of fun. You get to run around, hit the ball. I just really enjoy the sport as a whole.
Does your mom call you with pointers or to give you feedback? She gets super into it, honestly. Not so much pointers anymore, but when I was younger, she would be like, 'I think you could be doing this in this situation.' But she has always supported me.
Obviously, ice hockey is king in Canada, but is field hockey popular as well? It's quite popular in Vancouver, where I grew up, and we're trying to grow the sport throughout the rest of Canada right now. More people are starting to play in other areas of Canada, too, which is great.
How do field hockey players deal with the harsh Canadian weather? Do teams have to adjust the schedule when it snows? Vancouver doesn't get tons of snow and isn't super cold, so we can play most of the winter. Occasionally, the field will be frozen in the morning or at night, but beyond that, we have pretty good weather because it's a lot like Seattle; it's just a lot of rain. Other parts of Canada probably have to do more indoors.
In 2021, you were one of only three second-years on the team to play in all 16 games, which was your first year of playing because of COVID. What was the adjustment like moving from high school field hockey to big-time Division I college field hockey? I would say that it's definitely faster and more physical than high school field hockey. It was also different coming off of COVID because we hadn't really played any games in a year or two. I think I was just really excited to get back on the field and just get to play again. That was a really fun season, my first season with this team, and playing on [Vagelos] field was just a great introduction to field hockey.
Do you have a favorite memory so far from your Penn career? One of them, which was actually really recent, was us beating Princeton [on Oct. 4, a 3-2 win in double overtime]. We hadn't beaten them in 19 years. It was a really electric experience for us to come out with the win. I felt super close with the team and everyone was super excited. The time right after the game and the bus ride home was a lot of fun. I was saying to one of my teammates on the way home, 'This is why you play sports, for these types of moments.' It was just a great feeling.
You have also played for the Junior Canadian Field Hockey Team. How was the experience? We originally went for the first World Cup in the fall of 2021, and unfortunately the omicron variant came about when we were there. We went back in the spring of 2022 and competed in the World Cup, which was a great experience. You get to play against some of the top teams in the world for people your age. It's just a super cool event and I really enjoyed it.
Am I correct that a former teammate of yours was playing in the World Cup as well? Yes, I played against Gracyn Banks, who's graduated now [a 2022 alumna]. That was a lot of fun. She played for Team USA. Obviously, I prefer to be on her team, but it was a lot of fun to compete against her.
Did you give your teammates any secrets on how to play her? Not really. She defended me; we were actually checking each other during the game, which was pretty funny. But no real secrets. She's a good player.
Did it get physical at all? I accidentally hit her, actually, when I took a shot, which was really funny. I felt really bad, but she's OK.
In addition to your urban studies major, you are minoring in urban real estate development through the Wharton School. Why are you interested in real estate? My dad, growing up, was a real estate agent and my mom is an urban planner, so I kind of just grew up in that environment. I wasn't sure if it was something that I was interested in when I was younger, but recently I've realized that it's in my blood and something that I do find really interesting.
Is there any particular aspect of real estate you find most interesting? I'm really interested in development and just seeing projects come together from start to finish, and then have people move into it. I think it's really cool to physically see the thing that you're working on come to life.
You still have a year of eligibility remaining from the COVID year, although you cannot play at Penn. Do you know what your plans are? I'm not totally sure yet. I'm definitely interested in continuing to play field hockey somewhere and getting a master's degree, but I'm not sure what the details are of that yet.