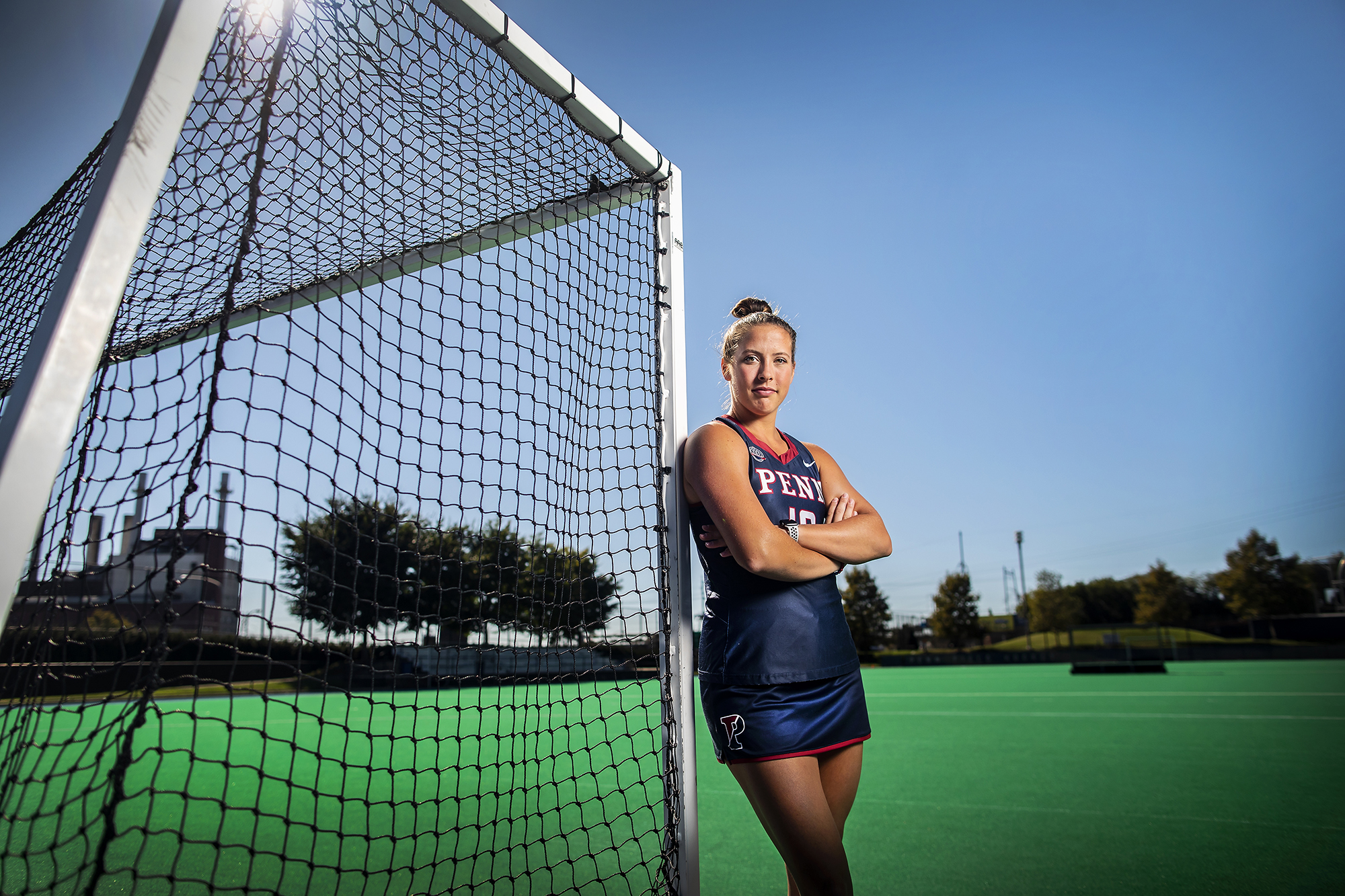 Reigning Ivy League Defensive Player of the Week Gracyn Banks, a senior captain and center back on the 8-7 field hockey team, is a defensive maestro, adept at making open-field tackles and skilled at stopping a counterattack dead in its tracks.
Last Friday at Columbia, she had two defensive saves, which gave her an Ivy League-leading five for the season, and also scored Penn's only goal in the 1-0 shutout win.
"Gracyn's primary strengths are her vision, her open-field defense and ability to tackle in the open field, and her ability to fend the longball offensively," says Head Coach Colleen Fink. "Her out-letting skills are probably the best in the Ivy League, in my opinion. And she's been really working diligently on her corner shooting. She's a fantastic player, one of the best we've had in our program."
Banks, a neuroscience major from Burlington, New Jersey, saw little action her freshman season, appearing in seven games. Through her commitment and devotion to improving her game, and guidance from Paige Meily, her predecessor at center back, Banks worked her way into the starting lineup her sophomore year, and ended the season as a Second-Team All-Ivy selection.
USA Field Hockey began to take note. In June, Banks was added to the U-22 Junior Pan American Championship Training Squad, and July, she was promoted to the U.S. U-22 Women's National Team, which won the bronze medal in Chile in August. In October, Banks was one of 18 players selected for the U.S. U-21 Women's Field Hockey National Team, which will compete in the 2021 FIH Hockey Women's Junior World Cup in December in South Africa.   
After practice at Vagelos Field, Banks sat down with Penn Today to discuss her role as a center back, the field hockey team's brutal schedule, playing for USA Field hockey, her work as a field hockey coach and referee, and her plans for next year.
What are your responsibilities as a center back? I understand it's one of the most important positions on the field. I'm the first one in front of the goalie. We always say communication comes from the back up, so the goalie communicates to me and then I make sure everything runs smoothly, like organizing the field, because I can see everything in front of me. My responsibilities are leading the defense, organizing all the people in front of me, setting them in our defensive structure—all of those things combined.
What do you enjoy about playing the center back position? I just love seeing everything in front of me. I love being able to anticipate what's going to happen. My favorite part is making tackles [taking the ball away from an opposing player], so I think it's just the perfect position for me.
Have you ever gotten a yellow card or a red card? No. We actually have green cards, too. We have green, yellow, and red. I have gotten one green card against UNC one time, but other than that, I have not been carded.
The field hockey team has played a Murderers' Row schedule this year, to use a baseball analogy. Seven of your 15 games have been against Top 25 competition: No. 5 Louisville, No. 1 North Carolina, No. 9 Saint Joseph's, No. 17 Princeton, No. 12 Syracuse, No. 12 Harvard, and No. 23 Delaware. How has the experience been, playing such a brutal schedule? It's been good. It's been tough. We've had very, very tough competition. I think for us, it was really good to open up with the really tough teams. We tried to just learn from them every game, even if it didn't turn out the way we wanted to. We really took one thing from each team we played that we wanted to try and incorporate into what we were doing.
How was your time playing in Chile with USA Field Hockey? It was really awesome. I was originally picked to travel with them but wasn't guaranteed to play, and then by the time we were about to leave, there had been some changes and I was moved up to play on the actual team. It was one of the best experiences ever. It was just a really good opportunity to play against some of the best people in the world. I got to meet so many new people from all around the United States. I played with girls from all different colleges and coaches with different coaching styles. I learned a lot and I came back with a lot of experiences.
Is there a different style of play internationally than in the U.S.? It depends on the country. I think some countries are a little bit more physical. There are definitely different tactics. But overall, every country has their own little thing that they do and the way they play. We do, too, and we stuck to our game plan and it worked for us. It's definitely a little bit different, but it's still the same game.
You are a field hockey coach as well for the South Jersey Edge. What made you want to get into coaching? I think it's just another way for me to stay around the sport. I love learning more and I think when you coach, you learn different parts of the game than you do when you're just playing. I started that my freshman year. That's my old club team. I started coaching indoor. Indoor field hockey is a little bit different than outdoor. It's played on a basketball court surface and there's less people. We don't have anything similar in college and I used to love indoor, so I wanted to stay around it. It's a lot of fun.
And you're a field hockey referee as well? Is that correct? That is a whole 'nother ballgame. That's another situation where you just learn so much. I've definitely gained a lot of respect for the umpires that ref our games. It has also taught me a lot by learning the rules. I read the rulebook multiple times, which not many people do. It definitely helps with the video referral we have now. It helps to know specifics about the rules because you have to be very specific with the questions you ask if you want them to refer it. I think learning how to umpire and being an umpire definitely helps with that aspect as well.
Is video referral like instant replay? Yes, if there's a foul inside the circle and they call a corner and we don't think it was a corner, we can ask the umpires to go back and watch the video and potentially overturn the call.
Is that a new thing in field hockey? This is the first year we've had it. Other schools have had it for the past couple years but it's fairly new.
Do you know what you want to do when you graduate? As of now, I might be staying a ninth semester to play. I'm going to stay another semester next fall and finish up my undergraduate degree. After that, I'm planning on taking a gap year to work and do research, and then hopefully start the process to apply to med school.