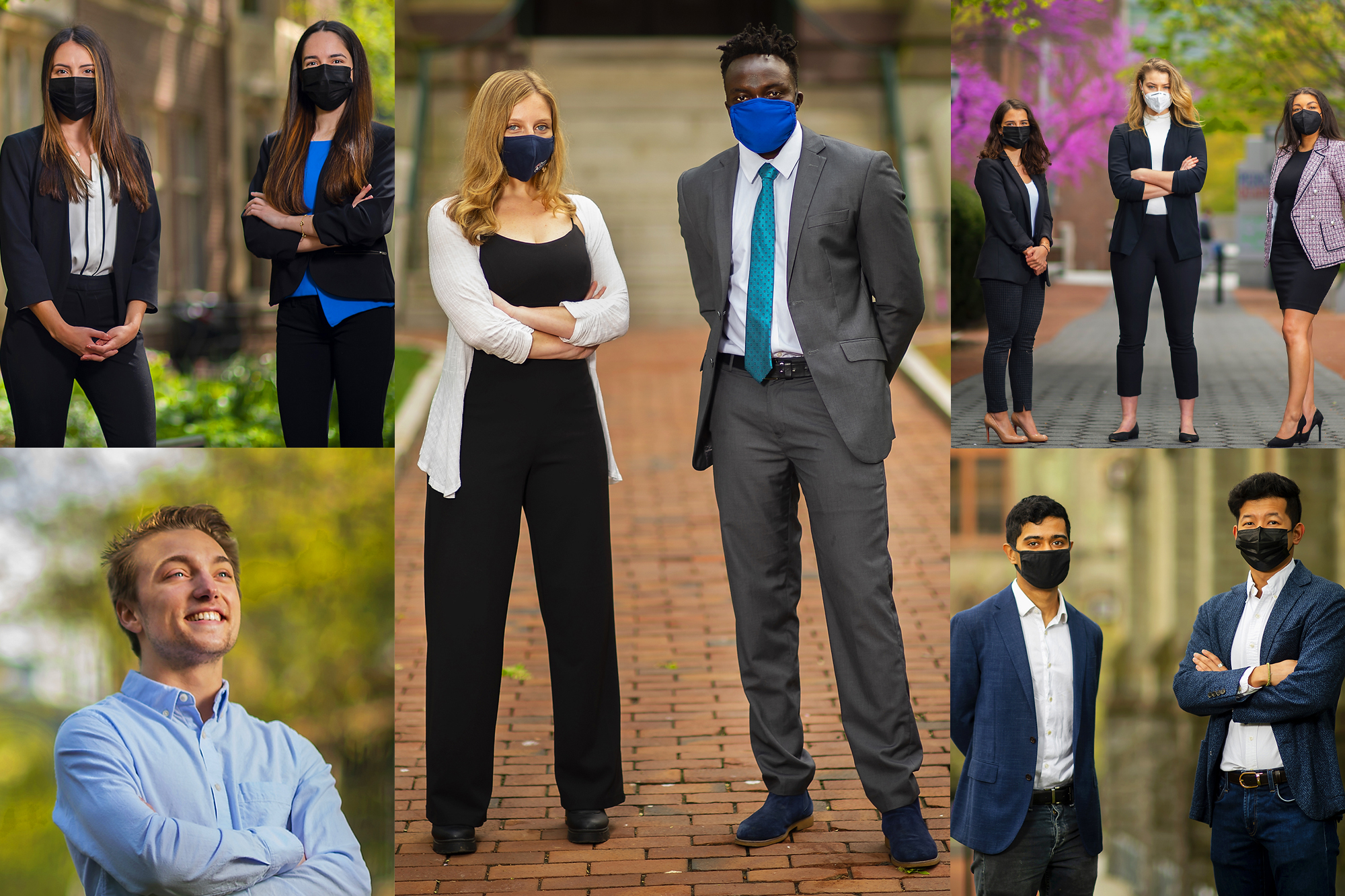 University of Pennsylvania President Amy Gutmann today announced the recipients of the 2021 President's Engagement Prize and President's Innovation Prize. Awarded annually, the Prizes empower Penn students to design and undertake post-graduation projects that make a positive, lasting difference in the world. Each Prize-winning project will receive $100,000, as well as a $50,000 living stipend per team member. The Prizes are the largest of their kind in higher education.
Seven Penn seniors were named recipients of the 2021 President's Engagement Prize. They are Elizabeth Carson Eckhard, Natalia Rommen, and Sarah Simon for Project HOPE; Martin Leet and Leah Voytovich for Maji; and Christina Miranda and Amanda Moreno for Be Body Positive Philly. Three students were named 2021 President's Innovation Prize recipients: Aris Saxena and Yiwen Li for Mobility, and Anthony Scarpone-Lambert for Lumify Care.
"This year's Prize-winning projects are inspiring and are important examples of putting a Penn education to work to meet urgent and important human needs in local, national, and global communities: from addressing eating disorder risk among our city's youth, to improving the experiences of patients and frontline health care workers, to aiding in the global refugee crisis through clean water and agricultural training," said Gutmann. "The recipients embody Penn's core commitment to leadership through service, a most vital and urgent calling during these challenging times."
The Prizes are generously supported by Emerita Trustee Judith Bollinger and William G. Bollinger, in honor of Ed Resovsky; Trustee Lee Spelman Doty and George E. Doty, Jr.; Emeritus Trustee James S. Riepe and Gail Petty Riepe; Trustee David Ertel and Beth Seidenberg Ertel; Wallis Annenberg and the Annenberg Foundation; and an anonymous donor.
Student recipients will spend the next year implementing their projects. Details on their projects are as follows:
"From incarcerated Philadelphians to chronic disease patients in South Africa, Project HOPE, Maji, Be Body Positive Philly, Mobility, and Lumify Care have the capacity to improve the lives of some of the most vulnerable around us," said Gutmann. "These members of the Class of 2021 have set out to implement extraordinarily promising ventures, and each has brought to the table an outstanding ability and an infectious eagerness to make a tangible, substantial, and sustainable impact."
This year's finalists also included, for the President's Engagement Prize: Angela Kumirai and Arabang Dingalo for Central Pharma, a platform that aims to increase access to vital medications in rural Zimbabwe by improving the medication purchasing experience and reducing stock-outs at healthcare facilities; Abraham Mascio and Rouguiatou Sall for La Graine de Guinee, which aims to address rising diabetes rates in Guinea by enacting a culturally sensitive diabetes awareness program; and Samira Mehta for WASH for San Juan Tlacotenco, which aims to increase access to clean water and sanitation services in Mexico. Ricky Pati was a President's Innovation Prize finalist for 3Cor Bio, a low-cost, rapid diagnostic platform that has the potential to target multiple infectious diseases, starting with COVID-19.
Ninety Penn seniors, a record total, submitted applications for both Prizes this year, with proposals spanning an impressive array of innovative and impactful ideas. Faculty and staff mentors and the staff of the Center for Undergraduate Research and Fellowships worked closely with the students to develop the projects.
"Our great Penn students," said Provost Wendell Pritchett, "are producing the ideas that will change the future. These exciting projects demonstrate their strong commitment to helping others—and to finding solutions to the most urgent global challenges. They focus especially this year on health and wellness, which will be vital priorities as the world emerges from the pandemic in the years ahead. We are indebted to their faculty advisors and to the Center for Undergraduate Research and Fellowships, who are invaluable partners in developing these visionary ideas."