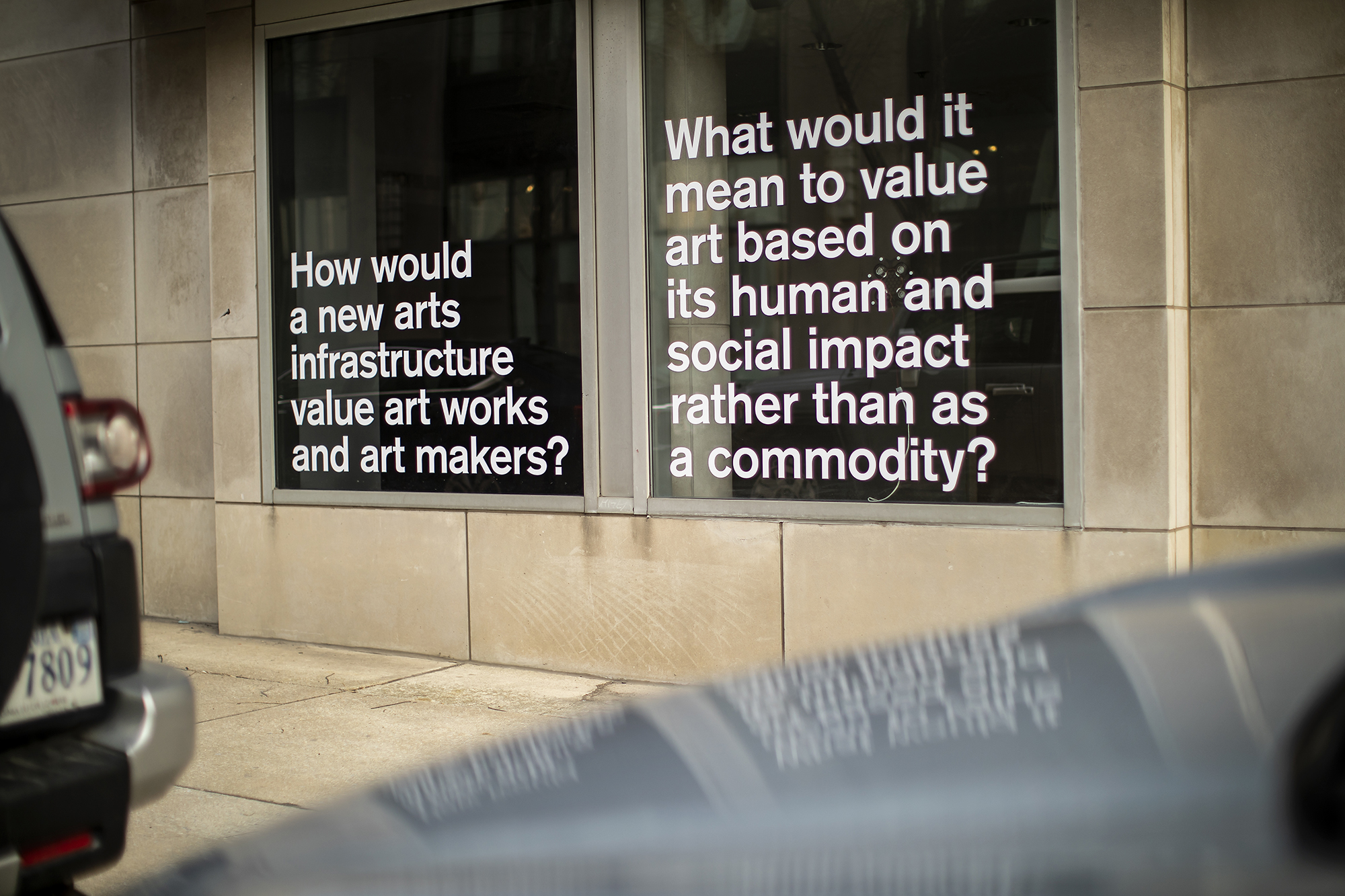 Linda Goode Bryant, artistic director of "RAW Academie at ICA," was on a panel in 2014 at the Brooklyn Museum, where she'd been invited to speak to an audience about her exhibition, "Crossing Brooklyn." Looking out at the audience from above, the dynamic stirred something within her.
"I can't remember what the trigger was now, but at some point, I just said, 'All of you out there looking at us, tell me: If you were to imagine a space where you want to engage art, experience it, and be able to commune with it, would it be this?'" she recalls saying, motioning to the room around her.
This moment was the seed of a larger conversation she hopes will be unpacked in the upcoming seven-week residency at the Institute of Contemporary Art (ICA): a frank, critical assessment of art infrastructure involving artists, teachers, students, and the public.
"RAW Académie at ICA" is a collaboration between the ICA and RAW Académie, an experimental study program based out of Dakar, Senegal, at RAW Material Company. Eleven international fellows-in-residence will join in conversation with RAW staff, Philadelphia arts leaders, and Penn faculty and students to discuss infrastructure in the art world—all the while subverting what the public expects from a typical exhibition by not only hosting these critical discussions inside the ICA's galleries, but also by inviting the public to engage with visiting "faculty," who will host presentations and workshops.
The project was born from the "I is for Institute" initiative that began in 2014, during which time the ICA began to openly question the models of what it means to be an institute. RAW became a "thought partner" for ICA soon after, and Alex Klein, the ICA's Dorothy and Stephen R. Weber Curator, attended one of RAW's residency programs in Dakar. She came back impressed by the horizontal classroom structure and wondered what it might be like to experience RAW Académie at the ICA.
"Mutually, we thought of how one institution could host another," Klein says. "Would that change an institution from the inside? Would that change the other from the outside? And how do those two organizations working together create something new? And that's how this came to be, through dialogue, collaboration, and dreaming together about how maybe we could try to get ourselves out of the boxes we're in and rethink systems."
For both organizations, then, there is an inversion of what has come to be expected from them: RAW Académie will host what are typically private conversations in a very public manner, while the ICA will take what is typically a very public exhibition space and make it—at least partly—private.
Visitors to the ICA in the next seven weeks will find a classroom space that has been carved out inside the galleries, where fellows will discuss topics during the day, from 10 a.m. to 5 p.m., Tuesday through Friday. By and large, that classroom will be closed to the public, with occasional room for engagement depending on what's being discussed that day by the fellows. Guests will also find a reading lounge in the lobby, ample plant life on the second floor, and a more traditional gallery-space setup outside of the first-floor classroom that will evolve alongside the conversations of the residency. Visitors are encouraged to offer their own thoughts about infrastructure on an interactive board, and they will be reminded of the international nature of the residency by way of video displays, a lineup of clocks set to the time zones of visiting fellows, and a projection displayed on the ICA's exterior that shows images of Dakar.
Deborah Thomas, the R. Jean Brownlee Professor of Anthropology and director of the Center for Experimental Ethnography, is team-teaching a course this spring with Grace Sanders Johnson, an assistant professor of Africana Studies, called Sighting Black Girlhood; the course brings the issues facing Black girls globally to public attention. She plans to bring her students to RAW Académie at ICA to explore themes of archiving and memorialization, particularly in connection to the class's analysis of a recent exhibit and portrait campaign by the Colored Girls Museum, which Thomas says offers the portrait of the ordinary Black girl as a monument and a ritual of care.
"We are interested in the ways infrastructures both constrain us and offer new portals for reflection and for building the world anew," says Thomas. "As the RAW Académie is also reimagining art spaces and undoing museums, we are inspired to learn from Linda Goode Bryant, the visiting artists, and the fellows themselves about the ways they are also seeking to build new platforms and modes of engagement through which caring communities can be realized."
The residency also supports a new vision for ICA.
"We couldn't ask for a more fitting project than the RAW Académie residency at ICA for where we are right now as an institution in the process of re-envisioning and redefining who we are and where we want to go," says ICA Director Zoë Ryan. "This program is emblematic of our mission to encourage an exchange of ideas on art, design, and the built environment that frame more inclusive, diverse, and equitable readings of the time in which we live. By bringing this project center stage within the galleries and grounding it within the university environment, it radically opens and challenges ideas and pedagogical frameworks in a very public-facing way."
Artistic director Goode Bryant, who is being assisted by Marielle Ingram, curated the experiential study program's eight speakers alongside RAW staff. Generally, they were selected to provide perspectives of infrastructure from around the world, with artist, filmmaker, and cinematographer Arthur Jafa featured as the first of the visiting faculty hosting public-facing events.
"I remember he and I had a conversation when 'Love is the Message …' [at the Museum of Contemporary Art] came out, and during that conversation I asked, 'So, what's it like now?' And one of the things he said was, 'Linda, I'm a cactus. I've lived most of my life able to survive on a little bit of water … and I'm always going to be a cactus. I don't see it affecting me too much,'" Goode Bryant recalls. "So now he's blown up more and more since that conversation, and I want him to talk about that—what it's like being a cactus that's full-on inside an art market that's insatiable."
Ultimately, RAW Académie aims to address tense questions about the structures of the art world: "Why are we still looking at art in rectangular rooms painted white?" says Goode Bryant, with a laugh. Topics could span everything from where artists get their supplies to the shapes they work with and within. It's a broad-ranging residency that, if a bit abstract at first, becomes clear in its follow-through.
RAW Académie at ICA opens on Wednesday, March 16, with a discussion featuring Arthur Jafa, followed up by an opening program with Goode Bryant and co-organizers from ICA and RAW on Friday, March 18. Public programming runs through Wednesday, April 27, and the resulting works from the residency will remain on display through Sunday, May 22.