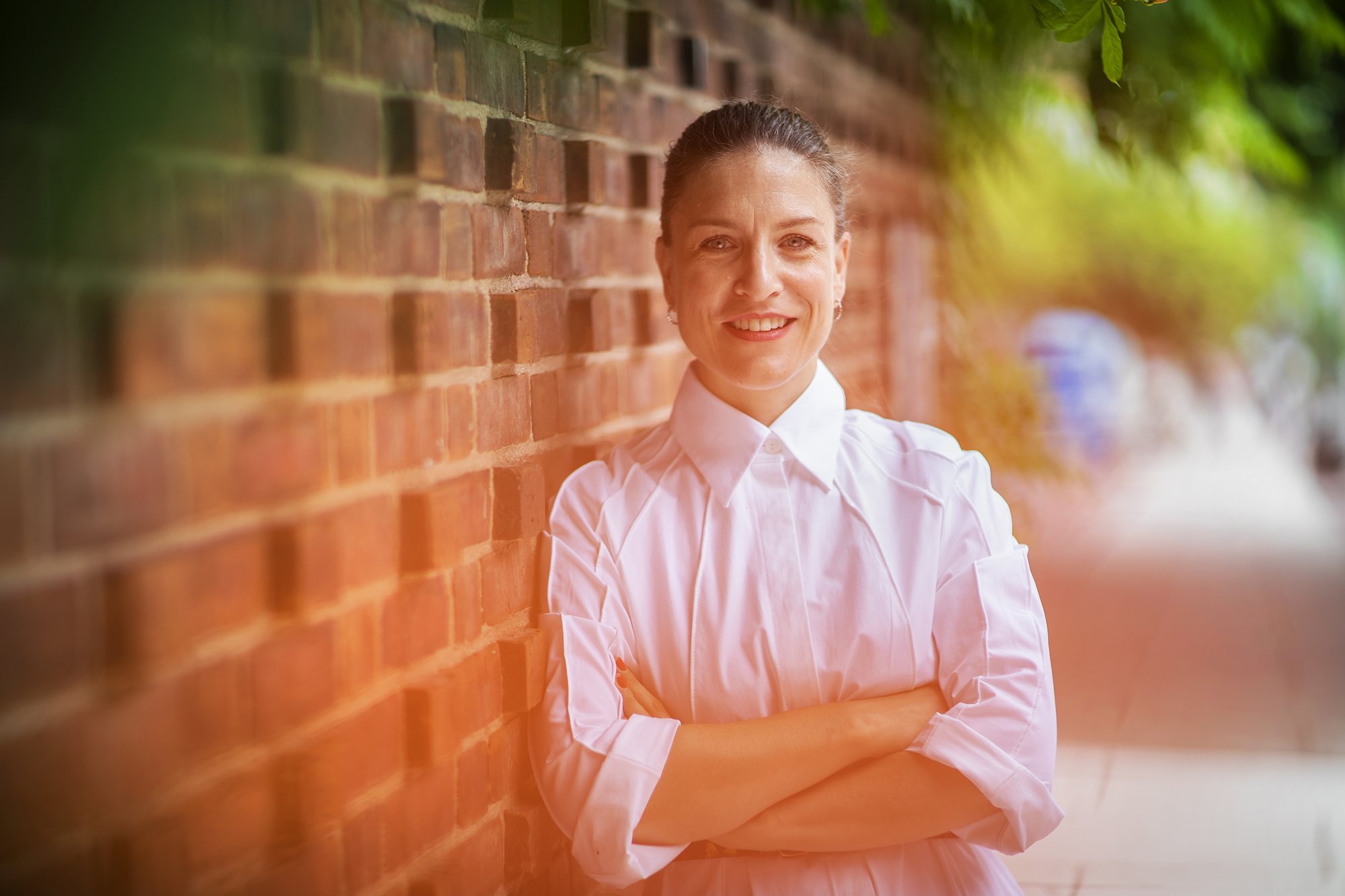 Zoë Ryan first came to the Institute of Contemporary Art in the early 2000s, like many, as a guest. First, for the exhibition of work by designers Hella Jongerius and Jurgen Bey in 2000 and again to see cross-disciplinary exhibitions such as "Intricacy" and the "fallen paintings" of Polly Apfelbaum, both in 2003, which blurred the lines between installation, painting, and sculpture. 
"I came a lot to openings, because there were many people and practitioners whose work I was interested in seeing at the ICA, and I found that more exciting than a lot of what was happening in New York at the time," recalls Ryan. "I really loved the interdisciplinary program."
Today, she leads this programming: She was appointed as the new Daniel W. Dietrich, II Director of the ICA in August and began on Nov. 5. She was previously the chair and curator of architecture and design at the Art Institute of Chicago, and before that was senior curator for the Van Alen Institute in New York. She's also recognized as a world-renowned curator and scholar, particularly in architecture and design, with an expertise in art history. She's led exhibitions like "In a Cloud, in a Wall, in a Chair: Six Modernists in Mexico at Midcentury" while at the Art Institute of Chicago, spotlighting work from artists who lived or worked in Mexico and crossed disciplines—ranging from furniture, to prints, and textiles. 
This interdisciplinary instinct is one element that made Ryan stand out during the yearlong search for a new ICA director. 
"Zoë's experience, as a curator, in expanding understandings of contemporary art, made us excited about the breadth with which she can hold important aesthetic, historic, political, and conceptual intersections," says Sharon Hayes, a professor of fine arts in the Weitzman School of Design, who served on the advisory selection committee that recommended candidates for the director role.  
Hayes describes the committee's shared assessment that the ICA was already "in a really fantastic place," citing the institution's ongoing commitment to emerging artists and making space for radical and experimental practice. The goal, then, she says, was to find someone who could build on that progress and contend with the challenges of the moment. 
"The institutional practice around contemporary art exhibition-making is at a moment of important critical interrogation, particularly around the ways in which art institutions have reproduced whiteness, and the forms of persistent exclusion that have been maintained by art institutions," Hayes adds. "There's a real reckoning happening—and it is happening at the largest institutions, like the MOMA and the Whitney, and at the smallest art-run galleries in New York or Philadelphia."
The committee, Hayes says, recognized a need for a strong leader who could continue to strengthen the institution's solid foundation, but could, doubly, "look honestly and with rigor at the ways in which the ICA has itself reproduced exclusions."
Ryan stood out, Hayes says, as someone with both experience curating and a history of addressing aesthetic practice in an inclusive way. So far, she's thrilled to see that Ryan has already reached out across departments, centers, and programs to build or strengthen relationships with the ICA across campus.  
Christopher Gruits, executive and artistic director of Penn Live Arts, says he's recently worked with Ryan to discuss potential visual arts collaborations between the two organizations in the future. 
"I think Zoë is a phenomenal addition to Penn," says Gruits. "She's going to be a transformative leader for the ICA. She brings a deep level of experience in contemporary art and architecture, and has a really collaborative approach to leadership in the arts on campus. I'm thrilled she's here and is thinking broadly about how the ICA can collaborate on and off campus."
Michael Leja, the James and Nan Wagner Farquhar Professor of History of Art, notes that a liaison was recently appointed between the History of Art Department and the ICA—a first for active facilitating and planning between the two. 
"The ICA has multiple audiences—Penn, the Philadelphia arts community, the national and international art world—and keeping all of them engaged simultaneously has been challenging," Leja says. "Zoë is being proactive about building lines of communication with faculty and students, inviting ideas and involvement."
He adds: "Her outreach to many University organizations bodes very well for keeping the ICA integral to the interests and activities of the campus community."
David Hartt, an associate professor of fine arts, who hosted a virtual talk with Ryan in the spring and was also part of the advisory selection committee, says he first encountered Ryan in Chicago when she was the chief curator of the Department of Architecture and Design at the Art Institute. He describes a serendipitous moment of discovering a "thoughtful, beautiful" small exhibit, organized by Ryan, of one of his favorite graphic design agencies, Graphic Thought Facility, in a corridor outside of the department's set of offices. 
He describes another exhibit he viewed at the Art Institute, "Bertrand Goldberg: Architecture of Invention," shown in 2012, as "masterful."
"I was so impressed with the way she brought the work together and to life through sensitive and smart exhibition design," Hartt says. "Obviously, she's working with an architect in developing that, but you need someone spatially aware and who understands how to present work to bring the right people together."
When her name was brought before the committee, then, he was ecstatic. He says Ryan is a "tremendous thinker" who shares priorities of not creating false hierarchies or biases, and "approaches things with a sense of curiosity of how the world works and how we see it, and how things fit together."
"I'm excited to see how she shapes the institution," Hartt says.
Ryan's journey to Penn
Ryan was born in London and grew up in Kent. She attended the University of Sussex for Art History and left the United Kingdom thinking she would have a temporary internship at the Museum of Modern Art in New York. But the work at various U.S. arts organizations kept her here. 
In youth, she says she was always fascinated by art history and its relationship to society—how it allowed people to read the world. Her interest was shaped by artists and teachers who surrounded her, including her mother, who would take groups of adults on art trips to France and Spain. 
"I was immersed in art really early on," Ryan says.
On a trip to Madrid, she remembers seeing the city as one of the "most cinematic, graphic cities I'd ever been to," she says. The architecture, the late-night culture—she describes the trip as awakening her senses and expanding her art interests, enthralled by surrealist paintings. One, in particular, was The Descent from the Cross by Rogier van der Weyden of the Virgin Mary collapsed and crying, with "tears painted like glass marbles on her cheeks." It was around this same time that she was exposed to "Sensation," an exhibition with work from Damien Hirst and Sarah Lucas that launched them as artists. 
"I thought that was fascinating, that you could help artists with their careers and position their ideas in an exhibition," Ryan says. "But also, how the show was so connected to what was happening in society … My mind was bursting with all these reference points, and it was really how I came to learn a lot about all kinds of things, through the lens of art and art history. And that still is how I learn about the world: through the work of artists, designers, and architects, etc."
It's this same spirit of supporting emerging artists who inform and inspire that continued to draw her to the ICA, and ultimately led to her appointment.
Of course, Ryan began her role at the ICA at an extraordinary moment: The pandemic shuttered the ICA to the public, causing the cancelation of some programming and translation of others to an online format. Meanwhile, racial justice movements swept the country after the murder of George Floyd and widespread violence against Asian Americans and Pacific Islanders. In the art world, these incidents have furthered conversations about gatekeeping in art institutions. 
To adapt to the pandemic, the ICA began conducting virtual tours of its gallery, introducing elements Ryan says will likely outlive the pandemic and serve as complementary digital features—intimate behind-the-scenes videos, for example—that will add to the in-person gallery experience. In terms of artistic practice, she says she's hopeful that the pandemic, with its many challenges, may have also served as a gateway for the imagination and a point of reflection. She cited one potential collaborator for next year, a smell artist, who produces work related to smells and memory—a timely practice, in light of COVID-19's effects on smell and taste. 
In the past few months, the ICA has also hosted rich discussions about diversity, equity, and inclusion work, and launched IDEA at ICA (Inclusion, Diversity, Equity, and Accessibility) as part of those discussions. IDEA is a staff-led group working behind the scenes to rethink how the ICA thinks of itself as an institution.
"The ICA has always had equity and inclusion as part of its mission, and we want to center that in everything we do," Ryan says.
"This year," she adds, "it's really about taking stock and seeing what we want to bring forward or leave behind, strengthening the community within the ICA and the team, and learning from them so that we can emerge from this period in a strong position, optimistic about the future. And we are optimistic, but obviously there is a lot of work still to be done."
For now, she's continuing to build connections on campus, in Philadelphia, and in the larger metropolitan network of New York, Baltimore, Boston, and Washington, D.C. She's also eager to tap into the research environment of Penn and continues to work with the ICA's student board to accommodate the needs of Penn students. 
"Zoë Ryan is bringing extraordinary energy, vision, and expertise to ICA," says Interim Provost Beth A. Winkelstein. "And she will be a galvanizing force in the rebirth of the arts at Penn and in Philadelphia in the year ahead. Her leadership reaffirms the profound mission of contemporary art: to give form to diverse experiences, to center marginalized voices, and to create new perspectives on our shared histories and identities." 
What's ahead for the ICA
Looking to the fall semester, Ryan says the ICA will present the first major retrospective of the work of groundbreaking video performance artist Ulysses Jenkins. Much of his expansive work has not been seen since the 1970s, she says, and is an opportunity for new scholarship and interest in Jenkins. Moreover, a new series, "Outside In: ICA X Maharam," will transform the ICA's 36th Street façade on a rotating basis starting Sept. 17, featuring interdisciplinary artists, poets, and designers that will collaborate with New York-based design company Maharam. The first featured artist is Na Kim, a graphic designer who works between Seoul and Berlin. 
There is also continued consideration of how to engage online with the ICA.
In her time so far, she says she's been delighted to find her impressions of the ICA reinforced, standing tall as an "incubator of ideas." 
"I see it now embedded into the DNA of the ICA," Ryan says. "By positioning and celebrating really diverse artistic voices and ideas, this is a place that supports experimentation and risk-taking, and a place to reach beyond the canon—or redefine what the canon is."