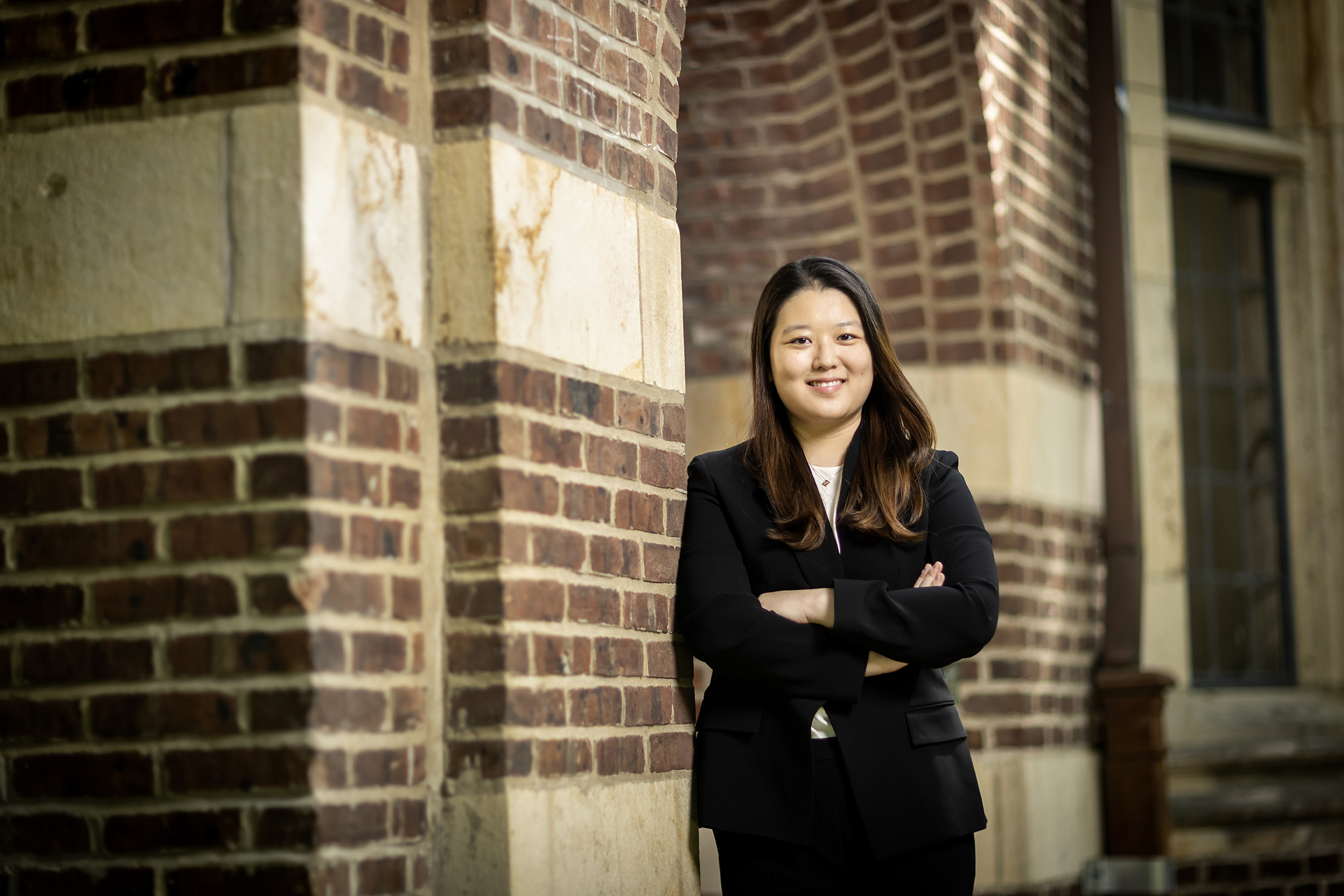 A pregnant woman in Uganda will most likely give birth at home. If she needs to go to the hospital, it's most likely by taking a boda boda, or motorcycle taxi, with the secondary option going on foot. If there's a birth emergency, she needs to hail a boda boda, possibly one of several in an attempt to transfer from hospital to hospital to find someone to manage the severity of symptoms. 
With no 911 system and limited ambulances in Uganda, many women don't reach the hospital in time, says Seungwon "Lucy" Lee, who recently won a 2023 President's Engagement Prize to address this issue. More than 70% of the 228 Ugandan women that Lee surveyed took a boda boda to the hospital; none took an ambulance. 
"It takes about four hours for a woman to get to hospital," says Lee, a fourth-year neuroscience major in the College of Arts and Sciences. "This whole process is very uncoordinated, and the patient has to do this in the midst of bleeding, pain." 
With Communities for Childbirth, Lee hopes to reduce morbidity rates and reimagine emergency maternal health care in Uganda by creating a coordinated referral system of first responders, emergency dispatchers, and systemized hospital networks.
"Maternal morbidity and mortality is unacceptably high, both in developed but certainly underdeveloped nations," says Lisa Levine, chief of the Maternal Fetal Medicine Division at Penn Medicine and the Michael T. Mennuti, M.D., Associate Professor in Reproductive Health. Levine has spent her career improving health outcomes for underserved pregnant patients, both in Philadelphia, as well as globally, she says. "There are so many modifiable things that we can do, including what Lucy is proposing: increased education and planning in terms of getting these patients where they need to be when there's any sort of emergency."
Awarded annually, the President's Engagement and Innovation Prizes empower Penn students to design and undertake post-graduation projects that make a positive, lasting difference in the world. Each Prize-winning project will receive $100,000, as well as a $50,000 living stipend per student.
"Lucy has taken great strides to identify many aspects of a significant problem affecting mothers in Uganda," says Penn President Liz Magill. "I am proud Penn will support the next phase of her project. Lucy has big plans for Communities for Childbirth, and I am looking forward to watching it grow."
Lee will return to Uganda this summer to coordinate with the four-person team that's already on the ground. But this isn't her first visit. Before she started the emergency response system, Lee needed to "make sure the communities are aware of why they need to go to the hospital in the first place," she says. "It doesn't make sense to build that out if people don't know how or why."
Lee spent last summer launching the first part of her project: raising awareness about the need for trained midwives, nurses, and doctors to help women through the birthing process and to provide emergency care, should things go south. 
With funding support from the Center for Undergraduate Research & Fellowships, Lee worked with 45 Village Health Teams (VHTs) in 15 villages. "VHTs are community health workers recruited by the Uganda Ministry of Health, serving as big health advocates of their respective villages and connecting communities with health care resources," she says. The program "encouraged communities to take more preventative measures to prevent emergencies from happening in the first place." 
Over six months, 50 workers trained by the group were able to contact more than 400 expecting families for more 2,000 health literacy sessions. "An average pregnant woman got about five visits from our trained staff," Lee says. Community health centers are currently reporting an increase in antenatal care attendance among pregnant mothers in the 15 villages that participated in the Communities for Childbirth education program, Lee says.
"We're trying to create a system in a place where there is no system," Lee says. Looking at larger statistics, the lack of health care infrastructure is costing lives, but for individual people this is the way it's always been, she says. "For people who have been basically living in that situation without a system forever, it's going to be hard to persuade them of how the system can help them, or why they need this system." 
So far, the team has had "minimal cultural friction" because the people on the ground leading the program are known within their community, Lee says. "It's like your neighbor talking to you."
For the second phase of her project, funded by the President's Engagement Prize, Lee and the Communities for Childbirth team aim to provide 1,600 emergency referrals during childbirth and 6,400 regular medical transport visits, encouraging pregnant women to complete at least four antenatal care visits, Lee says. By strategizing efficient dispatch networks, she hopes to reduce the time pregnant women spend navigating to the hospital.
The President's Engagement Prize "gives us the best shot at creating sustainable programs," Lee says. "I'm very opposed to building new buildings or creating a system where you need to pour in active money every single year to keep it going. Instead, I'm trying to work with existing structures and existing stakeholders that have been there for decades and will be there forever: public health centers, public hospitals, and other community resources."
"Lucy is just incredibly dedicated and efficient, and she just has really amazed me in the amount that she has already gotten done," Levine says. "She has health system buy-in and support from a lot of community organizations and religious organizations in the area. That really is the difference between a project that will not only be successful but also sustainable."