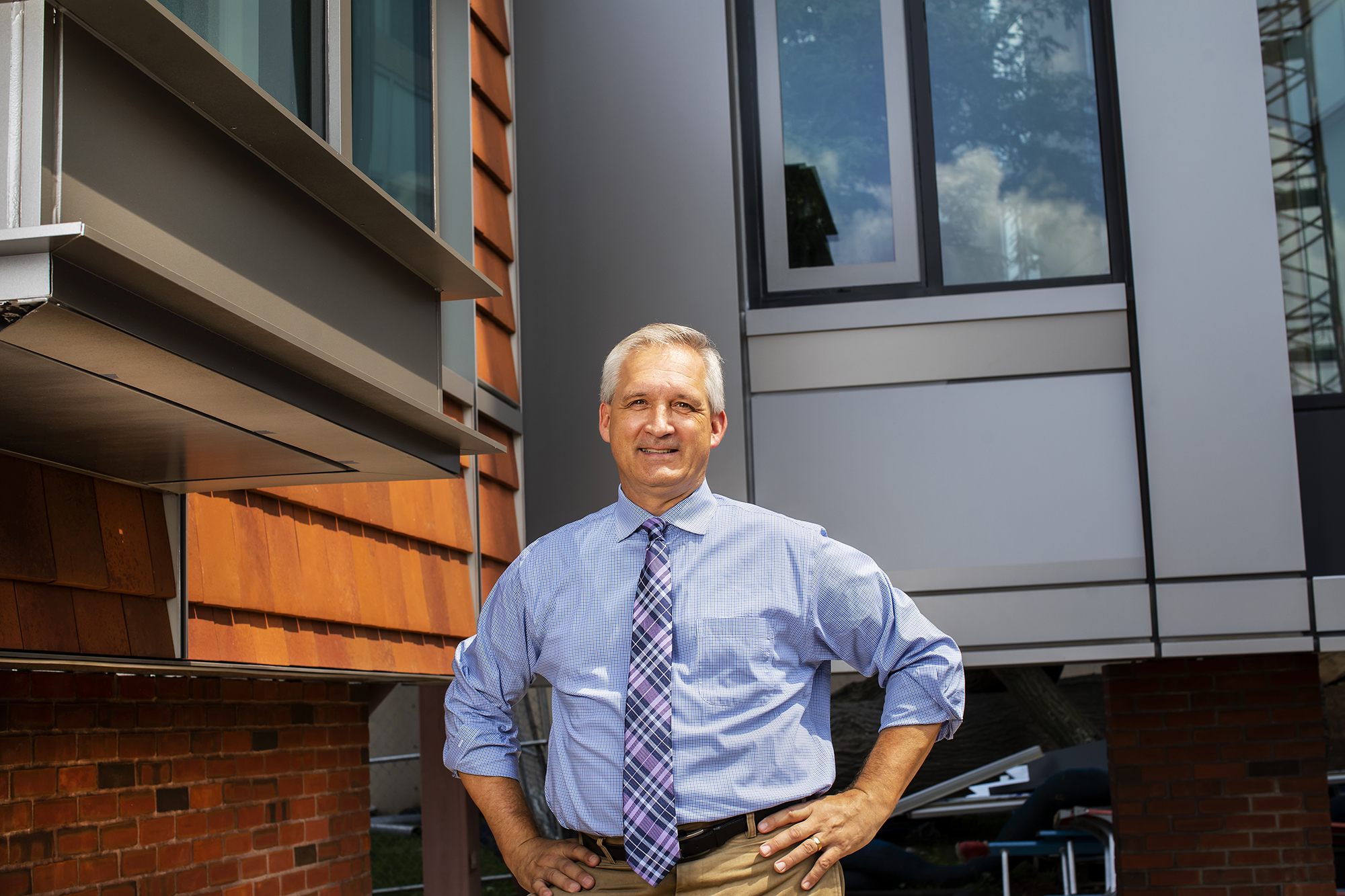 At the helm of the University's design decision-making is University Architect Mark Kocent, who assumed the role from now-retired University Architect David Hollenberg in July 2018. 
Since then, Kocent, who formerly served as Penn's principal planner going back to 2004, has—alongside his staff at Facilities and Real Estate Services (FRES)—led the charge of the Penn Connects 3.0 plan that outlines Penn's vision to unite the University's 12 schools, bring communities on and off campus together, and look toward a sustainable future. Current projects range from the Wharton School's Academic and Research Building at 37th and Spruce streets to New College House West along Locust, Walnut, and 40th streets.
Here, Kocent talks about Penn Connects, the exciting "churn" of building, and the qualities of planning at Penn that keep him here. 
How did you get involved with planning and design?
I began my Penn relationship as an undergraduate, just a short 41 years ago. I arrived in August of '78 and lived my freshman year in 1416 Harrison House. I was fortunate to join and live in Sigma Chi for two years, and then became a resident assistant in the Quad as a senior. After two years working in Philadelphia, I returned to Ware College House during grad school in urban design and city planning. My wife Linda, (Nu '84 GNu '88) was teaching in the Nursing School, and we had the opportunity to serve an additional three years as faculty fellows. We formed many friendships with staff and students at Ware that we still cherish. 
After grad school, I worked in private practice, eventually with Robert Venturi and Denise Scott Brown, where we completed a lot of institutional work for Princeton, Michigan, Williams, and Penn—I worked on the renovation of Houston Hall as part of the Perelman Quad project. In '04, Penn was completing its acquisition of the postal lands and was seeking someone with an architecture and planning background who could serve as an owner's representative leading the design teams with a focus on the creation of Penn Park. That assignment essentially became the genesis of the Penn Connects master planning effort over the last 15 years.
You were a big part of managing Penn Connects from the get-go, right?
I was hired in January '04 as the University's principal planner, and last July, I was given the opportunity to advance as the University architect. This spring will mark my 16th year serving in the Office of the University Architect.
The Penn Connects planning effort was an early initiative of [Penn President] Dr. Gutmann. Soon after she arrived, I was asked to manage a broad consultative process with senior leadership, faculty, staff, undergraduates, and grad students, led by Sasaki Associates. It took two years to formulate and publish the first Penn Connects five-year look ahead in '06. After completing virtually all of that first phase, we refreshed a 2.0 update in 2012 and just finished 3.0 last year. Each version of the plan encompasses five- to six-year increments. The first was aligned with the Making History campaign and this new one aligns with the Power of Penn.
What is Penn Connects?
It's really the physical blueprint or manifestation of the University's collective aspirations. In each version of the plan, Dr. Gutmann met with the leadership of all schools and centers to create a holistic strategic vision for the University, under the umbrella of the Penn Compact. This Penn Compact-focused vision was then carefully calibrated with Development and Alumni Relations, under John Zeller's team, to align with realistic fundraising capabilities.
Each school has an evolving vision of faculty growth, student financial aid commitment, and bricks and mortar projects. And this vision needs to be carefully tied to available and projected resources. The Penn Connects blueprint becomes the third leg of the stool, balancing the strategic and financial visions, to create a physical realization of sustainable campus growth.
Within Penn Connects, there are five themes, starting with academics and scholarship. The second is research and clinical care. The third is student life, including residential living and athletic facilities. The fourth outlines community engagement via public space. And the fifth is our overarching reinvestment stewardship of older historic buildings. 
Anything about the scope of this job that surprises you, one year in? 'Wow, I didn't know that was part of the job' sort of moments?
When I first started, Penn Connects coincided with the Making History campaign and roughly one third of its $4 billion goal was focused on construction. There was a significant ramping up of new projects as many of the deans wanted to either build new buildings or do major renovation projects. In response, we went into a fast-paced mode of writing requests for proposals, hiring architects, and managing the design and construction process with the rest of the FRES team. We pushed through waves of new work and opened a number of projects. Perry World House, the Levin Building, New College House, and the Pennovation Center all opened in 2016.  Around that same period, the Trustees announced that Dr. Gutmann's presidency would be extended to 2022 and shortly thereafter, the Power of Penn campaign was announced. 
Just when it seemed like campus planning and construction were settling down, we ramped up again. A new college house on the west side of campus is now rising, as are two new innovative buildings for the Wharton School. Over this past spring and summer, we have completed the architect selection for two new major lab buildings, the Penn boathouse renovation, Vance Hall renovations, and we are narrowing our selection for the design team to envision a new indoor training and track facility. Just that quickly we have another wave of new projects. In addition to the new projects, there's always a certain amount of reinvestment each year in our capital plan. We average about $250 million annually, including adding air conditioning to residences, roof replacements, windows and façade restoration—there's a certain amount that churns every year in renovation. 
Does that excite you, the churn?
As the Office of the University Architect, we are the design stewards of almost 200 buildings that represent Penn's historical presence since 1870 in West Philadelphia. We also manage the design of 300 acres of open space that has been designated as an arboretum. The institutional memory that many students and alumni have come to identify as Penn are intrinsically tied to the ethos of these buildings and landscapes. Maintaining the quality of these buildings and spaces is a critical part of our mission. One of our goals is to seek creative ways to reinvest and adaptively renew our buildings for future generations of Penn students. Adding the Weiss Pavilion into Franklin Field, creating the Rockwell Gym in the former Hutchinson pool, and expanding the Arts Café within a former porch at Kelly Writers House are just a few examples.  
What are you laser-focused on right now?
Our Design and Construction team manages a tremendous amount of construction in the summer, but since the Office of the University Architect is out ahead of construction, writing RFPs, and leading architect selection, we tend to strategize more in the summer and think about what's coming next as the new school year starts.
One area where we support the construction process is a focus on mock-up reviews. Each major project completes a small-scale model of the building's components. The mock ups are typically located on the project site to simulate the same lighting conditions and serve as prototypes for the contractors to resolve unique details. This summer we have made numerous visits to the New College House West and the Wharton Academic and Research Building mock ups. Working with the architects, contractors, Penn project team representatives, and senior leadership, we have successfully resolved numerous challenging details and final design decisions.
What do you think it is about Penn that has kept you here so long?
As an architect and planner, it's gratifying to be at an institution that thoughtfully aligns its strategic leadership and goals. Starting from Dr. Gutmann through Provost Pritchett, [Executive Vice President] Craig Carnaroli, [FRES Vice President] Anne Papageorge, and the entire senior leadership team, there's a lot of communication, a lot of dialogue, and a clear vision of where Penn is headed. 
As a young architect, you dream of both designing and seeing the visions become reality. Penn is very pragmatic. We are confident that most of the projects on our planning horizon are likely to be realized since we plan responsibly and have identified fundraising. When you total the Penn Connects 1.0, 2.0, and 3.0 phases, we will have created about 8.5 million square feet of new space. Most institutions of our caliber build about a million square feet in a decade. In less than two decades, we will have built eight times that amount. The Penn Connects' collective investment under Dr. Gutmann's leadership will total $6.6 billion. The positive economic impact on our local community is unsurpassed. Being able to participate in this period of Penn's growth has been an indelible experience.
Anything you want to add?

In line with Penn Connects, the University has a broad sustainability plan. There have been two versions thus far and the new Climate and Sustainability Action Plan (CSAP) 3.0 will launch this fall. The plan will highlight innovative new construction projects such as the Energy Science and Technology Building, reinvestment in our existing infrastructure, and more sustainable landscape maintenance and storm water management practices. Also coming this fall, we will discuss how we might purchase more alternative sourced energy. Together, the CSAP and Penn Connects 3.0 will continue to provide a sustainable roadmap for our model urban campus.