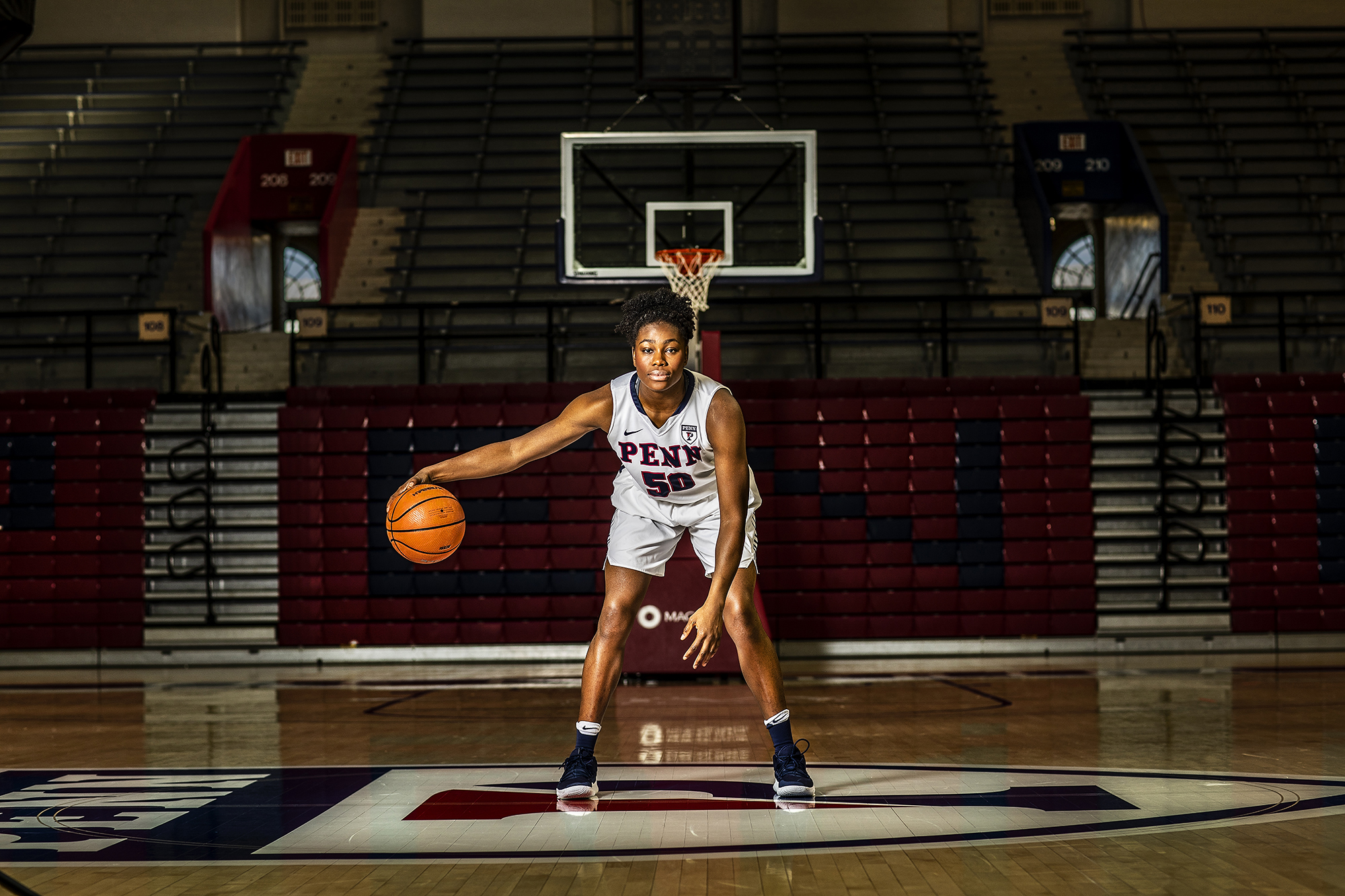 Princess Aghayere, a senior forward on the 18-5 women's basketball team, is the reigning Big 5 Player of the Week, Ivy League Co-Player of the Week, and a NCAA.com Starting Five honoree.
She put up 19 points and seven rebounds in a 79-56 win over Columbia on Feb. 22, and 23 points—a career high—and 10 rebounds in a 69-58 defeat of Cornell on Feb. 23.   
In her first year in the starting lineup, Aghayere is the second-leading scorer on the Quakers, averaging 11.9 points per game, and the third-leading rebounder, grabbing 6.6 boards each outing. Her .487 field goal percentage is third in the Ivy League, and she ranks 12th in rebounding.
A health and societies major, Aghayere was born in Nigeria and moved to Reston, Virginia, when she was 10. She started playing basketball in her youth with her brothers on an outdoor court adjacent to their home. Her family, she says, favored basketball over football, more excited for Christmas Day NBA games than the Super Bowl.
Penn Today met up with Aghayere at the historic Palestra to chat about growing to love basketball, moving into the starting five, improvements to her game, and why Nigeria will always be her home.
I saw a video you did for Penn when you were a sophomore and you said you didn't like basketball when you first started playing. Why not? I wasn't very good. I don't know why. I was just tall. I think with basketball, the more you do it, the better you'll get and the more you'll like it. Initially, it's really hard because it takes a lot of skill to be able to dribble. I had a lot of trouble dribbling.
Obviously, you've gotten a lot better. Was it just through practice? Yes, I played with the Reston league. I played travel. I think it wasn't until I started playing AAU the summer going into my freshman year of high school that I really started to like it. 
What do you enjoy about the game? It's really competitive. I think you can get really intense. Even though it's in a small space, you're kind of absorbed into this space for this certain amount of time and nothing else really matters. I like that you can always improve. There's no limit to what you can do because you can always be a better shooter, you can always be a better dribbler, you can always be a better thinker. There's always room for improvement. I just like the competitive nature of it, winning and losing as a team.
Last year, you were the sixth woman. How is it different this year being a starter? Last year, I kind of watched the game and then got a feel of the game a little bit. Now, being a starter, there's no time to watch anything, you're just in the game starting off and you're in those moments of the overtimes and the last two minutes. It does require more of me, but it's not something I'm completely new to. It's different, but I can't complain.
What improvements have you seen in your game over the last four years? I think just patience and poise. Coming in as a freshman, it was a lot of speed and just 'hurry up and do this.' But I think now as a senior, it's more so just being patient and knowing when to make the move. Sometimes you have to go slow to go fast. Those types of things are what I've improved on a lot.
Who's your favorite NBA team? I want to say the Golden State Warriors—but this is not because of the fad. I've always been a fan. And I love Kevin Durant.
What about the Wizards? I like the Wizards, too, but it's just that they never seem to just like…
Be any good? Go all the way. John Wall is hurt so it's going to be tough.
You are on the pre-med track. Have you always wanted to be a doctor or is that something you sort of grew into? I think I've always wanted to just because I have this desire to help people. But I'm starting to explore other ways of doing that, and gaining some skills that I think are transferable in whatever country I choose to work in. Hopefully I get to go back to Nigeria at some point.
While a student at Penn, you have participated in community programs in Africa in Liberia and Rwanda. Why are you interested in doing work on the continent? That's like home. Even though I left fairly young, it's home. I think that Nigeria has a lot of opportunities and a lot of great resources, and it takes the next generation to change our current trajectory. I feel like it's coming and people are starting to realize that we have people like myself who are studying abroad and wanting to make changes. That's why I want to go back, because I feel like that's what I'm supposed to do.