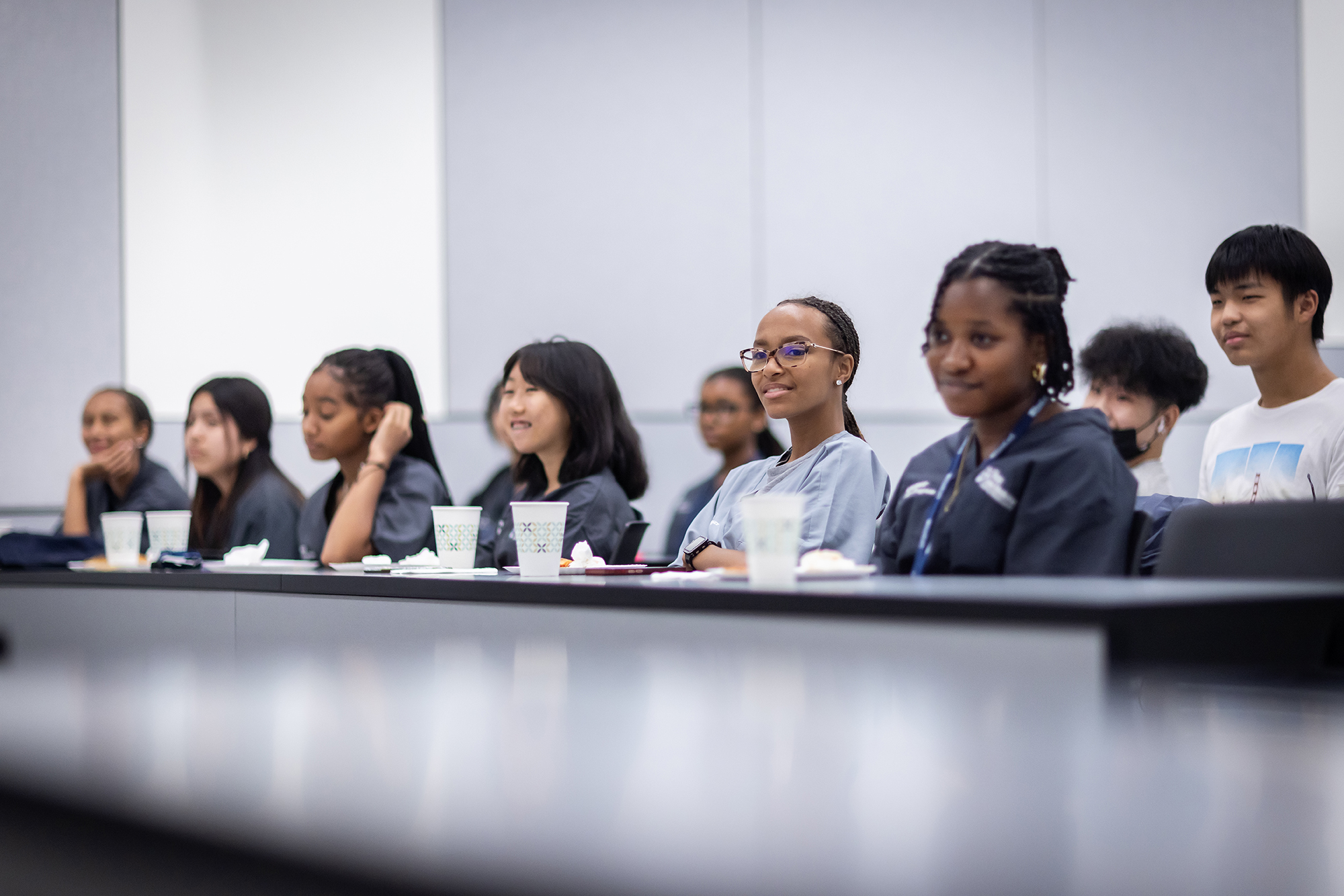 The School of Dental Medicine opened its doors for part of the summer to 16 high school students as part of the Provost's Summer Mentorship Program (SMP).
The annual program, which has been running since 2004, aims to inspire first-generation and under-represented students to view higher education as an achievable goal and to develop the confidence to chase their dreams. In addition to Penn Dental Medicine, SMP students are hosted by the School of Engineering & Applied Sciences, Penn Carey Law, the School of Nursing, and the Perelman School of Medicine. Overall, 101 students participated this year.
"Ultimately the aim is to increase the diversity in our health care workforce because of all the research that says that there are better outcomes when patients are seen by professionals who look like them, and who understand their background, culture, and values," says Beverley Crawford, professor of clinical restorative dentistry and director of student diversity and inclusion initiatives at Penn Dental Medicine, who oversees the SMP.
"By pulling participants from the Philadelphia area, we get a very diverse cohort who we are hopefully able to mentor through high school, through college, into dental school, and into the health care workforce," Crawford says.
Kevin Zhao, a rising second-year Penn Dental student who participated in the program as a high school student at Philadelphia's Central High School in 2018, describes the experience as life-changing. "It's one of the major reasons why I even considered the possibility of this career," Zhao says.
The program aims to give participants a holistic view of dentistry and a dental education. Participants attend lectures, shadow current dental students in the clinic, and participate in hands-on workshops using some of the same equipment on which dental students learn.
One of these sessions was in the advanced simulation lab, where a computer-based learning system gives haptic feedback and allows students to practice drilling and to perfect their posture and hand-eye coordination without actually touching a tooth.
Zhao credits the hands-on portion of the program as being the thing that motivated him to pursue dentistry. "They allowed us to go into the labs, and in one of them, to actually drill into porcelain teeth, which was one of the biggest things that drove me to want to pursue a career in dentistry," he says. "Just working in that space made me feel comfortable."
Participants in all five professional schools also sharpened their professional development skills under the guidance of Don Harrison Jr., SMP's coordinator. Harrison met with all 101 SMP participants each Wednesday to teach topics ranging from personal statement writing to SAT test prep to financial literacy.
"It's a very balanced mix of fun, education, and professional development," Zhao says.
The professional development portion helps participants gain skills and confidence that come in handy long before they apply for college, let alone dental school. For example, Zhao, for whom English is a second language, says the program gave him confidence to take AP writing courses while still in high school, something he never would have otherwise considered possible.
"It was kind of a cascade or domino effect where you improve in your writing, which helps you gain confidence, and then you go on to do things that you never thought you'd be able to," Zhao says. "I feel like everyone should have the opportunity to have this kind of experience."
Mentorship plays a big role in the program including peer-to-peer mentorship among participants and from current dental students and Penn Dental faculty.
"I always encourage past participants to reach out to shadow with me and to participate in other activities at Penn Dental Medicine," Crawford says. "The student coordinators also generally share their contact information, help with college essays, and create resumes for the participants.
One highlight during the program was a lunchtime panel discussion where current dental students candidly answered questions about their experience applying for and attending college and dental school. The panelists offered the participants general advice on how to balance study, work, and life. They emphasized the importance of persistence, having a support network, and not comparing yourself to others.
Zion Na-Simeon Manuel, a current dental student and one of this year's student coordinators, said that activities like this helped the participants to understand what is required of a professional student. "In the end, many of them were looking forward to the journey that lies ahead of them in college," Manuel says. "It was a pleasure working with these ambitious students."
Peyton Maccarone, who served as a student coordinator this year alongside Manuel, participated in a similar immersive experience—the University of Pennsylvania Introduction to Dentistry Summer Program—as a college student. She says that program not only helped her realize that she wanted to pursue dentistry, it also inspired her to mentor others.
"Throughout the last four weeks, these high school students have been challenged with taking initiative, being punctual, interacting with graduate students and faculty, asking questions, and learning the complexities of the dental field," Maccarone says. "I was so impressed by how engaged these students were, and I am beyond fortunate to have mentored such a motivated group."