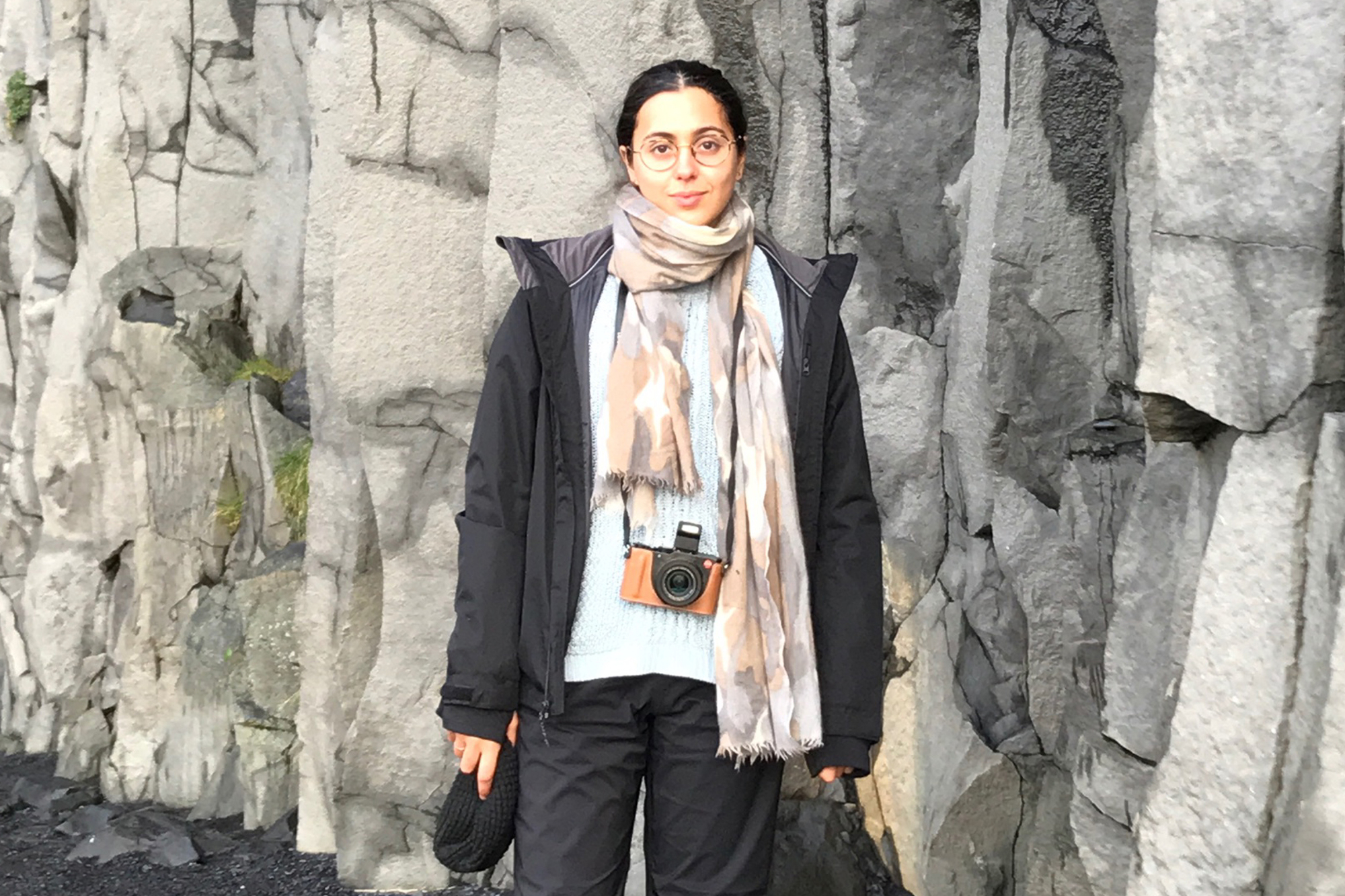 Vividly colored squares of intricate patterns make a quiltlike design unique to each user of Souvenirs, a website produced by University of Pennsylvania senior Eleanor Shemtov.
At the showcase of final senior design projects in April, Shemtov's bright quilt printed on fabric hung above a computer that allowed users to make their own digital quilts by manipulating squares generated by their answers to questions about memory and identity.
"I think it is something creative that people can do," says Shemtov, from New York City. "And it brings together all these things I've learned over the past four years at Penn."
The Souvenirs website is only one of the projects Shemtov pursued as a design major in the College of Arts and Sciences. She is co-founder and co-editor-in-chief of the Penn student-run magazine, t-art, which just published its second volume this month. And she led the team to put together a curated exhibition in a West Philadelphia gallery, on display through May 24.
The design major, Shemtov says, has prepared her to embark on these creative projects by giving her experience in graphic, website, and product design and also motion graphics, photography, and printmaking.
"I think it's really expanded my idea of how I can lead a creative life in a way I feel is engaging enough for me and can sustain my interests, wanting to interact with people and create things that have some form of impact or function and bring value to people," she says.
The courses in her cognitive science minor have complemented the major, giving her a better understanding and awareness of how her design decisions may influence people. "That work has really informed the way that I approach creative and design work," she says, "thinking about the people who are going to be using it, what matters to their experience."
Growing into design
A primary creative influence on Shemtov has been her father, Richard, founder and chief executive officer of Dune, a New York contemporary furniture and design company where her mother, Dominique, who is from Paris, also works.
Shemtov, who has dual citizenship in the United States and France, attended Lycée Français de New York, and in high school was co-editor of the yearbook and an editor of the literary magazine. She took weekend and summer art classes at the Parsons School of Design, and the School of Visual Arts in New York.
Teachers encouraged her to submit her artwork to the national Scholastic Art and Writing Awards, and her drawing "Triple Selfie-Portrait" won and was exhibited at The Metropolitan Museum of Art.
The striking graphite-on-paper artwork was inspired, she says, by the Norman Rockwell painting of him looking in the mirror and painting himself. "I reinterpreted that for modern times, with me drawing myself while looking at a selfie on my phone," she says.
Seeing her work at 16 years old in that world-class museum, she says, gave her a sense that she would like to be a professional artist. But she did not apply to art schools for college, attracted to the interdisciplinary aspect of Penn. "I decided I wanted to study more beyond art because I have always been interested in really diverse topics," she says.
A class her first semester, Art Design and Digital Culture, helped her choose the design major, first offered by the College in the fall of 2019, splitting from the fine arts major.
Jacob Rivkin, lecturer in fine arts and design, is co-teaching a seminar course for the 15 senior design majors, along with Ani Liu, a professor of practice in fine arts and design.
"Eleanor is really engaged in collaborations with all the other students," Rivkin says, and was especially "proactive and helpful and crucial" in organizing the senior design showcase. "Eleanor has been a really strong voice in the class to help bring everybody together."
Creating a magazine
Shemtov also has a reputation for collaboration beyond the classroom. As a freshman she was looking for a community of students interested in "broader questions surrounding art and design and technology" and in visiting art studios and galleries.
She worked at the student-run 34th Street magazine, part of the Daily Pennsylvanian student newspaper, as a photographer and photo editor. She also was co-vice president of creative for MUSE, a student-run marketing group at the Wharton School.
Searching for more, the summer before her sophomore year she decided to create a magazine focused on the intersections of art, technology, and design. She came up with the name, t-art, on her younger sister's suggestion and sketched out a logo and website. "This is an emerging field that people were talking about, and that helped me shape my focus," she says.
Along with co-founder Magnus Allan, who graduated last May, they recruited a group of 15 students. "It took some time to figure out the structure and organization, and what worked and what didn't," Shemtov says. "So it was a really big learning process, which I think has been so, so valuable to me" even beyond leading the magazine.
Together they built a website, wrote articles, took photos, designed illustrations, and first launched digitally in April 2020. A grant from the Sachs Program for Arts Innovation in 2021 supported publication of Volume 1, t-art's 88-page print edition.
"Our magazine is a platform that I think talks about art, but also I want it to be something where students can have a space to write things that are important to them and have broader important conversations," Shemtov says.
Given the restraints of the pandemic, Shemtov designed most of that first issue and wrote several articles. The 60-page Volume 2, titled resilience, has been created with design and editorial input from the entire student staff, she says. The print issue of Volume 2 was funded by a Kelly Writers House Creative Ventures grant.
Before he had Shemtov as a student, Rivkin noticed t-art on Instagram. "I was really impressed with the content, both in the writing and the layout, and the work they are doing to lift up student voices," Rivkin says.
Junior Adrianna Brusie, an art history and anthropology double major from Weston, Massachusetts, joined t-art as a writer, looking for a creative community.
"I've always been so impressed with how motivated Eleanor is and how she always makes time for things. It's just really exciting to see someone doing something so out of the ordinary at Penn and be so passionate and driven about it," Brusie says. "She has really inspired me to take more initiative in the club because I see her passion and I share it."
Brusie became editorial director of t-art last year, and now is co-editor, poised to take over next year. "I was nervous in coming to Penn about finding my place. I think this experience has taught me that you don't have to find one, you can make one yourself," Brusie says. "I think the biggest thing is knowing that Penn will support projects you want to do, and nothing is too ambitious. You can really make something great happen."
Creating a quilt
In approaching her final design project, Shemtov says she made a "mind map," starting with a word that made her think of other words, writing them down until she filled a page. "I kept thinking about keepsakes, things we keep to remind us of a certain person or certain memory," she says, "and how memory informs our identity and who we become over time and how that relates to culture and heritage."
The name of the website, Souvenirs, means memories in French. "I was inspired by quilt making as this tradition that really has culture and heritage directly embedded but also as things that carry a history with them," she says.
To create a digital quilt, website users answer a set of 12 questions that will generate the colorful squares with varied designs, created by Shemtov. The questions are about family, community, music, sports, language, food, seasons, and religion, among others.
Users can click and drag the squares and arrange them as they like to create a digital quilt that they can save as their own souvenir screenshot. "The digital quilts are meant to be unique, representative of them, based on their answers and also in the way that they arrange the tiles," she says.
A class she had taken on web design, which mixed coding with creativity, was important for her project, she says. "It's focusing on how we can use websites as these interactive digital experiences to communicate something interesting from an art and design perspective," she says.
Several people used the computer at the showcase, which featured the projects of 15 senior design majors based on the theme "in search of..." 
"It's crazy to see this idea that I had at the beginning of semester in January now fully formed," Shemtov said at the showcase. "And it is exciting to see everyone interact with it. I hope it's a playful, fun experience for everyone."
Liu says the students addressed themes of culture, identity, and the relationship between technology and society in their final projects. "I think that Eleanor's project has a little bit of all of that embodied in it. I think that the project comes from a personal place, the idea of memory, and she tried to create a framework in which other people could explore those things that she was exploring herself," she says.
"I think there are so many things that were so impressive about it. She coded it from scratch, and she created every single icon, and she wrote all the questions, really thinking about identity from many different angles," Liu says. "It's really designed on so many levels, so it's just such a great moment to see it here and to see other people using it."
Rivkin says Shemtov's digital quilt website is "elegantly designed and conceptually very thoughtful and timely," he says. "It offers a very meditative space online, which I think is kind of hard to do, this idea of slowing down and thinking about your relationship to nostalgia and memory and the people who are around you, and your identity, and your sense of imagination."
Making a connection
The second issue of t-art magazine, resilience, launched May 3 at the opening of a t-art organized and curated exhibition at the University City Arts League, a nonprofit on Spruce and 43rd streets.
"Something that I really wanted us to do for the magazine was to build this creative community on our campus but also really engage more meaningfully with the Philadelphia community," Shemtov says.
The call for submissions targeted early career artists and students at Penn and at other art and design schools in the city, including the Tyler School of Art at Temple University, Drexel College of Media & Design, and the University of the Arts.
About 65 works were submitted for consideration for the exhibition, "Resilience, Art and Design in Times of Uncertainty," in a broad spectrum of media, including painting, drawing, illustration, sculpture, print-making, photography, and film.
"We are thinking about the multifaceted nature of this term resilience and what it means from a social perspective, political perspective, environmental perspective, trying to have the theme open enough that students and artists can submit work with their own interpretation but still have a basis for unity," Shemtov says.
The t-art team curated the exhibition. Shemtov gained gallery experience during internships, as a gallery assistant with Hauser & Wirth and with Jeff Lincoln Art + Design, both in New York. And last summer she worked in creative graphic design at Clove, which makes sneakers for health professionals and was founded by a Wharton alumnus.
After graduation, Shemtov will be returning to New York for a position in digital media production. She is grateful that she was able to create t-art magazine and its community and for all the experience she developed at Penn which helped her get there.
"Coming into Penn, I never would have imagined I would have created this," she says. "I've learned so much about collaboration and about managing something that has so many moving pieces and about effective communication within my team. And I've developed my own writing and design experience."