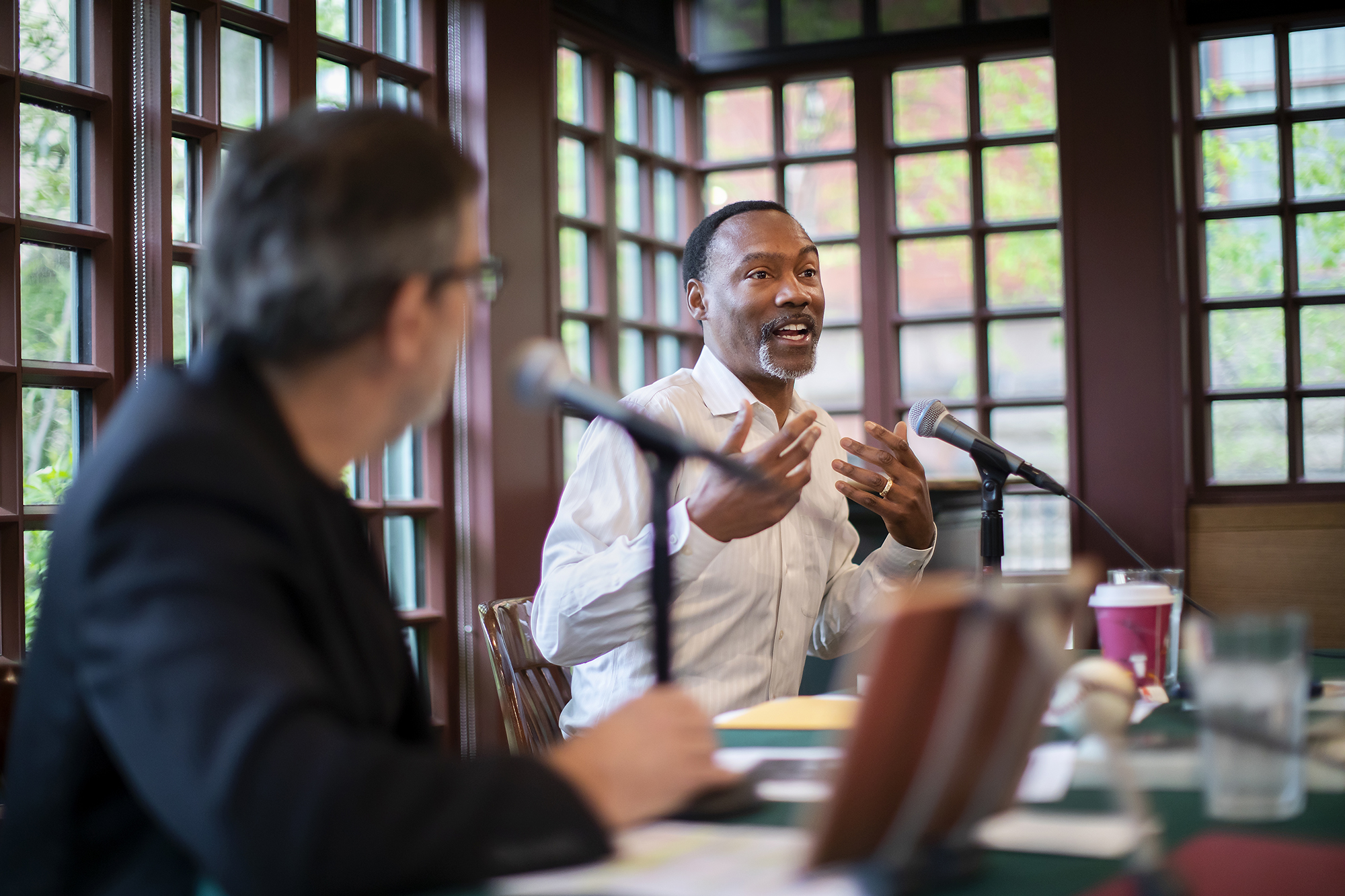 The sentence Penn students chose to highlight from Doug Glanville's writing and commentary referred not to his nine years playing centerfield for three major league baseball teams but instead to a season coaching his children's T-ball team.
"There is nothing more powerful than loving something without even having to understand it," he wrote seven years ago as the last line of a New York Times column, "Confessions of a Major League T-Ball Coach."
The line was also the last he read aloud after two days speaking about his life and career as a Kelly Writers House Fellow, one of three writers invited to campus for the spring seminar course that also incorporates a public reading and discussion.
That sentence resonated because most of the students in the course weren't particularly knowledgeable about baseball, but they found a connection to Glanville through his writing as a frequent contributor to The New York Times and The Atlantic and in his 2010 memoir, "The Game From Where I Stand."
Glanville is also a Penn alumnus, a 1992 graduate of the School of Engineering and Applied Science, and was a star on the Penn baseball team. He grew up in Teaneck, New Jersey, with his father, a psychiatrist who was born in Trinidad, and his mother, a middle and high school math teacher. He was the first African American Ivy League graduate to play in the major leagues, with the Chicago Cubs, the Philadelphia Phillies, and the Texas Rangers. 
"I have spent my entire life up until the last three weeks knowing absolutely nothing about baseball," said senior Chelsey Zhu in her introduction of Glanville at the public reading.
"I have learned a lot more about baseball over the last month, but more importantly, I learned that being a baseball expert is not a requirement for understanding and enjoying Doug Glanville's work; his writing is about so much more than baseball, even as the sport has defined his life," said Zhu, an English major from Murfreesboro, Tennessee. "Doug uses baseball to reflect on issues that permeate every aspect of our society."
Among his many current endeavors, Glanville is a baseball analyst for ESPN and Marquee Sports Network and a podcaster and writer for The Athletic sports news. He is also an adjunct professor, teaching the course Sports and Society at the University of Connecticut, a class he first developed teaching at Penn's Annenberg School for Communication in 2018.
During the public discussion at the Writers House, Glanville spoke of "the gift of being around this game that I've loved for my whole life but yet being able to see the game as an opportunity to spark conversations to make change."
The three-hour seminar he had with the 14 students, Glanville said, was "powerful and moving." The students had closely read all of his writing during the Fellows course, created and taught by Al Filreis, English professor and Kelly Writers House faculty director.
"The students were so gifted and insightful; they add to the possibility of your work, the reach of your work," Glanville said in an interview. "The power of hearing your own words read back to you with completely different intonations, with completely different expectations—even though it's the same words, they're different. It's almost like putting magic pixie dust on it to make it something else."
And that, he said, "is what you dream of as a writer," that the students take what he has written "to inform their lives, and they see themselves in the words, and they believe in it."
The two-day Fellows experience, he said, reminded him of the day he married his wife, Tiffany, a Penn Law graduate, and "all of our friends from so many different times and phases of our lives came together and got along beautifully. These two worlds collide and Venn diagram themselves."
The Writers House was full of familiar faces for Monday night's reading, many from the world of baseball, including Garry Maddox, a former centerfielder with the Phillies; Lyn Montgomery, wife of the late David Montgomery, former chairman and president of the Phillies and a member of Penn's Board of Trustees; and Robert Brooks, manager of broadcasting for the Phillies. But there were also many people from Penn, including Vukan Vuchic, his now-emeritus professor of transportation systems engineering.
His engineering education is integral to his way of thinking, Glanville said. "What I loved about systems engineering was that your goal was always to design, to make it as it should be, and that was the beauty, the ability to bend that arc, that curve, towards an aspirational place," he said, connecting that view now to social justice.
"I feel like writing is a way to reinterpret things in ways and see that other possibility and sometimes, quite frankly, write a world that I love to live in."  
Glanville said his engineering background stays with him in other ways, like when he does research for broadcast commentary as a color analyst, which he described as being a storyteller. "I saw the strengths of being an engineer and studying in that way to help inform me as being a ballplayer," he said, "and anything else that I was able to do, so my prep always had this sense of research around that."
More familiar faces came when Glanville attended a public discussion with Filreis, who has been in touch with Glanville since inviting him for an author event 11 years ago after his memoir was published.
Filreis said he purposefully chooses eminent writers in different fields for the Fellows course, which he created in 1999 with a visit by author Gay Talese. Since then, three writers have come to campus every spring, now a total of 70. This year the other two writers were novelist Amitav Ghosh and poet Caroline Bergvall.
"It's not your typical class. The course is designed for a varied and diverse encounter with contemporary writing. We are there to see what it's like to encounter living, active artists and writers and to get a glimpse into their lives and practices," Filreis said in an interview.
"We don't have any idea how the three are going to connect, how our study of them will grow into something new," he said. "It's an experimental course that only works when the students and teacher collaborate together."
And it's great, said Filreis, who has been on Penn's faculty since 1985, "for a teacher who's been at it for a lot of years—to teach one course where you have no idea what's going to happen."
For the students, it is a chance to meet the author they are studying in person for an in-depth discussion. "Most classes that you take in English, you're studying people who are long dead or people who you'll never possibly meet in your lifetime," Zhu said in an interview.
"In this class you are studying people with the expectation that you are going to meet them and engage with the work. With other English classes you always ask these questions about what is the author's intent. But in this class you can actually ask them and then get a real answer."
Zhu said she had not even heard of the three authors before taking the class. "That's what's so wonderful, is that you start to read them and you discuss them and you become fans of their work."
In the end, the students' close study found common themes among the disparate writers, Filreis said, related to concern for humanity and the health of the planet. Glanville touched on racism, stress, changing careers, and the challenges of raising his four young children in these times. He also spoke about how hard it was for him to play baseball when his father was seriously ill.
Erinda Sheno, a senior English major from Philadelphia, asked about the environment surrounding the mental health struggles of athletes, which Glanville writes about in his memoir. "It struck me because as spectators, as fans, we don't think about professional athletes really being human like us; we struggle with these things every day," Sheno said in an interview. "The need for change is obviously there, so I asked if he could imagine what that could look like."
Zhu said in her introduction that as a Chinese American she felt personally invested in the discussion with Glanville about racism and microaggressions and encouraged by his optimism. "It has been really difficult for me to write about race in America without focusing on pain, sadness, and anger," she said. "Doug has shown me that while those negative feelings are valid and important, they are by no means the end of the conversation. There are solutions and actions we can take. There's joy we can feel from working with others to make progress."
Finding that personal connection with a famous person is what makes the Fellows class special, Filreis said. Glanville is the exceptional professional athlete who is also "such a fine writer," he said, "and this means we get a really rare look into the mind and heart of a baseball player."
They also got a look at a baseball game, with a Sunday outing to Citizens Bank Park for the Phillies against the Milwaukee Brewers, including a tour of the broadcast booth where Glanville was broadcasting. "That was a bonus," said Filreis. "It was a lot of fun."
Recordings of the April 25 public reading and April 26 conversation are available on the Kelly Writers House YouTube channel.
Al Filreis is the Kelly Family Professor of English, director of the Center for Programs in Contemporary Writing, and faculty director of the Kelly Writers House at the University of Pennsylvania.
Vukan Vuchic is an emeritus professor of transportation systems engineering and of city and regional planning at the University of Pennsylvania.