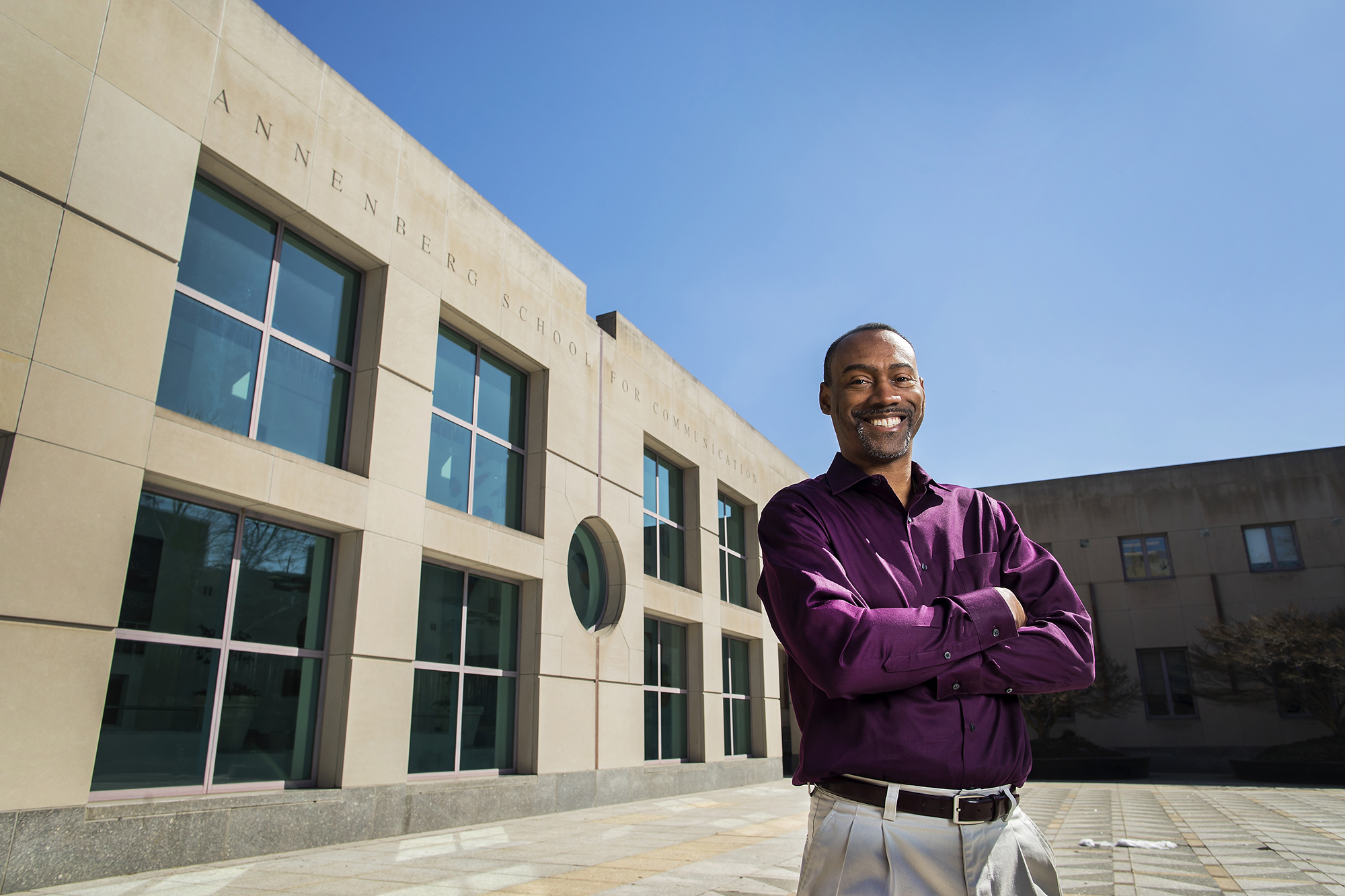 Teaching this semester in the Annenberg School for Communication is lecturer Doug Glanville, a 1992 Penn alumnus, a former Major League Baseball player, and a former baseball analyst for ESPN.
Glanville, who played for the Chicago Cubs, Philadelphia Phillies, and Texas Rangers over his nine-year playing career, is teaching "Communications, Sports, and Social Justice," an undergraduate course that examines the history of social justice in sports, the communication strategy of social justice movements, and the importance of understanding the power of communication in order to make change.
Around 45 students are enrolled in the three-hour lecture course, a quarter of whom are athletes. Their first assignment was breaking down a letter Martin Luther King Jr. wrote to Jackie Robinson in 1960 in response to criticism King was receiving from the NAACP. 
Glanville divided the coursework into three parts. The first segment looks at the history of social justice and sports activism, current activism, the legal construct that defines justice and social justice, communication strategies, and activist athletes such as Muhammad Ali, Jackie Robinson, Martina Navratilova, Billie Jean King, Renée Richards, Curt Flood, Casey Martin, and Mahmoud Abdul-Rauf. The second section covers the tools of communication, such as what gives someone social influence, the advantages and pitfalls of social media, and grassroots movements like #MeToo and #BlackLivesMatter. The final portion discusses how to manage a social justice campaign after it has been structured and sent out into the world.
Invited guest speakers for the course include Arn Tellem, a sports super-agent who is now vice president of the Detroit Pistons; ESPN baseball analyst Jessica Mendoza; baseball players Adam Jones of the Baltimore Orioles and Sean Doolittle of the Washington Nationals; Nicholas Thompson, editor-in-chief of Wired Magazine; David Pace, a former senior executive at Reebok International; Hall of Fame baseball writer Claire Smith; and Jeffrey Miller, former chief security officer of the NFL.
Discussions have ranged from the work of hip-hop artist Kendrick Lamar to the Cleveland Indians' use of the Chief Wahoo logo. The conclusion of the course will feature a robust discussion on the activism of former NFL quarterback Colin Kaepernick.
"We get into anything and everything," Glanville says.
A graduate of the School of Engineering and Applied Science and former star on the Penn baseball team, Glanville has a longstanding passion and commitment to equity and social justice. He grew up in a diverse and inclusive community in Teaneck, N.J., a city that voted in 1964 to voluntarily desegregate its public schools.
At ESPN, where he was employed for seven years, he took part in social justice discussions and programs, such as profiles of Jackie Robinson and Roberto Clemente, and traveled to Cuba to interview Rachel Robinson, Jackie's widow, and former President Barack Obama.
All through his professional baseball career and post-playing days, Glanville was a guest speaker at universities across the country, and would write down topics he was interested in sharing and believed would be relevant to students. After his time at ESPN came to a close, he examined the topics in full and realized the material could make a college course. 
Two personal experiences within the last few years pushed him to make his idea for a course a reality. While shoveling his driveway at his home in Connecticut, he was racially profiled by a West Hartford police officer. In another instance, after landing at Los Angeles International Airport and attempting to hail a cab, he was denied service by a taxi driver and told to go across the street and take the bus. 
His attempt to find justice in these indignities made him realize the great difficulty in creating change.
"You need a lot of different skills," he says. "You need collaboration, you need messaging, you need supporters, you need to know how to communicate, and I figured learning that firsthand would be good to share. I thought my personal experiences as an African American in this country could be universal lessons for all of us."
Glanville, also an author who has written for The New York Times and The Atlantic, pitched his idea for the course to Michael X. Delli Carpini, the Walter H. Annenberg Dean of the Annenberg School, who gave his approval.
"For some time, I had been thinking that it would be great if we could add a course to our undergraduate offerings that focused on sports, but as a liberal arts undergraduate major, finding the right approach—and the right person to teach it—was difficult," Delli Carpini says. "So when Doug approached me about teaching a course on sports and social justice, saying 'yes' was easy. The topic could not be more timely, and I can't imagine someone more capable of teaching it than him."