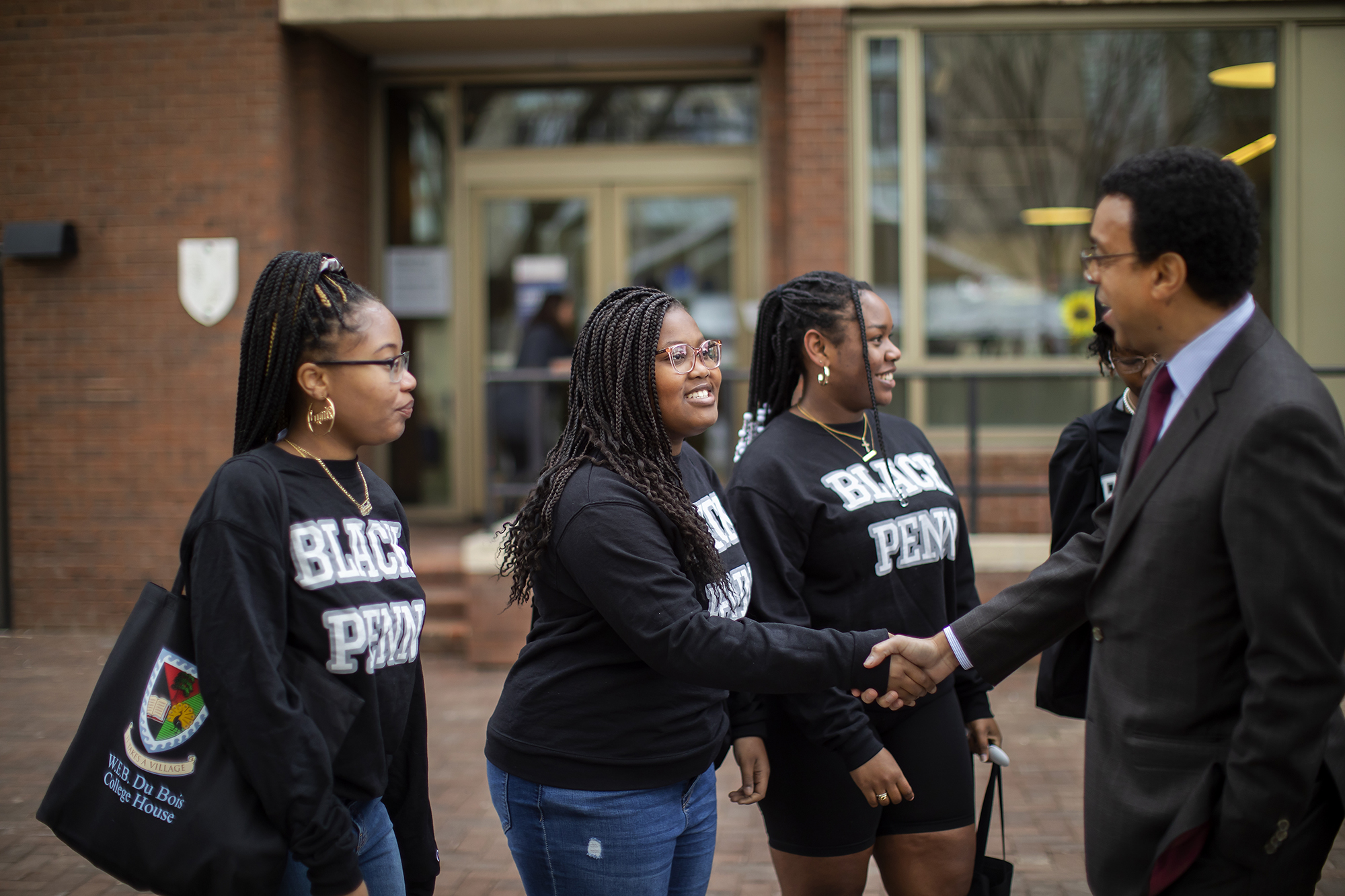 First-year students in the College of Arts & Sciences, Sarah Oburu and Danielle Uter met at the very start of the fall 2021 semester. Both residents in W.E.B. Du Bois College House, it is easy to spot the duo's genuine friendship—they were smiling and joking, cheering on the other's accomplishments, even finishing one another's sentences.
"We've been attached at the hip since we met," said Oburu.
In a sense, their bond, surely to last a lifetime, is what Du Bois College House hopes to foster.
"For me, Du Bois is a family," said Uter.
Oburu, from Atlanta, Georgia, and Uter, from West Palm Beach, Florida, were gathered on Friday, April 1, with other Du Bois residents—both current and former—to kick off a year's worth of events celebrating the beloved college house's 50th anniversary. There were performances from spoken word group The Excelano Project and a cappella group The Inspiration, and packaged sweet treats and Du Bois-branded swag filled the tables. At the heart of it all was a "family reunion" of sorts, a time to connect and share stories, just as the college house's namesake would have wanted.
"It's most fitting that you named this celebration a 'family reunion,'" said Penn's Interim President Wendell Pritchett, speaking to the crowd. "Like a family, you have worked hard to arrive here together. Over generations, students have put in the sweat, equity, resilience, persistence, the hard work, the joy, and the excellence that so distinguishes Du Bois College House."
A campus hub
Du Bois College House (previously called Low Rise North) came to be in 1972, after years of advocacy initiated by Black undergraduates who felt a serious lack of support at Penn. Ever since, the college house has served as a hub on campus for promoting African and African American scholarship and culture, through programming, events, and community service initiatives, as well as through the Amistad Art Gallery and Paul Robeson Library, located inside the Du Bois building.
The college house was named in 1981 for W.E.B. Du Bois, a prolific sociologist and civil rights pioneer, whose impactful and fearless work paved the way into studying race across the world. (Du Bois, too, has ties to Penn: in 1896 he was appointed an assistant instructor and began his investigation of the Seventh Ward of Philadelphia—research that would turn into his groundbreaking book, "The Philadelphia Negro.")
"My grandfather was close friends with Dr. Du Bois," said Charles "Chaz" Howard, University chaplain and vice president for the Office of Social Equity and Community. "I remember when I first visited campus, seeing a building with the name of a Black man on it and how meaningful that was to me."
Howard would go on to live in Du Bois for three years during his undergraduate degree at Penn. "This is home," Howard said. "It's not a dorm. It's a home. It's a home that I and hundreds if not thousands of students were raised in."
Brian Peterson, director of Makuu, the Black cultural center at Penn, lived in Du Bois throughout his undergraduate years. He appreciated the experience so much that when he decided to pursue his graduate degree at Penn, he served as a graduate resident adviser in Du Bois.
"I ended up living there for a total of nine and a half years," said Peterson, who added that it was really Du Bois College House that "sealed the deal for me" on choosing Penn in general.
"I didn't see myself being at Penn and not living at Du Bois," Peterson said.
A familial atmosphere
The concept that grounds the entire college house system at Penn is that it takes academic life and fuses it into living spaces. One way of doing that is having faculty directors and faculty fellows reside in the college houses with students. At Du Bois, William Gipson, who was formerly University chaplain, serves as faculty director, and Audrey Mbeje, director of the University's African Language Program, and Krystal Strong, an assistant professor at the Penn Graduate School of Education, serve as faculty fellows.
"The experience tears down that wall between students and faculty," said Mbeje, who has been a faculty fellow at Du Bois since 2006. "It has been a fantastic experience for me. I see that the way I engage with students in the classroom is really informed by the fact that I know them personally by living with them here in Du Bois."
One of Mbeje's main goals as a faculty fellow is to consistently advance the legacy of Du Bois through programs that share the knowledge and experience of people of African descent. In particular, Mbeje runs the college house's Zulu in Residence program, exposing students to the language and culture of the Zulu people of South Africa, where Mbeje is from, in a more informal setting than a classroom.
Strong, who joined the college house in 2020, said she had her sights set on being a faculty fellow at Du Bois for years for two main reasons, not dissimilar to Mbeje: To serve in a space that honors each day the legacy of Du Bois himself, and to serve in a space that maintains its deep historic mission of advocating for Black students at Penn.
"I think all of us are in awe by that history and attracted by that history and significance," Strong said.
Strong also emphasized the important connection the people of Du Bois College House have been able to forge throughout the years with the broader Philadelphia community, with many programs, events, and talks—including one Strong developed during the pandemic and in the midst of the global uprising for racial justice titled "Radical Self Care"—being open to the public.
"All of the different college houses at Penn have different themes," said Strong, "but Du Bois is different because it has a cultural and particular political history."
It is these cultural and historical foundations of the house, added Mbeje, that helps foster such a strong familial atmosphere—one that keeps Penn alumni who lived at Du Bois connected far after graduation. "It forms who they are, and shapes who they become, and they take that out to wherever they go," said Mbeje.
Oburu and Uter said Du Bois College House was their No. 1 housing choice this year. About 160 students live in Du Bois, and nearly a quarter of them are first-years.
"It's a safe space for Black students," said Uter. "Going to a predominantly white institution, it can be very different. So, just having a space where you lay your head where you know the people, they look like you, they understand you, they care about you, they want the best for you, they are looking out for you, I really wanted that. Du Bois is the perfect place."
For Oburu, she saw Du Bois College House as a home away from home where she would be able to "grow in my Blackness, my identity," she said.
When thinking about the future of Du Bois College House, Peterson said he hopes students continue to always engage Du Bois—"a multifaceted scholar just like our students"—as a person, and also remain connected as a family.
Additionally, Peterson says he hopes to see Du Bois College House endure as a meaningful, welcoming, and at times even carefree, gathering place.
"I hope students take in the full score of being in this living, learning community, where there is less pressure of all the things that are required by adulting," Peterson said. "You can just be."