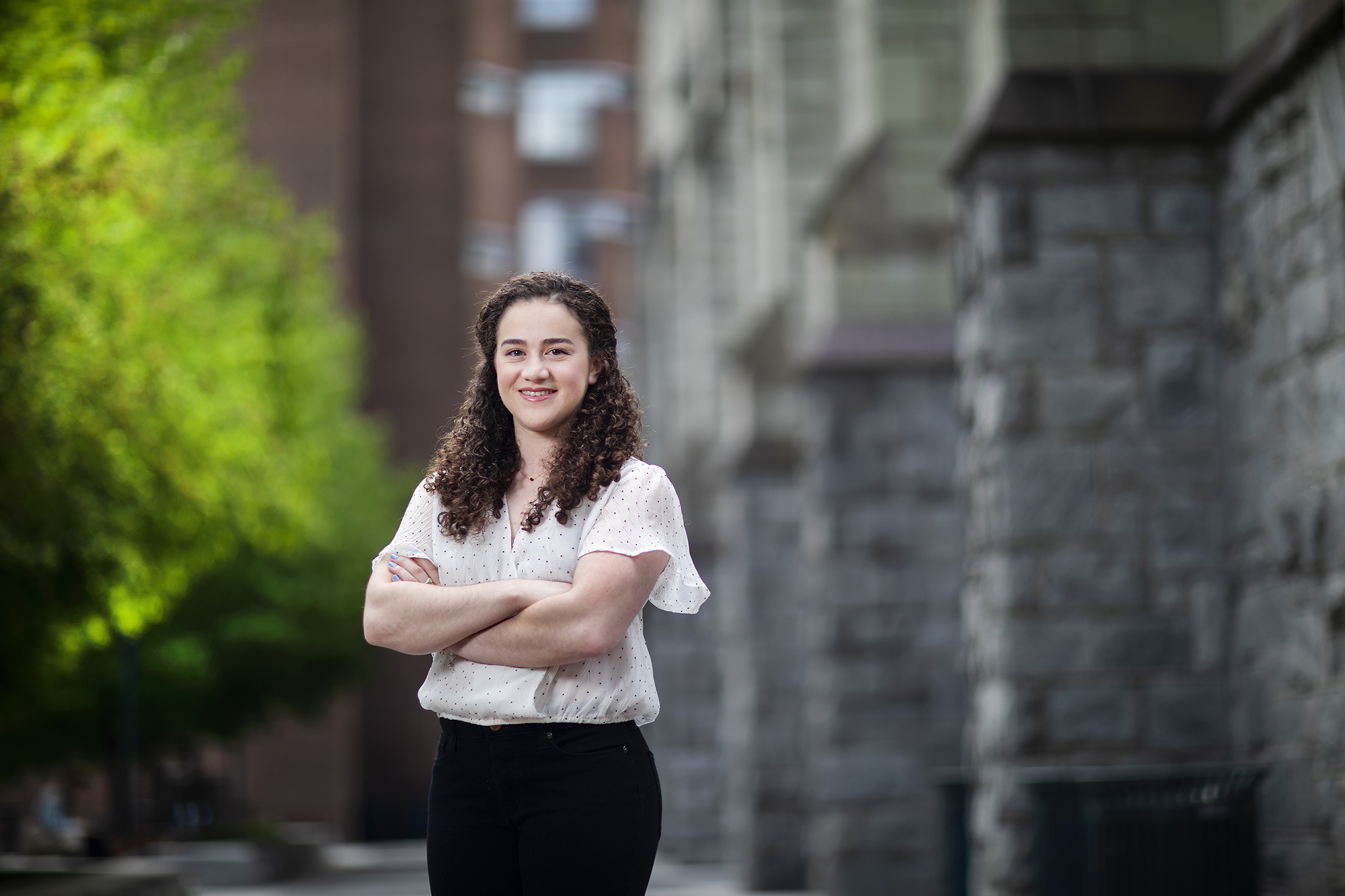 Senior Edie Noor Graber says there are three things that have been a major part of her life during the past four years: gymnastics, music, and physics. In addition to fostering those passions here on campus, the physics major from Los Angeles has also been engaged in numerous extracurricular activities, from community engagement to exploring her Jewish identity.
Parallels between athletics and academics
Graber attended a gymnastics camp at Penn in 2017 and after that became interested in attending the University. She saw Penn as a place to continue training in the sport that has been part of her life since she was 4 years old, while "keeping up my academic rigor" and having the opportunity to explore the East Coast, she says.
While the slots on the gymnastics team had already been filled for the Class of 2022, Graber was admitted to Penn through early decision and joined the team her freshman year as a walk-on. She initially began training in all four of the sport's events (vault, bars, beam, and floor) before shifting her focus to vault and floor during her junior year and, after dealing with a shoulder injury. She focused solely on floor during her senior year.
Graber is proud of being named "Most improved" during an awards ceremony at the end of her sophomore year. "That summer I trained really hard, and I came back in the gym sophomore year and competed at every single meet on vault and some meets on floor," says Graber. "I was proud of my work, and it was very affirming to see that my team and my coaches also saw that for me."
Along with gymnastics training and competitions, Graber has also spent the past four years as a physics major, an area of study that she says is a great fit for her interests in applying math and analytical skills. Graber credits her high school AP physics teacher, Rebecca Yaghoubian, who was also a college athlete, as an inspiration for majoring in STEM, and adds that the support of female professors at Penn such as Evelyn Thomson has been a continued source of motivation. "It's nice, especially in STEM, to be represented," she says.
One major similarity she has seen between her academic and athletic pursuits was how she encountered and managed imposter syndrome. "In gymnastics, I dealt a lot with imposter syndrome because I am a walk-on. It's rare to be in that position, and I felt like I was different than the people around me. I felt that way in physics as well, being a woman, and the soft skills that I learned for dealing with that were applicable to both gymnastics and physics," says Graber.
Creative outlets and community engagement
Graber also has a lifelong passion for choir and theater and during her sophomore year wanted a creative outlet. She was accepted into Penn Dischord, a pop and R&B all-gender a cappella group, later becoming the assistant music director her junior year and now serving as the co-music director alongside Ande Isom.
Using the leadership and organizational skills she fostered through gymnastics, Graber helped keep the group together during COVID restrictions and is proud of what the group has been able to achieve this past year, including two successful in-person shows as well as producing and releasing a new album "These Four Walls." "We had a whole new leadership board, we had to redefine some responsibilities, and I'm very, very proud of our achievements this school year," she says.
Graber has also been involved with community outreach. During her freshman and sophomore years, she and her teammates connected with students from West Philadelphia through Girls, Incorporated, and coached gymnastics workshops and activities on weekends, work for which she was named a Winter 2019-20 Community Champion of the Season. "Community engagement is something that I genuinely love doing," she says. The award "made me realize that what I did had an impact, and there are people out there who recognize that."
Reflecting inward while looking toward the future
Alongside the challenges of navigating a busy academic, athletic, and extracurricular schedule, Graber confides that she also struggled with an eating disorder during her time as a college student. She says she has now been on the path to recovery for two years and is thankful for the support of Be Body Positive UPenn, the campus chapter of a larger nonprofit organization that was awarded the President's Engagement Prize in 2021. "There's a small community that focuses on athletes and positive body image, and I'm so grateful I was able to interact with other female college student athletes with the same feelings that I had," she says.
Another important aspect of Graber's time at Penn has been exploring her Jewish identity at Penn Hillel, which Graber will have the opportunity to continue exploring during a Birthright Israel trip after graduation. "Hillel has a lot of resources for whatever level of engagement you'd like to have, spiritually or religiously. I've used it to learn about myself, to identify what's important to me about Judaism and what I want it to be in my life," she says.
This summer, Graber will be heading back to LA to decompress before exploring jobs in data analytics or data science. And while she's now officially retired from gymnastics, she's hoping to get back into some of her old passions, such as dance class, to help her unwind further.
In addition to her range of experiences during her time on campus, another thing that she says she will take with her after graduation is the ability to believe in herself, trust her abilities, and reach out for support when needed. "Coming from big-fish-in-little-ponds high schools and then coming to Penn where everybody's a big fish, my self-confidence took a turn when I was starting," she says. "But throughout these past four years, I've learned how to be confident in myself, how to lean onto others, and also that it's okay to ask for help."