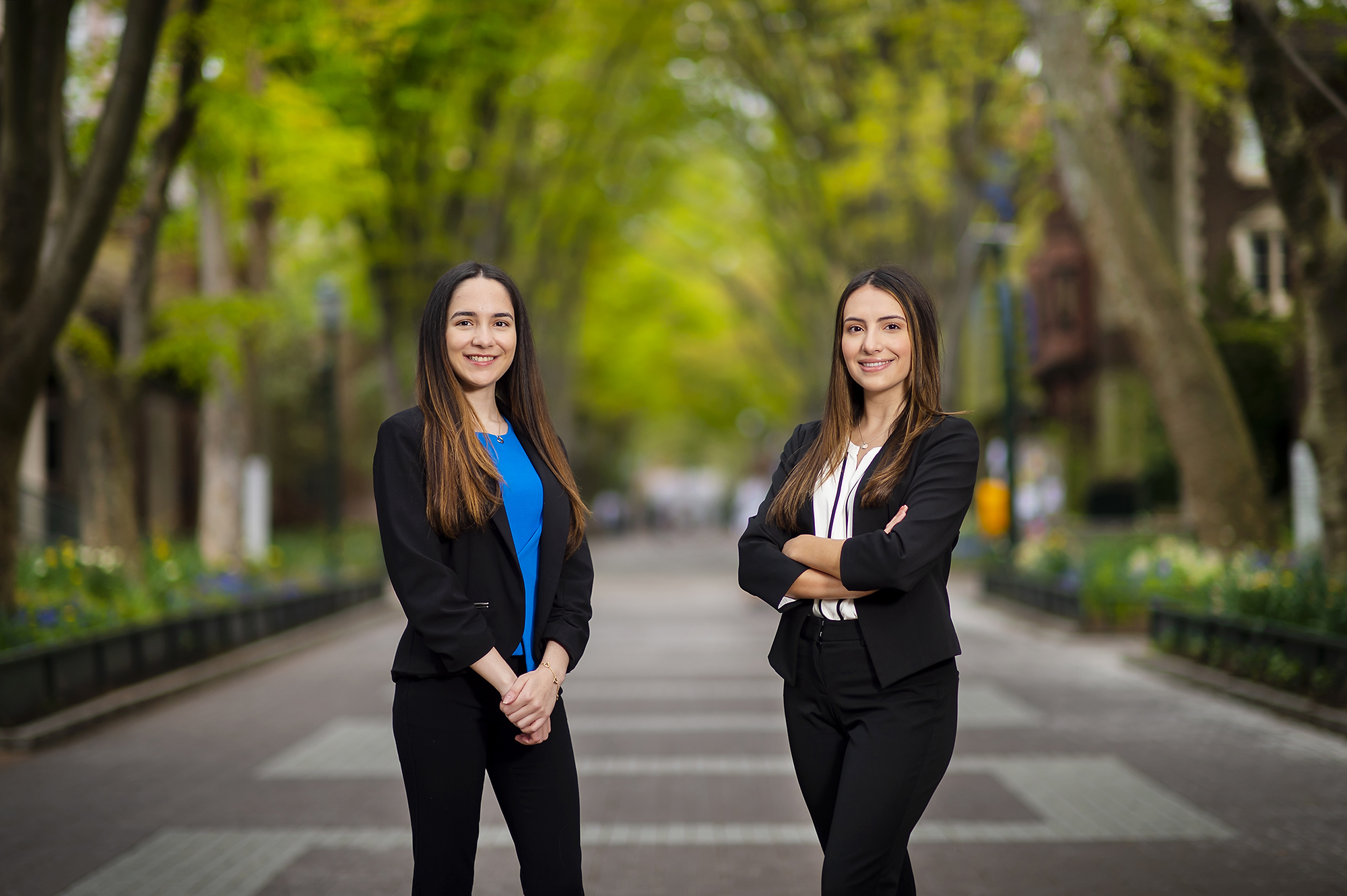 What started as a student club focused on eating disorder awareness has led to a new nonprofit founded by two Penn 2021 graduates, the Body Empowerment Project, which is helping hundreds of teenagers in Philadelphia public schools. 
Christina Miranda and Amanda Moreno have expanded the Be Body Positive Philly program from two high schools last spring to seven in the fall and then to eight high schools and a middle school this spring semester. They have recruited and trained 22 current Penn students as volunteer facilitators to lead the one-hour, weekly after-school workshops that teach a health-centered approach to self-care. 
Preliminary data from their accompanying independent research study, in partnership with Penn and the Children's Hospital of Philadelphia (CHOP), shows a statistically significant increase in body appreciation and a decrease in eating disorder symptoms by the high school students who have completed the 10-week program. 
"It's just such an emotional experience to be able to build something from scratch, see it be so impactful and see so many people join our volunteer base to share the same mission," says Moreno. "It's been really incredible." 
Be Body Positive Philly is one of three projects chosen for the 2021 President's Engagement Prize. Awarded annually, the Prizes empower Penn students to design and undertake post-graduation projects that make a positive and lasting difference in the world. Each project receives $100,000, as well as a $50,000 living stipend for each team member. 
"Christina and Amanda took their President's Engagement Prize and ran with it, growing their Body Empowerment Project in thrilling and inspiring ways throughout the past year," says Interim President Wendell Pritchett. "The positive impact their initiative is having on so many Philadelphia students is enormously important, and I believe, because of their commitment, it will surely be long-lasting."
Be Body Positive Philly has just been selected for another award, earning first place in the 2022 Greater Philadelphia Social Innovation Awards "community behavioral health" category for "innovative service models leading to emotional, psychological, and social well-being."
Miranda and Moreno say they are encouraged by the research results and the overwhelmingly positive reaction to the program, with 97% of the 128 students in the fall saying they would recommend it to a friend. 
"We were happy to see with the fall data that our program has worked similarly across all the different schools and demographics and populations that we work with," says Miranda. "Depending on where a student is when they enter the program, they take away something unique to them and their situation. So that has been really cool to see." 
Their program is also on campus, Be Body Positive Penn, a series of eight weekly workshops free of charge to Penn students. One is specifically for student athletes in partnership with Penn Athletics.  
Connecting and creating
Both pre-med neuroscience majors and chemistry minors in the College of Arts and Sciences, Miranda and Moreno met during their first week on campus freshman year, living in the Quad and taking many of the same classes. They say they are passionate about the project in part because of their own personal histories. 
Moreno immigrated to the United States with her family from Cuba when she was 7 years old. "I had an accent. People were constantly commenting on my appearance; I was too thin," says Moreno, who is from Miami. "All of these messages that you receive really do affect the way that you grow personally and professionally."
Miranda, who is from Milford, New Jersey, says she struggled with anorexia in middle and high school. "This would have been life-changing for me. If I had a program in high school, I think it would've prevented my eating disorder. So really this is so personal to me to be able to help other high school students," she says. 
Miranda is a co-founder of the Penn student chapter of Project HEAL, Help to Eat Accept and Live, and was president for two years. Moreno also served in several key leadership roles. The club sponsors eating disorder awareness efforts, educational workshops, and body-positivity campaigns on campus. 
They say the pandemic was the catalyst for them to expand their work to reach high school students, as eating disorders spiked among teens during quarantine. Their research led them to The Body Positive's research-validated curriculum. The pair completed facilitator trainings and worked with the team to create a virtual format for a pilot program. 
The pilot proposal went through three extensive reviews: one each by the Penn and CHOP institutional review boards, and another by the School District of Philadelphia. Miranda and Moreno then led the Be Body Positive Philly workshops virtually with 18 high school students in two schools last spring, Kensington Health Sciences Academy and Paul Robeson High School.
Caroline Watts, a psychologist and director of school and community engagement at Penn's Graduate School of Education, was their mentor for the Prize, and is now a programming advisor on the Board of Directors. Watts is also a principal investigator on the research study, along with C. Alix Timko, a psychologist in CHOP's Eating Disorder Assessment and Treatment Program.
"They are so impressive. And they're incredible at what they can do and what they can learn. And what they're able to put into action just continues to grow," Watts says. "The project is at a very exciting time. They are engaged, they are optimistic, and they are strategic." 
Recruiting Philly public schools 
With the Prize funding in hand and working out of their Center City apartment, the pair first focused on incorporating into a nonprofit, with pro bono help from a lawyer and an accountant, successfully becoming a charitable tax-exempt organization. Moreno built a website and Miranda set up social media channels.
And they worked to identify schools for expansion, which ended up being easier than they expected. The school district's medical director, Barbara Klock, asked them to conduct a professional development training for 300 public school nurses, discussing eating disorders and body image issues and how to address those concerns.
"We knew that this program was needed and that it was a problem in Philadelphia schools, but we were shocked to see how many nurses reached out to us asking us to bring the program to their school, including many middle and elementary schools," Miranda says. "So, suddenly, we had a waitlist of schools. It made us feel like we wanted to expand this program as soon as possible."
As official partners with the school district, they were able to work with the District's Office of Strategic Partnerships to choose and expand into new schools, teaching in person, in the fall: William L. Sayre High School, West Philadelphia High School, Girard Academic Music Program, Kensington High School, and Mastery Charter-Shoemaker Campus. 
Although the neighborhoods and school populations vary, nearly 90% of the students self-identified with a minority group, and two-thirds are enrolled in the national free and reduced-price lunch program.
This semester they added the High School for the Creative and Performing Arts, and the first middle school, also at Mastery Charter-Shoemaker. They plan to introduce their program in elementary schools this year, ultimately reaching students across all primary and secondary education levels. 
Recruiting Penn students as facilitators
The other challenge was to recruit current Penn students as facilitators to teach the workshops. The pair brought on a diversity, equity, and inclusion chair, fellow Penn 2021 graduate Jennie Vyas, and reached out to various cultural and affinity groups on campus. 
"We wanted to have facilitators who really mirror the population of students that we work with," Moreno says. "Our facilitators are diverse in many ways, and come from very distinct backgrounds and lived experiences, including eating disorders." 
The facilitators completed 30 hours of training on the curriculum as well as on diversity-equity-inclusion issues, trauma-informed practice, and information about the Philadelphia schools and neighborhoods.
"Our volunteers are 'near-peer' mentors because we are really close in age to the high school students so they can relate to us but we are also still a little bit further along in life, so they want to learn from us and hear what we have to say," Miranda says.
Penn sophomore Ashley Acevedo, a neuroscience major and Hispanic studies minor from Philadelphia, is a pre-med student interested in adolescent medicine and eating disorder assessment and treatment in part because she struggled with her body image as a teen. 
"I thought it was a good way for me to step aside from the science and the medicine and go back to why this may be happening. This program helps me learn how I can best speak to young people to maybe prevent this," says Acevedo. "I feel like it's a problem that a lot of people have with self-image, especially now with social media." 
Sophomore Randy Bach, from San Diego, learned about the opportunity through Project HEAL. "My facilitators and I all agree that we wish we had something like this in high school, voices advocating for weight neutrality and self-empowerment," he says. 
Bach is executive director of the student-run Penn Appétit magazine, an emergency medical technician, and a Penn Medicine research assistant. "I'm extremely interested in the significance of eating behavior and its role on consumption as a neuroscience major and possible nutrition minor," says Bach, who also plans a career in medicine. "Be Body Positive Philly helps me bridge my studies between both mental and physical health and how food is a big part of both." 
Miranda and Moreno recruited and trained additional facilitators over winter break, so there are enough to place three at each school, ensuring two will be in each classroom while also allowing Penn students flexibility in their schedules. 
Recruiting high school students as participants
The other important effort was recruiting high school students to participate. Miranda and Moreno went to all of the designated schools in the fall to explain the program, speaking in classes and hanging out with students in the cafeteria at lunchtime. 
A challenge they didn't anticipate was getting parental consent forms signed to allow the students to participate, necessary for their research. To ensure parents understood the program, they created videos to go along with the forms for the spring enrollment, with Miranda speaking in English and Moreno in Spanish. 
Penn student facilitators took part in spring recruitment. "When I went back to Shoemaker to recruit for the new semester, every student from the previous group that I saw ran up and hugged me," says Penn junior Amanda Nance, a psychology major and nutrition minor from San Diego. 
In the fall, 128 students in seven high schools were enrolled, and this spring, 150 are enrolled in the eight high schools, including nearly 20 in the middle school. Workshop groups range from 12 to 30 students, and facilitators break classes into smaller clusters for activities. 
The workshops include a "Brave Space Agreement," Moreno says, "where we encourage our students to come out of their comfort zone, explore topics that they haven't discussed before, and also challenge any preconceived notions." Students learn about building confidence, advocating for themselves, and managing social media, along with specific lessons on intuitive eating, joyful movement, and health-at-every-size.
"A lot of these lessons are very personal, so people can bring out their own perspectives and their own stories and their own backgrounds," says Acevedo.
Each semester starts and ends with the students completing a survey to track changes in eating disorder symptoms and body appreciation. "It also allows us to follow up and check in with students we are concerned about, working closely with the eating disorder treatment team at CHOP," Miranda says. "We have a student safety plan in place, in connection with the school nurses and counselors." 
Testimonials by the students speak of the value of the conversations and connections. 
"The part of this group that made the biggest impact on me is how more confident I feel talking about my body issues and how I'm not alone," one West Philadelphia High School student shared.  
The Penn facilitators also say the experience has been important to them. "I feel like as much as the students may be learning, I'm learning so much myself, too. And within this program, I'm also helping my own body image and self-love," Acevedo says. 
Spring renewal
Ensuring their nonprofit is self-sustaining in the future, they are working with a financial advisor, actively applying for grants, and had their first fundraiser in December, raising $17,000, surpassing their goal. Primary costs are the training fee for each facilitator, transportation expenses for Penn facilitators to go to the schools for in-person workshops, and meals for each workshop group, as many of the students face food insecurity.
Body Empowerment Project also offers fee-based professional trainings for individuals, corporations, and nurses and educators. They will eventually offer a fee-based program to private schools to offset the costs of keeping the program free for public schools. They even have merch, sweatshirts with the slogan "all bodies are good bodies." 
"They're now learning about the business of running a nonprofit, and how to balance the business side of this work with the mission side, and it is a really interesting point of growth for them," Watts says. "They're really looking at how they're going to be able to leave the project in a stable financial state so that they can move into a different kind of role as they enter medical school in the fall and have someone else handle the day-to-day operations."  
Miranda and Moreno say they are even more committed to Body Empowerment Project, given their own experiences in the past year, and evidence of the program's impact, and plan to stay involved long-term even as they plan to go to medical school. 
Moreno says she now is considering pursuing a master's in public health as well as a medical degree. "A lot of the work that we do is public-health oriented; it's about addressing a very common health inequity that we see in our community. I think that being an active player in improving access to preventative care has shifted what I want to do with my career," Moreno says. "Not only do I want to be a physician, but I want make sure that I focus on minority health moving forward. This work has really inspired that."
Miranda says she has "always been really passionate about eating disorder advocacy and now I just can't even imagine not continuing doing this specific work for the rest of my life ... It's just so important to us, the success of this project." 
Homepage image: Moreno (left) and Miranda say they are committed long-term to the Body Empowerment Project, even as they plan to enter medical school in the fall.