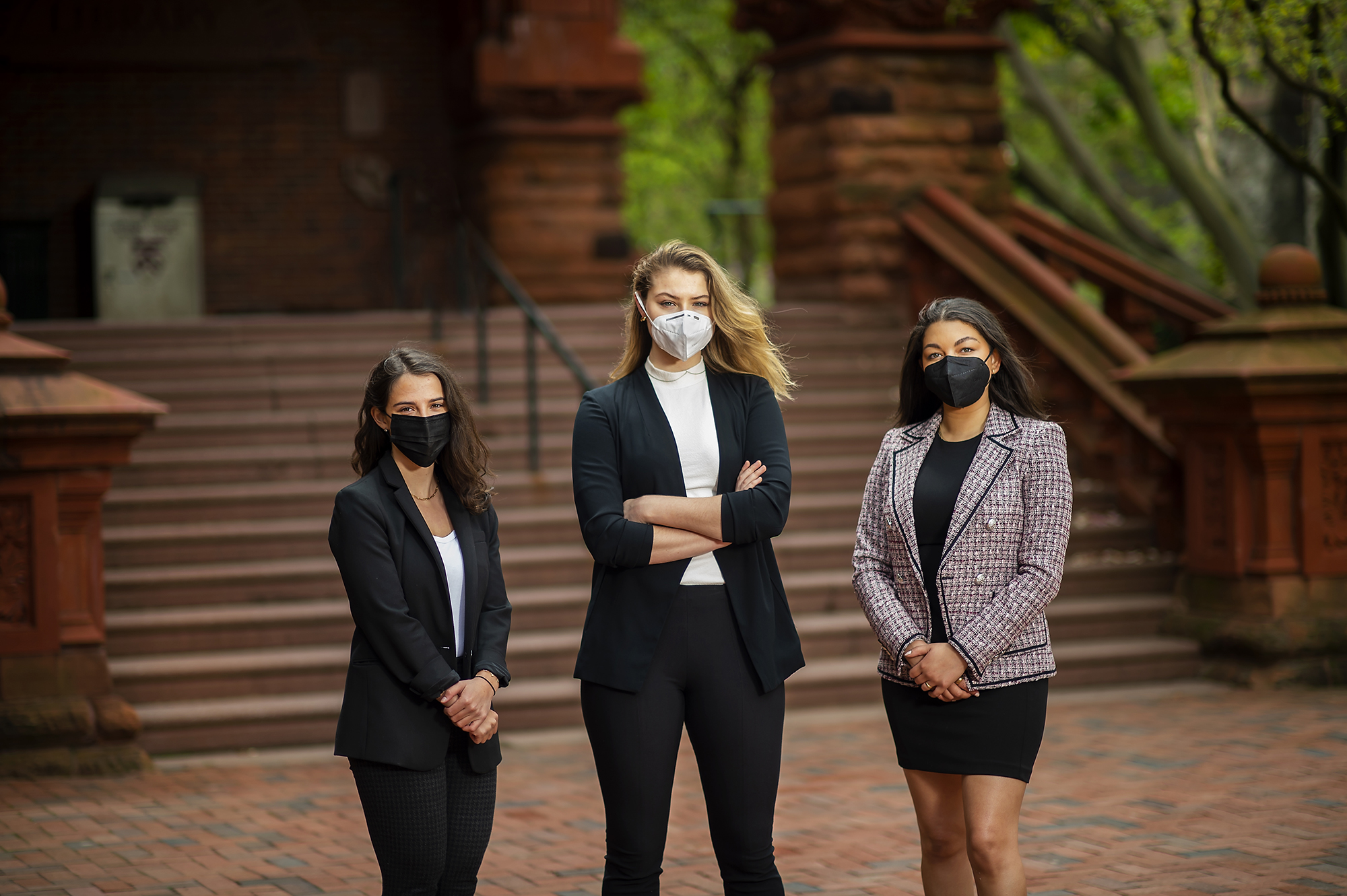 Philadelphia has one of the highest incarceration rates of any big city in the United States, and from 1996 to 2018 the city found itself at the top of the list. Adding to this notorious distinction is Philadelphia's relatively high wrongful-conviction rate. For Penn seniors Carson Eckhard, Natalia Rommen, and Sarah Simon, these rates were more than just unfortunate statistics; they were a catalyst for them to help make profound changes in the criminal justice system.
What started out as their volunteer work with the Liberation Foundation, established by wrongfully convicted exoneree Terrance Lewis, has transformed into Project HOPE, a program to address the lack of legal and reentry support to wrongfully incarcerated Philadelphians and Pennsylvanians by serving as the core of an expansive advocacy network.
"Pennsylvania doesn't compensate people who have been wrongfully convicted. There's really no support for those who are hoping to re-enter into society when their sentences are up," says Rommen, a political science major in the College of Arts and Sciences and communications major in the Annenberg School for Communication from Barrington, New Jersey. "Ultimately, our goal is to make this something that is sustainable and to make an impact within Philadelphia and in Pennsylvania."
Project HOPE is one of the three projects chosen this year to receive the President's Engagement Prize, which awards $100,000 to fund each project and a $50,000 living stipend for each student. Founded by President Amy Gutmann, the Prize is meant to empower Penn seniors to design and undertake post-graduation projects that make a positive, lasting difference in the world.
"Project HOPE's goal is simple: Get, and keep, people home," Gutmann says. "Carson, Natalia, and Sarah are deeply committed to social justice in its many forms, and they are well-prepared and well-positioned through their project to dramatically improve our city's carceral landscape."
Project HOPE is a two-pronged plan. First, it will actively recruit private attorneys from top-tier firms interested in taking wrongful-conviction and disproportionate-sentence claims pro bono. The aim is to ultimately serve as a conduit for connecting attorneys and pro bono clients and provide the administrative and investigative resources to successfully represent those claiming wrongful conviction.
Additionally, Project HOPE will provide resources to incarcerated Pennsylvanians preparing to return home. They will facilitate workshops featuring experienced professionals to help strengthen financial and technology literacy, job searching, and professional skills.
The aim is to establish partnerships with 10 Philadelphia law firms and formally accept 15 wrongful-conviction cases with pro bono partners by May 2022.
The reentry-preparation program will host 10 reentry workshops in the fall and 30 in the spring of 2022. Upon each participants' release, Project HOPE will provide each with a reentry-integration package containing a laptop, prepaid phone, gift cards for living expenses, and a directory of resources and information. They will later initiate monthly check-in meetings to offer continued support.
Eckhard, Rommen, and Simon all say they came to Penn interested in the topic of criminal justice reform and knew Penn was a place that valued civic engagement, situated in a city where they could put their interests to work in the community.
"The biggest thing that Penn has pushed me to do is to think about what I'm learning in the classroom and how that can be applied to making the world the kind of world that I want to live in," says Eckhard, a history and English major from Tampa. "To be able to build those connections through the engagement prize, to apply everything that we've learned the past four years with a variety of majors and internship experiences and for that to culminate in something like this in our academic backyard is really, really exciting."
Eckhard was interning in 2019 at Philadelphia District Attorney Larry Krasner's Conviction Integrity Unit when she met Lewis as his exoneration case was wrapping up. He spent 21 years in prison, sentenced at age 17, for a murder he didn't commit, and is the sixth of 18 people exonerated in Philadelphia since Krasner took office in 2018.
With no compensation from the state, no credit history, and no job prospects, Lewis found himself homeless for several months after his release.
"I would have had more benefits if I was sent home on parole, even if I was still a ward of the state," Lewis says.
Last summer he won a $6.5 million settlement and an apology from the City of Philadelphia and says he has committed himself to helping other wrongfully convicted people.
"I started talking to Terrance about this organization he wanted to start, and he was really interested in getting student involvement in it," Eckhard says.
Eckhard invited Lewis to speak at Penn's criminal justice reform organization called Beyond Arrests: Rethinking Systemic Oppression, where she is acting president. During his talk, Lewis shared his vision of creating an organization that would advocate for wrongfully convicted people seeking legal representation. After the talk wrapped up, Eckhard, Rommen, and Simon told him they were on board.
In helping Lewis create his organization, they developed an idea for the engagement prize that would expand his mission and allow them to continue working on wrongful-conviction cases. They tapped Penn graduate Mckayla Warwick, whose team received the PEP prize in 2020 for their Collective Climb project on restorative justice, to help shape their application and plan, Eckhard says.
Simon, a political science and criminology major from Dallas, emphasized that the prize truly represented a larger group effort, from Lewis helping lead them and point them toward the deficiencies in the system to the Student Justice Initiative that includes members of the Penn community and other schools.
"Having so many people dedicated to something that was just getting off the ground has been phenomenal and also helped us put the project together and make this partnership work," she says.
Lewis says he's an optimist despite everything he's been through, but even he thought the engagement prize was probably unrealistic to hope for, like too much of a good thing.
"I'm still processing the fact that I'm home now, and that award just seemed like a totally different blessing," he says. "But then it really, truly happened. I'm flabbergasted, I'm humbled, I'm grateful, and I promise it's not going to be in vain."
The team describes the project as an unabridged arc of support in expanding the Liberation Foundation's capacities.
One of their first moves after receiving the prize was to hire Jessica Gooding, a senior from Philadelphia studying history and English. Gooding had been volunteering at the Liberation Foundation from the start, sharing the paralegal skills she acquired in her previous career before coming to Penn, and helping lay the groundwork for what would become Project HOPE, they say.
"She's been an integral member of our team with so much experience. Her work, insights, and expertise have been invaluable and inspiring," says Simon.
For Gooding, who also met Lewis while interning at the Conviction Integrity Unit and serves as a board member for Beyond Arrests: Rethinking Systemic Oppression, the work is personal, having known people from high school and her community who have fallen victim to police brutality, police killings, and wrongful convictions, she says.
"It's been comforting to work with like-minded individuals," she says. "We are all very passionate about the importance of this work."
The team is organizing the project in a way that it will be easily replicable, they say, so other law firms or organizations interested in wrongful conviction work can use Project HOPE as a model.
The group's mentor is Marissa Bluestine, assistant director of the Quattrone Center for the Fair Administration of Justice at the University of Pennsylvania Carey Law School and the former director of the Pennsylvania Innocence Project, a non-profit dedicated to securing exoneration for individuals wrongfully convicted of crimes.
Bluestine says Project HOPE is filling a much-needed gap in wrongful conviction work and is unique in partnering with Lewis, whose perspective as someone who experienced wrongful incarceration is a critical element in creating change.
"These are incredibly committed, intelligent and driven women who have a clear understanding of what they want to do, and they have now been given the space, time, and resources to be able to make the project self-sufficient and permanent," Bluestine says. "That's the beauty of the Engagement Prize; it's about taking that leap of faith, that risk that they would not otherwise get, and giving the project the breath of life."
All team members say they were committed to continuing to work with Lewis whether they received the prize or not.
"But to have Penn's faith in us and for Penn to see the importance of this work is extremely encouraging and puts us on a track that we couldn't have dreamed about a year ago," Eckhard says.
The President's Engagement and Innovation Prizes are intended to strengthen Penn's commitment under the Penn Compact 2022 to impactful local, national, and global student engagement, as well as to innovation and entrepreneurship. The Prizes are supported by Emerita Trustee Judith Bollinger and William G. Bollinger, in honor of Ed Resovsky; Trustee Lee Spelman Doty and George E. Doty, Jr.; Emeritus Trustee James S. Riepe and Gail Petty Riepe; Trustee David Ertel and Beth Seidenberg Ertel; Wallis Annenberg and the Annenberg Foundation; and an anonymous donor.