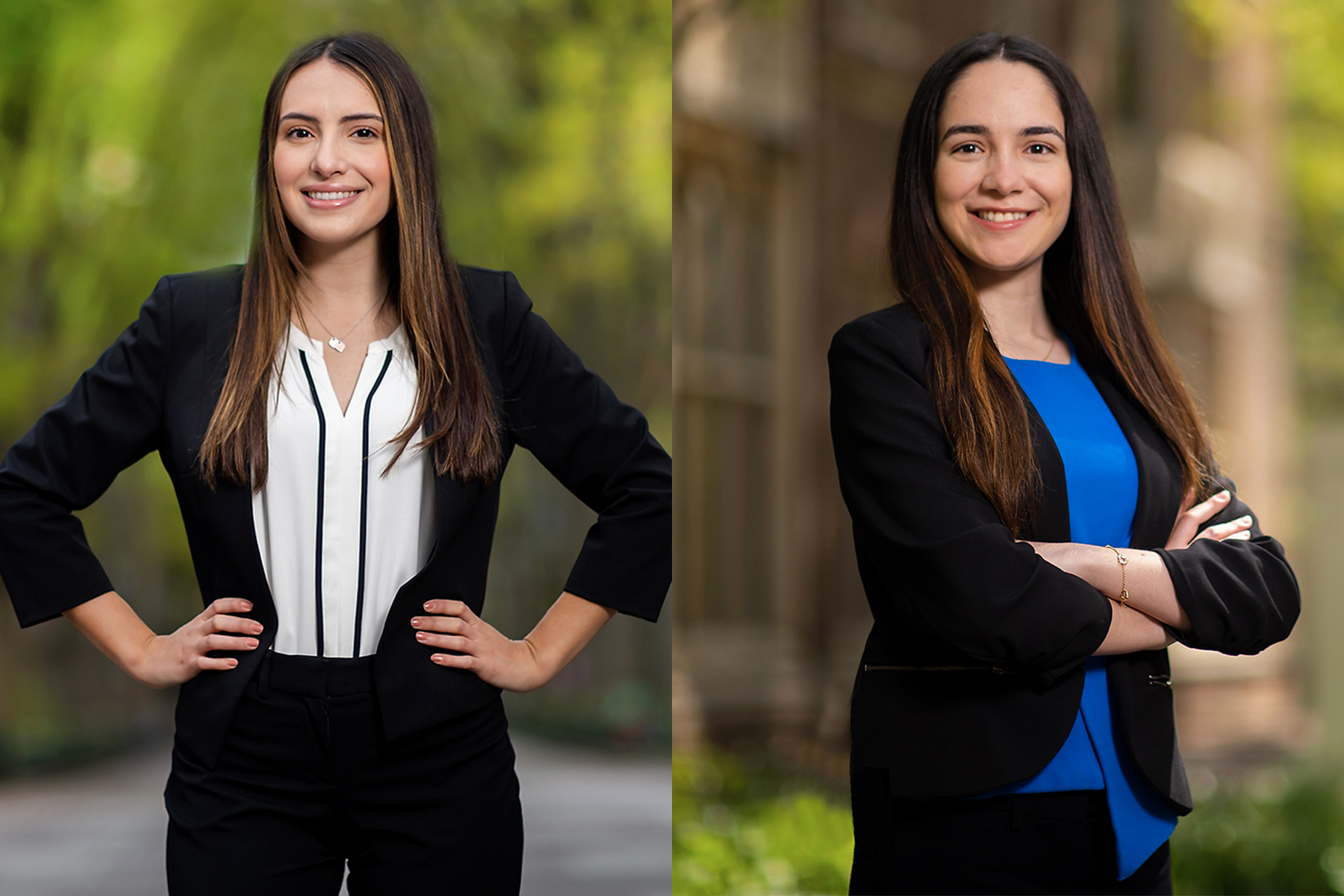 The two University of Pennsylvania seniors met during their first week on campus freshman year, both living in the Quad's Ware College House, both planning to major in neuroscience and minor in chemistry, and both on their way to hoped-for careers in medicine.
"I started seeing Amanda in all my classes, in fact in every single one, from the big lectures to the small writing seminar. And I was thinking, 'Are you following me?' Everyone is looking for a friend, and I was lucky to have found Amanda," says Christina Miranda, from Milford, New Jersey.
"We have been a dynamic duo ever since," says Amanda Moreno, from Miami, who has a second minor in French and Francophone studies.
Their dynamic partnership will continue in the coming year through their Be Body Positive Philly, one of three projects chosen for the 2021 President's Engagement Prize.
Awarded annually, the Prizes empower Penn students to design and undertake post-graduation projects that make a positive, lasting difference in the world. Each project receives $100,000, as well as a $50,000 living stipend for each team member. The Prizes are the largest of their kind in higher education.
Personal stake
Be Body Positive Philly addresses eating disorder risk among Philadelphia high school students through a body-positivity curriculum led by trained Penn undergraduate volunteers. Miranda and Moreno conducted a pilot program during the spring semester with 18 students in two Philadelphia public high schools. They plan to expand the program to six public high schools, reaching nearly 300 students, in the coming school year.
"The COVID-19 pandemic has exacerbated the prevalence of mental health illnesses, including eating disorders, among adolescents. Be Body Positive Philly's near-peer mentorship model is extremely timely, inventive, and impactful, helping to build confidence and community among young people who are struggling with eating disorders," says Penn President Amy Gutmann.
Both Miranda and Moreno, who are in the College of Arts and Sciences, have a personal stake in working with this vulnerable population. Miranda says she grappled with an eating disorder in middle and high school and believes body-positivity workshops could have made a difference. Moreno, whose family immigrated to the United States from Cuba when she was 7, says she believes a program like the one they are creating could have helped her, too.
"I feel like growing up there was a lot of insecurity, not knowing the culture, not knowing the language. Even in high school I felt that way," Moreno says. "I think a program like this would have helped with my self-esteem and building a sense of community."
Caroline Watts, director of school and community engagement at Penn's Graduate School of Education, is the pair's mentor for the project.
"These two are some of the most dedicated, passionate, determined, organized human beings I've ever met," says Watts, a psychologist with a long career building prevention programs in schools. "The fact that they were able to navigate all of this in a virtual space, as undergraduates, is a testament to their skill, talent, communication, and persistence."
Community outreach
Miranda is one of the co-founders of the Penn student chapter of Project HEAL, or Help to Eat Accept and Live, serving as president the past two years. The club sponsors eating disorder awareness efforts, educational workshops, and body-positivity campaigns on campus. Moreno also served in several key roles, including education chair. "Amanda didn't have a lot of experience with eating disorders personally, but because she is a really supportive friend we have been running the club together ever since," says Miranda.
The two friends also had practical experience that has helped inform their project. Miranda taught neuroscience at Paul Robeson High as part of a Penn course through the Netter Center for Community Partnerships. Amanda volunteers at Puentes de Salud, a nonprofit health clinic that serves Philadelphia's immigrant Latinx community. Additionally, they have both worked with children and adolescents with mental illnesses and behavioral disorders—Miranda at the Child and Adolescent Mood Disorder Program at the Children's Hospital of Philadelphia and Moreno at the Florida International University Summer Treatment Program for children with ADHD.
An information session featuring previous student recipients of the President's Engagement Prize got Moreno thinking about a project stemming from their Project HEAL work with college students. Understanding that eating disorders are especially prevalent in adolescents, the pair say they wanted to reach high school students, especially those in underserved schools and communities.
Miranda and Moreno say the pandemic was a catalyst. Research showed the rate of eating disorders spiking during quarantine while students had to attend school virtually, self-conscious about their appearance in videoconference classes.
"It was always needed and always something on my mind, but it felt like we needed to start building this organization now," Miranda says. "We wanted to get it off the ground even before the prize application was due."
"I think the pandemic was our call to action," says Moreno. "It really pushed us to follow through with our idea."
Barbara Klock, the School District of Philadelphia's student health medical officer, understood and supported their idea, they say, and made it possible to get started.
"Amanda's and Christina's passion for promoting positive body image for middle and high school students was compelling to me, which made it easy to guide their work. Their engagement with students about issues related to self-esteem will influence the students' confidence to succeed in academics and other areas," Klock says.
Reaching out virtually
Miranda and Moreno's research led them to The Body Positive curriculum, research-validated and used in various demographic populations since its founding in 1996. The pair met Connie Sobczak, the co-founder and executive director, and completed facilitator training. Sobczak and her research team helped make modifications to program activities to work in a virtual format.
The intervention program involves weekly one-hour workshops, after school or during an enrichment period, for 10 weeks. The workshops focus on enhancing body image and self-esteem and do not discuss nutrition, instead teaching a health-centered approach to self-care.
The goal is to provide the high school students with skills "to live peacefully and healthfully in their bodies," their proposal states, to improve body image and self-esteem, decrease eating disorder risk, and create a "brave space" for students to have vulnerable conversations while challenging societal standards of wellness and beauty. They hope to develop skills that will translate to other facets of life, including academic achievement and personal fulfillment.
Before Miranda and Moreno could start the curriculum in the classroom, their proposal had to go through two extensive reviews: one by the Penn Institutional Review Board and another by the Research Review Committee of the school district.
Once through those hurdles, the pilot program was approved for the spring semester at Kensington Health Sciences Academy, where Watts works with Penn student interns through the Penn Futures Project. They then added Paul Robeson High School, where Miranda had been teaching. "I thought, 'They really need this right now; it can't wait,'" she says.
Miranda and Moreno led the Be Body Positive Philly sessions with 18 high school students during the spring semester. Feedback from the students and teachers in a midterm assessment was overwhelmingly positive. In the survey, 92% of the students said they felt better about their bodies and had improved self-esteem because of the workshops. Before the course, nearly all reported low self-esteem and negative body image.
The initial feedback from the students is "tremendous," says Watts. School administrators were enthusiastic about the program in the mid-term survey as well.
"My students seem to have a better sense of themselves and a greater respect for their peers," says David Stokes, a health and physical education teacher at Robeson. "The positive interactions that they seem to be having with their instructors and their peers has led them to a greater sense of self-worth. Their participation in this program has led to a greater sense of empathy towards others. I'm proud of how far they have come."
There is a ripple effect, Miranda says, when the students talk with their friends and family about that they've learned and experienced. "It's not just that they feel better about themselves. They have this new confidence or ability to have these conversations with other people," she says.
New recruits
Now Miranda and Moreno are looking forward to getting Penn students involved as volunteer facilitators in the fall, with an expectation that two undergrads will lead workshops with as many as 12 high school students. "We are reaching out to recruit undergraduate student facilitators now through an online form," Miranda says, adding that several Project HEAL members have already signed up.
They also are recruiting new partner schools, working with Watts and the Netter Center. They already have commitments from the two schools where they had the pilot program in the spring, Kensington Health Sciences Academy and Paul Robeson High School, as well as Kensington High School.
"We have gotten to know our students really well, what will work for them, and we will make adjustments when we go back in person, knowing how they work together and learn the best," Miranda says.
"Going in person will have different benefits and also maybe different challenges," says Watts, who will continue as the project mentor. "I'm excited for them. I know how important this is. I think it is going to be great."
Previous recipients of the Presidents Engagement Prize, including 2020's The Unscripted Project and 2019's Lazando Lideres, have been supportive. "We were able to learn from their experience," Miranda says.
In addition to pursuing nonprofit status, the pair plan to apply for grants and seek in-kind donations like craft supplies. "We want this to be a sustainable organization that serves our community for a long time," Miranda says.
The main cost is the training fee for each Penn student facilitator and the cost of their transportation to the schools for in-person workshops. Miranda and Moreno are considering offering the program for a fee to area private schools, while making it free for Philadelphia public schools, as a sustainable revenue stream.
Eventually the pair intends to pursue careers in medicine. "What we are doing through this project is public health and public health is critical to preventative medicine," says Miranda.
"We wanted to work in the nonprofit and public health sectors before going to medical school," says Moreno. "We know what it's like to work in marginalized communities and we realize that there is more to being a physician than just science."
The President's Engagement and Innovation Prizes are intended to strengthen Penn's commitment under the Penn Compact 2022 to impactful local, national, and global student engagement, as well as to innovation and entrepreneurship. The Prizes are supported by Emerita Trustee Judith Bollinger and William G. Bollinger, in honor of Ed Resovsky; Trustee Lee Spelman Doty and George E. Doty, Jr.; Emeritus Trustee James S. Riepe and Gail Petty Riepe; Trustee David Ertel and Beth Seidenberg Ertel; Wallis Annenberg and the Annenberg Foundation; and an anonymous donor.