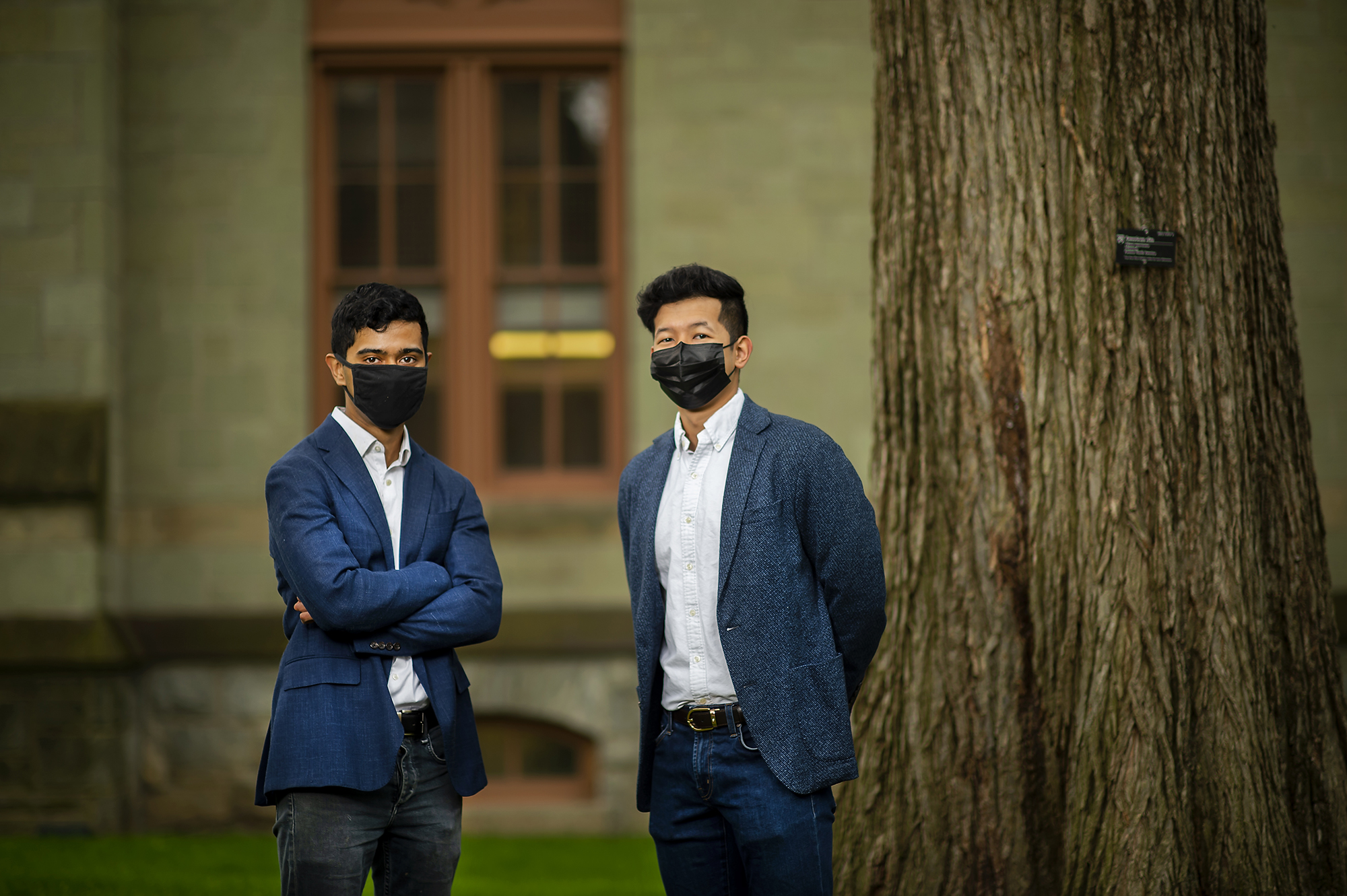 Aris Saxena and Yiwen Li's Mobility program is dedicated to providing patients across the globe access to health care in their homes. The company has created a software solution for health clinics in under-resourced areas to seamlessly coordinate at-home primary health deliveries.
Their proposal to address that need was selected for the 2021 President's Innovation Prize, which includes an award of $100,000 and an additional $50,000 living stipend per team member.
Founded by Penn President Amy Gutmann in 2016, the President's Innovation Prize is awarded to a senior or team of seniors to pursue post-grad entrepreneurial projects with the potential to make a positive difference in the world while also engaging the community.
"From their freshman year as residents of Ware College House's Research, Innovation, and Entrepreneurship Community to their selection as recipients of the President's Innovation Prize, Aris and Yiwen have immersed themselves in Penn's thriving entrepreneurship community," says Gutmann. "They have a deep and abiding passion for global health and improving access to health care innovation worldwide, and their project, Mobility, is an ideal blend of innovation and impact."
Saxena is a student in the Wharton School concentrating in health care management and statistics. Originally from Santa Rosa, California, Saxena has been passionate about improving health care equity and access for as long as he can remember.
"I have previously worked at the Gates Foundation working on malaria prevention and the international NGO Smile Train working on improving access to affordable cleft palate surgeries," he says. "At Penn, I conduct epidemiology research with Dr. Ricardo Castillo-Neyra on optimizing the placement of vaccination tents in Arequipa, Peru, in order to ensure equitable vaccine distribution."
On campus, Saxena is the former co-president of Penn for Youth Debate, a service-based organization that promotes public speaking and critical thinking in under-resourced schools across Philadelphia. He also served as co-editor in chief of the Synapse Undergraduate Healthcare Journal.
"For me, entrepreneurship is about finding a problem you care deeply about and doing everything in your power to tackle it, regardless of the odds," Saxena says.
Li is enrolled in the Roy and Diana Vagelos Program in Life Sciences
and Management. He is a biology major in the College of Arts and Sciences and he is studying finance at the Wharton School. Originally from Montreal, Canada, Li grew up interested in the intersection between health care and business.
"On campus, I'm involved in an organization called Wharton Leadership Ventures, where we organize expeditions around the world and use the outdoors as a platform to teach experiential leadership," he says. "I am also involved in cancer biology research in Dr. Roger Greenberg's lab, investigating the effects of DNA repair on cancer etiology."
Li says the greatest part of entrepreneurship is the uncertainty of it, and the need to work closely with one's team to navigate that uncertainty.
"Every decision you make sets your company on a different trajectory, and it's important to truly base your decision on logic, teamwork, and passion," Li says.
Aris and Yiwen met during their freshman year as hallmates in the Research, Innovation and Entrepreneurship Program. They started Mobility their sophomore year after receiving a grant through the Wharton Social Impact Research Experience to conduct research over the summer in South Africa. Inspired by conversations with patients, Mobility began with a simple question: What is the value of health care innovation if the people who need these innovations most are unable to get access to them?
"Visiting clinics, we heard stories about patients who had to walk for miles, wait for hours in line, and miss days of work for the smallest chance their clinic had the medication they needed," Saxena says. "We realized that we didn't want to live in a world where people struggle to get such a basic necessity."
The company has created a software solution for health clinics in under-resourced areas to seamlessly coordinate at-home primary healthcare deliveries. The software is designed specifically for areas with little technological access, requiring minimal Wi-Fi, data usage, and user response.
Saxena and Li are mentored by Tyler Wry, an associate professor of management at Wharton.
"They are both exceptionally talented and hard-working young men who could have easily followed their peers into high-paying consulting or finance jobs," says Wry. "Instead, they have dedicated themselves to creating a venture that aims to make a positive difference in the world. An effort like this requires a rare blend of idealism and optimism, as well as uncommon ingenuity and persistence. I am frankly in awe of what they are building … not only because there is a very real chance that the venture will help millions of people, but also because it serves as such a wonderful example of how business can be wielded as a transformational force when entrepreneurs build empathy, innovation, and impact into the core of their efforts."
The U.S. health care system, says Saxena, despite its many flaws, is one of the most innovative and advanced industries in the world.
"Look no further than the development of a COVID-19 vaccine in under a year, or to your local convenience store with aisles of over-the-counter medications and a pharmacy in the back," he says.
However, not all countries are as fortunate. Li says some are experiencing issues like long lines at local clinics, under-treatment of chronic conditions like HIV and diabetes, and difficulty in accessing essential medicine.
One of the biggest health care challenges in low- and middle-income countries is the medical last mile problem. In countries such as South Africa, where Mobility is starting its operations, many patients—especially those with chronic conditions who need regular checkups and medication—find it difficult to receive the necessary attention and medication due to long lines, poor transportation, and mismanaged data. Li and Saxena are looking to tackle this problem with software to better coordinate in-home primary care.
"Coordination and communication are the keys to effective at-home primary care," says Li. "Our software hopes to connect patients, clinics, and health care workers so that information flows seamlessly from one stakeholder to another, making sure health care is provided as efficiently as possible."
Mobility is currently running a pilot in partnership with Kheth'Impilo, a local nonprofit, at a clinic outside of Cape Town, the second-most populous city in South Africa. So far, they've served more than 2,000 patients, decreased missed deliveries from 41% to 7%, increased health care worker efficiency (in terms of number of patients seen) by 25%, and decreased patients lost to follow-up (where a chronic patient fails to follow up) by 73%. They expect to serve all five Kheth'Impilo clinics by the end of 2021 and all 50 clinics run by the Cipla Foundation, another local partner, by the end of 2022.
"We are incredibly grateful to have found such an incredible partner to launch our software with, and are so lucky to be able to speak with nurses and clinicians every week on how we can make our software better," Saxena says.
With these metrics, the Mobility team is excited about the potential impact that their software can have at a larger scale. The team is eager to expand their vision of making at-home primary care a reality for all patients across the globe, from their current pilot in South Africa to other under-resourced areas, including communities in the U.S.
The President's Engagement and Innovation Prizes are intended to strengthen Penn's commitment under the Penn Compact 2022 to impactful local, national, and global student engagement, as well as to innovation and entrepreneurship. The Prizes are supported by Emerita Trustee Judith Bollinger and William G. Bollinger, in honor of Ed Resovsky; Trustee Lee Spelman Doty and George E. Doty, Jr.; Emeritus Trustee James S. Riepe and Gail Petty Riepe; Trustee David Ertel and Beth Seidenberg Ertel; Wallis Annenberg and the Annenberg Foundation; and an anonymous donor.